CBI 2012: Pittsburgh Will Salvage Disappointing Season with CBI Title
March 26, 2012

Jim McIsaac/Getty Images
The Pittsburgh Panthers may have had a disappointing regular season, but they will make up for it in the postseason with a CBI championship.
As the Panthers get set for the first game of a best-of-three series against Washington State on Monday, they've been able to knock off Wofford, Princeton and Butler in the CBI tournament.
Pittsburgh's 68-62 overtime victory over former Cinderella Butler was the most impressive. Despite shooting an uncharacteristic 38 percent in the game, the Panthers won with defense and rebounding. They held the Bulldogs to 37 percent shooting and out-rebounded them 38-33.
The problem for Washington State, of course, is that leading scorer Brock Motum injured his right ankle against Oregon State in the semifinals and appears unlikely to play on Monday. That's a huge disadvantage for the Cougars, who lost their second-best scorer, Faisal Aden, to a knee injury in late January. Their second option now on offense is point guard Reggie Moore, who averaged 9.6 points while shooting 35 percent during the regular season.
OK then, let's say Pittsburgh wins the first game and Motum makes it out onto the floor in the second and third games. Can the Cougars capture the next two games and the championship?
I still don't see it.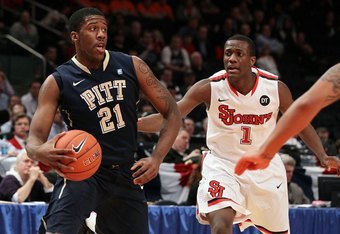 Jim McIsaac/Getty Images
The Panthers still have a significant advantage on the glass. Yes, Cougars senior Abe Lodwick went bonkers on Oregon State in the semifinals, with 23 points and 12 rebounds, but, in reality, that's not the norm for him and he won't be able to do that against Pittsburgh.
I like the combo of Nasir Robinson and Lamar Patterson for the Panthers down low, and Talib Zanna provides rebounding off the bench.
And while Pittsburgh's strengths lie in defense and rebounding, guards Ashton Gibbs and Tray Woodall do have the ability to put up some points. Woodall is averaging 14.3 points in the tournament. Gibbs is coming off a rough performance against Butler, but I expect him to get back on track.
In the end, I expect Pittsburgh to come away with the title, whether Motum plays zero games or three.
Follow me on Twitter. We can talk about the College Basketball Invitational.