Appointment Viewing: Dwyane Wade and the Heat Need a Quick Rebound in Indy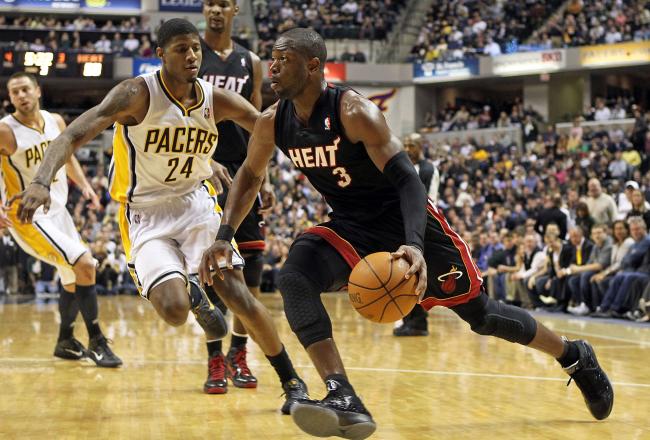 Andy Lyons/Getty Images
Dwyane Wade was not a happy man last night.
He wasn't happy about the Heat's 103-87 loss to the Thunder, he wasn't happy about the first fourth quarter in his career in which he hadn't attempted a shot (when he's played at least five minutes in the period) and he definitely wasn't happy with the shoe to the face that Kendrick Perkins gave him.
What does that mean for tonight? The Pacers have lost their last five contests against the Heat and they'll have a pissed off Wade to deal with as Miami looks to grab another win to get itself back on track.
Really though, this game should be a good one. The Heat will be looking to get back on track after a fourth quarter in which they looked out of sorts and they underwhelmed against the Thunder. The Pacers want a different ending than the last time these two teams met.
In a 93-91 overtime victory two weeks ago, it was Wade who saved the day for the Heat, drilling a jumper with 0.1 on the clock. The Pacers had been in control for much of the fourth until LeBron James took over down the stretch of regulation to force overtime, and then Wade delivered the knock out punch as the buzzer sounded. It was a beauty.
While the Heat come into this game licking their wounds after that loss to OKC, the Pacers are at home and they should be rested and ready. They also come into the game after rolling all over the Bucks on Saturday, delivering a 125-104 thrashing as George Hill led the way with 24 points and they shot 51 percent for the game.
Hill wasn't available for the Pacers in their last match up against the Heat, recovering from a shoulder sprain. As the Pacers look for things to help match Miami's potent offense, Hill will provide a nice boost.
Also look for sophomore Paul George to make things difficult for the Heat; the combination of his sweet outside shot and ability to get to the hoop and then lurk on defense in anticipation of blocked shots can be troubling for opponents.
In addition to watching Wade, keep an eye on LeBron to see how he shoots in this one. Midway through the Heat's loss to OKC last night, Miami beat writer Brian Windhorst tweeted the following:
Also over last 3+ games, LeBron is shooting just 39%. Averaging 17 ppg in last 3 games, has just 13 tonight. Elbow or slump?
After the game, Windhorst reported that James said he's in a slump, declining to mention the effect of any nagging injuries. James finished the game against the Thunder 8-for-18 from the floor. He will definitely be looking to break the slump tonight.
Any Heat team is scary. An angry Heat team is downright unfair. Watching Kentucky run over Baylor yesterday (RIP Bears, it was a beautiful run this season) made me think of the Heat and the way they dominate in the open floor when they decide they want to buck up and get to the hoop. They are on a level of their own when they do that.
The Pacers are one of the few teams athletic enough (and with enough pairs of fresh legs on the bench) to make things interesting with Miami even if they do go into total detonation mode.
As for the Pacers, they're just fun to watch. Don't make the mistake of missing out on them in this final stretch of this season, especially with a healthy Hill back into the mix.
I expect a big game from Wade, an interesting game from James (especially after that fourth quarter last night where Wade was a complete non-factor), some George excitement and for Hill to impact the game early in a match up with Mario Chalmers.
As for the final result: Six in a row would be sweet for the Heat, but I'm going to go with the Pacers in a close one on their home floor. That may or may not be because I'd really like to hear Pacers' coach Frank Vogel burst with joy in his postgame presser if his guys get the job done.
This article is
What is the duplicate article?
Why is this article offensive?
Where is this article plagiarized from?
Why is this article poorly edited?