2012 NBA Free Agents: Deron Williams and 3 Stars Destined for New Cities
March 26, 2012

Deron Williams and Steve Nash could both be changing uniforms as free agents in the summer of 2012, and the power of balance in the NBA could look a lot different depending on where each point guard lands.
The New Orleans Hornets have a difficult decision to make when it comes to Eric Gordon in the 2012 free-agent bonanza and the Boston Celtics need to turn the page from the Big Three era.
Let's explore potential new destinations for the four players listed below.
Deron Williams, PG New Jersey Nets (UFA)

Williams has been politically correct in all of his statements regarding what he'll do about his impending free agency, but there is growing skepticism in regards to his potential return to the Nets. 
Despite the team moving to Brooklyn and moving into a beautiful new arena, there is rampant speculation that D-Will will take his talents to Texas and join the Dallas Mavericks.
Williams has already said that he'll opt out of his contract after the season (which is a smart business move from a financial standpoint), but the more intriguing statement from Williams is that nothing that happens down the stretch of the season will impact his decision.
Potential Destinations: Dallas, New Jersey, Portland
Eric Gordon, SG New Orleans Hornets (RFA)

Gordon has played in just two games for the Hornets this season due to ongoing troubles with his balky knee and it's not a slam dunk that he'll be back at all this year.
To his credit, Gordon is trying to come back and rejoin his teammates before the season ends, but what kind of contract is he looking for after rejecting a four-year offer?
New Orleans might feel very uncomfortable sinking a large amount of money into a player who has yet to play in a full slate of regular-season games in his career and a sign-and-trade could be in the best interest of both parties.
Potential Destinations: New Orleans, Boston, Indiana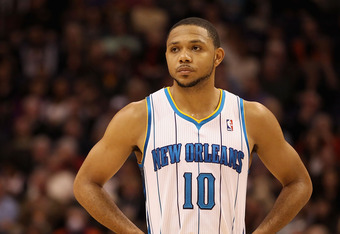 Christian Petersen/Getty Images
Steve Nash, PG Phoenix Suns (UFA)
Phoenix didn't trade Nash before the deadline because the Suns remain hopeful that the veteran will re-sign, but at what point does Nash take a selfish approach in free agency?
He deserves to go to a team that has a chance of postseason success in order to compete for a title, and that could very well be of the utmost importance to Nash when he considers what is next for him in his journey.
The point guard has been more than loyal to the Suns, but if Nash is serious about wanting to win it all, there is no way he'll re-sign in the desert.
Potential Destinations: Phoenix, Indiana, Dallas
Kevin Garnett, PF Boston Celtics (UFA)
Just like Steve Nash, the Boston Celtics have visions of re-signing Garnett after his $21-plus million contract comes off the books at the end of the season.
But at what price?
Garnett is still talented enough that he's going to get a really solid offer from a team that needs his presence in the locker room and another club may be willing to exceed market value in order to bring him in.
The Celtics need to get younger and more athletic at almost every position on the roster (except point guard) and bringing back Garnett doesn't help this team move forward.
Garnett really likes being a member of the Celtics, but if he was presented with an opportunity to play for a team that has a real chance of winning a championship, how could he possibly pass it up?
Potential Destinations: Boston, New Jersey, Philadelphia