WWE WrestleMania 28: Will The Rock & John Cena Plant Seeds for a Rematch?
March 26, 2012

Michael N. Todaro/Getty Images
The Rock vs. John Cena is shaping up to be one of the biggest and most memorable main events at WrestleMania in quite some time.
WWE has clearly a lot of money and time behind the feud and rightfully so. It's not everyday or every year you get to showcase and market a dream match between two of the most notable and iconic wrestlers in the history of the business.
These matches usually occur once in a lifetime. But I'm not so sure about this particular one.
If a match of this magnitude draws enough money, it usually doesn't occur just once. Look at The Rock vs. Hulk Hogan for example. They had an epic, once-in-a-lifetime dream match at WrestleMania X-8. Then, almost year later at No Way Out 2003, had a far less memorable rematch.
One big scenario that makes me believe there will be a rematch is that The Rock may win at WrestleMania.
WrestleMania 28 is in Miami, The Rock's hometown, he may go into the Hall of Fame, it's his first WrestleMania match in eight years etc. The chances of a Cena victory do not look good.
But at the end of the feud, Cena should win. Cena winning moves the business forward. It always has to move forward.
Let's go back to The Rock and Hulk Hogan.
It was 10 years since Hogan's last WrestleMania match and in the same building where he lost to Ultimate Warrior in one of the most memorable main events of all time.
But The Hulk still lost.
Hogam lost because he didn't need the victory and The Rock was going to be there at least little longer than Hogan.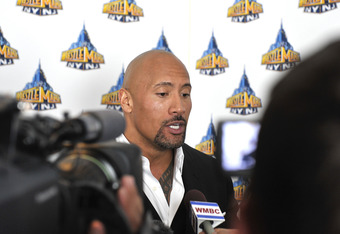 Michael N. Todaro/Getty Images
It's the same scenario with Cena.
Cena is a guy that's going to be there night in and night out after WrestleMania—The Rock isn't. What good does it do WWE, moving forward if The Rock comes back for a couple of months, comes out on top at the end of the feud, one the company have been building for years.
People, especially casual fans who may not watch every single week, will tune into Raw and think that Cena is nothing more than the guy The Rock pinned in the middle of the ring.
So if Cena doesn't win at WrestleMania, there has to be rematch at some point so he can pick up that win and put an end to the feud. The most logical place for that match to take place is at SummerSlam, since it is built as the second-biggest event on the calendar.
It makes perfect sense. Maybe it makes too much sense.
I still believe that Cena should win at WrestleMania because more people will be watching that potential win than a potential SummerSlam win.
As of late, WWE has built a terrible track record with building new stars. In the case of Cena, it's not just about building a guy who can get a pop on television, it's about making Cena transcend wrestling much like The Rock did and continues to do.