2012 NBA Mock Draft: Michael Kidd-Gilchrist and Prospects on the Rise
March 26, 2012

Kevin C. Cox/Getty Images
How many people had Louisville as a member of the Final Four in their bracket against a dominant Kentucky team?
With those two surging teams going up against one another in the semifinals and a riveting matchup between Ohio State and Kansas also on the horizon, we're promised to see a bunch of good basketball as March Madness winds down.
Anthony Davis is the consensus top draft selection in 2012, so there isn't much he could do to improve his stock, but these other five kids have definitely taken a step in the right direction.
Michael Kidd-Gilchrist, Kentucky
Kidd-Gilchrist is a very special player when it comes to transition basketball.
He uses his speed and athleticism well in order to get up and down the court, and that style of play fits very well into what Kentucky wants to do on a game-by-game basis.
After a slow start to the tournament, the freshman has come on with a vengeance and is showing why he deserves to be a slam dunk pick inside the top five.
Thomas Robinson, Kansas
There are not enough good things to say about what Robinson has done for Kansas throughout the season.
He's had double-digit points in every game since the end of December, but the big-time effort he's delivered against Purdue, North Carolina State and North Carolina has been nothing short of incredible.
Robinson deserves to go inside the top four picks and could be a top-three selection depending upon how the ping pong balls fall. No team should be shy about making the big man a linchpin of the future in the summer of 2012.
Jared Sullinger, Ohio State
Sullinger made a good move going back to Ohio State for this season, because he's improved his NBA stock considerably.
It would be great to see a more consistent effort on the glass from Sullinger, but he's improved his efficiency from the floor at the most critical time to do so.
He's got legitimate size to play underneath the basket in the NBA, but it would be a surprise to see any team reach for him, as he doesn't have the upside some of the other players expected to be available present.
Despite the fact that his name is unlikely to be called inside the top seven selections, Sullinger has shown more than enough to indicate he can be successful in the NBA.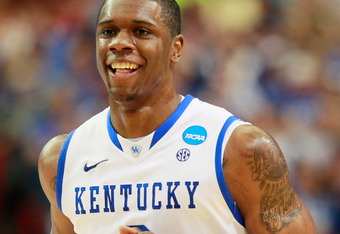 Kevin C. Cox/Getty Images
Terrence Jones, Kentucky
It's going to be fascinating to see whether Jones can work himself into the lottery or not, but there is a lot to like about his game.
After battling inconsistency earlier this season, Jones has displayed his impressive all-around game in the tournament with a versatile effort across the stat sheet.
He's active at both ends of the floor and should be able to come in and contribute right away. There is still untapped potential waiting to be put on display here.
Bradley Beal, Florida
Beal is one of the most under-hyped prospects in this draft, and it's about time he stopped getting overlooked with such regularity.
Florida went deeper in the tournament than many had predicted they would, and Beal's impressive effort on the glass is not something typically seen from a guard of his stature.
He needs to do a better job of facilitating the flow of the offense, but he's got a nice stroke from behind the arc and is a solid foul shooter—two elements of his game that should translate seamlessly to the next level.