Detroit Red Wings: 15 Years Later 'The Brawl' Still Resonates in Detroit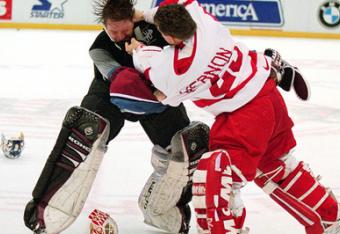 Detroit Red Wings' Mike Vernon and Colorado Avalanche's Patrick Roy.

On March 26, 1997, the Detroit Red Wings were treated to one of the most memorable sporting moments in Detroit's illustrious history. Not just in hockey either, but in any of the very successful Detroit sports franchise's legacies.
Today, 15 years later, Red Wings fans remember and celebrate one of hockey's greatest nights of fights, fittingly remember in Detroit as "The Brawl."
The Wings and visiting Colorado Avalanche were locked in a classic battle of one of hockey's biggest rivalries. A closely contested game that remained a 5-5 tie going into overtime that eventually treated Motor City fans to a Red Wings victory and sent the Avalanche home with a dramatic overtime loss.
Die-hard hockey fans from around the country are sure to remember the event as well, even if "The Brawl" didn't involve one of their favorite teams. Somewhere in Colorado fans still weep at the carnage that Igor Larionov, Darren McCarty and the rest of the Red Wings pummeled into the faces of Colorado's best.
It was a goal off the stick of McCarty late in the first overtime period from Brendan Shanahan who earlier in the game was in the thick of things during one of the NHL's most memorable flurry of on-ice brawls.
Perhaps the greatest singular moment of the night was when the Avalanche's Hall of Fame goalie Patrick Roy decided to jump into the fray of fists only to be met with a right hook from Detroit's pipe man Mike Vernon.
Three versions of the classic 1997 brawl between Detroit and Colorado.
Shortly after Larionov had rocked the Avalanche's Peter Forsberg in retaliation for repeated cheap shots and McCarty having had enough of Adam Foote's attitude the benches started to clear and the brawl ensued. In the middle of all of it was a rarity, two goalies punching it out at center ice. In the end Roy was bloodied by Vernon and ended up with his back on the ice.
If not for the officials Vernon may never have stopped.
What was lost in the night's many scuffles was Vernon's 300th career win.
Fittingly, despite going toe-to-toe with Roy earlier in the game, the veteran net-minder skated to center ice and flipped the puck to Vernon as a sign of respect for his accomplishment, and perhaps the clobbering he received earlier in the game.
Roy proved that the game of hockey is different than most, while it is more violent and at times a downright donnybrook, men of the game respect the performances of their peers and honor them in spite of their own inter-squables.
As the Wings gear up for the NHL playoffs, hopefully Detroiters can reminisce in today's classic Detroit sports moment.
Bleacher Report Featured Columnist J. Cook is a member of B/R's 2012 MLB Spring Training Coverage Team and contributes to B/R's MLB content and Detroit Tigers page. He also covers key sport interest stories for all of Detroit's major sports teams.
Follow J. Cook on Twitter:
This article is
What is the duplicate article?
Why is this article offensive?
Where is this article plagiarized from?
Why is this article poorly edited?

Detroit Red Wings: Like this team?