3 Reasons Pau Gasol Is a New Man After Trade Deadline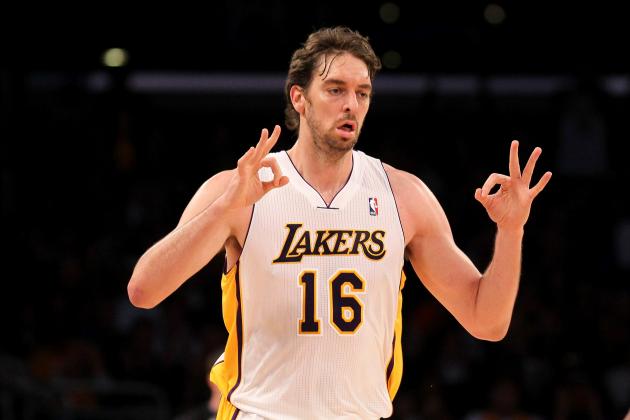 Stephen Dunn/Getty Images

Everyone wants to feel wanted and appreciated, regardless of who you are or what you do.
Pau Gasol is no different, and for the bulk of the season he has felt unwanted. Whether it was the Chicago Bulls, the Boston Celtics or the Minnesota Timberwolves it seemed forgone that Pau was out.
With the trade deadline in the rear-view mirror, Gasol can now focus on basketball and basketball alone. Gone for the moment are the confidence-shattering trade rumors that overtook Gasol's mind. The power forward has found his confidence and his play has reflected it.
The Lakers were the forgotten team by some and now appear headed at the very least for the Western Conference Finals. Gasol's resurgence is one of the leading reasons why.
With 17 games remaining, how L.A. finishes will be more contingent on Gasol's play than most may think. These are the final days of the NBA season and every pick and every roll matters more now than ever before.
So the Spaniard's new attitude is both refreshing and necessary for the Lakers to reach familiar territory.
Listen to Kwame every Monday 4PM-5:30PM PST on 1700AM or www.wpmd.org. Also you can view previous articles and listen to past guest or archived shows at www.kwamefisher.weebly.com
Begin Slideshow

»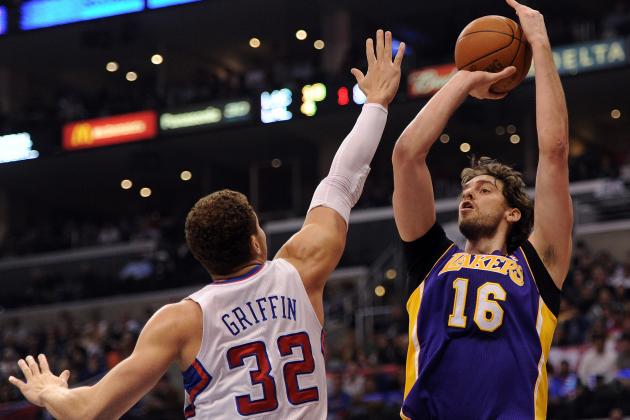 Harry How/Getty Images

Fans have grown accustomed to questioning Gasol's toughness. However, toughness can never be measured; it can only be identified in those moments when it is needed. Those are the moments Gasol has always come through.
Which is why it is encouraging for Laker fans to see Gasol comfortably playing his style of basketball again. The power forward doesn't exactly exemplify toughness at first glance, but he is a proven winner who has played basketball at a championship level since he was 18 years old.
Gasol plays a game that is more polish than spit and more glamour than grit; frankly, it works for the forward. His game is built on fluidity, not force, and he excels at it.
This is who the forward is and he appeared to play outside of that early in the season. Gasol was forcing shots and trying to be a physical force.
For his career, Gasol averages 13 field-goal attempts a game and it is when he deviates away from this efficiency that his play suffers. This is when we see the 6-for-18 or 9-for-22 performances, which causes fans to question Gasol's value.
Now that the seven-footer has made it through one of the more difficult months of his career, he appears to be playing his game and not playing a game to appease the crowd.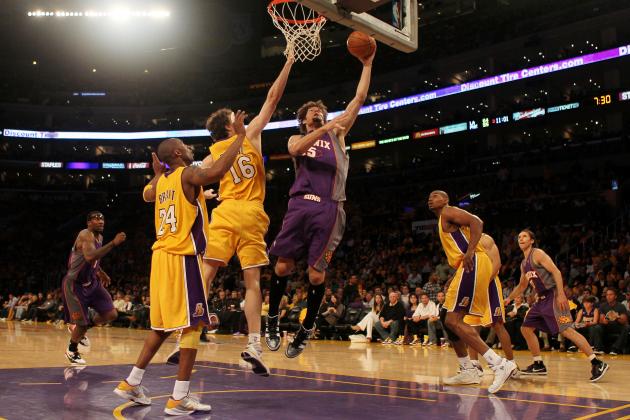 Jeff Gross/Getty Images

Part of being comfortable as a player is understanding your role on the unit, which Gasol fully grasps now.
One of the attributes Coach Brown has brought to this team is clearly defined roles. Brown has been successful thus far in impressing upon the troops how important it is to be aggressive in the paint. He also has not asked players to be something they are not.
This season, Gasol has been a consistent rebounding threat and since the trade deadline, the forward has rebounded exceptional well. Gasol has grabbed double-digit rebounds in four of the six games since the deadline. The team can expect at least two offensive rebounds a game from Gasol and he has delivered five out of six times in that department.
The Lakers can count on Gasol to be steady and productive because that is his role on this club. The team, specifically Brown, have not asked Gasol to assert himself on each possession, but rather play within himself on each possession.
He must continue to do that if the team expects to be one of the last units standing.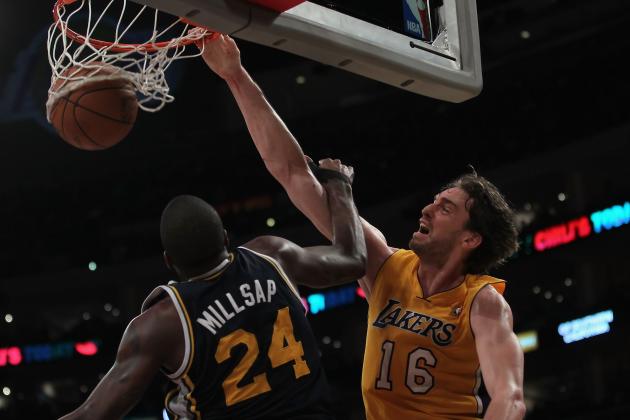 Jeff Gross/Getty Images

No man wants to be called soft in any capacity and while it may happen to some, it cannot be an embraced characteristic trait.
Let's be clear here: Gasol is not soft and does not play soft. His competitive fire burns as much as any other champion's.
When lined up against some the game's elite power forwards, Gasol has walked away with at the very least a double-double and his scoring average has risen from 16.8 points per game to 18.5.
The most important thing of all is the Lakers have walked away with a win more times then they have hobbled away with a loss.
It is this type of quiet competitive fire that has accompanied the Spaniard in some of the most heated contests.
With a conference full of power forwards, there can no longer be days off for the seven-footer. Judging by his output thus far, he seems up to the challenge.
Armed with a new lease of life in his Lakers career, Gasol has taken to the court and displayed his value as a player and a championship cog in the Laker machine.