MLB Spring Training 2012: New York Yankees, This Is Not the Start We Expected
March 26, 2012

Nick Laham/Getty Images
The New York Yankees always seem to have some excitement going on. They always seem to have some sort of breaking news or something in development. Sometimes it's great news, and sometimes it makes fans panic and hold their breath wondering what's going on.
Spring training has been filled with a number of developments this year, both good and bad. With a week or so left before Opening Day, anything can happen.
When the Yankees entered spring training, fans were excited about many of the changes that took place during the offseason. New faces have joined the team and brought the promise of strength for 2012.
Aging Yankee players appeared to be doing very well with no signs of recurring injuries or slowing down. Top prospects seemed to perform well exciting the fans while they visualize the future of the team.
The positives began to build. The 2012 season seemed to be locked in as strong and solid for New York.
Right when everything appeared to be perfectly gelled for the Yankees, a few pieces started to break off.
Future closer candidate David Robertson injured his foot on the stairs at his home earlier in spring training. Fans gasped with the news that has kept him out of spring training for most of this month.
As nerve-wracking as it was, he appears to be fine and pitched a scoreless inning with no pain. Joe Girardi is cautiously optimistic and will try to get Robertson a few more outings before the regular season.
Joba Chamberlain was on his way to a potential comeback this season after a dreadful period of time. He seemed to have recovered well from Tommy John surgery. Just when things appeared to be headed in the right direction, he dislocated his ankle while on a trampoline. 
Chamberlain was just released from the hospital after having surgery to repair the dislocation. He will have to wear a cast for six weeks, and then a walking boot for some time after that. Girardi said that Chamberlain appeared to seem dejected, which is understandable since he was on the mend from another injury.
Chamberlain's time on the disabled list is unknown for now.
Derek Jeter suffered during the first half of the 2011 season with a calf injury. He has sat out during spring training for another injury to his calf, but returned to play recently. In his second game since returning, he played five innings and hit one home run and a double.
Again, Girardi is cautiously optimistic, but Jeter appears to have recovered quickly and well.
Nick Swisher has been out with problems with his groin, but should be ready to resume playing on Tuesday. Like many other types of injuries, groin injuries can easily recur, which is a concern for Swisher.
Yankees Universe took a deep, collective breath on Sunday. Alex Rodriguez stepped up to the plate and got hit in his rib cage with a 95-MPH fastball. He hit the ground in pain holding his side, but was able to get up quickly.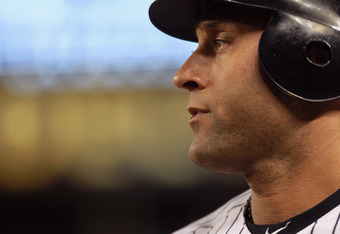 Nick Laham/Getty Images
After dealing with his hip injury and having what appears to have been very successful treatments for his hip in Europe, fans felt like a deer caught in the headlights as he fell to the ground in pain. Nerves were briefly rattled as we wondered how serious it would be.
Girardi said that a doctor evaluated Rodriguez and he appears to be fine. The only treatment that he required was to have ice packs placed on the injury.
Take a deep, cleansing breath.
Most of the injuries that the Yankees have sustained have been minor, with Chamberlain being the exception. The others should recover quickly, but Jeter and Rodriguez are aging which can slow down the recovery process. Bouncing back from injuries gets more difficult as athletes age.
With all of the concerns about these injuries, the Yankees still appear to be ready for a strong and solid 2012 season. Any injuries are tough to swallow, especially so early in the season.
Even though we didn't expect these to occur, they are relatively minor and the Yankees should be ready to battle on Opening Day.
Yankees Universe will thrive.