2012 NFL Draft: Ranking Possible First-Round Outcomes for the Carolina Panthers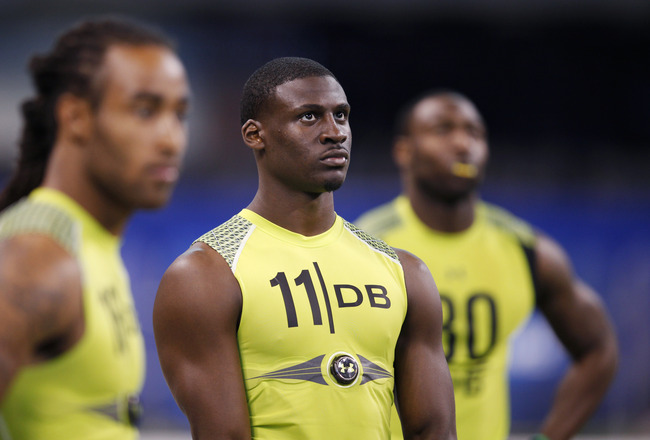 Joe Robbins/Getty Images
With the exception of Gene Smith, we all know a first-round pick in the NFL Draft is nothing to mess around with.
This selection allows each NFL team to instantly upgrade their roster's most glaring need. It goes without saying that we've seen Pro-Bowlers, All-Pros, Hall-of-Famers and Super Bowl champions all taken in the draft's first round.
And as the Carolina Panthers are taking a turn into possible postseason contention, their ninth overall pick is extremely valuable in the upcoming 2012 NFL Draft.
The front office can go down a few avenues with this pick. They can opt for some offensive help in a lineman or a wideout or try and build a stronger defensive presence.
So in anticipation of this year's event, here are the top 10 possible first-round outcomes for the Carolina Panthers.
10. Riley Reiff, OT, Iowa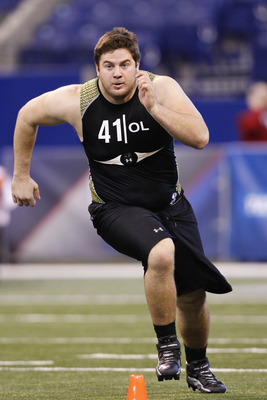 Joe Robbins/Getty Images
Protocol in the NFL dictates that once you obtain a franchise quarterback, you build up the offensive line in front of him.
Since the Panthers have finally found one, an amazing one, in Cam Newton, the front office may look to protect him.
If it weren't for Matt Kalil, Iowa's Riley Reiff would be the best offensive tackle in the 2012 draft class.
Reiff has certainly emerged as one of college football's best players as a result of his impressive 2011 season. He's 6'6" and 300 pounds. He has been praised for his great fundamentals. Reiff has great footwork, bends very well and has already played in a pro-style offense.
With current tackle Jeff Otah missing some valuable time due to nagging injuries, perhaps Reiff may be a solid investment here. And in addition to Otah playing just four games over the past two seasons, the rest of the line definitely has not improved this offseason.
The front office has cut Travelle Wharton and watched Geoff Schwartz and Mackenzy Bernadeau sign elsewhere.
On top of that, the trusty Jordan Gross will be 32 years old in September.
9. Michael Floyd, WR, Notre Dame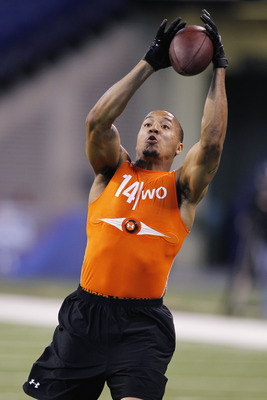 Joe Robbins/Getty Images
Providing your franchise quarterback with capable wide receivers is another task teams must complete in order to achieve success.
With that being said, the Panthers may want to look into drafting one of the two top wideouts in the draft this April. The first of the two being Notre Dame's Michael Floyd.
The 6'3" receiver has done nothing but dazzle during his collegiate years. In each of his four seasons at South Bend, Floyd put up at least 700 yards receiving and seven touchdowns. He raked in a bulky 95 passes this season, eight of them in the end zone.
Many fans and analysts are considerably split when it comes to Floyd. Some believe he is the second or third best wideout in the draft who carries some concerning off-field baggage to the NFL.
Others think Floyd is the best wide receiving prospect in the draft. They'll argue that his skill set will translate into the pros much better than the draft's other top wideout, Justin Blackmon.
Speaking of Justin Blackmon...
8. Justin Blackmon, WR, Oklahoma State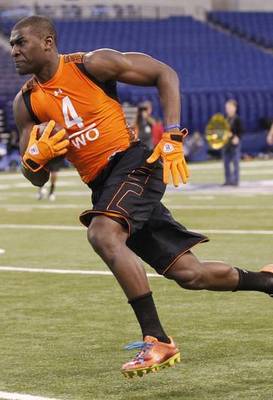 Photo Credit: Dave Martin/Associated Press
Justin Blackmon will be another prospect the Panthers should look at if he drops all the way to No. 9.
The Oklahoma State product is widely regarded as the draft's top pass-catcher due to his talent and exceptional collegiate success.
The two-time Biletnikoff has never failed to put up at least 111 catches, 1,522 yards and 18 touchdowns in each of the last two seasons as a Cowboy.
But given the three or four teams ahead of Carolina that could certainly use Blackmon, it's highly unlikely he'll drop to the ninth overall spot. If he gets past St. Louis at six, there's no way Gene Smith and the Jaguars are passing him up at No. 7.
The Panthers, however, shouldn't be too rattled or surprised if they don't get Blackmon. Their true weaknesses that should be addressed lie on the other side of the ball.
7. Melvin Ingram, DE/OLB, South Carolina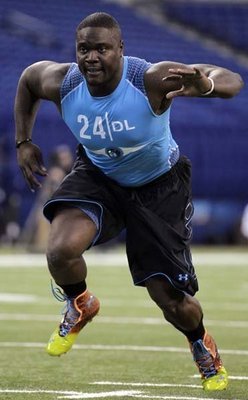 Photo Credit: Michael Conroy/Associated Press
Melvin Ingram is one of a handful of players who have drastically increased their draft stock over the last month. The South Carolina product has darted up boards after his highly impressive combine performance.
In Indianapolis, Ingram ran a 4.66 in his 40-yard dash and pushed out 28 reps on the bench. The Gamecock also did considerably well in the on-field drills.
His 2011 season wasn't too shabby either. In 13 games, Ingram posted 10.0 sacks, 15.0 tackles for a loss and even added two interceptions and two fumble returns for scores. The defensive end has consistently exhibited his versatility and athletic ability throughout his collegiate career.
If the Panthers want to add a pass-rusher, which is a considerable need, they could take a flyer on Ingram. The team ranked just 25th in sacks in 2011, getting to opposing quarterbacks just 31 times.
6. Dontari Poe, DT, Memphis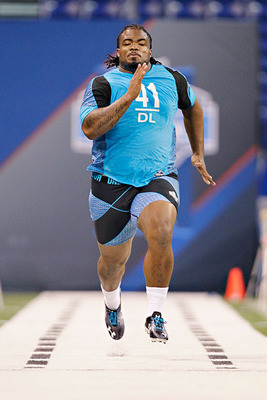 Photo Credit: Michael Conroy/Associated Press
Before Luke Kuechly threw himself into the mix, Memphis' Dontari Poe was the popular pick for Carolina amongst many. And after relinquishing 130.8 rushing yards per game last season, why not?
It is no secret Carolina needs some help in the middle of their defensive line, and Poe may do just that.
What got Poe into the conversation was his incredible combine performance.
The defensive tackle put up 44 reps, the most of the event, and ran the 40 in a ridiculous 4.98 seconds. The 6'4", 346-pounder catapulted up everyone's—and I mean everyone's—board after that display.
Poe, not Robert Griffin, was the real winner of the proceedings. Griffin was going No. 2 regardless. Poe shot himself from the late first-round right into the top 15.
But with the immense upside comes the immense risk. The concern surrounding Poe was his alarming lack of production during the 2011 season. In 2011, Poe recorded just 22 tackles and one sack along with zero forced fumbles. His numbers aren't exactly great and are even worse when you consider he played in Conference USA.
5. Luke Kuechly, LB, Boston College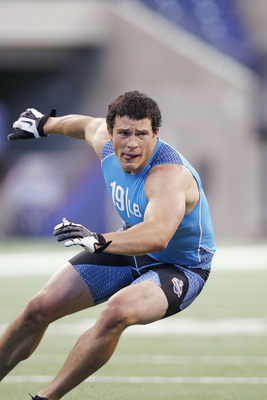 Joe Robbins/Getty Images
Luke Kuechly of Boston College is starting to gain some serious steam as Carolina's first-round draft choice. The Panthers may not be addressing a pressing need if they do decide to go with Kuechly. But given the value of the ninth overall pick, why not take the best available player that'll instantly provide some help on defense?
The collegiate standout has certainly proved his immense amount of talent over his collegiate career. His 2011 campaign, in particular, was extremely exceptional. Kuechly led the nation with a bulky 191 tackles, averaging just about 16 tackles per game.
He also picked up a handful of 2011 hardware en route to his decision to enter the NFL. Kuechly grabbed the Butkus Award, the Lombardi Award, the Bronko Nagurski Award, the ACC Defensive Player of the Year and earned All-American honors, which goes without saying.
The most intriguing fact about Kuechly's collegiate production is that he holds the record for most career tackles. Despite playing just three seasons of NCAA ball, Kuechly still racked up more takedowns than any player to ever put on a college uniform.
Kuechly can alternate or start in place of the oft-injured Thomas Davis. With the great defensive mind of Ron Rivera running the show in Carolina, I'm sure he'll find a way to incorporate Kuechly into a very solid linebacking group, which already includes Davis, Jon Beason and James Anderson.
4. Michael Brockers, DT, LSU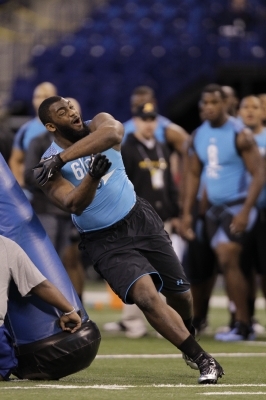 Photo Credit: Michael Conroy/Associated Press
I do believe Kuechly is a much safer prospect than Michael Brockers. But with the team really suffering at defensive line, Brockers is probably the more sensible pick.
The reason why I have Brockers ahead of Poe is due to his performance in college. Unlike Poe, the big LSU defensive tackle has often displayed his effectiveness on the stat sheet and on film.
Although Brockers is still quite raw at the position, many draft experts regard him as the draft's best defensive tackle. He displays great quickness, has very powerful legs and is an overall freakish athlete.
All you'll hear about Brockers going into the draft is his tremendous upside, as he stands at a ridiculous 6'6", 306 lbs. Scouts like to compare Brockers to New York's Jason Pierre-Paul. So if Ron Rivera can help hone his skills, we may be looking at the next big run-stuffer in the NFL.
3. Quinton Coples, DE, North Carolina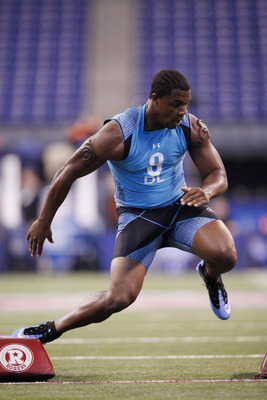 Joe Robbins/Getty Images
After doing months of rigorous draft research, I have found that you're either on Quinton Coples' bandwagon or you're trying to shoot it down.
Those who are in favor of going with Coples love to compare him with fellow Tar Heel and former Carolina Panther Julius Peppers. Those who aren't taking a liking to the defensive end think his lack of effort should make him a mid-to-late first-rounder.
But whether you're pro-Coples or anti-Coples, you cannot deny his production while playing for North Carolina. In his junior season in 2010, Coples racked up 10.0 sacks as a defensive tackle. And after moving to the end in 2011, he chalked up 7.5 sacks.
Sure, the Panthers need a tackle much more than an end on their defensive line. But the appealing aspect of Coples' game is that he did play both spots in college. And what's even better was that he still produced at both spots.
With Carolina reeling to stop the run and ground opposing quarterbacks, Coples may be the best option in this entire draft.
2. Trade with New England Patriots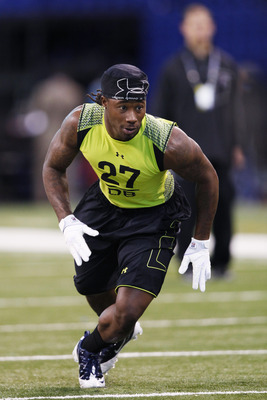 Joe Robbins/Getty Images
Time to throw you guys off a bit. That's right, trade!
Word has it that the New England Patriots are seeking to move into the top 10 to pick up some defense. So why not the Panthers? Why shouldn't the Panthers be the trade partner for New England?
An assumed swap with New England would see the Panthers shipping away their ninth overall selection for the Patriots' 28th and 31st overall picks. With two late first-rounders, the Panthers would have a plethora of options.
Here are just some of the prospects that may be available at the 28th and 31st spots:
Janoris Jenkins, CB, North Alabama
Devon Still, DT, Penn State
Jerel Worthy, DT, Michigan State
Kendall Wright, WR, Baylor
Stephen Hill, WR, Georgia Tech
Alshon Jeffery, WR, South Carolina
If they can possibly take a combination of Jenkins/Still or Jenkins/Worthy, the trade would certainly pay off. But with a bit of a risk factor here, a trade wouldn't be their best first-round outcome.
It could be a promising one, but here's the best possible heap of the first round for Carolina...
1. Morris Claiborne, CB, LSU
Joe Robbins/Getty Images
As J.P. in the 1994 film Angels in the Outfield always said, "Hey, it could happen."
If the Panthers see LSU's Morris Claiborne drop to them at the ninth overall selection, you may see a record in the NFL Draft for the fastest selection in history.
With their ineffective defense against both the pass and run, Claiborne should be Carolina's most coveted prospect in the entire draft.
At 6'0" and 185 lbs, Claiborne has been one of college football's best cornerbacks over the last two seasons. In fact, he may be the best defensive player coming out in 2012. He has good hands, exceptional speed and the ability to be an elite cover corner in the NFL.
Claiborne appears to be a slam dunk pick and has even warranted more praise than his former teammate and the fifth overall selection from last year's draft, Patrick Peterson.
Here's how this could happen:
Third pick: Minnesota takes Matt Kalil
Fourth pick: Cleveland takes Ryan Tannehill
Fifth pick: Tampa Bay take Trent Richardson
Sixth pick: St. Louis take Justin Blackmon
Seventh pick: Jacksonville takes Melvin Ingram/Michael Floyd
Eighth pick: Miami takes: Quinton Coples/Michael Floyd
(For a more detailed explanation of this scenario, please check out my last piece by pressing on this link.)
But if this does happen, all of Charlotte should be gearing up for 2012 postseason run.
LSU's Claiborne would undoubtedly be the Panthers' best first-round outcome of the 2012 NFL Draft.
Keep Reading

Carolina Panthers: Like this team?