2012 NFL Draft: Evaluating DraftTek's Latest 7-Round Mock for Seattle Seahawks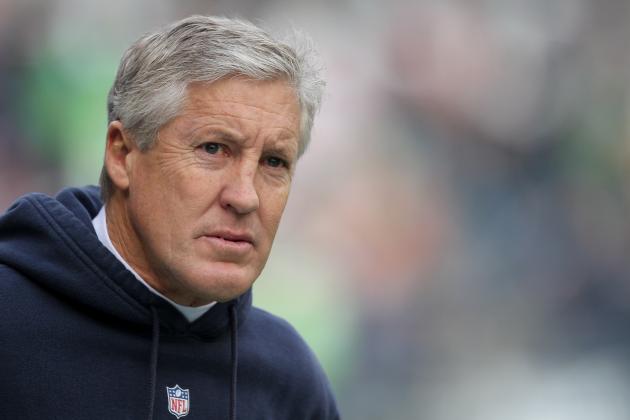 Otto Greule Jr/Getty Images
What does Pete think?
The Seattle Seahawks hold the 12th pick in the 2012 NFL draft. They finished the 2011 season at 7-9 for the second consecutive season. The Kansas City Chiefs were also 7-9, and a coin toss at the NFL combine landed in their favor, awarding them the 11th pick.
While the Seahawks were also one game under .500 in 2010, when they famously became the first team to back into the playoffs with such a record, they were clearly a better team in 2011 in nearly every facet. In 2010, they were outscored overall by 97 points (407-310). In 2011, they actually outscored their opponents by six points (321-315). Obviously the big difference was their defense. So would we expect them to focus on improving the offense?
The offense will improve purely through the seasoning of the young roster as it meshes within the scheme. Seattle's defense has had success, but it has some significant holes. Pete Carroll and John Schneider have been pretty clear about their intent to focus on the defense in the draft, particularly the front seven.
Most active football minds have spent the last several months littering the web with mock drafts, each proffering their take on the direction they believe each NFL team will go in a month. Over at DraftTek, they've developed a pretty nifty simulator that is constantly updated with a subjective ranking of team needs. It's a pretty detailed system, so feel free to read up on it before analyzing the picks.
Oh, and it's completely customizable, so you can edit the individual team rankings if you disagree with the default settings.
Okay, let's take a look at the most recent Seahawks mock.
Begin Slideshow

»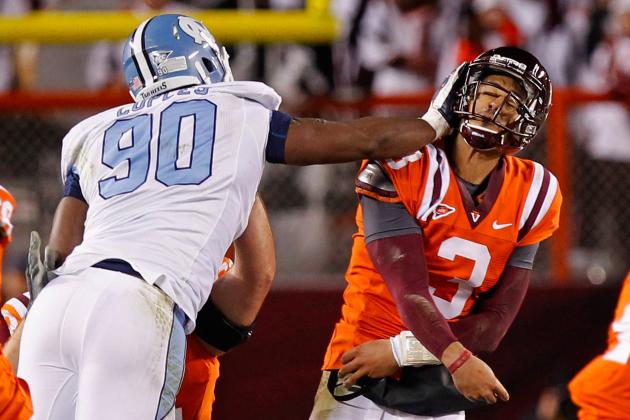 Geoff Burke/Getty Images
Bad quarterback!
The "Coples to Seattle" mantra has been pretty common for awhile now, and to be completely honest, I'm not sure how I feel about it. The most controversial aspect about this particular pick is the fact that Seattle passes on both Courtney Upshaw and Melvin Ingram (who drop to the Jets at 16 and the Texans at 26, respectively).
I think this is because DraftTek has Seattle pegged as a base 4-3 defense, and Upshaw and Ingram are both considered 3-4 outside linebackers. However, the terms "4-3" and "3-4" are really losing their identity as modern NFL defenses are adopting more and more hybrid looks. Pete Carroll likes to roll with multiple fronts, and the Seahawks actually run out a lot of 3-4 looks.
The great Greg Cosell recently compared Coples to Jason Jones, the former Titans defensive lineman who was just signed by Seattle. Cosell is the executive producer of NFL Matchup and has been the senior producer of NFL Films for 33 years. He has watched more film over the last couple decades than just about anyone, and his scouting acumen should be valued as much as or more than any front office member in the NFL. On his Twitter account he pointed out that while Jones and Coples both play DE and DT, Jones is "quicker laterally and a better pass rusher" and Coples is stronger at the point of attack.
He went on to say, "At this point Coples is an inconsistent splash player. He's a power/leverage rusher more than a speed/quickness rusher. He has flexibility and closing speed issues. He's not an explosive athlete. Flexibility and closing speed is not what you (should) look for (in Coples) but in tandem with leverage/power, he can be an effective pass rusher."
At this point, I think Seattle would prefer to add pass rush from a player with more positional flexibility, like an Upshaw or an Ingram. Either would provide pass rush with their hand in the dirt or from a standup position along the line, and both have experience in underneath coverage. I think Coples would be a bit redundant with Jones already in the fold, and I just don't see Seattle passing up Upshaw and Ingram for him.
Grade: C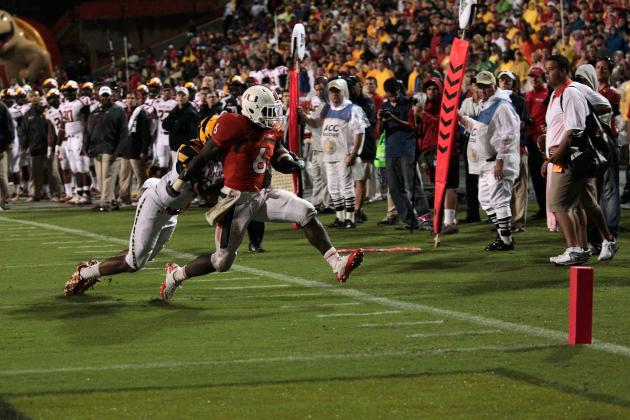 Rob Carr/Getty Images
Beast-Modin' it
I would be fairly happy with this pick. The Seahawks have made a defined commitment to running the ball, investing three top picks on their offensive line, hiring one of the top OL gurus in the business in Tom Cable, and forking out a four year $31 million contract for Marshawn Lynch this offseason.
But for anybody who watched the game against the Browns last year, they definitely need a backup plan. If Marshawn goes down, the Seahawks currently have exactly nobody on the roster to realistically replace him. Leon Washington is a change-of-pace guy who shouldn't carry it more than 6-8 times per game. Kregg Lumpkin should be little more than a camp motivator for the three young guys, Tyrell Sutton, Vai Taua, and Jay Finley.
Miller is a speedy, one-cut-and-go type of back who could excel in Cable's zone-blocking scheme. He's not a powerful runner, at only 5'11" and 212 pounds, and he's never proven himself a capable inside runner. What he does have is elite breakaway speed. If he hits the next level, it's curtains. He could provide the lightning to Beast Mode's thunder.
While the Seahawks do need a running back, I'm not sure Miller is the one for them. And in this particular scenario, Boise State's Doug Martin is on the board, and I would take him over Miller in a heartbeat. In fact, I will be very surprised if Martin survives the first round. If the board fell this way, and Martin and Miller are both available, I will be shocked if the Seahawks take Miller.
Grade: B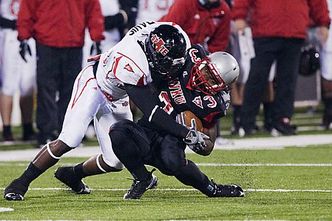 This kid lays the wood and would fit in great in Seattle's defense
This is far and away my favorite pick of this entire draft.
Demario Davis is exactly the type of player who analysts would hammer Pete and John for drafting so high, denouncing the pick as a reach (indeed, DraftTek rates it a reach by 25 spots). But after Davis wrapped up a phenomenal rookie season as a solid starter, everyone would look back in wonder as it became clear that the Seahawks had found yet another mid to late-round, small school gem.
A couple months ago, Davis (6'3", 230) was rated in the later rounds, but people have started reviewing his games, and the tape doesn't lie. He leaps off the tape at you. He's an aggressive and explosive hard-hitting force who can dominate against the run. He demonstrates above-average ability as a savvy pass rusher and can hold his own in coverage. His short-area quickness and active strong hands make him a nightmare to block, and he showcases great instincts and closing ability that keep him always near the ball.
Last season, the Seahawks were the worst team in the league at defending running backs as receivers. In Pete Carroll's defense, this responsibility rests on the shoulders of the Will (weakside) linebacker--in that case, Leroy Hill. Davis could step in as the Week 1 starter at Will and his sound tackling and great instincts would provide an immediate upgrade.
Grade: A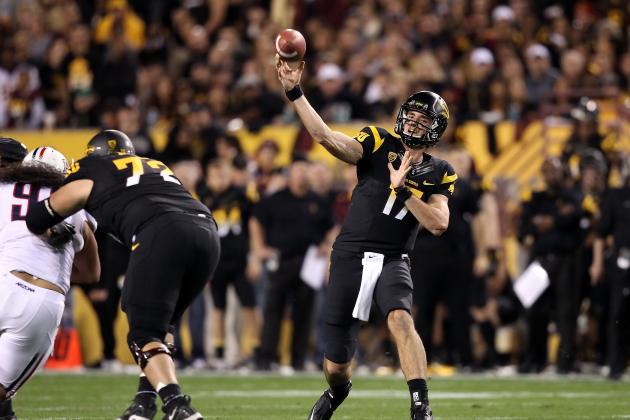 Christian Petersen/Getty Images
Do Pete and John see franchise potential in this picture?
This is where the wheels start to come off of this draft, in my opinion. This pick isn't too bad, but it would really surprise me. With the addition of Matt Flynn, I think quarterback has become a pretty low priority in this draft. If they do take one, I expect them to look at a higher floor, lower ceiling type like Russell Wilson.
There was a time when I was pretty high on Osweiler, even hoping the Seahawks would take him as high as the second round. However, I've soured on him a bit lately, and now I just don't think he's the right fit for the Seahawks. By the same token, I don't think the Seahawks are the right fit for him either.
He needs to be groomed by a team with a stable QB situation, like Pittsburgh, Green Bay, or Baltimore, where he's under little pressure and has time to learn and develop. He's only 21, and with limited starting experience, he's pretty much the textbook definition of high risk, high reward. He'll need a mechanical tune-up and more training in running a pro-style offense. His short and intermediate accuracy can be frightening, and I'm not sure he'd thrive in Pete Carroll's ball control offense.
If Seattle chooses to draft a QB this high, which I don't expect, look for them to draft a Russell Wilson or a B.J Coleman.
Grade: C-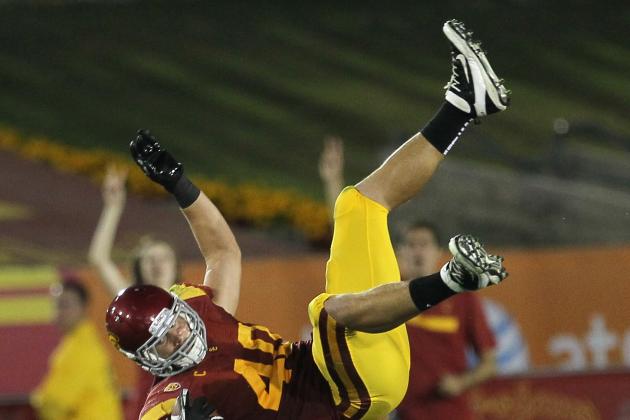 Stephen Dunn/Getty Images
Don't draft him, you'll have to teach him how to run normally!
What? A tight end? In a draft where Pete and John have repeatedly emphasized their desire to focus on the defense, I don't think they're going to be considering good-at-several-things-great-at-nothing tight ends in the sixth round.
Seattle currently has four TEs on the roster: Zach Miller, Cameron Morrah, Anthony McCoy, and John Nalbone. Since they've worked out Jacob Tamme and Visanthe Shiancoe recently, I suspect they'd like to upgrade the position, but I don't think a sixth-round H-back is going to do the trick.
Ellison (6'5", 251) is a solid blocker and good route runner with good hands. And that's about it. He has average explosiveness, average speed, and average leaping ability. He would come in either fourth or fifth on the depth chart, depending on how the Seahawks rate Nalbone (who Pete mentioned specifically by name in his postseason presser).
Drafting Coby Fleener in the second round would surprise me a bit, but it would make sense. This pick just doesn't make any sense to me at all.
Grade: F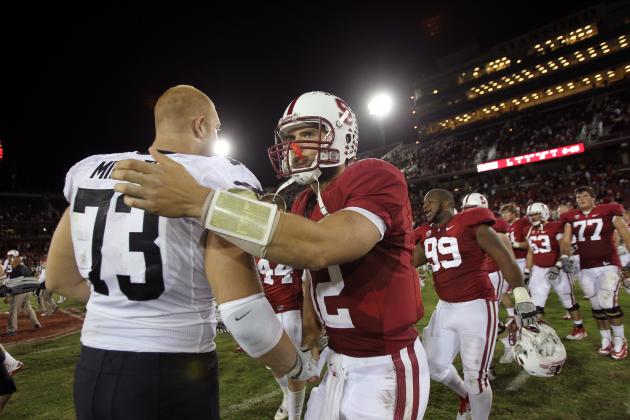 Ezra Shaw/Getty Images
Ryan Miller is the guy on the left.
DraftTek lists Miller as a guard since that was his primary position in college, but given his size and athletic profile, he'll likely end up at tackle in the NFL. He's huge, at 6'7" and 321 pounds, but he's pretty nimble for a big boy. If he can demonstrate an ability to handle the edge rush adequately, he could land a job as a starting right tackle.
He is definitely a Tom Cable type of pick. He's flexible along the line, and he's a powerful run blocker with a nasty streak. Because of his height, he struggles with leverage and can be pushed around. But he has quick feet and can generally keep defenders out of his body with his long arms.
If the Seahawks had landed at least one more solid pass rusher or linebacker, I would love this pick. As it is, taken in the context of the rest of this draft, I feel very "meh" about it. Though late-round offensive line picks are rarely sexy, this one has potential. But not in this draft.
Grade: C