The Next 10 Big Decisions in Sports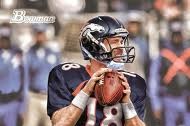 Peyton Manning went west to Denver, sending Tim Tebow eastward to New York.
"My interest is in the future because I am going to spend the rest of my life there." - Charles Franklin Kettering


Now that the Peyton Manning Sweepstakes has ended, all the really big decisions in professional sports are done with, right? Wrong, Doritos breath.

Here are the 10 biggest questions, in my mind, that will be be answered (and vastly over-hyped by the media) in the next year, along with some simple opinions on the possible decisions on the not-so-distant sports horizon.
Begin Slideshow

»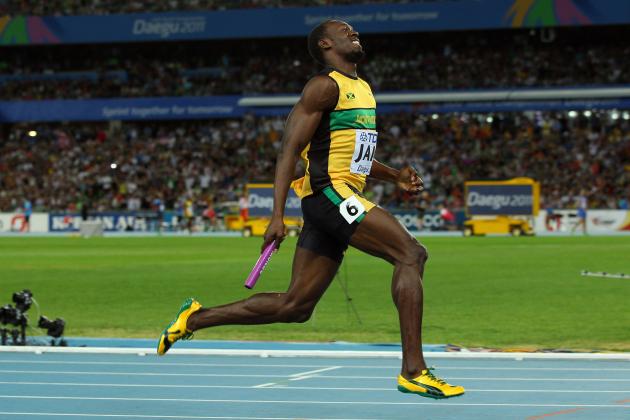 Mark Dadswell/Getty Images
Jamaican sprinter Usain Bolt owns the world record in both the 100- and 200-meter dashes.
According to reports, The World's Fastest Human, Usain Bolt, flew to Munich last month to see one of the most controversial doctors in Europe, Hans Muller-Wohlfahrt, a 69-year-old physician known for his eccentric forms of treatment, including injecting patients with calf's blood.

Fears of the 25-year-old Jamaican missing the 2012 London Summer Olympics were fueled after Bolt pulled out of the Camperdown Classic at National Stadium in Kingston last month, his first scheduled race of the new season.

At the end of the 2010 season, Bolt, who owns both the 100-meter (9.58 seconds) and 200-meter (19.19) world records, suffered a back injury and was treated by Muller-Wohlfahrt but Bolt's agent, Ricky Simms, and coach, Glen Mills both denied the injury rumor in a report in The Daily Telegraph.

Bolt's biggest competition in the Olympics should be a fellow Jamaican, 22-year-old Yohan Blake. So will "Lightning Bolt" make an assault on his own records this summer in London town? You can count on it.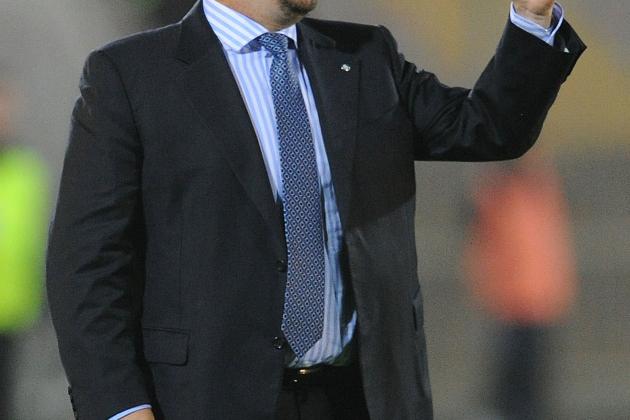 Giuseppe Bellini/Getty Images
Rafael Benitez would fit in nicely at Stamford Bridge.
One of the most coveted jobs in sports, head coach of Chelsea in the English Premier League, comes with a couple of sticky realities: pressure from fans demanding perennial silverware and a billionaire boss, Roman Abramovich, a man not afraid to change coaches.

Interim coach Roberto Di Matteo was appointed first team coach earlier this month after Andre Villas-Boas was shown the door in the midst of a lackluster season.
SkySports News, which had a report suggesting captain John Terry should be the Blues boss someday, released odds for Chelsea's next manager with Real Madrid's Jose Mourinho (3-1) leading the pack, followed by Rafael Benitez (5-1), Di Matteo (11-2), Pep Guardiola (9-1), David Moyes (12-1) and Fabio Capello (14-1).

But The Sun reported this week that Abramovich wants absolutely nothing to do with "The Special One" and Real Madrid striker Cristiano Ronaldo said last week Mourinho wasn't leaving Madrid.

So who does Abramovich go to? Di Matteo, a former Chelsea player, has done well in his first six games (4-1-1), but I think the call for the perfect fit at Stamford Bridge is Benitez, a man who can deal with the Old Guard, the new wave of players and the demanding fans in west London.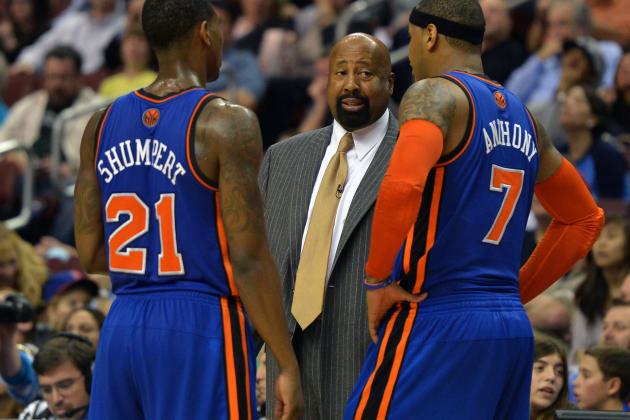 Drew Hallowell/Getty Images
Mike Woodson has done a pretty decent job in his interim role as Knicks head coach.
As big a stage as any, New York City's Madison Square Garden is considered the Mecca of basketball and is a tough gig for whoever is the coach of the Knicks.

Mike D'Antoni found that out this year after prize toys Carmelo Anthony and Amare Stoudamire failed to deliver and supernova Jeremy Lin returned to earth.

Owner James Dolan and general manager Glen Grunwald have been rumored to have looked at Phil Jackson, Jeff Van Gundy and John Calipari, but logic does not dictate any of those three heading to the Big Apple.

Jackson is getting old and nursing physical ailments and already has more rings (13; 11 as coach, two as player) than you have fingers, even if you are Antonio Alfonseca (12 fingers). Van Gundy isn't seen as a winner in NY and Calipari has the greatest gig in college and has another incoming class at Kentucky for 2012-13 that most coaches would die for.

So who's the best fit? Fellow Bleacher Report scribe Kelly Scaletta hit the nail on the head with his story last week saying interim coach Mike Woodson deserves the job after his 5-0 start, which saw his Knickerbockers outscore opponents by 18.6 points per game, the second-best margin in NBA history.

Expectations of an NBA championship would be too much for some of the bigger names coveted, but Woodson would get the benefit of the doubt from fans and management as most can see it's going to take some time to get this team back into the form that fans like Spike Lee expect.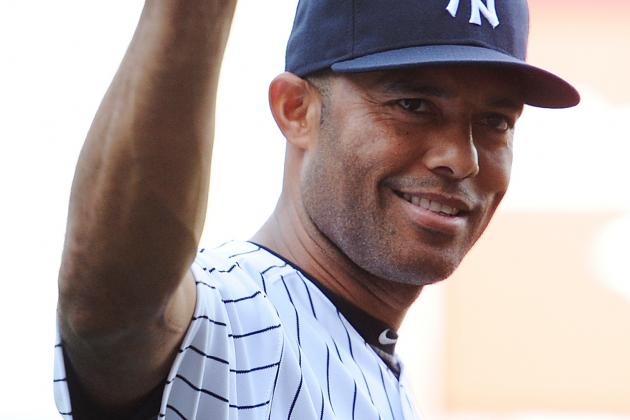 Patrick McDermott/Getty Images
Mariano Rivera may say goodbye to MLB after this season.
The greatest closer in the history of baseball, the Yankees' Mariano Rivera, has made a decision on when he will retire, but according to a recent report, only longtime teammate Derek Jeter and Rivera's family are privy to that information.

After seeing Jorge Posada and Andy Pettitte recently retire (Pettitte decided to return for one more year for the Bronx Bombers last week) and knowing his boy Jeter is close to making his big decision, Rivera has made up his mind but won't reveal details until the time is right.

So Jeter knows, but won't say, so it's pretty logical to assume Rivera will call it a career after this season, Yankees World Series or not.
Why would someone tell their family and good friend they knew when they were retiring if it was two years out? It doesn't make sense, and I think Mo is done after 2012.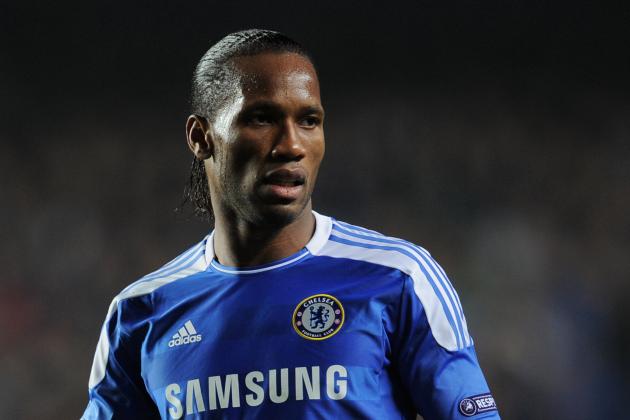 Michael Regan/Getty Images
Chelsea's Didier Drogba would be happier staying in London than heading to China this summer.
The pressure on Fernando Torres has been immense since signing the largest contract in English history with Chelsea last January. Seldom in the starting lineup and with just seven goals in 13 months, El Nino is frustrated, as is quite evident in his face and body language.

Legendary England international Alan Shearer has reportedly advised Torres to leave the team or possibly run the risk of suffering an early end to his once-illustrious career.
A trade to his former La Liga club, Atletico Madrid, was rumored last month, and the Spaniard may best be suited to play in La Liga after his recent grief at Liverpool and Stamford Bridge.

I think it's all been a tad too much for Torres and management knows it, and a trade or sale this summer is the best prescription.

On the other hand (or foot), the guy who starts in the spot where Torres would like to be, Didier Drogba, has been rumored to be headed to China to join former teammate Nicolas Anelka on Shanghai Shenhua. But a a recent ESPN story suggests Drogba would rather stay in London.

Money probably doesn't matter much for the 34-year-old Ivorian now, so the question for him is this: Would you rather play soccer in London, in the world's most popular and competitive league (EPL), or in Shanghai? I think the answer is pretty evident....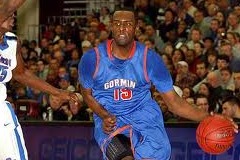 Shabazz Muhammad will unveil his big decision on April 10.
The nation's top-ranked senior, Shabazz Muhammad, of Bishop Gorman High School in Las Vegas, has narrowed his list of suitors down to six colleges: Kentucky, Kansas, UCLA, USC, Duke and UNLV.

Muhammad (6'5", 205 pounds) played under Grant Rice in high school, the brother of UNLV head coach Dave Rice, and was named McDonald's All-American and the Morgan Wootten Player of the Year and will play for the West All-Stars in the McDonald's All-American Game on Wednesday night in Chicago (ESPN, 9:30 p.m. ET/6:30 p.m. PT).

The guy who would own Sin City should he decide to stay home and play for the Runnin' Rebels, said last week he will unveil his big decision on April 10.

And despite my love for UNLV and the obvious connection here in Las Vegas, I believe Muhammad will choose Kentucky and Calipari and take the same NBA route as several other "one and done" Wildcats like Derrick Rose, Tyreke Evans and John Wall. I really hope I'm wrong on this one.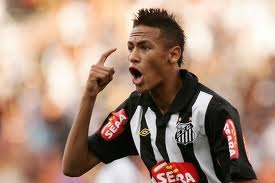 Some think Neymar is in the world's Top 5 players.
The most sought-after player in world soccer lately, Santos forward Neymar gets to choose from the two best soccer clubs on the planet, Barcelona and Real Madrid. Hey, nice problem, Neymar, having to choose to play with either Lionel Messi or Cristiano Ronaldo...

Last summer, it was Los Blancos who looked like the club to land the 20-year-old Brazilian forward, but Real Madrid aggravated the situation, saying Neymar would not be guaranteed a spot with the team.

Neymar then decided to stay in Brazil with Santos one more year before thinking a move to Europe would be best after his team's loss to Barcelona in the 2011 Club World Cup finals in December.

Last week, Neymar told Goal.com he was rejecting Real Madrid and was a big admirer or Barcelona. No doubt Catalan club president Sandro Rosell's trip to Brazil to talk with the youngster about playing at Camp Nou likely helped seal the deal you'll be hearing about in around two months.
So the really rich may end up getting really richer.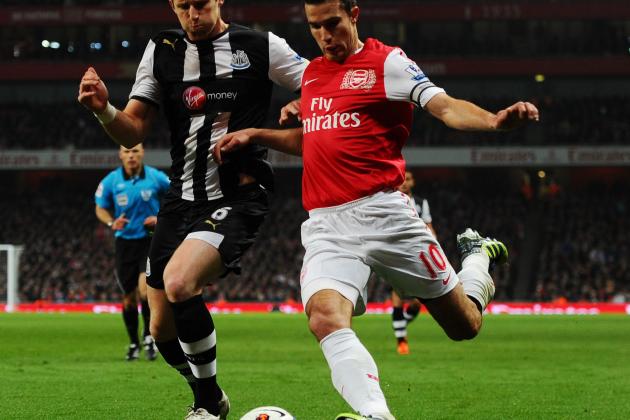 Mike Hewitt/Getty Images
Arsenal can't afford to lose superstar Robin van Persie.
Last year, Barcelona went out and got Cesc Fabregas (Arsenal) and are seeking Neymar (Santos) as mentioned in the previous slide. And now they're looking at Robin van Persie? Do they think they're the Yankees or something?

Van Persie is having a Player of the Year season with the Gunners in the EPL and after all the talent Arsenal has lost and all the ground the team has made up in the standings, losing its star would be devastating for the London side.

The Mirror reported last month that Barcelona "decided to save their war chest and splurge it all" on van Persie. So can Barcelona coach Pep Guardiola land both Neymar and RVP this offseason? I don't think so, as van Persie's immense value to Arsenal has been solidified this EPL season.

With UEFA Champions League play looking like a distinct probability next season with Tottenham Hotspur and Chelsea both sputtering, the Gunners will most likely find a way use their own "war chest" to retain van Persie.
And the Dutch footballer looks like he's really having a lot of fun (league-leading 26 goals) at the Emirates Stadium this season.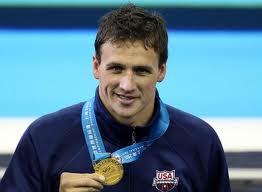 Ryan Lochte should make a name for himself this summer in London.
It is apparently the progression of the best US men's swimmer at the Olympics: try and outdo the legend who came before you.

Mark Spitz set the bar pretty high, winning seven gold medals at the 1972 Munich Olympics. Michael Phelps did Spitz one better, winning eight gold medals in the 2008 Beijing Games. So now it's Ryan Lochte's turn to make a run at history.

The 27-year-old Lochte, who has said, "I am going to swim as many events as I possibly can," will have his work cut out for him as he not only will be fighting the physical nature of swimming in numerous events, but will also have to occasionally go head-to-head against Phelps, who said this will likely be his last Olympics.

This one will be incredibly tough to do, but if Lochte goes five-for-five to start out the Games, look out. And get used to that name, Ryan Lochte. You'll be hearing a lot of it this summer from across the pond.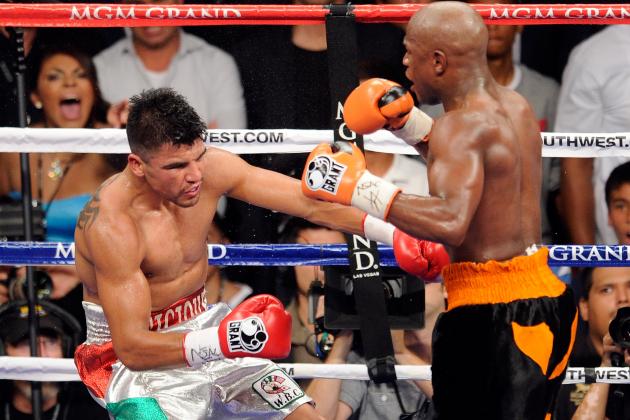 Ethan Miller/Getty Images
Floyd Mayweather has Miguel Cotto next up in his sites after disposing of Victor Ortiz here in his last bout.
Well they've been fighting outside the ring for a couple of years now and the general sports public is sick to death with all the back-and-forth.
Both have bouts coming up and one has some jail time to do but after the dust clears, will the powers that be ever get this Fight of the Decade off the ground?

Pacquiao recently put forth an enticing offer, a 70 percent pay-per-view share to the winner of the fight. And with that big zero still on his record, one would think Mayweather and his team would jump at the offer. Make the fight, win it, get 70 percent of the PPV revenue and preserve "Money's" legacy.

An recent interview with FyteHype reveals Mayweather still has only one guy on his mind: Manny Pacquiao. So given the massive amount of money at stake, public pressure and both fighters' pride, the long-anticipated Mayweather-Pacquiao fight should happen in 2013.

The two best pound-for-pound boxers in the Milky Way galaxy simply need to fight. And Mayweather's legacy and ego will never be complete without that coveted win over Pacquiao.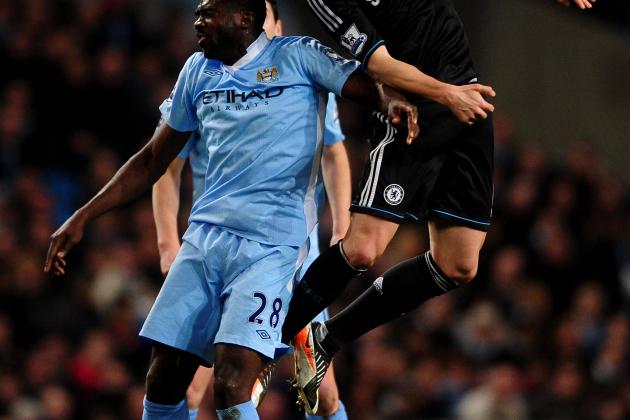 Laurence Griffiths/Getty Images
Fernando Torres played a respectable game in Chelsea's 2-1 loss at Manchester City last Wednesday.
With adequate oxygen returned to the sports world following Peyton Manning's decision to "Go West Old Man," looking at some other big decisions seems like the natural thing to do right about now.

To sum them all up in one paragraph, Chelsea keeps Drogba, lets go of Torres and says hello to Benitez. Bolt runs in the 2012 London Olympics while Lochte falls short of a record nine gold medals there, Rivera retires after this year, the Knicks keep Woodson, Muhammad shuns UNLV for Kentucky, Barcelona gets Neymar but not van Persie who stays at Arsenal and the most anticipated fight in boxing in decades, Mayweather-Pacquiao will happen in 2013. And you heard it all here first.


> Follow me on Twitter @KevinStott11

Kevin Stott has been a sports writer for the Las Vegas Review-Journal's View Newspapers and Gaming Today and was ordered to write this story by his demanding cat Saki, a whipped-cream addict, heavy Arsenal supporter and rabid Shabazz Muhammad fan.