Kendrys Morales: Can He Be the X-Factor for the Los Angeles Angels in 2012?
March 26, 2012

Jeff Gross/Getty Images
The mere sight of a player trying to go from first to third on a double during a spring training game would normally not be a cause for concern. But given everything Los Angeles Angels DH Kendrys Morales has endured over the past 22 months, it's understandable if every single teammate, coach and fan inside Tempe Diablo Stadium were holding their collective breath as he did so this past Thursday.
Seeing his first major-league action in nearly two years, Morales was more than just safe on the play, a double to left field by Bobby Abreu in the second inning against the Kansas City Royals. He was healthy, too, a feeling he hadn't experienced since he jumped up near home plate to celebrate his walk-off grand slam back in late-May 2010.
During the brief moments he was up in the air that day, one can imagine the sheer joy he was feeling as he awaited the customary mobbing of teammates once he touched down on the dirt-stained dish.
Having just snatched yet another victory from the jaws of defeat, and fresh off a season in which he finished fifth in the American League MVP voting, Morales—who had successfully defected from Cuba six years earlier after 11 failed attempts—must've been in disbelief that this was now his wonderful life.  Heck, you might as well have called him Jimmy Stewart.
Of course, we all know what happened when he came down.
A gruesome ankle injury, an aborted comeback coupled with a second surgery the following year, and what must've been a lifetime's worth of doubt, all wrapped up in 22 agonizing months like some sort of cruel gift from the baseball gods.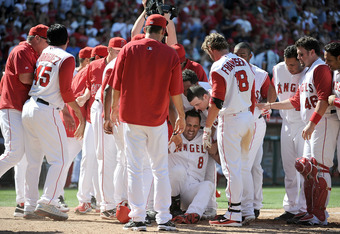 Harry How/Getty Images
"Here you go, Kendrys," they seemed to say. "Thanks for playing!" 
That is why when he got up from third on Thursday, after a feet-first slide he threw in for good measure, it must've felt like a stadium-sized weight had been lifted off his shoulders. The crowd, having exhaled by now, roared its approval, as it became official to them what they had suspected all along:
Kendrys Morales was back. 
But what exactly was he back to?
Morales had two hits that day, two the next (including a home run), and another base hit the following day. Three games in three days, five hits, with nary even a hint of concern about his ankle. And his swing? Silky smooth yet violent in nature, just the way Halo fans remember it.
That's a good thing, too, because for all the well-deserved hoopla surrounding the signing of Albert Pujols, Morales has the chance to be the true X-factor for the Angels in 2012—the one guy whose swing at the plate can swing the team's fortunes. The kind of guy who can turn losses into wins, and family vacations into business trips come October.
More than anybody else, the team's postseason chances rest on Morales' shoulders, because the Angels just don't know what they're going to get in 2012 after such a long layoff.
Look at everybody else. A few minor variances aside, you know, or at least have a reasonable expectation about, what you're going to get from Pujols and most of the other guys in the lineup.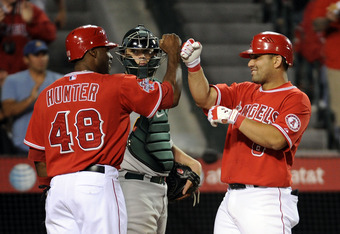 Harry How/Getty Images
Newly-acquired Chris Iannetta is a question mark, but in the Angels' dynamic, anything you get from a catcher offensively is considered a bonus, anyway. Mark Trumbo is a bit of an unknown, what with the team still trying to carve out at-bats for him while he tries to avoid the dreaded sophomore slump. And Vernon Wells could certainly bounce back from his miserable 2011 season, which would likely impact the outcome of a few games.
But other than that, you can pencil guys like Torii Hunter, Peter Bourjos, Howie Kendrick and Erick Aybar in for their 2011 numbers this season and you'll probably be in the ballpark. And Pujols will be Pujols, we know that.
Morales, though, is another story. I could see him partying at the plate like it was 2009, putting up .300/30/100 from the cleanup spot as if it were deja vu all over again. If he does, it'd be like getting two MVP candidates for the price of one.
And if that's the case, and with everyone else on offense holding up their end, along with the pitching staff being its usual dominant self, then look out playoffs—and I don't mean the wild card. Either of them.
Of course, I could also see Morales struggling to get back to his 2009 self and ending up in a platoon-type situation with Trumbo, Abreu and who knows who else at DH, as he continues to shake the rust.
That would have a domino effect up and down the lineup, as the guys batting in front of him (Pujols, Kendrick) and behind him (Wells, Trumbo) would almost certainly see a decrease in quality pitches to hit. That's the kind of formula that turns one-run wins into two-run losses.
The early returns are encouraging, but it's one thing to hit off guys like Danny Duffy and Josh Tomlin when the games don't count, and another thing entirely to hit off the likes of Justin Verlander and Felix
Hernandez when it's for real.
Can Morales be the X-Factor for the Angels in 2012? Yes he can.
Will he? I guess we're about to find out.