Fantasy Baseball Sleepers: Kyle Farnsworth and Closers Who Will Rack Up Saves
March 26, 2012

Charles Sonnenblick/Getty Images
Just like in real life, the quality of your closer can often decide your fantasy team's fate.
Luckily for you, there are plenty of good options this year. Everyone knows about Mariano Rivera, Craig Kimbrel and Jonathan Papelbon, but you don't have to draft a big name to get solid results from your bullpen.
Here are three sleepers who will put up big numbers in 2012.
Kyle Farnsworth, Tampa Bay Rays

Farnsworth had a breakout year for Tampa last season, and I'm expecting him to continue his success.
Last year, he had 25 saves while posting a 2.18 ERA and a WHIP of 0.99.  He doesn't get a ton of strikeouts, but with a strong defense behind him, he's never likely to give up a lot of runs.
I wouldn't be surprised if Farnsworth hit the 30-save plateau this season.
Carlos Marmol, Chicago Cubs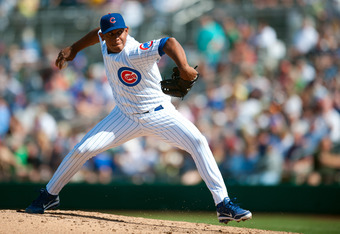 Rob Tringali/Getty Images
Marmol is a gamble, as he's the prime example of a boom-or-bust player. He could implode, like when he blew four of 19 second-half saves last season, or he could get his command under control and dominate.
He posted an insane 12.04 strikeouts per nine innings in 2011 and his 540 strikeouts over the last five years—the most of any reliever.
If your feeling lucky, roll the dice on Marmol and pray that he stops walking so many batters.
Kenley Jansen, Los Angeles Dodgers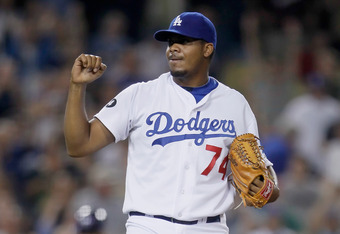 Jeff Gross/Getty Images
Jansen needs to steal the job from Javy Guerra, but he could still be incredibly valuable this season.
He's got monster strikeout potential, as he struck out 16.1 per nine innings in 2011, a record among pitchers with at least 50 innings. I'd expect that number to drop some this year, but he'll still get plenty of strikeouts.
If Jansen stays healthy, he could be one of the biggest fantasy steals this season.