2012 NFL Draft: Projecting the Top Rookie Performers on Offense and Defense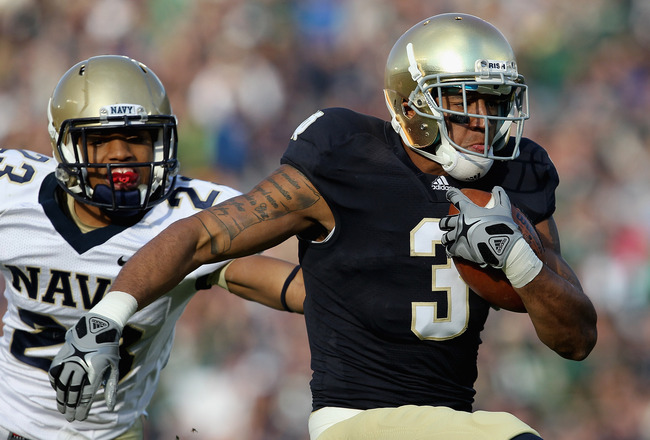 Jonathan Daniel/Getty Images
In 2011, Cam Newton re-wrote the NFL rookie record book by amassing 4,757 total yards and 35 touchdowns. On the defensive side of the ball, Von Miller wreaked havoc with 64 total tackles, 11.5 sacks and two forced fumbles.
Both earned Rookie of the Year honors and proved that first-year players, now more so than ever, enter the league ready to contribute right away. They're bigger, faster and better prepared for the physicality of an NFL season.
It's a testament to both college coaching and the dedication of these younger players. This year's batch features several prospects capable of imitating the instant success of Miller and Newton.
Look for the following to shine in their rookie seasons.
Offense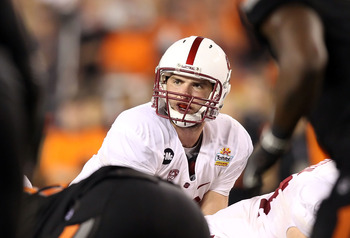 Christian Petersen/Getty Images
Andrew Luck, QB (Stanford)
Luck has the makeup of a future star, but the present transition will prove difficult for the Heisman runner-up.
At this point, it's safe to assume Luck is headed to the Colts who, though horrendous last season, have a few established weapons. Reggie Wayne returns, as do the underrated Austin Collie and recently signed Donnie Avery. Look for Luck to learn the playbook in a hurry and make plays both with his arm and feet.
Projected Stats: 3,450 yards passing, 23 touchdowns and 15 interceptions; 210 yards rushing and 3 touchdowns

Robert Turbin, RB (Utah State)
Aside from Trent Richardson, Turbin is the most NFL-ready back in this year's draft. He runs with the power of Beast Mode 2.0, yet possesses the quickness and acceleration of players half his size.
At the combine, Turbin looked like the Hulk, and then ran a 4.5 40-yard dash, lifted 28 repetitions of 225 pounds and was a top performer in the broad and vertical jump. He has the physical tools to be an every-down back at the next level and has shown the ability to impact games as a receiver as well.
Projected Stats: 135 rushes, 710 yards and 7 touchdowns; 15 receptions, 172 yards and 2 touchdowns

Michael Floyd, WR (Notre Dame)
Floyd enters the league with extra baggage, but plays like a heady veteran. He has top-end speed (4.47 40-yard dash), runs polished routes and catches everything thrown his way.
Floyd is a potential No. 1 receiver and provides a big red-zone target. Expect a team to draft him in the Top 10 and never regret the decision once he gets on the field.
Projected Stats: 68 receptions, 920 yards and 9 touchdowns

Robert Griffin III, QB (Baylor)
The Washington Redskins, after searching high, low and rummaging through the John Becks of the league, have found their franchise quarterback.
It came at quite a cost (three first-round picks and a second-rounder), but they believe it was worth it.
Griffin is a rare talent with exceptional athleticism, superb arm strength and underrated accuracy (completed 72 percent of his throws last season). What separates him, above all else, is the intelligence to grasp a playbook and run an offense with precision.
Griffin is out to match, and possibly surpass, Newton's rookie stats.
Projected Stats: 3,510 yards, 24 touchdowns and 16 interceptions; 348 yards rushing and 5 touchdowns
Matt Kalil, OT (USC)
What Kalil or any offensive tackle does never appears in the box score next to his name. Rather, his value can by measured by the improvement in Christian Ponder and running back Adrian Peterson's numbers.
Again, I'm expecting the Vikings to nab Kalil with the third overall pick, and they would be wise to do so. Their young quarterback needs a bastion just as much as a receiver to throw to.
Projected Stats: Will start each game while providing consistent protection and surrendering a small amount of sacks.
T.Y. Hilton, WR (Florida International)
An absolute steal in the mid-rounds, Hilton is ideal for the slot and very dangerous in the return game. He has often been compared to Devin Hester, but may be faster and a more reliable pass-catcher.
In the right system, Hilton could flourish much like Victor Cruz did in New York this past season. At his recent pro day, Hilton clocked a 4.3 40-yard dash and showed scouts why he is a threat to score every time he touches the ball.
Projected Stats: 39 receptions, 695 yards and 5 touchdowns; 9.2 yards per punt return and 1 touchdown

Defense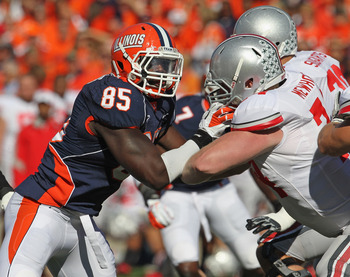 Jonathan Daniel/Getty Images
Luke Kuechly, LB (Boston College)
Go ahead and pencil—nay, pen with permanent ink—him into the starting lineup for Week 1.
Kuechly is out to prove his stats are not just a product of an overaggressive scheme, but rather the result of sheer athleticism and sound football instincts. He knows where to be and has the speed to get there in a hurry.
Projected Stats: 85 total tackles, 6 sacks, 2 forced fumbles and 2 interceptions
Whitney Mercilus, OLB (Illinois)
Mercilus plays like Aldon Smith, even shared the same jersey number in college, and has a similar habit of disrupting quarterbacks.
Mercilus is extremely quick off the snap, strong and uses his long arms and dizzying array of moves to shed blockers in his way. He led the NCAA with 16 sacks last season and will look to duplicate those astounding numbers in the NFL.
Projected Stats: 56 total tackles, 9.5 for a loss, 8 sacks, 3 forced fumbles and 1 interception
Janoris Jenkins, CB (North Alabama)
A typical high-risk, high-reward situation, Jenkins has several red flags after multiple arrests and a dismissal from the University of Florida. However, he since rebounded at lesser-known North Alabama.
Jenkins was mature and forthright during interviews in Indianapolis and further solidified his first-round status after a standout performance in the drills. He is fast, physical and fluid in his movements—all the tools of a shutdown corner.
Projected stats: 40 tackles, 8 passes defended and 4 interceptions
Quinton Coples, DE (UNC)
Coples is another in a long line of freakish athletes to come out of Chapel Hill. Some have developed into stars in the league, others have fizzled out for various reasons and failed to meet lofty expectations.
Coples has the advantage of having a clear position (defensive end) and the game to thrive there. He explodes off the line and is solid in both stopping the run and applying pressure on opposing quarterbacks.
Projected Stats: 38 tackles, 8.5 for a loss and 7.5 sacks
Jamell Flemming, CB (Oklahoma)
Flemming is an interesting prospect in terms of scouting reports. About half view him as a first-round talent, while the rest project him to land in the middle rounds.
I tend to agree with the former.
At the combine, Flemming ran a pedestrian 4.53 40-yard dash, but then dazzled with a 10.75 60-yard shuttle time for tops among all corners. He stands out on tape for his toughness in man coverage and the ability to blanket some of the better receivers in all of college football.
Projected Stats: 44 tackles, 9 passes defended and 4 interceptions
Mike Martin, DT (Michigan)
The more scouts see this guy, the more they fall in love. He's a solid 6'1" and 306 pounds, but has eye-popping athleticism and strength.
Martin registered a 33.5" vertical leap at the combine, then backed it up with an "unofficial" 4.88 40-yard dash and and 36 repetitions of 225 pounds. His short, powerful frame and quick feet demand double-teams, thus freeing up teammates to fly in and make plays.
Projected Stats: 36 tackles, 8 for a loss, 3 forced fumbles and 3 sacks
Keep Reading