New York Yankees: Why Their Bullpen Will Be MLB's Best in 2012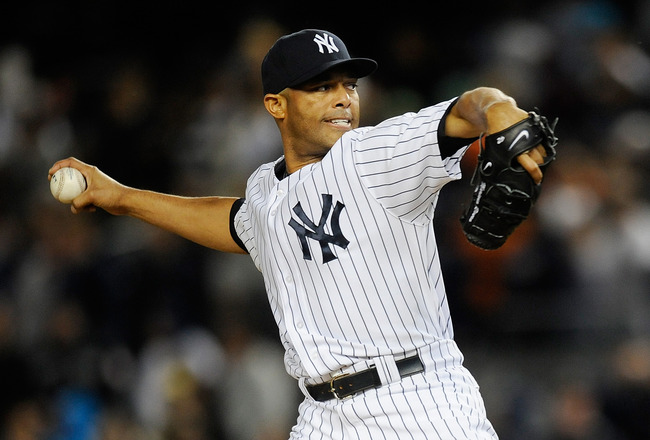 Patrick McDermott/Getty Images
The New York Yankees are entering the season once again looking to win another World Series title and has put together a team that is capable of doing so.
This includes a strength in the bullpen that came together last season to be one of the top in the Majors.
The vast majority of the bullpen is returning this season with one more season under their belt.
The Yankees will have the best bullpen in the Majors this season, and these members will play a key part in earning that distinction.
No. 3: David Robertson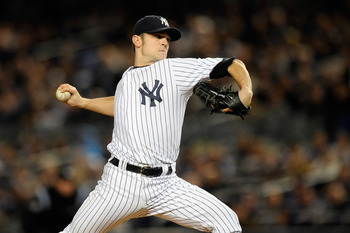 Patrick McDermott/Getty Images
David Robertson experienced a breakout season last year for the Yankees, emerging as the set-up man for Mariano Rivera down the stretch.
Robertson held a team-best 1.08 ERA over 70 games last season, pitching 66.2 innings and striking out 100 batters.
Even if Robertson regresses slightly, to a 2.50-3.00 ERA, he will still be an effective reliever for the Yankees.
His walk rate is a little high for the Yankees, as he held a 4.73 BB/9 ratio last season. If he is able to get that down to even 3.0, he will be more effective for the Yankees.
Regardless, Robertson will once again be one of the top relievers for the Yankees this season.
No. 2: Rafael Soriano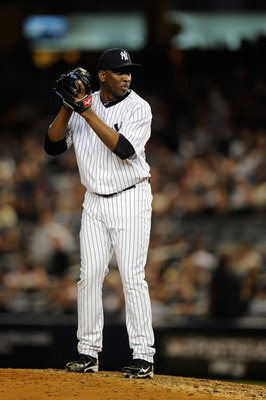 Patrick McDermott/Getty Images
After getting one year in pinstripes under his belt and finally being healthy, Rafael Soriano will help the Yankees earn the best bullpen of the year honors.
Last season saw Soriano post stats of 4.12 ERA over 42 games, throwing 39.1 innings. He also had 18 walks and 36 strike outs.
Those numbers appear worse than they actually were, based on Soriano's performance.
Most of the ugly numbers come from early in the season, when Soriano was pitching injured. Prior to hitting the DL, Soriano held a 5.40 ERA, allowing nine earned runs over 15 innings.
After returning from the DL, Soriano saw an August ERA of 3.72 and a September ERA of 3.29.
Those are the numbers the Yankees are looking for and expecting from Soriano this year.
Soriano will combine with Robertson and Rivera to form arguably the best three-headed monster for a bullpen in the majors this season.
No. 1: Mariano Rivera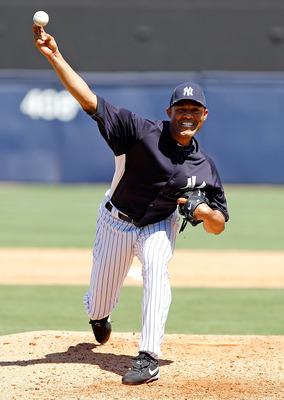 J. Meric/Getty Images
What else could possibly be said about the greatest closer to ever pitch the game?
Mariano Rivera holds the Major League record for most career saves, and that did not happen by accident.
Rivera has been dominant throughout his career, having a career high ERA of 3.15 back in 2007. Last season, Rivera once again dominated his opponents, holding a 1.91 ERA and a 0.90 WHIP.
Even more remarkable was his legendary control. Rivera pitched 61.1 innings last season, and only walked eight batters. That is a remarkable 1.17 BB/9 innings.
Add that to his amazing 7.5 K/BB ratio, and it just further explains Mo's dominance.
Look for Mariano to once again put his effort and lock down saves for the Yankees this season.
Summary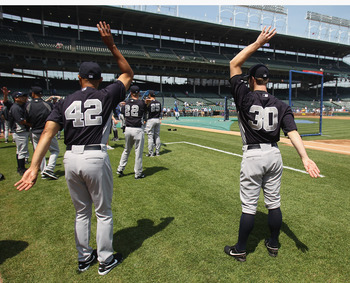 Jonathan Daniel/Getty Images
The Yankees will once again be blessed to a solid bullpen, led by the legendary Mariano Rivera.
The strength of their top three relievers Soriano, Robertson and Rivera will make the Yankees have the top bullpen this season.
After last season, look for Robertson to hold the eighth-inning spot of set-up man, with Soriano pitching there in days Robertson is unavailable.
However if all three are a go for a game, you could see Soriano-Robertson-Rivera enter the game, essentially making any game a six-inning battle.
Comments?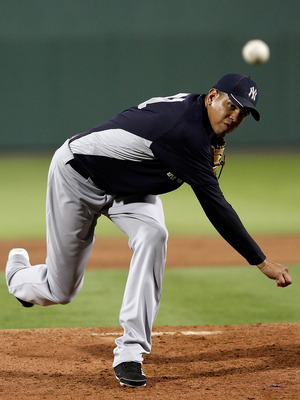 J. Meric/Getty Images
What do you guys think?
Is there someone that you would have included in the discussion of why the Yankees will have the best bullpen?
Is there someone you would take out?
Is there another team you think will be better?
Let's talk about it in the comments section!
Keep Reading

New York Yankees: Like this team?