Louisville vs. Kentucky: 5 Reasons This Is the Real Championship Game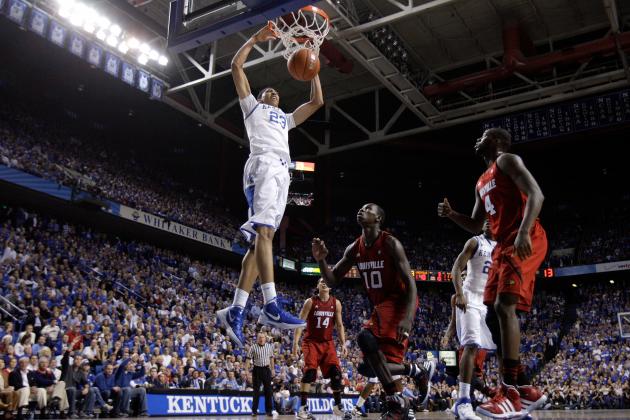 Andy Lyons/Getty Images

The Final Four is upon us, and though this group lacks the Cinderellas of last year's NCAA tournament, it is still an incredibly compelling field.
Though the team that gets to cut down the nets will obviously be decided in the next round, the matchup between the No .1 seeded Kentucky Wildcats and the No. 4 Louisville Cardinals could very well end up being an even better and more heated contest.
Between the history, team structure and accomplishments of these two Kentucky-based ball clubs, this is one of the juiciest Final Four meetings in recent history and could become the defining game of the 2012 college basketball season.
With Louisville's incredible run over the past few weeks and—of course—Kentucky's sustained dominance and overall talent powering them to this point, the stage has been set for a truly remarkable basketball game if both teams can play to their full strengths.
Here are five reasons why the Louisville-Kentucky game will end up as the best of the tournament.
Begin Slideshow

»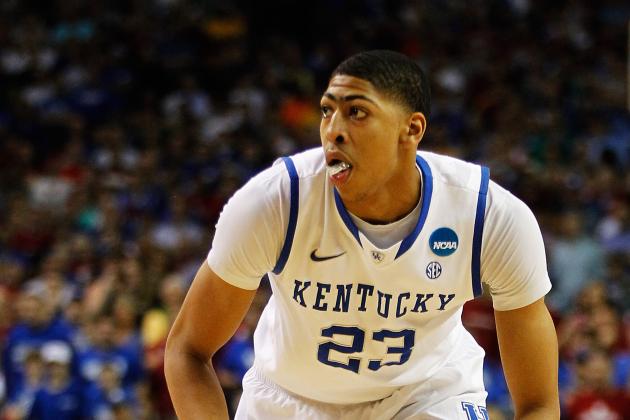 Streeter Lecka/Getty Images

The level of talent John Calipari has at his disposal has been dissected endlessly, but it bears repeating that a team that could potentially have five first-round NBA draft picks is something remarkable to watch.
The presence of Anthony Davis on both ends of the floor has been the Wildcats' anchor. His defense and shot-blocking (4.6 per game) are the heart of Kentucky's vaunted defense that can be downright suffocating, and his offensive versatility has been huge for the team.
He has an incredible skill set and is capable of going deep into the post, creating mismatches, shooting outside shots and even handling the ball sporadically.
Averaging less than a turnover a game, Davis also has shown the ability to make good decisions when facing pressure and double teams. To put it simply, it's no wonder he is the consensus first overall draft pick and making a slew of Charlotte Bobcats fans very excited.
Behind Davis are dynamic point guard Marquis Teague, relentless forward Michael Kidd-Gilchrist, smooth shooting Doron Lamb and several others capable of carrying their school for entire games. When a few of them are in sync, Kentucky becomes practically unbeatable.
Rick Pitino's Louisville team, though obviously extremely talented, lacks a single star player on par with those of Kentucky.
Most draft projections don't have a single Cardinal player being selected and the team has succeeded on their ability to share the ball and play for each other than on the work of any individual.
Junior point guard Peyton Siva has shown an ability to control the tempo of a game without being a scorer, racking up eight assists against Florida and nine against Michigan State. Though he can occasionally be too turnover-prone, Siva is the engine of the team and has adopted a major leadership role.
Center Gorgui Dieng is the team's defensive stopper, averaging 9.4 points and 9.1 rebounds, while swatting shots and preventing opponents from driving to the hoop.
Sophomore Russ Smith has shown he can carry the offense for stretches and is a threat from anywhere on the floor. Against Florida he was instrumental in Louisville's miraculous comeback as his ability to create his own shot resulted in 19 points in just 22 minutes.
Chane Behanan and Chris Smith are also key players, but none of them carry the clout of Kentucky's core group.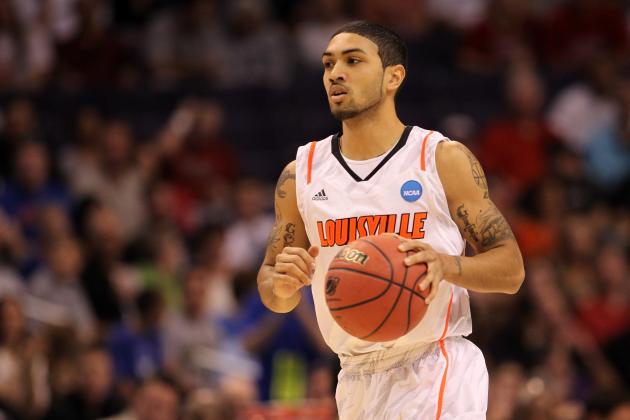 Jamie Squire/Getty Images

As demonstrated during the last Kentucky-Louisville game in Lexington on December 31, 2011, when these two teams collide some very interesting matchups are created.
The game was a defensive struggle, as neither team shot above 33 percent and Kentucky was able to pull it out thanks to a distinct advantage at the foul line. Kentucky shot 32-43, while Louisville went 18-27 en route to a 69-62 home win for the Wildcats.
No Louisville starter had more than eight points as Teague and Siva effectively cancelled each other out, both had a few turnovers and little impact. Foul trouble severely affected everyone from Chane Behanan to Doron Lamb in a game that was decided from the charity stripe.
However, there were a few notables in this game that will certainly be revisited by analysts in the next week and could decide which team is in the national championship game.
Despite foul trouble, Gorgui Dieng was able to block six shots and though Kentucky's big men had stellar games, Dieng's presence around the basket was crucial for Louisville as they rallied to keep the game competitive throughout.
Anthony Davis also notched six blocks, not to mention the 18 points and 10 rebounds he had while making 12 of 13 attempts from the line.
Davis and Dieng will likely be guarding each other throughout the game.
Dieng's offensive play is not particularly polished, but someone of his strength and size could at least bother Davis.
He doesn't have to match Davis' output and likely can't, but if he can frustrate the freshman forward, that will be a coup for Louisville.
In addition, Kentucky simply had no answer for Russ Smith.
He scored a career high 30 points in 27 minutes, while also notching three steals and five boards.
Smith shot the ball at will, connecting on half of his 20 attempts including a crucial four-point play in the second half.
Smith has been playing extremely well the last three games, scoring 17, 11 and 19 points respectively as Louisville has chugged past New Mexico, Florida and Michigan State.
If he's hitting shots while not necessarily clogging the ball movement, Smith could absolutely be the X-factor that swings the game in the Cardinals' favor.
For Kentucky, Michael Kidd-Gilchrist had one of the best games of anyone this college season—24 points and 19 boards in 39 minutes.
None of the forwards on Louisville could contain Gilchrist as he attacked the basket with tenacity, proving to be the overall difference.
Whoever is assigned to MKG must do a better job of boxing him out and keeping him from getting on the glass. He was a major reason Louisville was out-rebounded 28-49 in the loss.
This game features several key players that could decide the outcome and will be fascinating to watch out on the court. Smith, Dieng, Davis and Kidd-Gilchrist are all great talents that will be pouring their hearts into every minute of action.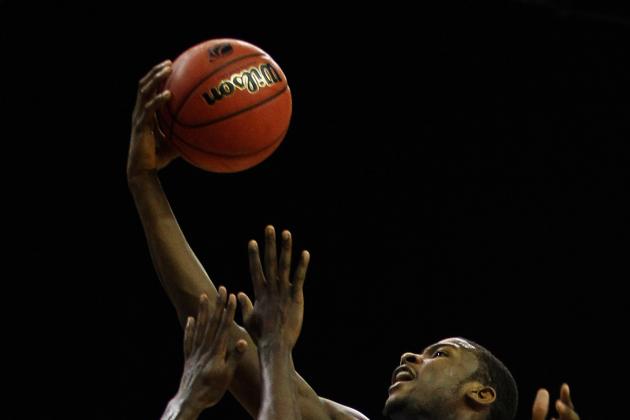 Streeter Lecka/Getty Images

It is often said that "defense wins championships" and in the case of these two teams the adage should certainly hold true.
One commonality between Louisville and Kentucky is that each one can win games solely on the merit of their defense.
Armed with dynamic, shot-altering big men, the perimeter defenders on each team feel they can gamble and make plays for the ball knowing that if they are beat, someone is there to reject their shot.
Rick Pitino is infamous for his full-court press, a staple of his teams for years and this Louisville club can execute it extremely effectively in spurts.
Breaking out the press and trapping frequently could be a huge boon for Louisville. Marquis Teague has a decent handle, but Kentucky lacks a veteran ballhandling presence and being bothered the length of the court could really frustrate the young point guard.
Louisville showed just how dominating they can be on the defensive end in their 57-44 win over top-seeded Michigan State. The Cardinals did not rely too heavily on the press and instead focused on making the Spartans work on every possession, a relentless style that eventually got the better of an extremely talented and well-coached ball club.
Dieng blocked seven shots in the win and he and Behanan each had nine rebounds, keeping the size of Michigan State from being a clear advantage—something they will also have to do against the Wildcats.
Kentucky's defense is just as frustrating as Louisville's—if not more so.
As they showed against Baylor, their length, athleticism and cohesiveness can cause serious disruption and allow them to force misses and turnovers. With the speed that Kentucky can transition from defense to offense, they can pour on points and win any kind of game.
Davis is their defensive star and easily one of the most intimidating in the nation. He patrols the paint and uses his absurd wingspan and uncanny timing to reject attempt after attempt, forcing opponents to rely on perimeter shooting.
Teague is one of those tenacious bulldog-like players on the defensive end that doesn't let his performance on offense affect his play on the other end of the court. He harasses opposing guards, taking them out of rhythm and simultaneously altering the flow of the game.
If Kentucky's other players are locked-in defensively too they are the hardest team to score on in the country and don't need to hit shots to win a game.
This should be a true defensive struggle and while it might not be the prettiest game, those who appreciate a good deflection, hard foul or tough double team will have much to be happy about.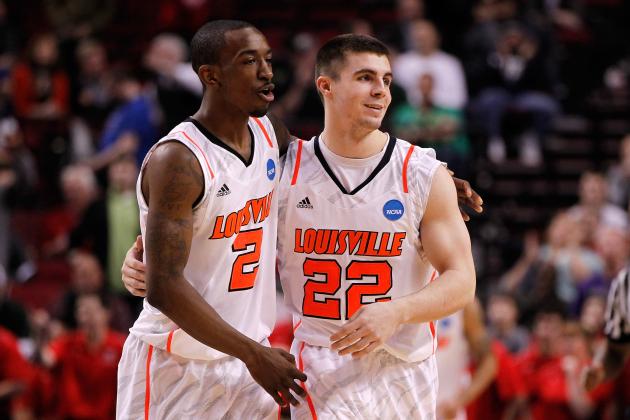 Jonathan Ferrey/Getty Images

With a combined 24 Final Four appearances and 10 NCAA championships, these are two of the most prestigious and well-regarded college basketball programs in the nation.
Each school competes in a major conference—the Big East for Louisville and the SEC for Kentucky—and is always at the forefront of it. Both schools are perennial powerhouses and have been consistently ranked for the last several years.
The presence of Rick Pitino patrolling the sidelines for Louisville adds another storyline to the mix. As the head coach of Kentucky from 1989 to 1997, Pitino brought the school a national championship, something John Calipari has yet to do for the school despite constantly bringing in upper-echelon talent.
Pitino honed his signature coaching style, including his renowned defensive tendencies and infamous press, at Kentucky and brought many of them to Louisville.
In addition, Pitino opposes the "One-and-Done" rule of college basketball that has been integral to Calipari's success over the years. His stance is that players should be allowed to enter the NBA draft out of high school but if they go to college they should stay for at least three years.
Calipari, as shown in his time coaching Brandon Knight, Tyreke Evans and Derrick Rose among others, does not object to the rule and recruits many very talented players with full knowledge they will likely be gone after their freshman season.
Location is another key reason this game is so compelling. A battle between Kentucky's largest and most popular universities with a national championship berth on the line means everyone in the state will be picking a side.
The Western Kentucky vs. Kentucky second round game was extremely heated and that was as lopsided as any tournament game, so this contest should be even more fiery as each school's devoted fan base will be looking for bragging rights and, in the case of Louisville, a little revenge.
In-state rivalries are always particularly venomous, and this one is no exception.
With two of the country's pre-eminent college programs competing, the emotion and hostility on both sides will be palpable.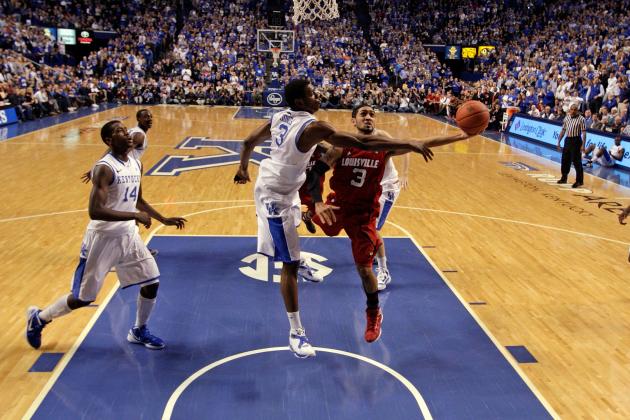 Andy Lyons/Getty Images

These teams are two of the hottest in the country, and it's always fascinating to watch when teams that are completely in sync at every level play each other.
Louisville has not lost a game since their 58-49 defeat at Syracuse on March 3. The school has reeled off eight-straight very impressive wins over the likes of Florida, Michigan State, Notre Dame, Marquette and Cincinnati.
Coach Pitino's team struggled initially with high expectations and a rash of injuries, but settled down towards the end of the season and are playing their best basketball when it matters most.
Kentucky, on the other hand, has been downright dominant all season long, with only a pair of losses, and appears to be simply a notch above the rest of the competition.
Since losing in the SEC finals to Vanderbilt, Kentucky has won all of their tournament games by double digits, including dropping 102 points on Indiana and beating Baylor by a dozen to advance to the Final Four.
They've handled Kansas, UNC, Vanderbilt and Florida during this season and their unrelenting style of play has simply worn down opponents.
Kentucky is 20th in the nation in points per game, 15th in rebounds and 10th in field goal percentage. They attack from all angles and wear down whoever they are playing against.
So we have two teams, in-state rivals at that, playing at their highest level coming into a game that means everything to these young players.
Sounds as good as any potential finals matchup to me.