2012 Masters: Ranking the Top 25 Masters Tournaments of All-Time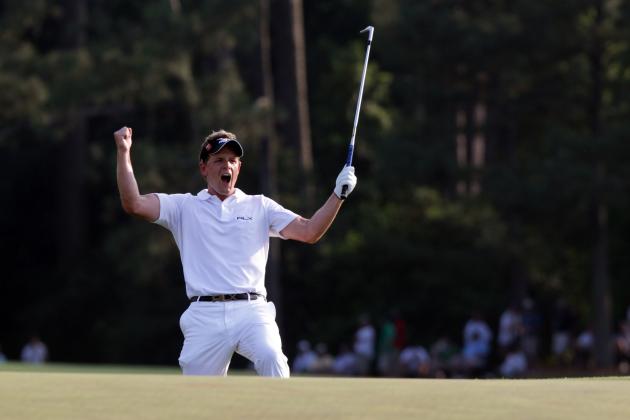 Ross Kinnaird/Getty Images

Since 1934 (with a brief interruption due to World War II), the Masters has been producing high-quality champions.
At the famed Augusta National, the tournament has provided a great deal of drama over the years. In fact, a common phrase is that "the Masters doesn't start until the back nine on Sunday," and for most years, this has certainly been true.
Shots have been holed, putts have been drained and adversaries have battled down the closing holes to secure the green jacket. Little else can touch the atmosphere that surrounds Augusta on a Masters Sunday.
The 76th edition of the tournament will be soon be upon us. The date is fast approaching, and it seems as prudent a time as ever to mark some of the greatest Masters that have ever been played.
Of the 75 Masters already completed, here are the 25 best. While the Masters seems to come down to the wire every year, in truth, it doesn't. There are years of great excitement, but plenty of instances of less-than-thrilling finishes (see 2008).
Nonetheless, it is still a tough list to compile. There have been so many great Masters in the tournament's history that 25 is too small a number to make everyone happy.
Here is my best attempt, though; from 25 to 1, these are the best Masters in history.
Begin Slideshow

»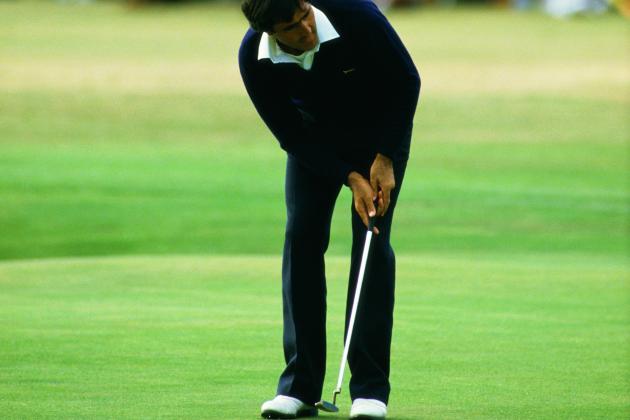 David Cannon/Getty Images

This Masters tournament was one simply to be remembered by the performance of a young Seve Ballesteros.
Ballesteros, a 23-year-old star who had won the Open Championship the previous year, became the youngest player to ever win the Masters, and did so in decisive fashion. The Spaniard won by four shots over Jack Newton and Gibby Gilbert in a tournament that he held at least a share of the lead after every round.
A tournament like this, one in which Ballesteros won by a comfortable margin, may seem rather boring at first, but it indeed proved quite exciting.
At Augusta in 1980, fans saw the blossoming of a young star in Ballesteros, a man who would go on to have a magnificent career. Added on to this, Ballesteros almost blew his big chance.
On the 10th tee Sunday, Ballesteros held a 10-shot lead over the field and seemed ready to pick up his green jacket then. But, matters changed quickly, the Spaniard three-putted for bogey on 10 and hit shots into the water on 12 and 13, leading to double bogey and bogey respectively. With Jack Newton's three birdies over this stretch, Ballesteros' once commanding 10-shot lead was now reduced to just three!
Ultimately, Ballesteros held on, but not without some nervous moments first. It was a runaway tournament that proved much closer and the rise of a young man who was far from finished with golfing greatness.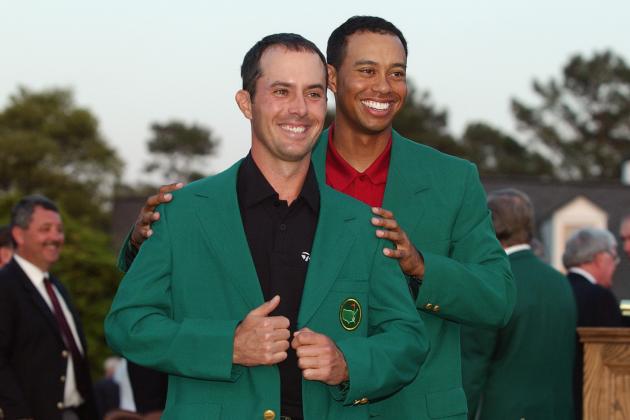 Harry How/Getty Images

In 2003, Augusta National produced one of the strangest Masters of all-time.
Jeff Maggert (who held a two-shot lead going into the final round) made a triple bogey and a quintuple bogey in his round, Tiger Woods saw his charge stall with a double bogey at the simple third hole, and the unlikely duo of Len Mattiace and Mike Weir found themselves in a playoff at the end of the day.
Despite the lack of star power in the playoff, the final round in 2003 proved to be a great one. Mattiace started the day five shots behind the lead and stormed to the top with a 65. Mattiace actually had started the day so far behind that he had to wait in the clubhouse for over an hour to see if anyone could match his 7-under-par total.
Mike Weir was the man to catch him. Fashioning a 4-under-par round through 17 holes, Weir was tied for the lead heading to the 18th tee. But the Canadian struggled on the home hole and was left with a nerve-wracking seven-footer for par to force a playoff.
With all the pressure of a major championship on the line, Weir buried the putt and the tournament went to extra holes. To add to the bizarreness of the day, Weir won on the first sudden death playoff hole with a bogey (to Mattiace's double bogey) and captured his first green jacket.
Overall, this was a weird and memorable day that, appropriately, ended with a man winning his first major championship.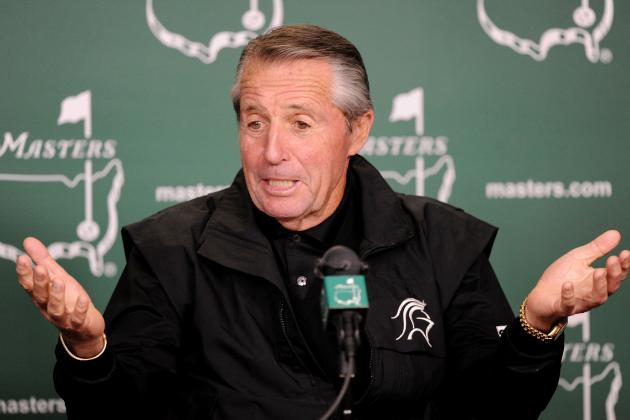 Harry How/Getty Images

Walking down the 72nd hole at the 1961 edition of the Masters, Arnold Palmer seemingly had the tournament in hand.
"The King" held a one shot lead over a young hotshot named Gary Player and was right in the middle of the fairway for his approach shot to the green.
What happened next was unthinkable.
Palmer pushed his approach shot into the right greenside bunker, blasted out beyond the green, chipped up to 15 feet and missed his bogey putt to lose the tournament by one.
Player became the first international player to win the Masters in the most astonishing of fashions. The great Arnold Palmer had the tournament in his hand before he frittered it away with three incredibly poor shots.
This would've been a good Masters if Palmer had knocked it on the green and two-putted for par and a victory, but with his amazing collapse at the end, this Masters was one to remember.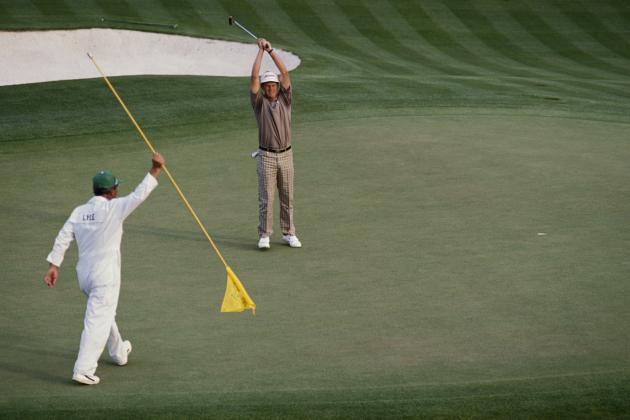 David Cannon/Getty Images

After messing up a good portion of the back nine, Sandy Lyle wasn't in good position to win the 1988 Masters.
The Scot had lost his lead with a double bogey on 12, and he failed to birdie either of the par-fives coming in. Down one with three holes to play and with no momentum on his side, this didn't look like Lyle's year.
Things changed quickly, though.
Lyle hit a wonderful tee shot on 16 to 12 feet and made the birdie putt to tie for the lead. After parring 17, Lyle only needed a par for a playoff and a birdie for the win.
However, the 30-year-old wouldn't make it that easy, hitting his tee shot into the fairway bunker.
No worries, though; Lyle grabbed his seven-iron and flushed it out of the sand. The ball flew straight over the flagstick, landed 20 feet past the cup and slowly rolled back to six feet.
The dramatic shot lead to a dramatic putt, which Lyle holed for an incredible one-shot victory.
Lyle's amazing finish made certain that this Masters would go down as one of the best.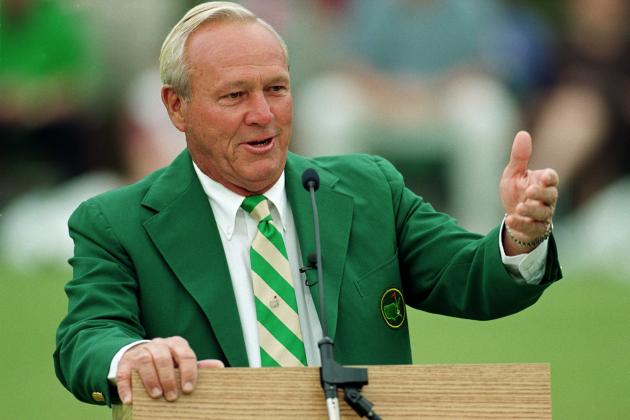 David Cannon/Getty Images

Going into 1958, Arnold Palmer was a good player, but he was far from the icon he is today.
The 28-year-old had eight PGA Tour victories to his name and was one of the rising young stars, but he didn't yet have a major championship to his name.
The 1958 Masters changed that.
Palmer wasn't likely to win the Masters after two rounds, as he stood three back of leaders Sam Snead and Ken Venturi. But a third round 68 vaulted Palmer into a share of the lead, and by the time he reached the 12th tee on Sunday, Palmer was one ahead of Venturi.
That is when Palmer produced some of the greatest drama in Masters history.
Hitting his tee shot at the treacherous par-three 12th, Palmer flew the green and watched as his ball plugged. Feeling he was entitled to relief because the ball was embedded, Palmer consulted official Arthur Lacey for a ruling.
Lacey said that Palmer was not entitled to relief.
Frustrated, Palmer gouged out his embedded ball, chipped up from there and two-putted for a double bogey 5. Venturi had taken the lead!
Not so fast, though; with the contention that he got a bad ruling, Palmer announced he would play a second ball with the clean lie he thought he deserved. Palmer chipped that ball close and made his par 3.
Not knowing whether he would be awarded a 5 or 3, Palmer carried on. Unfazed, he eagled 13 and on the 15th tee he was told his fate. He would be awarded a 3 on the 12th hole.
Palmer had caught a break, and he needed it too, as he held onto a one-shot victory and won his first Masters.
No matter how strange the ruling was or how controversial it still is today, one thing is for certain: On that day, a Masters star was born.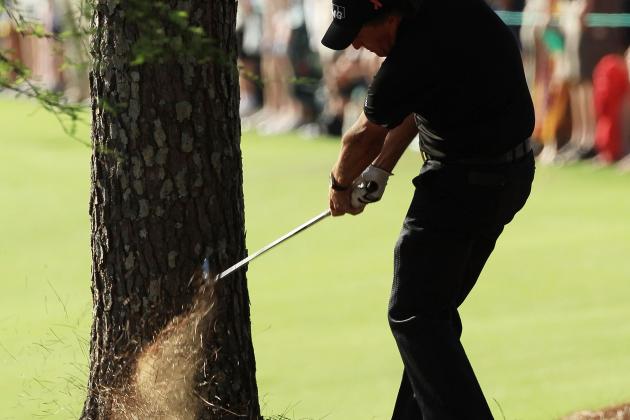 David Cannon/Getty Images

The 2010 version of the Masters was a tournament with numerous storylines.
There was Tiger Woods returning from a five-month exile due to extramarital affairs. Phil Mickelson was competing for his wife and mother, who had both been diagnosed with breast cancer the previous year. Lee Westwood was looking to finally get the monkey off his back and win his first major. And 50-year-old Fred Couples was looking to turn back the clock and win his second Masters title.
There was plenty to look for at this Masters, and it didn't disappoint. The third round was one of the best in Masters history, as the contenders hit great shot after great shot.
Mickelson produced the most magic, hitting a fantastic approach on 13 for a momentum-building eagle, holing his approach shot from the fairway for eagle on 14 and almost producing a third consecutive eagle when his third shot to the par-five 15th ended just inches behind the hole.
The great play continued Sunday, and so did the drama. Mickelson held a one-shot lead on the 13th hole and was in the pine straw facing a dangerous shot over the water to the par-five green.
With no room for error, Mickelson rocketed a five-iron from the pine straw through an opening between two trees and landed it over the water and on the green four feet from the hole.
Mickelson missed the resulting eagle try, but the shot gave him the confidence to close out a three-shot victory.
With all of this excitement, it would be tough not to call this a great Masters.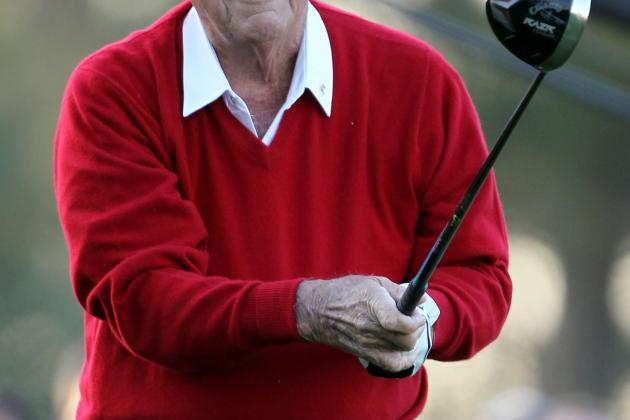 Jamie Squire/Getty Images

After blowing his shot at a third Masters title the year before, Arnold Palmer was looking for redemption in 1962. And after 54 holes, Palmer seemed certain to avenge the loss.
The 32-year-old held a two-shot lead and had the tournament seemingly in his hand. But Sunday struggles hit Palmer again. In fact, through 15 holes, Palmer was 5-over-par for his round and was two shots behind Gary Player and Dow Finsterwald.
To make matters worse, Palmer had pushed his tee shot on 16 and left himself a devilishly fast chip and an almost certain bogey. With Player 10 feet from the hole for birdie, Palmer was in great danger of falling four behind with two to play.
The pressure was there to hit a perfect shot, and that is exactly what Palmer did. The ball rolled down the slope, moved straight toward the hole and fell right in the cup for a birdie two.
The miraculous shot saved Palmer. He was just one back when Player missed his birdie attempt, and after birdieing 17, Palmer tied for the lead.
Palmer, with the odds stacked against him, forced a playoff. He shot a 68 in the 18-hole playoff the next day, beating Player's 71 and Finsterwald's 77.
The King had regained his throne.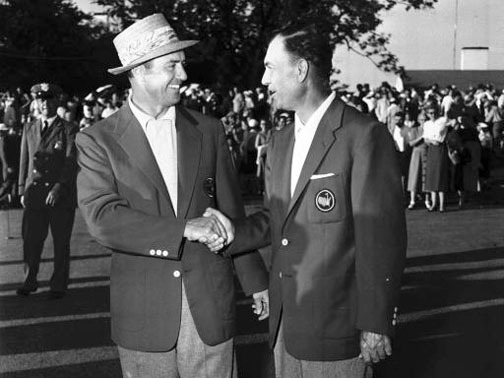 In 1953, Ben Hogan had the greatest season of his career. He won three major championships (Masters, U.S. Open and Open Championship) and five of the six events he competed in.
Since the PGA Championship and Open Championship schedules conflicted back in that day, Hogan went to Augusta looking for his fourth consecutive major championship victory.
But this wasn't going to be a stroll for Hogan. In fact, a young amateur named Billy Joe Patton threatened to take the title before water balls on 13 and 15 sunk his chances.
This left Hogan and his longtime rival, Sam Snead, to duke it out in an 18-hole playoff. The duo traded blows the next day in a terrific duel.
Snead took the lead at 10 with a birdie, but relinquished it with a bogey at 12. He then went for the green in two on 13 to set up an easy two-putt birdie and take a one-shot lead.
Hogan had a great chance to catch Snead with a good birdie look at 16, but instead three-putted for bogey and dropped him two shots behind.
Snead eventually won with a 70 to Hogan's 71, edging his opponent out and finishing off one of the most competitive Masters on record.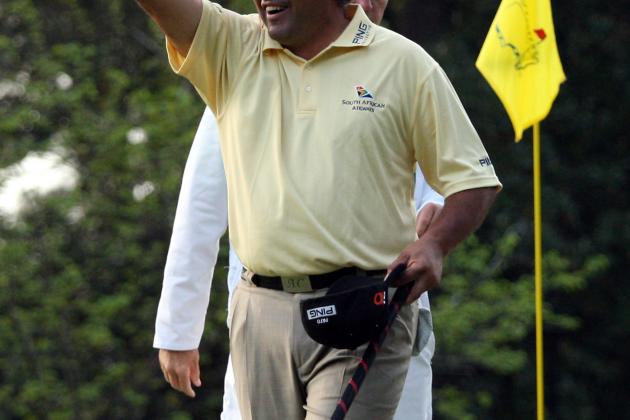 Ross Kinnaird/Getty Images

Despite the anticlimactic finish to the tournament, the final round of the 2009 Masters proved to be quite an incredible day.
To start things off, there was the electric pairing of Phil Mickelson and Tiger Woods. Mickelson roared out of the gates, birdieing six holes on the front nine for an outgoing 30. This put Mickelson right near the top of the leaderboard before his charge stalled.
Woods' charge was a bit slower, but still forceful. He made key par-saving putts early in his round to keep momentum and produced a number of red figures to get to 6-under for his round walking off the 16th green.
Bogeys on each of the closing two holes would stop Woods as well, but the duo had created some early excitement.
After these threats evaporated, the trio of Kenny Perry, Angel Cabrera and Chad Campbell fought it out. Perry seemingly took control of the tournament with a stuffed iron at 16 that gave him a two-shot lead.
But, in a surprising development, Perry bogeyed 17 and 18, allowing for a three-man playoff.
Cabrera would ultimately win on the second playoff hole with an uninspiring tap-in par, but with the early commotion of Woods-Mickelson and the late battle of Perry, Cabrera and Campbell, this was not a Masters Sunday to miss.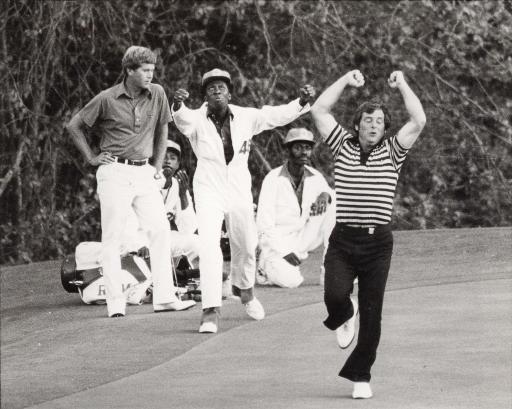 With three holes to play, Ed Sneed looked like a lock to win the 1979 Masters. He was three ahead of Tom Watson and four ahead of a Masters rookie named Frank "Fuzzy" Zoeller.
Then, Sneed collapsed.
The superior ball-striker was, predictably, let down by his putter. Three short attempts at par, three misses (including a six-footer on 18 that agonizingly held up on the lip) and Sneed has squandered his lead.
Sneed was now in a three-way playoff with Watson and Zoeller, and on the second playoff hole, Zoeller took the initiative.
After Sneed's birdie chip missed and Watson's short birdie attempt slipped by the cup, Zoeller holed his six-footer for birdie and threw his putter up into the air in jubilation.
A true Masters first-timer had won one of the most prestigious tournaments in the world in its first ever sudden-death playoff.
And to think, just holes before, this tournament was a foregone conclusion.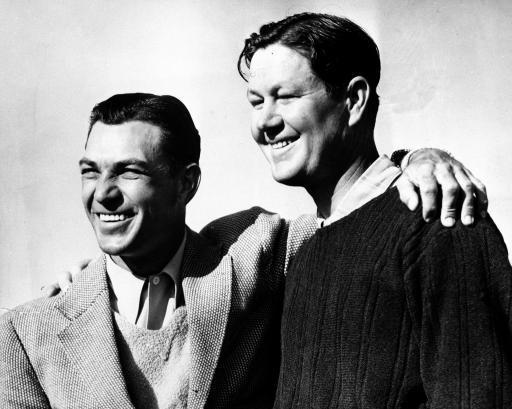 Four years before he would win his first major championship, Ben Hogan put up a valiant effort at the 1942 Masters.
"The Hawk", after birdieing the 18th on the final day, walked off the green with an 8-under-par total and waited to see if Nelson could finish with par to match him. Sure enough, Nelson did just that, hitting his approach to 15 feet and two-putting from there for an easy par.
The next day in the playoff, there was an unexpected turn of events. After a sleepless night and an illness that pervaded throughout the morning, Nelson quickly fell three behind Hogan through five holes. But Nelson regrouped and did so in stunning fashion, playing his next eight holes in 6 under par to steal the lead away from Hogan.
Nelson held on from there, putting up a 69 to Hogan's 70 to outlast the future golfing legend.
In one eight-hole stretch, Nelson gave spectators a stunning performance, enough to thwart the up-and-coming Hogan on this day.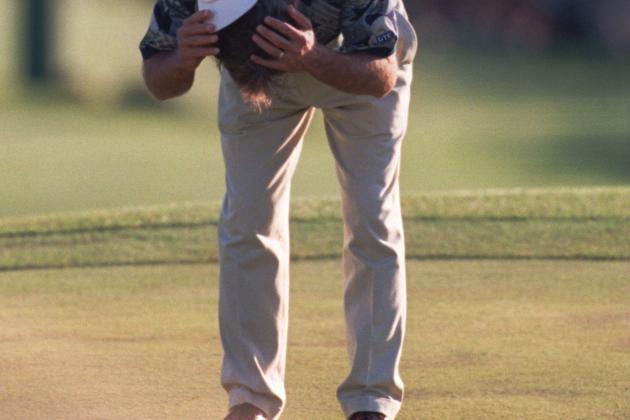 David Cannon/Getty Images

A week before the 1995 Masters, Harvey Penick, the longtime mentor to Ben Crenshaw, died at the age of 90.
A heartbroken Crenshaw was an unlikely contender at Augusta. Along with grieving over Penick, Crenshaw had missed three of his last four cuts and was far past his prime (as evidenced by his 69th place spot on the PGA Tour's putting list heading into Augusta).
The passing of Penick changed Crenshaw though. With an eerie calm about him, Crenshaw stormed to a share of the 54-hole lead and took the lead on his own on the back nine Sunday.
Davis Love III put up a good fight, though, and with three holes left, Crenshaw was again tied for the lead. That's when "Gentle Ben" put his foot on the accelerator, birdieing 16 and 17 to give himself a two-shot cushion walking up 18.
The battle between Love and Crenshaw was enough to make this an interesting tournament, but Crenshaw's emotion at the passing of Penick made this day unforgettable.
After tapping in for bogey and a one-shot triumph, Crenshaw bent at the waist, put his hands in his face and started to cry.
He had won the tournament for Harvey, and certainly won the hearts of many viewers that day.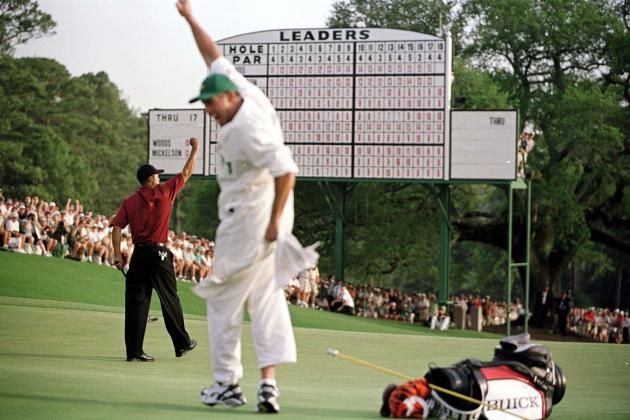 Stephen Munday/Getty Images

Since Bobby Jones' completion of the "Impregnable Quadrilateral" in 1930, nobody had even thought of winning the Grand Slam.
Tiger Woods wasn't exactly a win away at the 2001 Masters from matching the feat, but a win did mean something; four consecutive major championship wins and his own version of the Grand Slam.
Even with the pressure that built up over the eight months between the PGA Championship and the Masters, Woods didn't fold in the face of history. Actually, thanks to stellar middle rounds of 66 and 68, Woods took a one-shot lead after 54 holes.
If he thought that he would get a coronation Sunday, though, he was in for a huge surprise.
David Duval and Phil Mickelson (ranked No. 2 and No. 7 in the world respectively) gave Woods a fight that day. Duval recorded seven birdies in his first 10 holes and tied Woods for the lead after a birdie on 15.
Mickelson had a tougher road, but he fought all day to stay in the hunt, and heading to the 16th tee, he was just one back.
Yet, this was still Woods' day. Duval and Mickelson both bogeyed 16, and after Duval missed two golden birdie opportunities at 17 and 18, the challenge was over.
Woods fended off his resilient foes and was left with two putts from 15 feet for his fourth consecutive major title.
Woods only needed one, producing a finish to a Masters Sunday that was "as grand as it gets."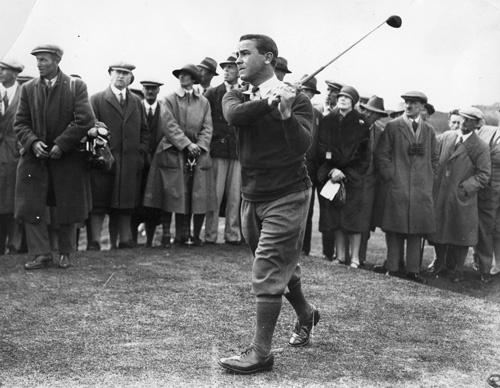 In 1935, the Masters was just in its second year and was hardly the huge event it is today. Gene Sarazen did his best to change that.
Standing in the 15th fairway down three to clubhouse leader Craig Wood, Sarazen knew it wasn't time to play it safe. A 4-wood in hand, Sarazen was going to try to reach the green in two even though it meant hitting over a treacherous pond that gobbled up any shot that was less than stellar.
Sarazen, just hoping to make a birdie, lashed his 4-wood onto the green. The shot landed over the pond, rolled up to the cup and dropped straight into the hole.
Sarazen had made a double eagle and was now tied for the lead!
The incredible shot produced the rarest score in golf and gave Sarazen all three shots he needed to catch Wood. Sarazen forced a playoff three holes later and won the next day in a 36-hole affair.
With a strike that became known as "the shot heard 'round the world," Sarazen had not only won the Masters but had put it squarely on the map as well.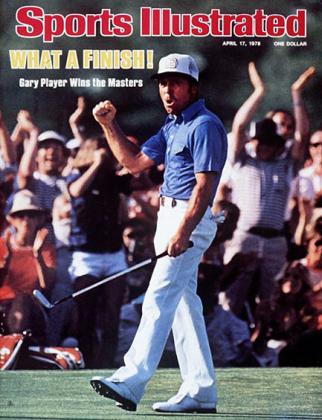 It seemed rather unlikely that Gary Player was going to add a third green jacket to his closet in 1978.
The South African was four years removed from his last major win and was seven shots behind the lead with 18 holes to play. This was a 42-year-old man with miles of ground to make up; there was hardly a chance that Player would leave the grounds the victor.
Player brought out his best that Sunday though, birdieing seven of his final 10 holes (including a clutch 15-footer at 18) for a final-round 64 and the clubhouse lead.
Player had put together an astonishing performance on a golf course that was none too easy, but the tournament still wasn't over. There were players still out there to catch Player, and walking up to the 18th green, Hubert Green had an excellent chance to do just that.
Green, down one to Player, had hit an excellent approach into the green and left himself just three feet for birdie and the tie. Knock in the seemingly simple putt, and Green was in a playoff.
However, pressure never makes things simple. Green pushed the little putt, missing the chance for a playoff in devastating fashion.
On the day of a fantastic charge, ironically, a missed short putt won Gary Player the tournament.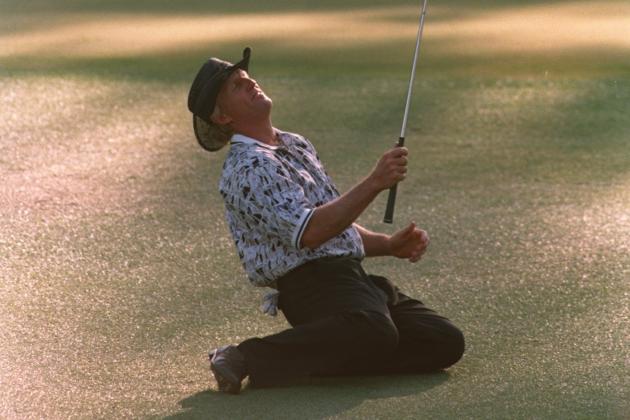 Stephen Munday/Getty Images

Greg Norman's track record coming into the 1996 Masters was six top-five finishes and no victories. "The Shark" clearly had his chances before, but time after time, his Masters dreams were ruined.
For the first three rounds of the 1996 edition, Norman's fortunes appeared different. Norman shot a course-record tying 63 in the open round and continued his great play, opening up a six-shot lead with 18 holes to play.
Just one solid round separated Norman from his long-awaited green jacket. One round!
Unfortunately, though, the Norman of old returned.
Norman held up relatively well at the beginning of the day, still holding a four-shot lead with 11 holes to play, but his standing went south in a hurry. Norman bogeyed 9, 10 and 11 and added a double bogey on 12 for good measure to fall from four ahead to two behind.
Birdies at the par-five 13th and 15th holes revived Norman a little. He was still two back heading to the 16th tee, but he had a least gained some momentum.
Then, he sealed his fate. Norman hit his tee shot, stared at it for a few seconds and then looked back in disgust as his ball made a loud splash in the pond some 20 yards left of the pin.
The 41-year-old eventually lost to Faldo by five, and although Norman's heartbreak may seem a cruel inclusion on this list, a player's collapse is to a viewer's delight.
Norman's final-round 78 was sad, but it provided some of the greatest drama (or trauma) the tournament could ask for.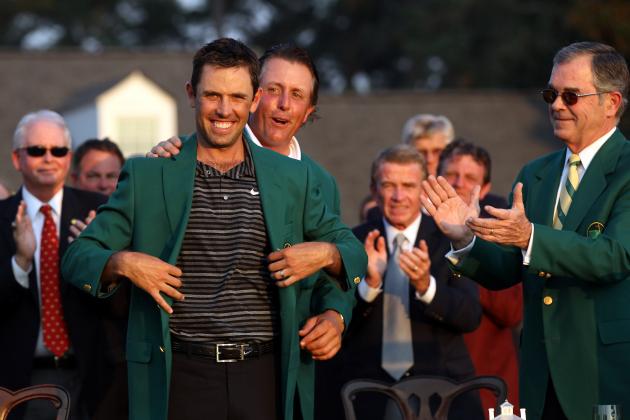 Ross Kinnaird/Getty Images

The most recent Masters was certainly one of the greatest. This was not a tournament to flip away from because every half hour, it seemed like there would be a new winner.
First, there was the 21-year-old wunderkind Rory McIlroy, who, with a four-shot lead heading into the final round, look poised to win his first major championship. Yet the boy wasn't ready, poor putting early and a disastrous triple bogey 7 at the 10th hole led him to a final round 80 and far out of contention.
Then there was Tiger Woods, whose front nine 31 (including an eagle at eight that nearly brought the place to the ground) vaulted him from seven shots back into a tie for the lead. Still, Woods couldn't push any further and eventually settled for a T4 finish.
Next were Geoff Ogilvy and Luke Donald, who seemingly came out of nowhere to climb within one shot of the lead late in the round. The pair ultimately ran out of time, though, stuck on 10 under par in the clubhouse.
In the fourth sequence, the Aussies took over. Adam Scott and Jason Day traded clutch putt for clutch putt and when all was said and done, each player was 12 under par and looking in good shape for a playoff.
Hold on, though; Charl Schwartzel provided yet another twist. At 10 under on the 15th tee, Schwartzel took control by birdieing 15, 16, 17 and 18 to finish with a total of 14 under par and a two-shot victory.
After a day of extreme fluctuation at the top of the leaderboard, Schwartzel finally ended the affair and did so in emphatic style.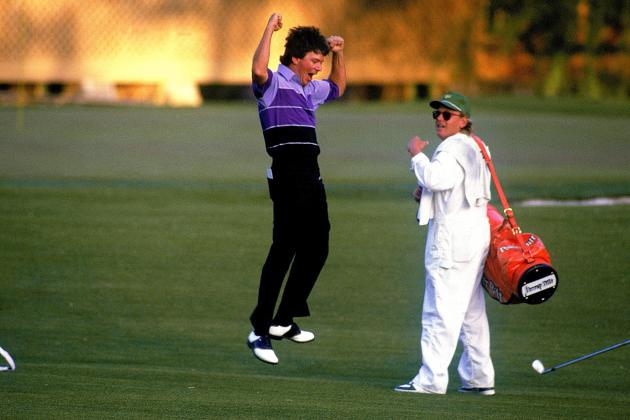 David Cannon/Getty Images

As we approach the 25th anniversary of the 1987 Masters tournament, the ending still seems entirely unbelievable.
It all started when Greg Norman came to the 72nd green.
Norman, tied for the lead with Larry Mize and Seve Ballesteros, surveyed his 20-foot birdie putt for the win and his first Masters title. This was his best chance to win a Masters yet, and he intended to take full advantage.
Norman stroked the putt beautifully and watched excitedly as it moved right on line toward the hole. A foot from the cup, Norman knew it was in. The ball approached the hole and, before astonished eyes, broke over the left side of the cup and trickled by.
Shocked, Norman tapped in for par and headed for a three-man playoff. Somehow, the proceedings would get even stranger.
On the first playoff hole (the 10th), the usually short-game savvy Seve Ballesteros made a surprising error. Just 25 feet from the hole for birdie, Ballesteros wrapped the ball six feet by the cup. The comebacker missed on the left.
Just like that, one of the game's best putters was out on account of a three-putt.
Norman and Mize moved on to the second playoff hole (the 11th). Both hit wonderful drives, but Mize showed signs of nerves, hitting his approach more than 40 yards right of the pin and at least 15 yards right of the green. Norman hit his approach 40 feet from the pin and looked certain to win.
Faced with a long chip and an ultra-fast green to play it to, Mize seemed out of luck. He was destined for a bogey 5 and likely a runner-up finish.
The Augusta native thought otherwise. Using a low running chip, Mize bounced the ball three times, twice before the green and once on it, let it roll out across the putting surface and watched in amazement as the ball rolled right into the cup.
Mize had holed the impossible chip for a birdie!
Norman, understandably shaken, missed his putt, giving Mize the title.
With possibly the greatest shot in the tournament's history struck by a man with just one previous PGA Tour win, this was clearly a bizarre Masters to be remembered for a long time.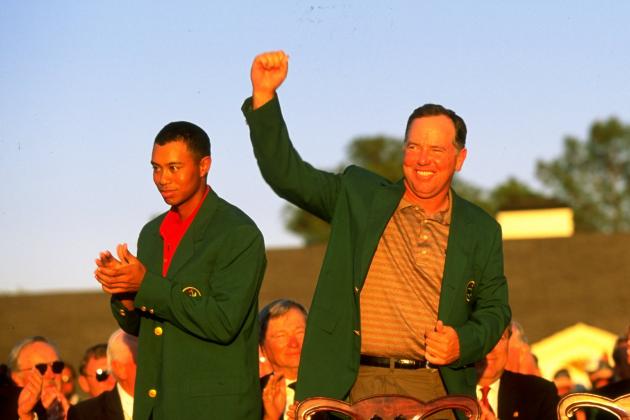 David Cannon/Getty Images

Although Augusta played exceedingly tough in 1998, it had no problem producing final-round drama.
Fred Couples held the 54-hole lead at 6 under par, but the early spotlight was on a star reborn. Jack Nicklaus, at age 58, was making a charge up the leaderboard.
Starting five back, Nicklaus got to work right away, carding four birdies against just one bogey in his first seven holes to move within two of Couples and push the crowd on the verge of hysterics.
Nicklaus couldn't continue his hot play and ultimately finished at 5-under (four strokes back), but his early-round surge had put a jolt into the crowd.
If that wasn't enough, an epic three-man duel ensued. Couples, 41-year-old Mark O'Meara and 26-year-old David Duval all battled it out down the stretch for the elusive green jacket.
Couples held the lead for much of the final round, but on the 13th hole, he squandered it, hitting his second shot into Rae's Creek and carding a double bogey 7. Duval then took control, birdieing 15 to take a three-shot lead over Couples and O'Meara.
But just as it seemed Duval was going to claim his first major title, things changed just as quickly. Duval bogeyed 16, leaving the door open for the pairing behind him. O'Meara birdied 15 and 17, and Couples eagled 15 to deplete Duval of all three shots of his lead.
O'Meara and Couples came to the 18th tee with much tension in the air. Couples made a mess of the hole, but still managed to negotiate his ball four feet from the cup for his par. All Couples needed was for O'Meara to miss his 20-footer for birdie, and he would be in perfect position to force a three-way playoff with O'Meara and Duval.
But O'Meara intended to end the dramatic day with a boom. He stroked the putt, and like he wanted, it found the bottom of the cup.
O'Meara had won his first major championship that day, and with it, brought a perfectly dramatic finish to a day filled with excitement.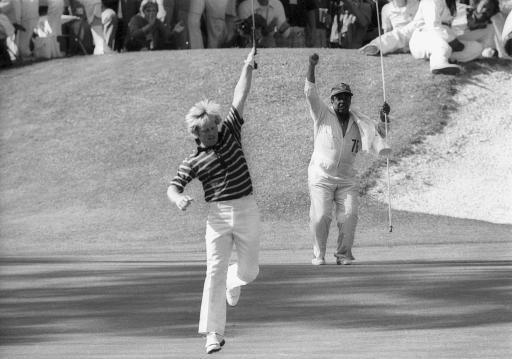 In Jack Nicklaus' quest for a record fifth green jacket, an amazing three-man duel occurred.
The Golden Bear was locked in combat with a seriously talented 27-year-old Johnny Miller (whose ability to whisk away with a major was evident with his final-round 63 at the 1973 U.S. Open) and a 32-year-old Tom Weiskopf (who was seen as a possible heir apparent to Nicklaus).
Miller started four back, but a barrage of birdies got him up to speed. And by the heart of the back nine, it was any man's game to win. With Nicklaus and Miller just one shot down to Weiskopf on the 15th, it was time to see who would take action and bring home the title.
Nicklaus stood in the 15th fairway 240 yards from the pin with a one-iron in his hands. A treacherous carry over water lay in front of him, and most likely, his chances at the tournament.
He rose to the challenge, though, hitting a perfect shot 15 feet from the flag that set him up for an easy two-putt birdie and tie for the lead. Weiskopf responded with a birdie of his own, though, on 15 and after Nicklaus hit his tee shot a disappointing 40 feet from the flag on 16, he was left in a tough position.
Down one to Weiskopf and just one ahead of a hard-charging Miller, Nicklaus knew how much this putt meant. He firmly stroked his putt up the steep slope and looked intrigued as his ball took the big right-to-left break and went straight to the bottom of the cup.
Nicklaus jumped in the air in excitement, and although the putt only tied him for the lead, it was the back-breaker.
Weiskopf bogeyed 16, and when his eight-footer for birdie on 18 slipped by on the high side, the battle was over and Nicklaus was champion again.
In one of the greatest displays of golf by a trio of competitors (they combined shot 12 under par in the final round), Nicklaus provided his best work to come out on top. But his best Masters performance was still yet to come.
Harry How/Getty Images

With his last major championship win coming at the 2002 U.S. Open, Tiger Woods was hungry for a major in 2005.
After a messy first-round 74 that included at one point Woods putting a ball into the water, the 2005 Masters didn't seem the tournament to end Woods' drought.
But in rounds two and three, the then-eight-time major champion turned it on. Woods shot a second-round 66 to get back into contention, and he put together an even more impressive third round.
Down six shots to Chris DiMarco through 36 holes, Woods made up ground quickly. After early birdies at holes two and three, Woods went on a tear, birdieing holes seven through 13 (seven consecutive birdies) on his way to the outright lead.
Woods took a three-shot lead through 54 holes, and after birdies at one and two to start the final round gave Woods a four-shot lead, it seemed he would waltz to victory.
But DiMarco was a fighter, and he gave Wood one heck of a battle. DiMarco played his next 13 holes in 3 under par and was within one of Woods heading to the 16th tee.
That's when proceedings got really interesting. DiMarco hit his tee shot to 20 feet while Woods' sailed well over the green, leaving him an extremely difficult chip. It would be a shot that he would have to play almost 90 degrees away from the hole so it could catch the green's steep slope and run down to the cup.
The pressure mounting as his lead was slipping away, Woods didn't fold. Aiming a good 30 feet left of the hole, Woods hit a low-running shot that bounced up a couple of times on the green and slowed down once the ball's spin took hold.
The ball trickled down the slope, miraculously going right for the cup.
But the ball stopped one roll short. Or so everybody thought. With the Nike logo flashing in front of the television screen, the ball took one last revolution and dropped in the cup.
Woods let out a fierce celebration as he fortified his lead back up to two strokes, and he sure needed both of them. Woods bogeyed 17 and 18 to fall into a playoff with DiMarco and delay his victory that much longer.
To cap off the day though, Woods buried a 15-footer for birdie on the first playoff hole for the win.
It was his fourth Masters title and, finally, his ninth major championship.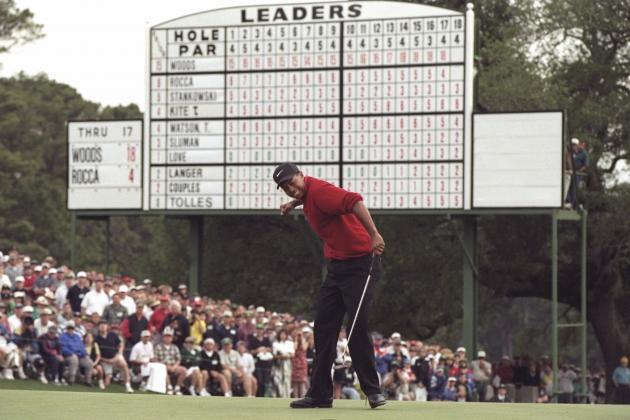 Stephen Munday/Getty Images

Despite the prestige and honor attributed to the hallowed grounds of Augusta National, course policies have never been fair to all.
African-Americans were highly discriminated against for many years at the course, and Augusta didn't even have a black member until 1991 (and that was only due to the backlash against Shoal Creek the year before in regards to its having zero black members).
So, the emergence of a young African-American named Tiger Woods not only had golfing significance, but incredible social significance as well.
Although the tournament didn't start out so well for Woods, he soon gained his footing. After needing a whopping 40 strokes to complete his first nine holes, Woods countered with a back-nine 30.
On the second day, Woods shot a 66 and followed it up with a bogey-free 65 on Saturday to take a nine-shot lead into Sunday's final round.
Despite Norman's collapse the year before, Colin Montgomerie had no feeling that a repeat performance was in for 1997, saying, "there is no chance humanly possible that Tiger Woods is going to lose this tournament. No way."
Montgomerie proved prophetic, as Woods played a solid final round and held a 12-shot lead walking to the 18th green. Woods had a four-footer for par, and after he holed the final putt, he made a forceful upper cut in the spring Georgia air.
He had not only dominated the field, but made certain that proceedings at Augusta would never be the same.
Broadcaster Jim Nantz called it "a win for the ages," and it certainly was.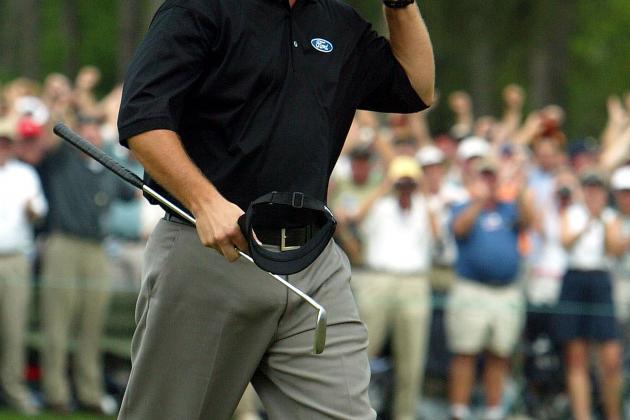 Andrew Redington/Getty Images

The question had haunted Phil Mickelson for years: When are you going to finally win a major?
The left-hander, going into 2004, had eight top-three finishes in major championships, but had yet to close the deal. He was simply the best player without a major, and some were starting wonder if he'd ever get it done.
At the 2004 Masters, though, Mickelson had his best chance yet. He held a share of the 54-hole lead and had the experience of Sundays past to learn from his previous mistakes.
However, Mickelson didn't start quite on track in the final round. He went out in 2-over-par 38, and by the time he hit Amen Corner, he was three shots behind a charging Ernie Els who had made two eagles in a six-hole stretch.
Dreams of his first major title fading, Mickelson stepped up and became a champion that day. Mickelson birdied 12, 13 and 14 to get within one of Els, and he left himself a 15-footer for birdie on 16 to tie for the lead.
The 16th, a hole that had buried Mickelson's hopes three years earlier, was the pivotal moment for Mickelson this year, as he holed his putt and tied Els for the lead.
Two holes later, Mickelson faced a slightly longer 20-footer for birdie, this time for the win. The man who had come so close so often now had the golden opportunity to exorcize his demons.
Mickelson hit the putt and jumped as high as he could when the ball hit the left side of the cup and curled in for the birdie.
Mickelson had finally got the old monkey off his back and produced one of the most exciting conclusions to the Masters in the process.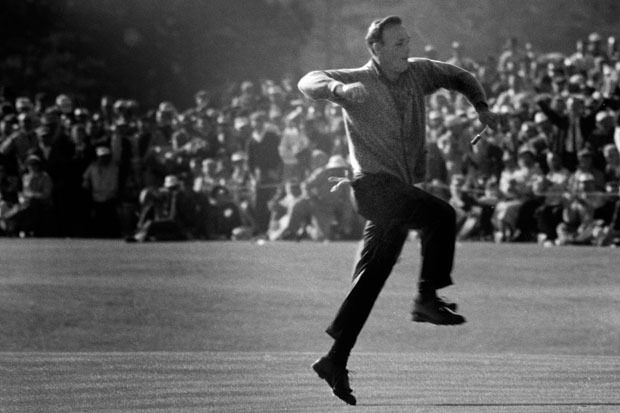 If there was any doubt that Arnold Palmer was made for television, it dissipated at the 1960 Masters.
Down one stroke with three holes to play, Palmer needed a strong finish to force a playoff or win outright. Palmer couldn't pick up a stroke on 16, though, unluckily squandering a chance when his birdie putt hit the pin and stayed out of the cup.
Disappointed, Palmer moved to the 17th, knowing he needed one birdie to tie and two to win. The young star hit a solid approach to the green, leaving him some 25 feet below the hole for birdie. Another chance in hand, Palmer seized it this time, holing the putt to tie Venturi for the lead with one hole to play.
Seemingly having an eye for heroics, Palmer played the 18th masterfully. A beautiful drive down the fairway left him a good approach into the green. Palmer took advantage, hitting a low six-iron under the wind that ended just six feet from the cup.
Palmer would have that putt for a birdie and the win.
Moving up to the ball in his peculiar putting style, Palmer prepared to hit one of the most important putts of his life. The moment may have gotten to a lesser man, but not to Palmer, who drained the putt for an amazing one-shot victory.
It was a Masters tough not to watch. Palmer had charged down 17 and 18 and grabbed the title away from Venturi.
Only one of Palmer's long-time rivals could top Arnie's charge in 1960.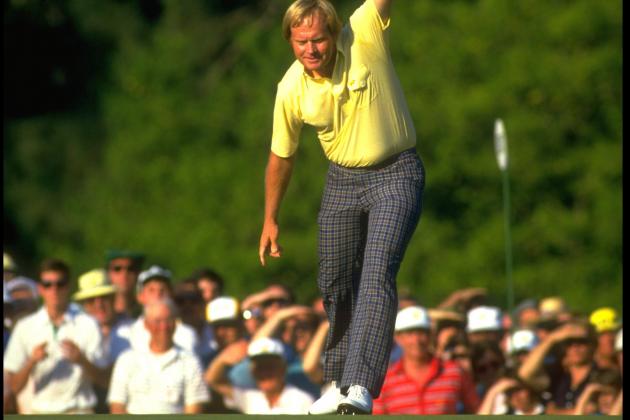 David Cannon/Getty Images

That longtime rival would of course be Jack Nicklaus, winner of 72 PGA Tour titles and 17 major championships heading into the 1986 season.
In fact, that is where most people thought Nicklaus would stay. He hadn't won a tournament in two years, and he hadn't won a major championship in six.
At age 46, the Golden Bear was just too old to capture one last major title. After all, Nicklaus had missed the cut in two of his past three majors.
Nicklaus did show some good form that week, though, and with 10 holes left in the final round, he was four shots back and looked likely to pick up a solid finish.
Prospects looked even better when Nicklaus made a 15-footer for birdie on nine. He climbed even higher up the leaderboard with a 25-footer on 10. Then on 11, Nicklaus holed another 25-footer, and now, he was only two back!
Wait, could Nicklaus really win this tournament?
Unfortunately, as fast as Nicklaus climbed up the leaderboard, he just as quickly fell back into the pack. A bogey at 12 killed his momentum, and although he countered with a birdie at 13, a Seve Ballesteros eagle at the same hole left Nicklaus four shots down with four holes to play.
Desperate now, Nicklaus smashed a drive down 15 and left himself in prime position to go for the green in two. Four-iron in hand from 202 yards out, Nicklaus hit a glorious shot that ended 15 feet left of the pin and in prime position for the eagle he needed.
Unwilling to believe his dream for a sixth green jacket was dead, Nicklaus dropped the putt to a deafening roar. He was now just two strokes behind Ballesteros.
On 16 tee, Nicklaus continued to press. The Bear took out a five-iron, hit it exactly how he wanted and watched as his ball hit just short of the hole, spun left and almost went right in the cup. The crowd went into a near frenzy.
Nicklaus made the three-footer for birdie on 16, birdied 17 and got into the clubhouse with a final-round 65 after playing his last 10 holes in 7 under par.
This Masters was fantastic enough with Nicklaus' mighty charge, but it wasn't even over yet. Ballesteros, one ahead of Nicklaus at the time, stood in the 15th fairway with a four-iron and a chance to go for the green in two.
In a very strange scene, Ballesteros, a top-caliber professional golfer, hit his approach so heavy that it never came close to clearing the water. A bogey there and one on 17 sunk his chances.
Next was Tom Kite, a young star still looking for his first major. Kite had 12 feet for birdie to tie Nicklaus on 18 and hit what he thought was a good putt. In fact, he knew it was in the hole until it slid over the left lip at the last second. Another bullet dodged, one more to go.
Greg Norman was the last to go for Nicklaus. Birdies at 14, 15, 16 and 17 tied him for the lead, and Norman had a four-iron approach to the final green and a chance to win or force a playoff. But the Aussie hit an awful shot, some 30 yards right into the gallery.
A chip and two putts later, Nicklaus was the champion.
Not only had Nicklaus put up the greatest and most electrifying charge in tournament history, but he also had fended off a pack of hungry opponents in the process.
And that is why the 1986 edition of the Masters is the greatest one to date.