2012 NFL Mock Draft: Purely Team-Need Mock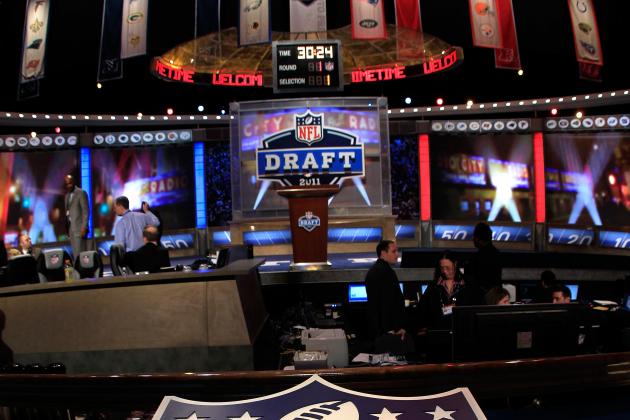 Chris Trotman/Getty Images

Everybody has their ideas of who their favorite squad is going to take come April's NFL draft. Some will be taken for depth, some for need, and some because they're just the best available player.
This mock is designed show who each team should draft based on its biggest need. So before you go ballistic that your team reached for its pick, remember, it's the best player available at the position of its biggest need.
Let's have a little fun, shall we. Indianapolis, you're on the clock.
Begin Slideshow

»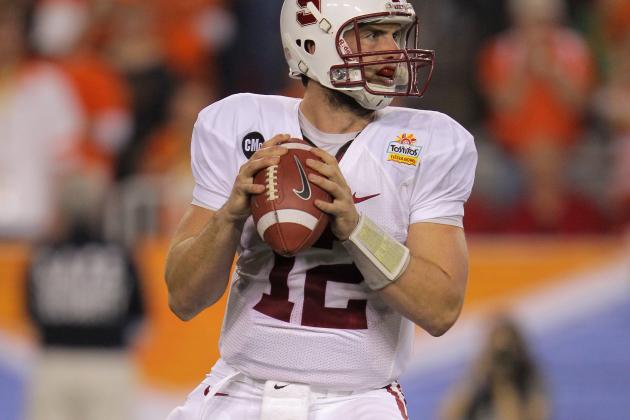 Doug Pensinger/Getty Images

There's really no surprise here. Fortunately for the Colts, their biggest eed allows them to take the best available prospect.
Although Robert Griffin III may be the most talked-about player since the combine (and for good reason), Andrew Luck is still the best quarterback in the draft. And after losing an all-time great like Peyton Manning, the Colts have a big hole to fill.
Might not be a bad idea to fill that spot with the best QB prospect since Manning left Tennessee in 1998.
Other Needs:
RT
C
Any Defense (except DE)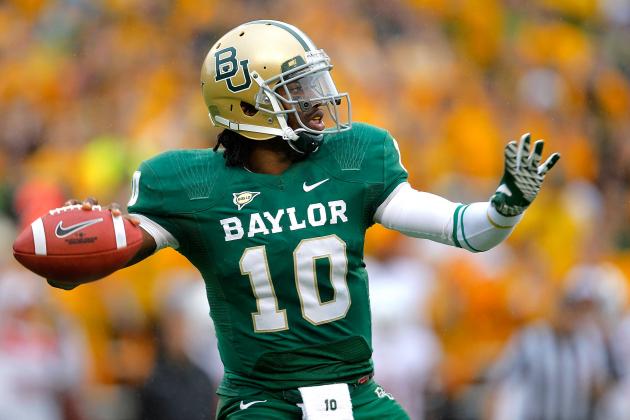 Sarah Glenn/Getty Images

There's no question the Redskins need a quarterback. The team has had 13 starting quarterbacks since 2000 and only made the playoffs twice, never winning the NFC East in that span.
RGIII gives the Redskins legitimacy at quarterback and a chance to compete with the Giants, Eagles and Cowboys in their division.
Washington has done a half-decent job putting weapons around the almost-guaranteed second pick of the draft, signing receivers Pierre Garcon and Josh Morgan to add to a good offensive line and stout defense.
It would be a major upset if Washington went any other direction with the second pick.
Other Needs:
RT
RB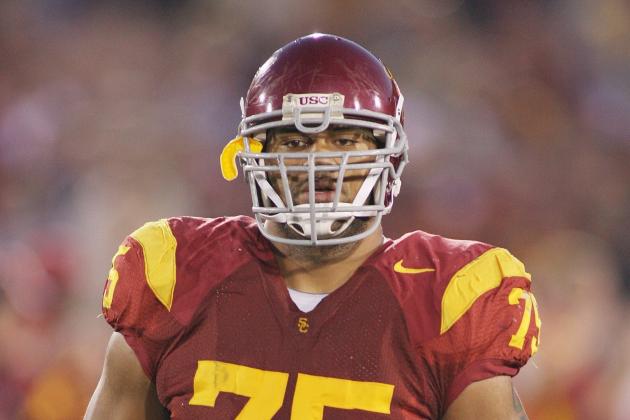 Jeff Golden/Getty Images

Minnesota has plenty of issues coming into 2012, the biggest being whether Adrian Peterson will be ready to go. But the team won't be drafting a running back anywhere in the top rounds.
Draft-wise, the Vikings have to address the left tackle position to protect franchise quarterback Christian Ponder. Charlie Johnson holds that spot on Minnesota's roster and is nowhere near an ideal blindside protector.
Kalil gives the Vikings a franchise left tackle who could be blocking in the Twin Cities for the next decade.
The Vikes also could look to address a very thin cornerback position. Morris Claiborne is as good a prospect as his teammate Patrick Peterson was a year ago. It wouldn't be at all shocking if Minnesota grabbed the LSU corner at No. 3.
Other Needs:
CB
WR
S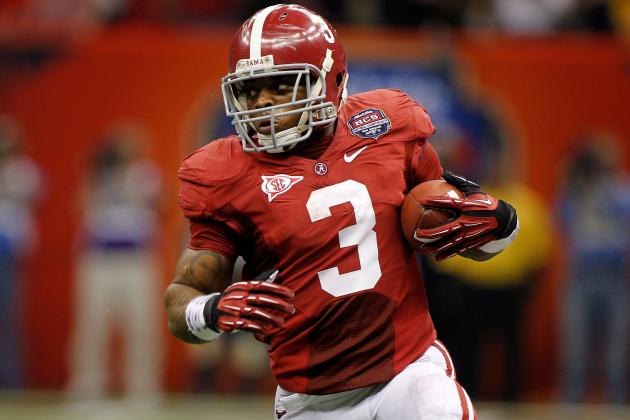 Chris Graythen/Getty Images

The Browns have no offensive weapons, and I mean NO offensive weapons. It's a miracle Colt McCoy was able to win any games last season with the cast the front office has put around him.
Now that the team has lost Peyton Hillis to free agency, that leaves Montario Hardesty to shoulder the load. Obviously, that's a problem.
Richardson would be the immediate starter and could work well in the Browns' West Coast offense. He is a great runner and has better-than-recognized hands (68 receptions in three years at Alabama) out of the backfield.
Wide receiver is another spot the Browns could look to in the first round. Justin Blackmon should be available, but receivers seem to be a-dime-a-dozen in Mike Holmgren and Pat Shurmer's eyes.
Other Needs:
WR
DE
QB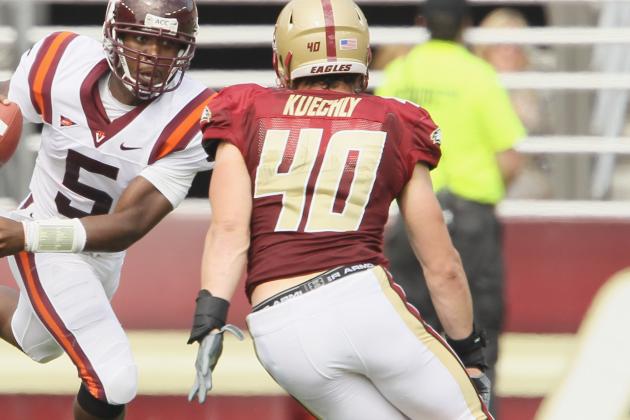 Elsa/Getty Images

So here's the first extreme riser in the "team-need" mock, and personally I think it's way too high for Kuechly to be off the board.
With that said, Tampa was probably free agency's biggest spenders. The team filled big holes with Vincent Jackson, Carl Nicks and Eric Wright. But in that madness, the Bucs lost out on Atlanta linebacker Curtis Lofton, who signed with the Saints.
The team did draft Mason Foster last year, but he was part of a group that missed 35 tackles and greatly underachieved.
Kuechly could play both inside and weak-side at the next level and is the best sideline-to-sideline linebacker in the draft. His combine and pro days have impressed scouts, possibly enough to put the former Butkus Award winner inside the top 10.
Other Needs:
RB
S
OLB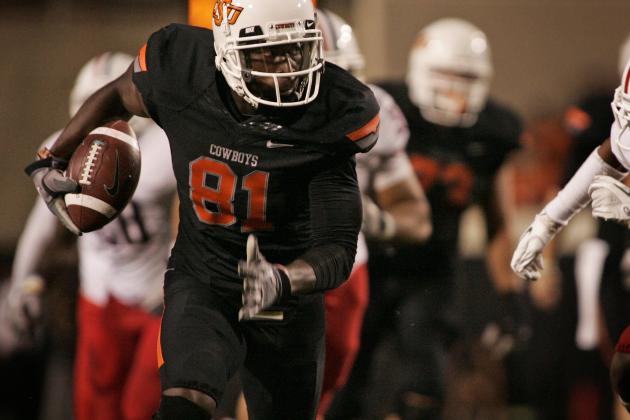 Brett Deering/Getty Images

St. Louis is in desperate need of targets for Sam Bradford. Brandon Lloyd has (again) followed Josh McDaniels to the Patriots, depriving the Rams quarterback of what was his only target.
Blackmon has all the makings of a great NFL possession receiver. He's not exceptionally tall or fast, but when the ball's in the air, Blackmon has ball skills comparable to that of Larry Fitzgerald.
The Rams do have some other major holes to fill. If a tackle like Matt Kalil were to fall here, they probably couldn't pass him up.
They also lost out on the Jason Jones race and could look for a pass-rusher.
Other Needs:
OT
DE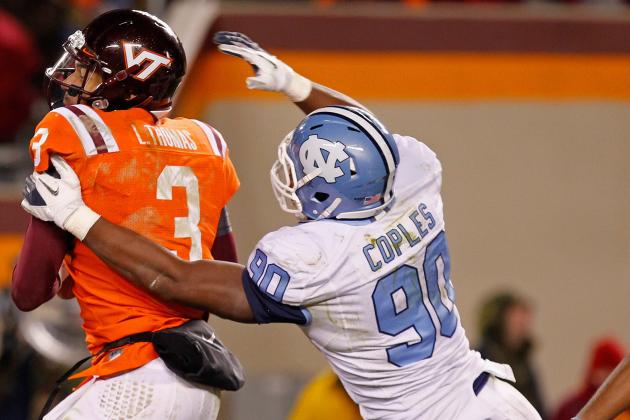 Geoff Burke/Getty Images

This might sound odd, but if you look at the team it's actually pretty true. The Jacksonville Jaguars are a pass-rusher away from a great defense.
Quinton Coples isn't the unanimous pick as the top defense end in the draft, but he probably has the most upside.
He's one of the best in the game when he's trying his hardest, but that's generally his biggest problem. Coples can play inside or outside on the defense line and would start right away for the Jaguars across from Jeremy Mincey.
The Jags would have to look at a receiver if one fell to them to No. 7.
Other Needs:
WR
CB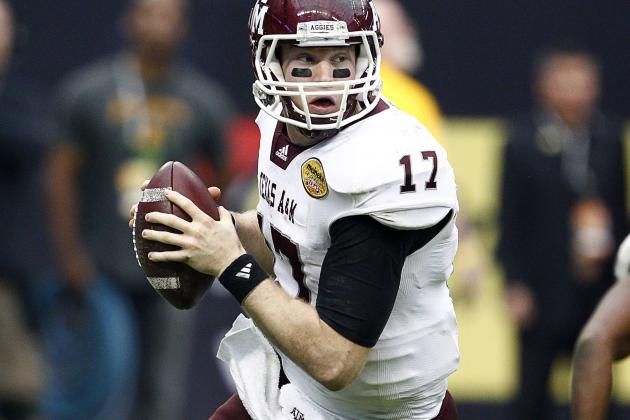 Bob Levey/Getty Images

Yup, I know, I hate this pick, too. But for Miami, it really doesn't have a choice.
Since Dan Marino retired in 1999, the Dolphins have had a revolving door of quarterbacks, with only Jay Fiedler providing any kind of hope.
Matt Moore played pretty well at the end of last season. But when management traded away top target Brandon Marshall, Moore's chances for success (or any quarterback's for that matter) went straight down the tubes.
Picking Tannehill gives Miami an option at quarterback that it can build around for the future. Because after the 2012 offseason, the now is looking pretty bleak in South Beach.
Other Needs:
WR
RT
DL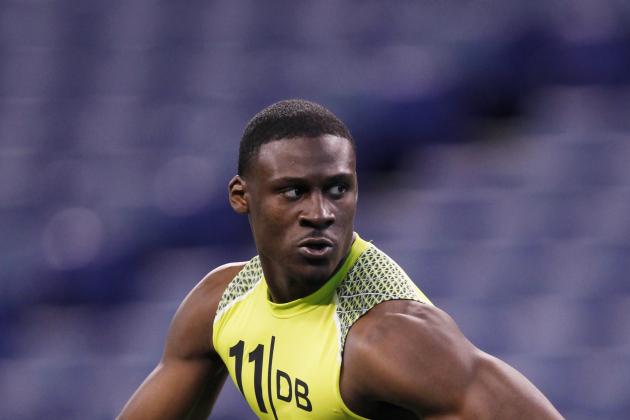 Joe Robbins/Getty Images

Cam Newton exploded on the scene as a rookie, vaulting the Panthers offense to relevancy.
The only thing that stood in his way from finishing off his division foes was an awful defense.
Being a defensive coach, Ron Rivera knows his defense will have to play much better, and in the pass-happy NFC South, adding a shutdown corner could be a big benefit.
Morris Claiborne is the top defensive back prospect in this year's draft and has the talent to be a top-five selection. He's a finesse corner who has good agility and ball skills.
Claiborne's skills would make him an immediate starter for Carolina and bring much-needed help to a secondary that could use it.
Other Needs:
S
WR
CB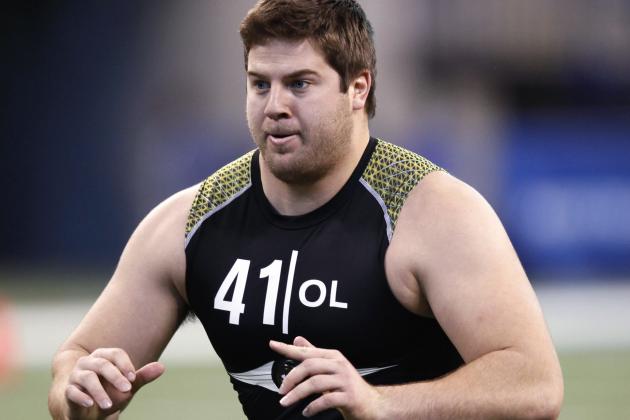 Joe Robbins/Getty Images

As good as Tampa's offseason has been, Buffalo probably added free agency's biggest gem in defensive end Mario Williams. The team followed that by signing former Patriots and Bears end Mark Anderson to solidify the defensive line.
Now the Bills have to focus on protecting their big investment in quarterback Ryan Fitzpatrick. Buffalo fell apart last season after a 4-1 start, and a lot of it had to do with the team's inability to protect Fitzpatrick.
Riley Reiff comes from the NFL's "farm system" for offensive linemen in Iowa. Reiff is an excellent drive-blocker who plays the game with an attitude Bills fans will love. They'll especially love that he'll be able to step in immediately on the right side.
Buffalo was very involved in the free agent wide-receiver market, but couldn't land either Robert Meachem or Mario Manningham, so wide-outs could be on the Bills radar.
Other Needs:
WR
DB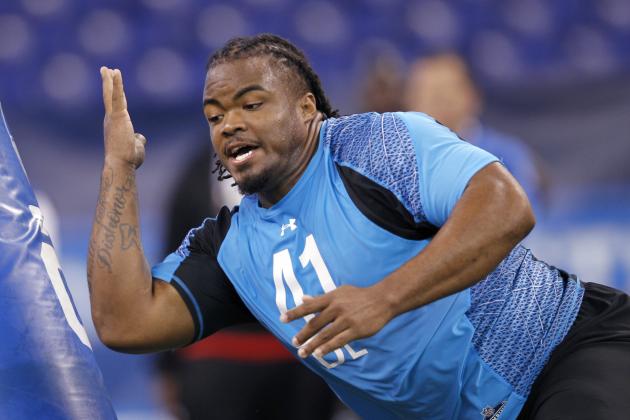 Joe Robbins/Getty Images

Despite finishing last in the AFC West, the Kansas City Chiefs don't have that many glaring needs. The team will get back Jamaal Charles, Matt Cassel and Tony Moeaki on offense and stud safety Eric Berry on defense, making them maybe the most complete team in the West.
One spot the Chiefs could look to improve is nose tackle. Kansas City thought it drafted its man in Glenn Dorsey, but he failed miserably, forcing the Chiefs to fill the hole with an aged Kelly Gregg.
Dontari Poe is now a household name among draft enthusiasts because of his dominating performance at the combine. But his game tape doesn't match up. Poe is a little raw. But fitting in with a good, defensive-minded coach like Romeo Crennel could be a big boost for him and the Chiefs.
Other Needs:
RT
CB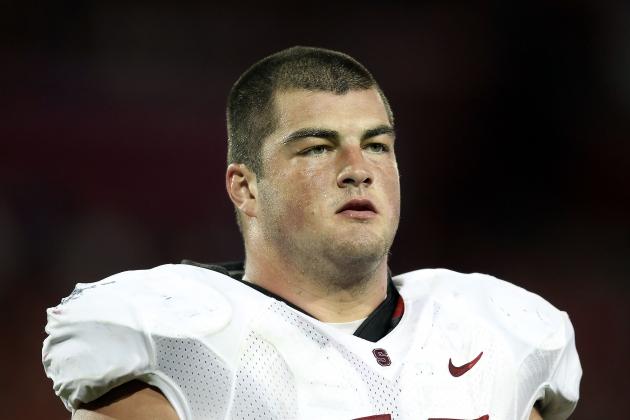 Christian Petersen/Getty Images

The Seahawks were very quiet winners in free agency, re-signing Red Bryant and finding a potential franchise quarterback in former Green Bay backup Matt Flynn.
Now the biggest issue for Seattle becomes protecting Flynn.
David DeCastro is the best guard prospect to come out since Steve Hutchinson left Michigan. He's a nasty, road-grading blocker who should fit right in with Seattle's game plan of ground and pound.
Other Needs:
ILB
OT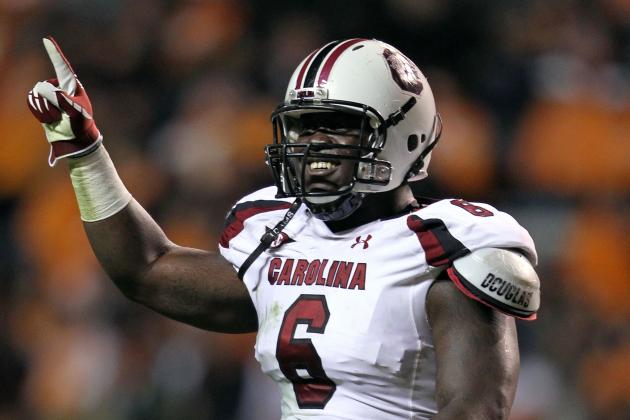 Andy Lyons/Getty Images

The Cardinals late-season run had many people thinking that maybe this team isn't as far off as we once thought. But the Cards do have some serious needs.
For one, Arizona had basically no pass rush. Joey Porter and Clark Haggins are pretty much at the end of their ropes, and Sam Acho has shown some promise, but not enough consistency to be an every-down starter.
South Carolina's Melvin Ingram was born to play outside linebacker in a 3-4 defense. Ingram is strong and fast with an amazing first step, and made a living getting to the QB. Ingram undoubtedly starts right away in Arizona and could help bolster a defense that is better than you think.
Other Needs:
QB
RT
WR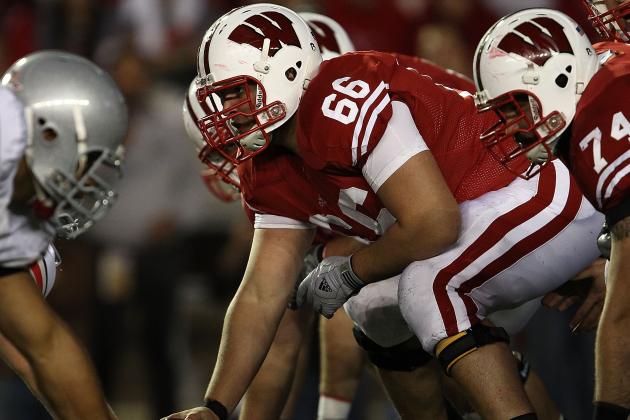 Jonathan Daniel/Getty Images

I know, Cowboy fans, before you even say it, I know. This is an absolute reach. But if you'll hear me out, you'll understand why center is the team's biggest need heading into the draft.
Every Dallas fan knows Phil Costa. He wasn't just an inept run- and pass-blocker. He couldn't even snap the ball.
Konz won't have issues getting the ball to Tony Romo, nor will he have trouble blocking. Konz was the anchor on one of the best lines in college football, leading to a record-breaking season for the Badgers backfield.
Dallas won't take Konz in Round 1, but, remember, this mock is based on team's biggest needs. The team shored up its biggest need by signing Brandon Carr and franchising outside linebacker Anthony Spencer, so center comes up as a top need.
Other Needs:
LG
S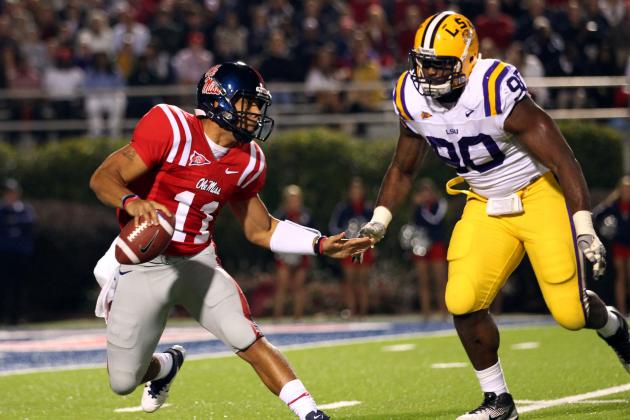 Joe Murphy/Getty Images

I'm not going to get into the whole "Dream Team" thing, but I will say this, the Eagles 2011 defense was putrid, especially right in the middle.
The team added major help at linebacker by trading for DeMeco Ryans, but still needs to put bodies in front of him. Cullen Jenkins is a good pass-rusher, but rarely makes even a decent play against the run. Mike Patterson has been a pretty forgettable name since the Birds made him a first-round pick in 2005.
Michael Brockers leads a deep class of defensive tackles. He has the most upside of any of the other tackles in the draft and has good size and strength.
Brockers' versatility would allow him to take over immediately, something the Eagles desperately need.
Other Needs:
S
LG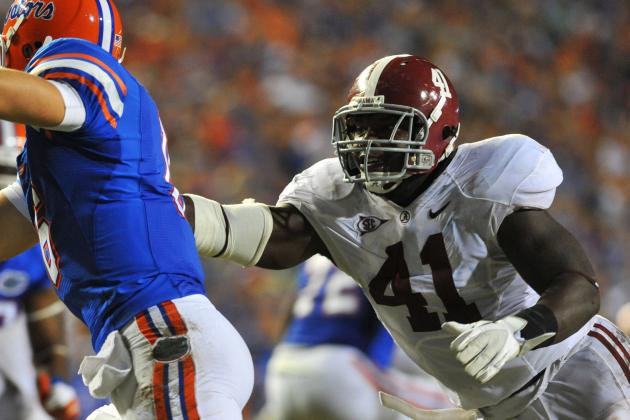 Al Messerschmidt/Getty Images

While many will argue that the Jets biggest need is a quarterback, I decided to stay out of the Sanchez-Tebow soap opera and focus more on the Jets getting back to Jet football.
Rex Ryan (and the rest of his family, for that matter) built his name on defense. But the Jets lack of defense last season may have led to the exposure of Mark Sanchez.
The Jets' biggest concern defensively has to be their pass rush. New York hasn't seen a great pass-rusher since John Abraham and has never been able to replace him.
Courtney Upshaw was an absolute beast at Alabama. He's versatile and volatile, allowing him to play in almost any defensive set.
Upshaw would instantly upgrade a pedestrian Jets outside linebacker corps and give the team the ability to reach the elusive Tom Brady.
Other Needs:
S
RT
QB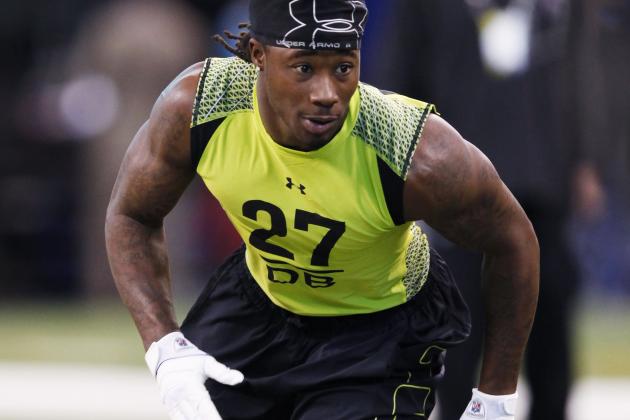 Joe Robbins/Getty Images

This actually fills two needs for the Bengals, the need for a cornerback and the need to draft someone with major character and off-the-field concerns.
All joking aside, Janoris Jenkins has amazing talent and the Bengals have shown over the years that they're willing to take a chance on a premier player who hasn't been the best person in the world.
Jenkins is probably as good as any cornerback in the 2012 draft, but his issues at Florida could send him down this far and possibly further.
It helps that Cincinnati will be looking to add a cornerback, seeing as Leon Hall will be coming off an Achilles injury and Nate Clements isn't as good as he used to be.
Other Needs:
OG
WR
RB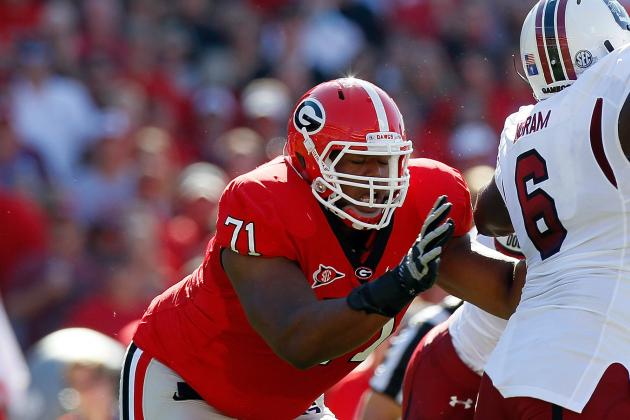 Kevin C. Cox/Getty Images

San Diego is another team that has quietly filled a majority of its holes via free agency.
The Chargers stole Jarrett Johnson from Baltimore to solidify their pass rush and signed receivers Robert Meachem and Eddie Royal to replace the lost Vincent Jackson.
One position they haven't replaced is the loss of fan-favorite guard Kris Dielman.
As we all know, Dielman had a concussion that eventually led to seizures and his retirement earlier this month. Georgia's Cordy Glenn would be a welcomed addition to an uneasy Chargers offensive line.
He could fit in right away at left guard between Jared Gaither and Pro Bowl center Nick Hardwick.
Other Needs:
CB
ILB
DE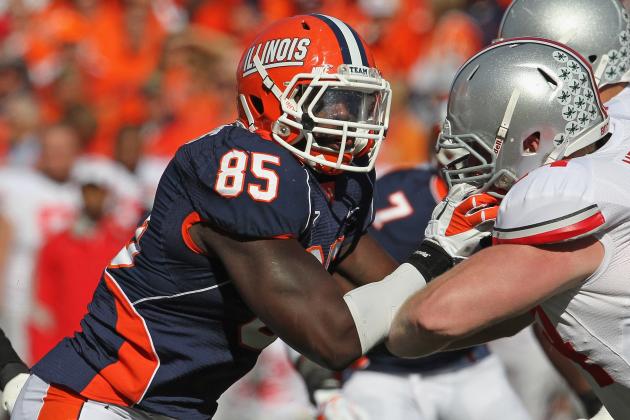 Jonathan Daniel/Getty Images

At one point, it was rumored that the Bears were the favorite to land free-agent prize Mario Williams.
But after trading for Brandon Marshall, Chicago's interest seemed to wane on the All-Pro end.
The Bears need someone opposite Julius Peppers up front to take the pressure off him.
Home-grown product Whitney Mercilus might just be that guy. Mercilus led the NCAA with 16 sacks last season and forced eight fumbles. He's not overly athletic, but makes up for it with consistent play.
Mercilus' presence would force teams to stop double-teaming Peppers, giving the Bears defense a nice one-two punch at defensive end.
Other Needs:
DT
OT
OG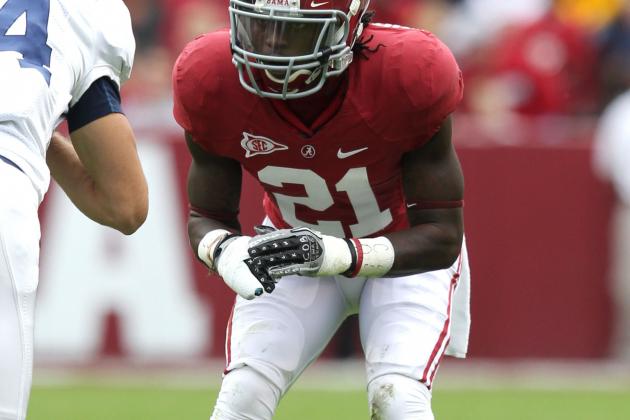 Mike Zarrilli/Getty Images

Often your biggest team needs come in the form of players lost to free agency.
Tennessee was hit hard by the free agency bug when both Cortland Finnegan and Jason Jones left for the NFC West. Matters got worse when Peyton Manning snubbed the Titans for the Denver Broncos.
Cornerback has to be the biggest hole on the Titans roster. In fact, the entire defensive backfield could use a nice upgrade.
Fortunately for the Titans, Dre Kirkpatrick is still on the board. Kirkpatrick is long and lanky with great zone-coverage skills. There's also been a contingent lately thinking that Kirkpatrick might fit best as a free safety.
Either way, Kirkpatrick should start immediately for the Titans and boost a struggling secondary.
Other Needs:
DE
ILB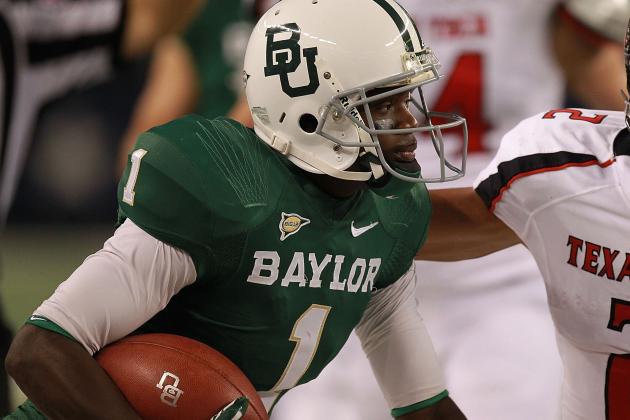 Ronald Martinez/Getty Images

Cincinnati had a great draft last year and looks to do the same this April with two first-round picks.
After filling the hole at corner with Janoris Jenkins, the Bengals should turn to the offensive side of the ball.
The Andy Dalton-to-A.J. Green connection in 2011 was phenomenal. And Jerome Simpson had his acrobatic moments, but then got himself in some serious legal trouble, raising questions about whether he'll be back with the team.
Kendall Wright is a good complement to Green and another target for Dalton. Wright is small but has elite speed and can stretch the field, opening up lanes for Green and tight end Jermaine Gresham.
Other Needs:
OG
RB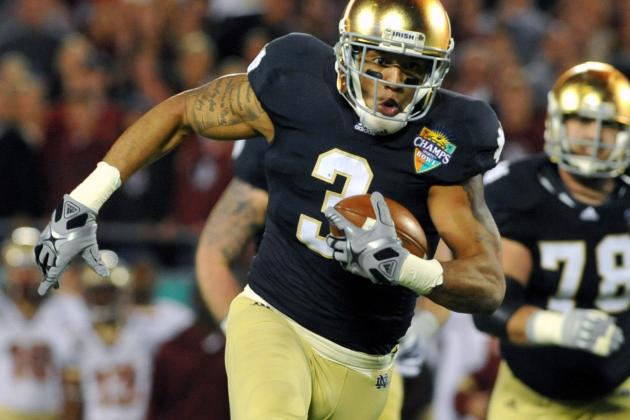 Al Messerschmidt/Getty Images

The Browns added a weapon at pick No. 4 with Trent Richardson and should look to do the same at No. 22.
Greg Little showed promise last season as a rookie, but outside of him, the Browns have nobody on the outside after failing on former high picks Mohammad Massaquoi and Brian Robiskie.
Michael Floyd would immediately take over the No. 1 receiver role and instantly give Colt McCoy a legitimate target on the edge. Floyd comes with off-the-field concerns, but has had a great combine and pro day to launch his stock.
Other Needs:
DE
QB
OG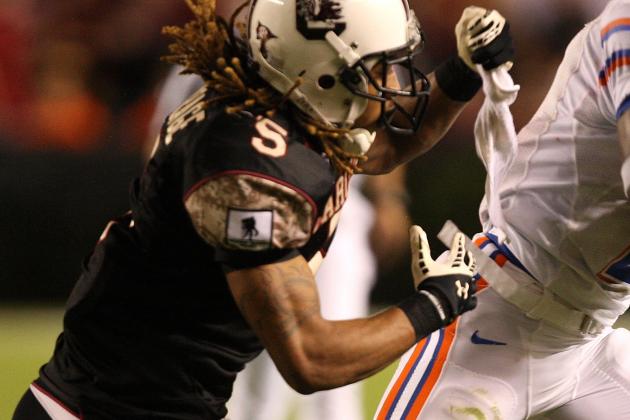 Streeter Lecka/Getty Images

To see the Lions' biggest need, just turn on the tape of their first playoff game in more than a decade.
The Saints torched Detroit's secondary. Even with one of the league's top pass rushes, the Lions secondary couldn't step up to the plate.
Stephon Gilmore's stock has gone up and down since the end of the college season. But he seems to be a nice fit for the Lions. He's got good size and good speed for his size.
Detroit will like his physicality and his ability to bring down ball-carriers.
Other Needs:
LT
OLB
S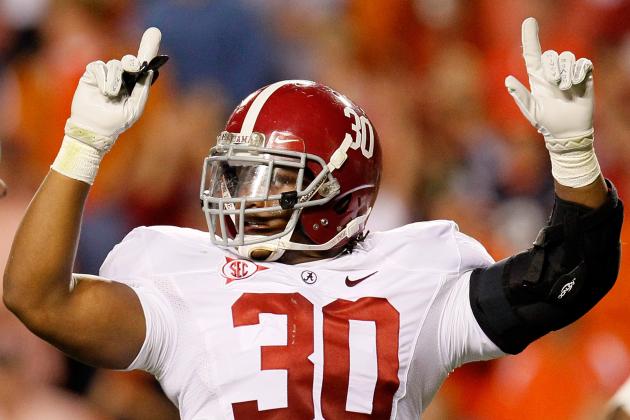 Kevin C. Cox/Getty Images

The Steelers have seen a purge of veteran players recently, opening up some major needs.
One of the team's biggest needs is at inside linebacker, where the team released longtime captain James Farrior and will now attempt to rely on a well-past-his-prime Larry Foote and an inexperienced Stevenson Sylvester.
Alabama's Dont'a Hightower might be the linebacker Dick LeBeau had in mind when he created his complicated, blitz-happy defense.
Hightower has elite versatility that will give the Steelers another playmaker at the linebacker position. Hightower probably wouldn't start right away (as it takes most rookies time to learn and adapt to LeBeau's scheme), but he could be a force in Pittsburgh for the next decade.
Other Needs:
RG
RB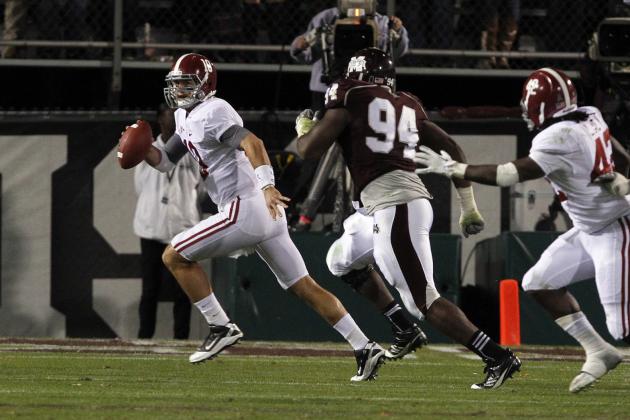 Butch Dill/Getty Images

Denver scored big in free agency with Peyton Manning, but that doesn't mean the playoff team from a year ago doesn't have any more gaps to fill.
Probably the biggest reasons Denver made the playoffs in 2011 was because of its revamped defense under John Fox. But the team lost Broderick Bunkley, who they were apparently vigorously trying to re-sign.
Mississippi State's Fletcher Cox is quietly becoming one of the best defensive tackle/end prospects in this draft. His scheme versatility and good use of leverage will make him a solid starter for years.
Denver could also look for some weapons for Manning in Round 1.
Other Needs:
S
WR
TE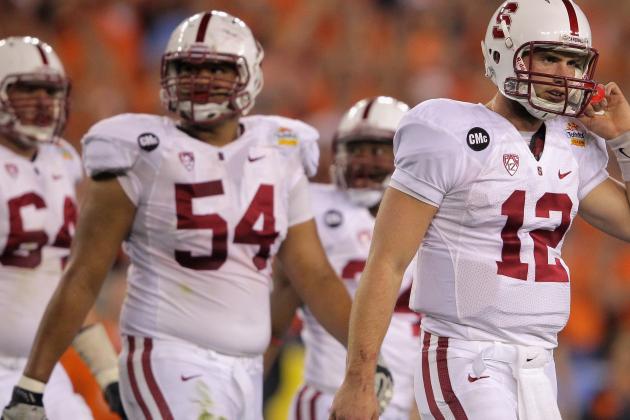 Doug Pensinger/Getty Images

A few weeks ago, it seemed almost certain that the Texans would be all in for a wide receiver in Round 1. But after a couple of odd moves to free up cap space, Houston has created some big holes on its roster.
One of the biggest is the loss of right tackle Eric Winston. Winston was regarded as maybe the best right tackle in football and helped anchor what was the best offensive line in football. Winston was a cap casualty and will need to be replaced.
Jonathan Martin has good experience blocking for a premier quarterback at Stanford. Martin is a smart player who probably has as much potential as any tackle in the draft.
Also, as a bonus for the Texans, Martin is well-versed in the zone-blocking scheme similar to the one Gary Kubiak and company employ in Houston.
Other Needs:
WR
ILB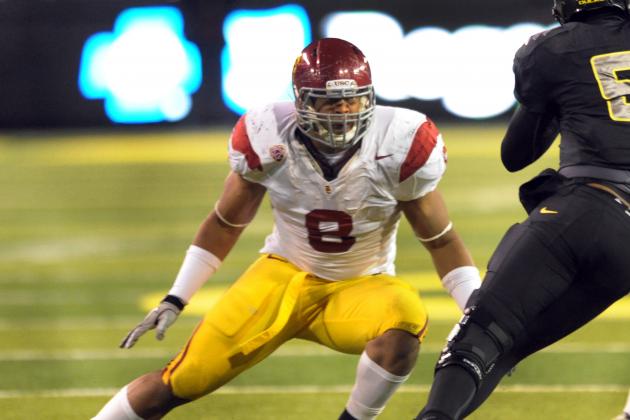 Steve Dykes/Getty Images

Because of their lack of a pass rush, the Patriots switched back to a 4-3 defense in 2011. The experiment didn't go well. Now New England will switch back-and-forth between the 4-3 and the 3-4.
This means the Patriots need versatile players who can both stand up and play with their hand on the ground on the outside.
Nick Perry fits that bill pretty well.
Perry is raw, but has exceptional talent and upside. He could fit right in across from the newly acquired Trevor Scott after the team lost both Mark Anderson and Andre Carter to free agency.
Other Needs:
CB
S
LG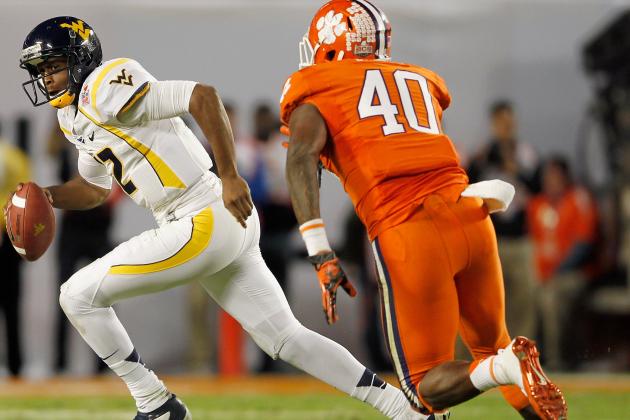 Streeter Lecka/Getty Images

Green Bay's defense took a major hit this season after it led the team to a Super Bowl victory.
One of the biggest reasons was the lack of a pass rush.
Teams can fixate on Clay Matthews and double-team him because, for the Packers, there's no one on the other side to worry about.
Andre Branch has long arms and good leverage and uses his speed to blow past opposing tackles. He also has experience both standing up at linebacker and playing with his hand down at end.
Other Needs:
S
OT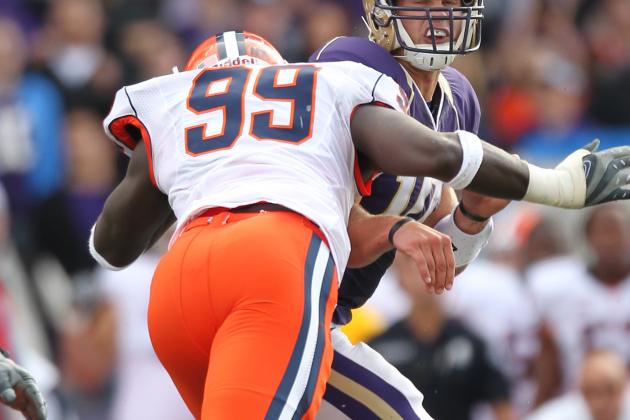 Otto Greule Jr/Getty Images

The run on pass-rushers continues as the Baltimore Ravens take Syracuse's Chandler Jones.
For starters, Jones' brother Arthur plays for the Ravens. But Chandler has other things than bloodlines going for him.
Jones has a great burst off the line of scrimmage and uses his pass-rush moves very effectively. He'll have to get used to standing up, but could help take the pressure off Terrell Suggs after the team lost Jarrett Johnson in free agency.
Other Needs:
RG
DE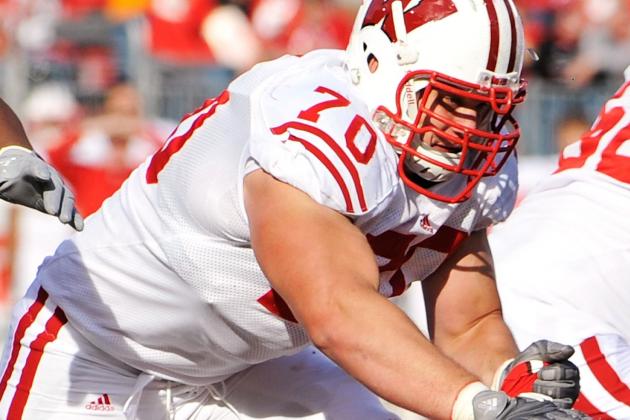 Jamie Sabau/Getty Images

The 49ers have utilized the free agent market very well to upgrade their offense.
But the team did release both of its right guards from last season in Adam Snyder and Chilo Rachal. The 49ers have lived off their big offensive line and should look to fill that hole via the draft.
Kevin Zeitler is one of the best run-blockers in the draft. He uses his long arms and stout frame to his advantage and drives defenders off the ball. Zeitler needs to develop a little bit in pass protection, but could be a solid starter for the next 10 years.
Other Needs:
CB
DE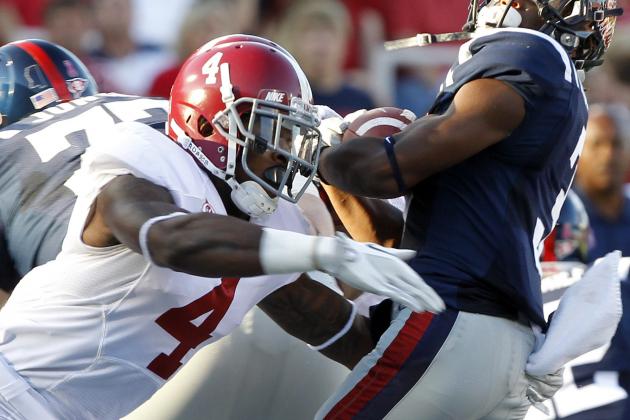 Butch Dill/Getty Images

The Patriots secondary was absolutely abominable in 2011. They were one of the worst at stopping the pass in the league.
The team also cut ties with troubled safety Brandon Merriweather at the beginning of last season and were never really able to replace him.
Mark Barron is far and away the top safety prospect in this draft. He hasn't gotten as much media coverage as his Alabama teammates, probably because of the double hernia surgery that forced him to miss the combine and pro day.
Barron is an elite hitter and has good ball skills in coverage. He can make plays in the secondary for New England that people playing there now just can't.
Other Needs:
CB
LG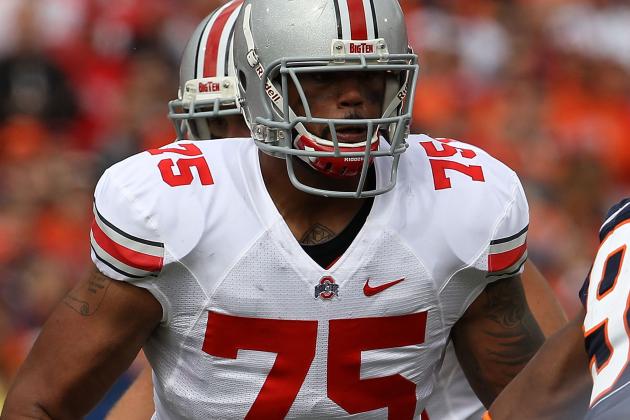 Jonathan Daniel/Getty Images

There was once a time the Giants were one of the best running teams in football. Last season, they were dead last.
Although they won the Super Bowl, New York will need to be able to run the ball a lot better than it did last season. That starts up front.
Mike Adams has as much potential as any offensive tackle in the draft, but he's never really lived up to it. He's got great footwork and, with some coaching, could be the best tackle in this class.
Other Needs:
TE
LB
RB