Final Four 2012 Predictions: Winners and Losers for Final Weekend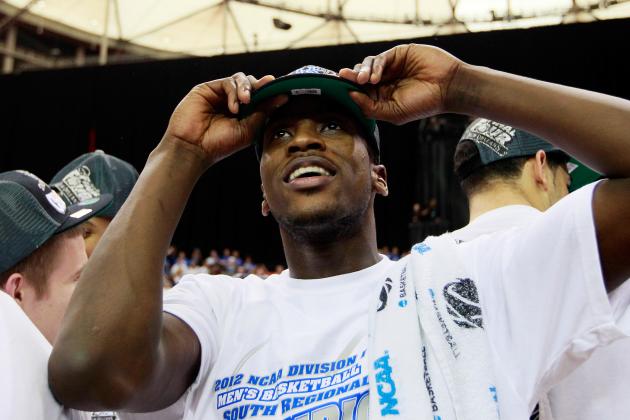 Kevin C. Cox/Getty Images

The 2012 Final Four is upon us.
Through 64 games of the 2012 NCAA tournament, there are only three left, and these are my predictions for the final three games.
Kentucky, Louisville, Ohio State and Kansas are the last four teams from the field of 68, and they will be playing in New Orleans for the right to be called champions.
We're down to the final weekend of the 2012 NCAA tournament, and these are the final predictions for the rest of the NCAA tournament
Begin Slideshow

»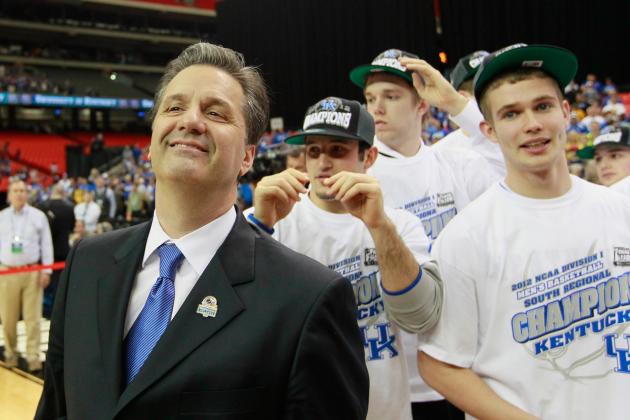 Kevin C. Cox/Getty Images

In the first Final Four game, No. 1 Kentucky will play No. 4 Louisville of the West region.
The Wildcats are the best team in the country, and possibly one of the most talented teams in history. Having possibly the first two picks in this year's NBA draft, they are too talented to lose this game.
On the other hand, the Cardinals have won eight-straight tournament games, winning the Big East tournament and the West region of the 2012 NCAA Bracket. After mounting a huge comeback against No. 7 Florida, the team is in the Final Four.
This game is one of the bigger rivalries in college basketball. Kentucky won the regular season meeting by seven points, but that was in Lextington and before Louisville was this hot.
While Kentucky made a statement in their win against Baylor and Louisville barely beat Florida, this will be a close game.
I see Kentucky winning this game because they will simply overwhelm Louisville.
Point guard Peyton Siva of Louisville is a star, but Kentucky has seven players who are as talented as him, and they will be able to come out on top, with John Calipari beating Rick Pitino again this season.
Prediction: Kentucky 79, Louisville 72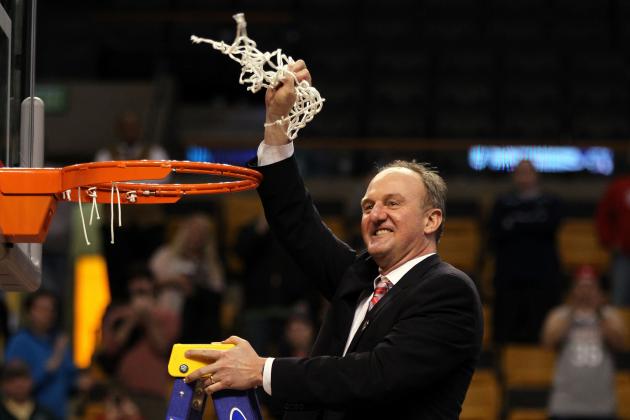 Jim Rogash/Getty Images

Ohio State and Kansas are the only No. 2 seeds in the Final Four, and they are very similar teams.
Both teams had to beat depleted No. 1 seeds to win their regions. Both have excellent coaches. Both have two great big men. Both teams have talented point guards.
And both teams have the potential to win it all.
The biggest difference between these teams is Ohio State is playing possibly its best basketball of the season, while Kansas made it to the Final Four without playing its best basketball.
Ohio State is peaking, with Jared Sullinger and DeShaun Thomas dominating inside, William Buford playing up to his potential, and Aaron Craft having some of the best games of his life.
Kansas is playing poorly, with point guard Tyshawn Taylor and National Player of the Year finalist Thomas Robinson alternating between good and bad games.
When the two teams meet up, I see Ohio State winning a close game. Thomas Robinson will have problems inside against Thomas and Sullinger, but what is more important is that Taylor will be shut down by Craft.
Craft is one of the best defending point guards in the country. He is going to shut down Taylor, which is the key to beating Kansas.
Taylor will probably struggle against Craft, which is why I have Ohio State moving on to the finals.
Prediction: Ohio State 72, Kansas 68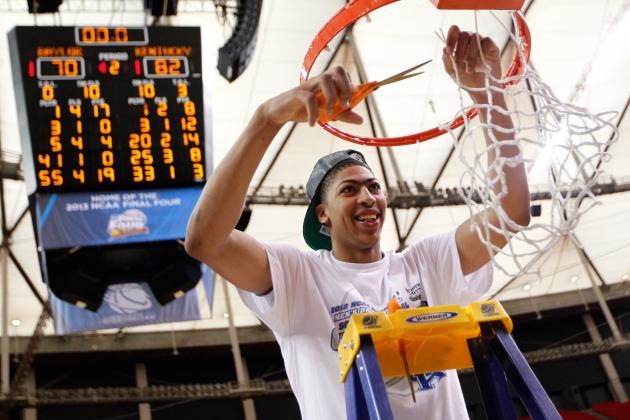 Streeter Lecka/Getty Images

Like I said before, Kentucky is the best team in the country and one of the most talented in history.
The Wildcats don't beat themselves, make smart decisions and play with a maturity beyond their years.
Ohio State is a great team, but they stand very little chance of beating Kentucky. While I have been hoping that Kentucky would be upset because I'm not a fan of the one-and-done factory in Lexington, I must admit that this team is incredibly good and will most likely win it all.
By combining three starters from last year's Final Four team with one of the best recruiting classes in history, Kentucky has made itself the best team in college basketball by far. The team is head-and-shoulders above the rest of the teams in the country, and they are simply too good not to win it all.
I do believe that Ohio State will challenge Kentucky, but they do not have the firepower to beat this team. The Buckeyes have four great players, while Kentucky has seven.
Simple math will tell you that Kentucky has the edge.
Prediction: Kentucky 82, Ohio State 74