Final Four 2012: Will John Calipari Ever Win an NCAA Title?
March 26, 2012

Kevin C. Cox/Getty Images
John Calipari is due for a championship.
Of course, he's been due for a while now.  But if the Wildcats head coach fails to win a NCAA Tournament title this season, he'll struggle to ever win one.
This is a recruiter who basically hand picks his freshman class every season. 
In 2009, he scored the nations two most-talented prospects in John Wall and DeMarcus Cousins.  In 2010, he reeled in two out of the top six prospects in Enes Kanter and Brandon Knight.  This past recruiting class, three out of the nation's top five signed to Kentucky in Anthony Davis, Michael Kidd-Gilchrist and Marquis Teague (all rankings via Rivals).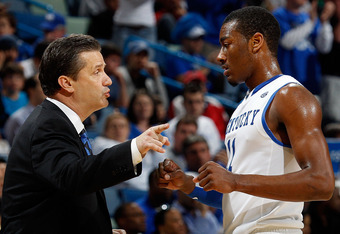 Chris Graythen/Getty Images
Each of the past two seasons, Kentucky has boasted enough talent to cut down the nets, but they've failed to do so.  This year's squad is Calipari's most talented team, though.  They suffered just two losses during the regular season like their '08 club, but thanks to Doron Lamb, Kentucky is a capable three-point shooting team this season.
Lamb, Davis, Kidd-Gilchrist, Teague and Terrence Jones are all first-round NBA prospects.  Anything less than winning a national title would be a titanic disappointment.  Why?
Because Calipari is never going to coach a basketball team more talented than his current club.  You may be thinking he'll just build a contender up from scratch again next season. 
But not so fast.
Believe it or not, Kentucky isn't sweeping up all of the top recruits in the 2013 class.  Not a single top-10 prospect has committed to them yet.  Luckily for Calipari, though, the best player in the country Shabazz Muhammad hasn't decided where to go to school yet.
And his decision potentially hinges on the Wildcats' postseason success.  If they fall short of their ceiling again, Muhammad will think long and hard about staying local with UNLV.  A national title, though, should be enough to sway the high-flying wing.
Calipari has coached countless stars throughout his career.  With those stars, he has had success—2012 is the fourth year Calipari has led a team to the Final Four (by the way, two of those trips were vacated). 
Kentucky is again the most talented team in the nation by far.  If Calipari's crew fails to win it all despite being the favorite head and shoulders above the rest, it'd be difficult to imagine him ever winning one.
David Daniels is a featured columnist at Bleacher Report and a syndicated writer.