UNC Basketball: What Tar Heels Must Improve to Win Title in 2013
March 25, 2012

Dilip Vishwanat/Getty Images
After a disheartening loss to the Kansas Jayhawks in the Elite Eight, all hopes in North Carolina shift to focusing on winning the title in 2013.
The University of North Carolina loss was a very frustrating way to end an otherwise impressive season. Admittedly, this is an especially difficult topic for me to cover. In my bracket, I shot a little bit early and had the North Carolina Tar Heels winning the title in 2012. My bracket featured an otherwise perfect Final Four, and the hopeless romantic sports fan in me actually thought that I had a chance to win a bracket this year.
Like any good sports media personality, I took to Twitter to display my own rage at the Tar Heels loss. "I hate you UNC," I wrote. "I hate you and I'm never putting you as my championship team ever again. You've lost your privilege and ruined my afternoon."
Do my complaints sound a bit childish?
It depends. Did you just lose out on your first chance to win your bracket in your first year of college in an opportunity to show your dorm that you know more about sports than they do? If you've answered "no," and I expect that you had, then please continue to read on so I can persuade you as to why I'm so upset.
As I told my newsroom once I realized that the Tar Heels chances were officially shot, "It's too hard for me to cover this story. I can't write and throw furniture out the door of my window and onto a rainy street at the same time."
Once my temper tantrum subsided, I came to and decided that the smart and sensible thing for me to do as a sports fan is to instead think about what the future holds for the program at the University of North Carolina.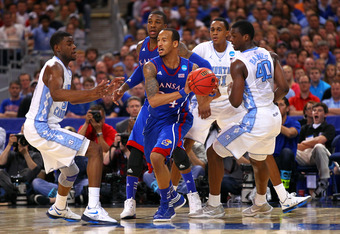 Dilip Vishwanat/Getty Images
Programs like North Carolina tend to rely on star power. This is fantastic and leads to prestigious players in the NBA (see: Jordan, Michael) always supporting the brand of your university.
This overlooks the fact, however, that sometimes even the best struggle.
In their overtime victory against Ohio in the Sweet 16, UNC star Harrison Barnes was 3-of-16 from the field and scored only 12 points in the entire showing.
In the tournament, Barnes was 20-of-61 from the field. To put it bluntly, Barnes was abysmal in his four games in the NCAA tournament, and this is a fact that NBA owners can and will consider.
With a shooting percentage below 33 percent, fans quickly realized that Barnes was not only a ball hog, but he was also inconsistently inaccurate. This is not something that an NBA scout likes to see, and not the kind of player that other top prospect high school players will choose to play with when they choose their school.
Unlike Tyshawn Taylor, who struggled in the tournament until the Elite Eight, Barnes continued his sloppy play in his most important game of the season. Where Taylor looked past the fact that he had only scored 26 points in the tournament to date to instead score 22 against North Carolina tonight, Barnes slumped once more and scored only 13.
He was outscored by forward freshman James Michael McAdoo, who had only been averaging 5.4 PPG before dropping 15 against Kansas. His accuracy (6-for-8) made him a much more valuable player than Barnes, who was 0-for-5 from 3PT range.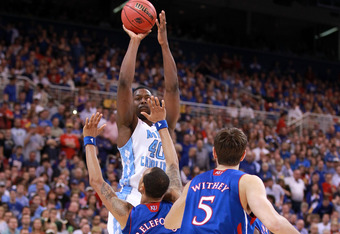 Andy Lyons/Getty Images
All season, UNC dominated the boards and point totals. They had the best rebounding team in the nation (45.2 RPG) and the second best scoring team in the nation (82.0 PPG), but things got shaky for the Tar Heels when they lost their star point guard Kendall Marshall to injury.
Marshall was the playmaker for the Tar Heels, and averaged an incredible 9.7 APG. In his absence, freshman guard Stilman White proved that he was a serviceable backup. Coming off a season in which he averaged 0.7 PPG and 0.6 APG, he distributed the ball well tonight and accounted for seven assists.
Still, the team was not the same. They were outrebounded (4:3) and Kansas center Jeff Withey came up with three huge blocks at the end of the game to ensure that North Carolina would not come back to keep this game tied.
With 18 points and nine rebounds, North Carolina was also virtually unable to stop Thomas Robinson.
Tyler Zeller was outperformed, and only pulled in six boards in an incredibly important game.
If Barnes does decide to go pro and become a top-three pick in the NBA, things aren't all bad for the Tar Heels. This is now Barnes's second effort at March Madness, and he did not look particularly clutch in either performance.
Without his point guard, Barnes turned the ball over; he also air-balled open three-pointers and generally looked lost while on the court. He has yet to show that he is the incredible athlete that everyone has talked him up to be.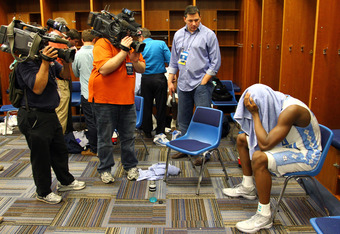 Dilip Vishwanat/Getty Images
Of course, the Tar Heels never could have expected to lose their starting point guard. They were a very deep team from top to bottom, featuring Kendall Marshall, Tyler Zeller and Harrison Barnes.
If Barnes is still hungry, the Tar Heels have a chance next year. Generally, the hungrier teams perform better in the following season because they have more to play for. There's no way to account for injuries, but the stars on the team need to take this as a lesson in order to perform at a higher individual level to take their team to the next level.
It was frustrating rooting for a team that could barely get by Ohio in the Sweet 16. It was frustrating rooting for a superstar like Harrison Barnes who could barely get his act together in the ultimate stage in college basketball. It was even more frustrating watching teams like Kentucky, Kansas and even Louisville and thinking that they were significantly better and more driven than the Tar Heels were, even though I had picked the Tar Heels to win.
The team needed more discipline, and they need to learn how to finish their games better if they want to win at the big level. If the Tar Heels really want to win next season, however, they'll need to focus on giving their star players a reason to perform that isn't just the NBA.
Give them some reason to marry the program, and not just the prestige of it to use it as draft stock. Give them some reason to actually want to take home a title, like Michael Jordan once did. Give them some reason to promote their legacy other than being a top three pick in the upcoming NBA Draft, because rooting for players like Harrison Barnes is a frustrating road that I'd prefer to not travel down again if I don't have to.
Popular to contrary belief, you don't win the title with your recruiting class. Tyler Zeller will be leaving for the NBA, and it wouldn't be surprising (or smart, but that's neither here nor there) if Barnes and Hensen join him. The Tar Heels had a good season with some unfortunate luck at the end, but their stars need to perform at a star level and their overall work ethic needs to be questioned and put into check one final time.
Next year, I won't pick the Tar Heels to win the title. It'll be too soon for me, and I don't like getting hurt. But I think it's certainly possible that this team can turn around the fortunes as long as they work harder towards their actual goal like Kansas just did.
Click here to Follow @BryanKalbrosky