Texas Rangers: Top 10 Managers in Franchise History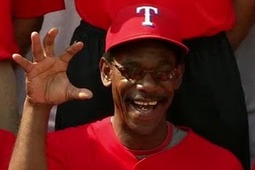 So where does current Ranger manager Ron Washington rank in the All-Time Ranger managerial list that consists of skippers such as Billy Martin, Ted Williams, Whitey Herzog, Don Zimmer and Bobby Valentine? Well, Wash is the only one to win a pennant wearing a Ranger uniform. Let's see if he takes the No. 1 spot.
Begin Slideshow

»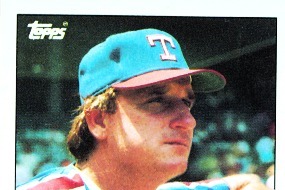 The Texas Rangers didn't do a whole lot in 1983 and 1984 and got off to a poor start in 1985, leading the way to Bobby Valentine who took over from Rader during the '85 season. However, Rader was definitely a change of pace for an organization that wasn't doing much. He was energetic, emotional and a presence the organization needed for young players. He had a little more success as California Angels manager from 1989-91 but never led a team to the postseason.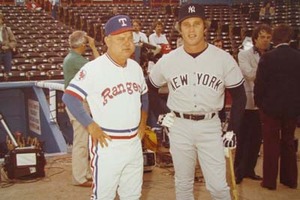 Don Zimmer came to Texas with already some skins on the wall from managing the Boston Red Sox. Mainly being the skipper of the Sox who collapsed in the 1978 season. Zim took over in 1981 and had the Rangers off to a terrific start and headed in the right direction. He fielded a talented team featuring Buddy Bell, Al Oliver, and Jim Sundberg while Danny Darwin, Rick Honeycutt and Doc Medich pitched admirably. When the strike hit, the Rangers were in second place with a 33-22 record. Zim and the Rangers never recovered. They went 62-84 through the rest of his Rangers tenure and it makes you wonder "what if?" if there was never a strike in '81.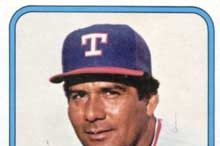 Corrales managed two full seasons in Texas and hovered around .500 at (160-164). They got off to a good start in his tenure at 83-79 but dropped to 76-85 in his second season and it cost him his gig. Corrales went on to manage the Philadelphia Phillies and was actually fired while the team was in first place in 1983. Goes to show you that Pat might have rubbed some the wrong way. He went on to manage the Cleveland Indians as well before becoming a longtime member of Bobby Cox's staff in Atlanta.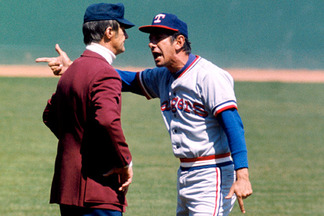 Just before Martin went to New York and began the George Steinbrenner-Billy Martin circus, Billy was at the helm of the 1974 Rangers that featured MVP Jeff Burroughs and Cy Young runner-up Fergie Jenkins. In true Billy-ball fashion, the Rangers had 61 complete games in '74 with Jenkins racking up 29 himself! Unfortunately for Billy, they didn't see the same success in '75 and he was dismissed after 95 games. Still, he put the Arlington-based Texas Rangers on the map in '74.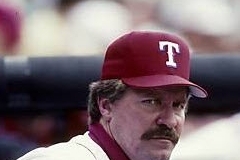 Kennedy served as the bridge from Bobby Valentine to Johnny Oates. The '93 season showed a lot of promise and future optimism with a 86-76 record finishing eight games behind the Chicago White Sox. The Rangers were actually in first place yet 10 games beneath .500 in 1994 when the season came to an end due to the players' strike. Kennedy was dismissed after the season and finished with a 138-138 record.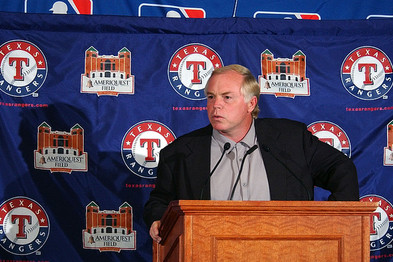 Buck is fourth on the all-time Rangers list with 648 games. He was the second manager ever from the Texas Rangers to win the "Manager of the Year" award in 2004. The Rangers finished in third place but just three games out of first with a 89-73 record. Francisco Cordero, Kenny Rogers, Hank Blalock, Alfonso Soriano and Michael Young were all named to the All-Star team. The Rangers basically tread water the next two seasons and whispers in the clubhouse was that Buck had worn out his welcome.
A peculiar tenure for Billy Hunter who to this day holds the record for best managerial winning percentage in Texas Rangers history. Hunter holds a remarkable .575 (146-108) winning percentage, but he never managed a complete season, taking over early in the '77 season and being dismissed during the '78 season after turning down a contract extension. Hunter later said he regretted taking the Rangers managerial job but still holds the best record out of any Ranger manager.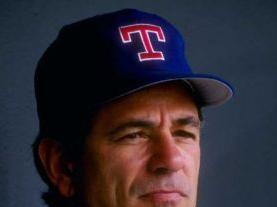 Bobby-V changed the perception of the franchise with his cocky style and aggressive managing. Valentine holds the record for most games managed in franchise history with 1186. His career record is beneath .500 but leading the way for six full seasons and parts of two others gets Bobby near the top. The 1986 team was possibly his best work finishing in second place at 87-75, five games behind the California Angels. The season opened with three rookies in the rotation- Bobby Witt, Jose Guzman and Ed Correa.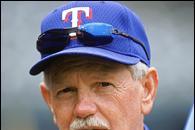 Oates led the Rangers into the postseason for the first time in 1996 and then again in 1998 and 1999. He brought along young players such as Ivan Rodriguez and Juan Gonzalez. He won the first ever playoff game in Rangers' history at Yankees Stadium in 1996 but then lost nine straight to the Yanks over the next three playoff series. Oates final season in 2001 coincided with the arrival of Alex Rodriguez, but it just didn't work as adding veterans such as Ken Caminiti and Andres Galaragga didn't pan out. The Rangers finished 73-89 and Oates tenure was over. Oates' No. 26 is retired by the Rangers' franchise.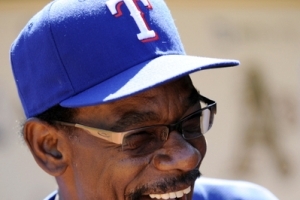 For a franchise to have never won a World Championship, back-to-back pennants in 2010 and 2011 are quite an accomplishment. The Rangers were patient with Wash failing to make the playoffs his first three seasons and then admitting to an embarrassing cocaine episode prior to the 2010 season. But Washington fought through it all and came oh-so-close to a World Series title last season coming within just one strike twice. The players fight for Washington and he is not the most eloquent but his postseason record speaks for itself.....and he is still adding to it.