NCAA Tournament 2012: Ranking the Elite Players Remaining in March Madness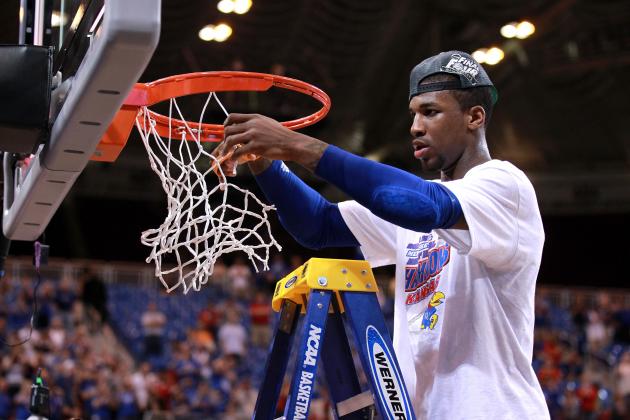 Andy Lyons/Getty Images

We have now moved on from the Elite Eight to an even more elite group, the Final Four.
These may not have been the best four teams all season, or even what anyone thought were the four best teams on Selection Sunday.
Actually, only one of the top-four teams from Selection Sunday is still standing. Of all the No. 1 seeds, only Kentucky remains. We have two No. 2 seeds as well as Louisville who was a No. 4 seed.
On these four teams are plenty of great players. What we are ranking here are the most elite players still in the field. Some of these players will be All-Americans and some won't, but they may bring one or two skills that stand at an elite level in the college game.
Here are the seven truly elite players still on display.
Begin Slideshow

»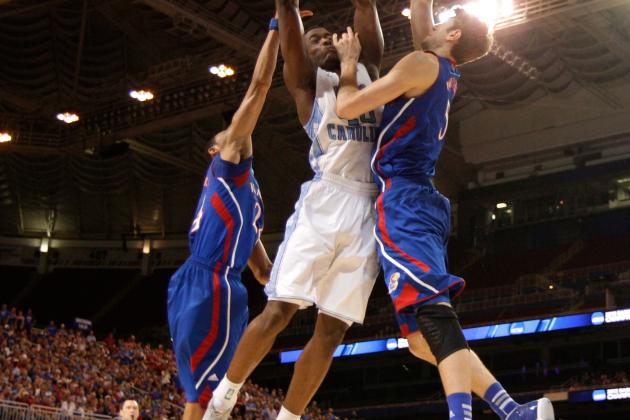 Andy Lyons/Getty Images
Withey eliminated Carolina's scoring late in the game.
Jeff Withey may seem like an odd choice for this list, but there are few players in college basketball with his height, rebounding and defensive ability.
After sitting for much of the win over Purdue, Withey came on incredibly strong against two of the best front lines in the tournament in NC State and North Carolina.
Against the Wolfpack in the regional semifinal Withey completely shut down the inside, blocking 10 shots in a 60-57 win.
Against North Carolina, going against Tyler Zeller and John Henson, Withey scored 15 points, grabbed eight rebounds and blocked three shots.
With 8:17 left, Kansas was clinging to a 66-64 lead. Over the next eight minutes, Withey scored three points, grabbed four rebounds and had consecutive blocks that led to Tyshawn Taylor run-outs. Taylor converted a three-point play on the first and capped the second with a dunk.
Withey's size and defense make him one of the most dangerous players in the Final Four.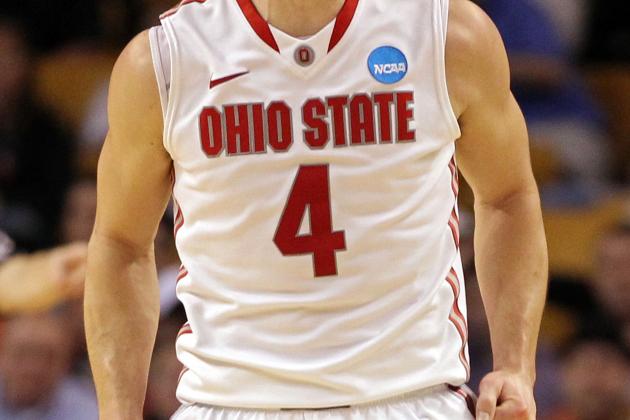 Jim Rogash/Getty Images
Craft is a huge part of the Buckeyes' strong defense.
Aaron Craft isn't an electrifying or flashy point guard. He doesn't have blinding speed or quickness. He doesn't carry the scoring or even dominate the ball.
What Craft does is play tremendous perimeter defense while being a great distributor who can knock down a three and score when his team needs it, as well as all the dirty work.
Craft frustrates opposing point guards with his relentless on ball defense while he bothers everyone else with his activity in passing lanes and in help situations.
He totaled 28 points in wins over Gonzaga and Cincinnati and he is averaging 5.8 assists and 3.3 steals in the tournament. Ohio State wins with its defense and it all starts with Aaron Craft.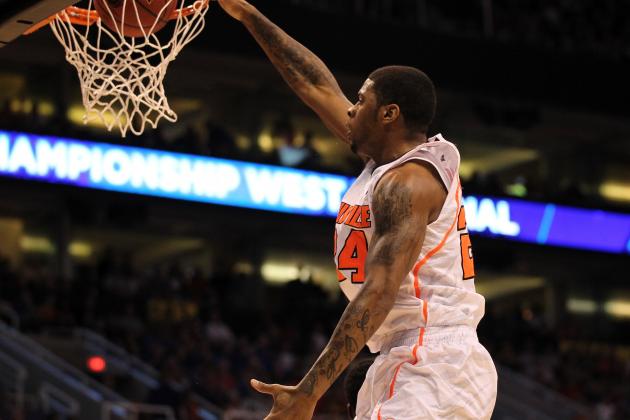 Jamie Squire/Getty Images
Behanan helped lift the Cardinals over Florida.
The NCAA tournament generally brings the cream to the top, even among freshman. Chane Behanan is one of those cases.
After coming on strong late in the regular season, Behanan has continued to elevate his game. A 9.0 points per game scorer prior to the postseason, Behanan has hit double-figures in each of his four tournament games.
Behanan is averaging 14.0 points and 7.4 rebounds per game and hitting 63.9 percent from the field during Louisville's run to the Final Four. He was also a key figure in the Cardinals' incredible run to steal the game from Florida yesterday.
He scored 11 of Louisville's final 20 points in the game and led the Cardinals on their epic 18-3 run. He scored nine points on 4-of-5 shooting, grabbed a rebound and blocked a Bradley Beal layup to preserve a 69-68 lead with 53 seconds remaining. He also hit the go-ahead basket on the previous possession.
Behanan has become a go-to guy on a Final Four team.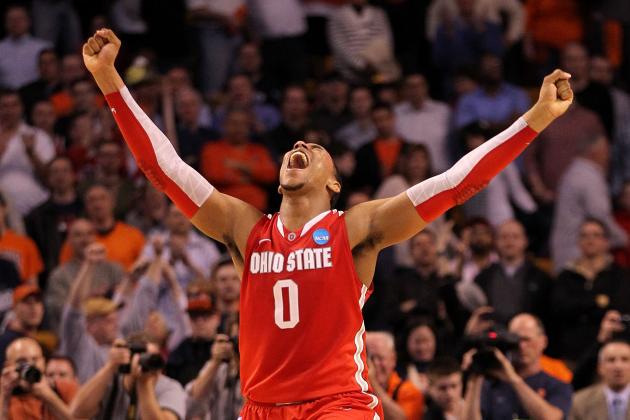 Jim Rogash/Getty Images
Sullinger has earned the right to celebrate.
Jared Sullinger is probably the first expected name on this list. He was a player of the year favorite to start the season, but he went through battles with injury and inconsistency during the year.
Well now it's the big time and he has his team exactly where he wanted it. In the Final Four. He has taken a lot of the burden on his own broad shoulders.
Like his teammate Aaron Craft, Sullinger isn't flashy. But he is big, strong, tough, and incredibly skilled. When his team gets him the ball on the block, he has an array of moves to finish, whether on turnarounds, hook shots, bank shots or just forcing his way to the foul line.
Sullinger is a rare big man that converts free-throws and he can even hit a three on occasion. Sometimes Sullinger disappears for stretches, but he always reappears with a vengeance.
Dilip Vishwanat/Getty Images
Robinson has been a force all season.
Thomas Robinson hasn't performed at his highest level in the tournament, but his team is still in the hunt for a national title.
Interestingly enough, less than his best is still pretty good when it comes to Thomas Robinson. He is averaging 15.8 points on a shaky 37.9 percent from the field, but he is still excelling in other areas.
He has three double-doubles in four games, averaging 12.5 rebounds per game. Robinson is the best rebounder in the game and he is as relentless and hungry a player as there is in college basketball.
His energy rubs off on his teammates and has helped carry Kansas to the Final Four. He is set for an epic showdown with Jared Sullinger next week.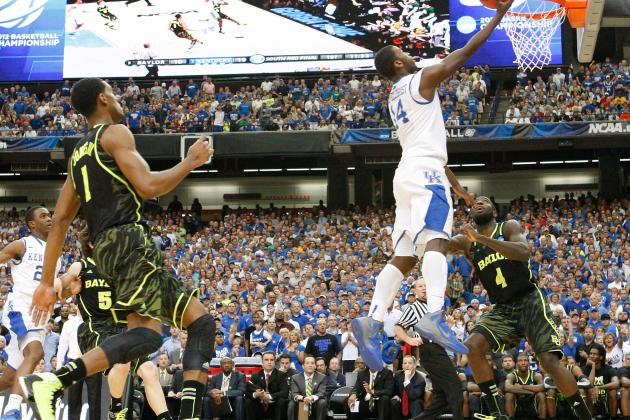 Kevin C. Cox/Getty Images
MKG helped Kentucky outclass Baylor.
Michael Kidd-Gilchrist has shown everyone what Michael Kidd-Gilchrist is all about in this tournament.
After scoring just 11 points on 5-of-12 shooting in the first two rounds, MKG has really broken out. Over the last two games he has been the most effective offensive weapon for the super-talented Wildcats. Kidd-Gilchrist is another case of the cream rising to the top.
With Anthony Davis saddled with foul trouble against a hard-charging Indiana team, he took over with a non-stop assault on the lane. He scored 24 points, also pulling down 10 rebounds and hitting all 10 of his free-throw attempts.
In a domination of a tall and talented Baylor front line, Kidd-Gilchrist didn't blink, scoring another 19 points on 70 percent shooting.
In all for the tournament, Kidd-Gilchrist has shown a versatile game with 13.5 points, 7.3 rebounds while shooting 51.4 percent and playing tremendous perimeter defense.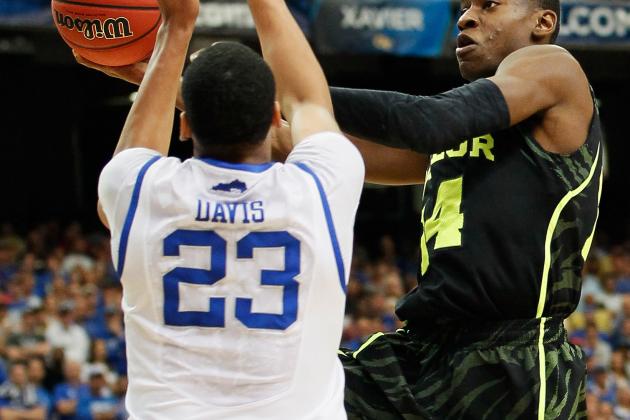 Kevin C. Cox/Getty Images
Davis' defense is intimidating around the basket.
There isn't much left to be said about Anthony Davis. He is a freak of nature and seems to have a constant and unique impact on every game.
He is the most intimidating college defender in years. He is a skilled rebounder, a good passer, he can shoot with some range and almost unstoppable around the rim.
Davis is an unselfish player, who knows when to defer to his talented teammates. He also knows when to take over and he can dominate a game in every facet.
In the first four tournament games of his career, Davis is averaging 14.5 points, 11.0 rebounds, 4.5 blocks and 2.8 assists. He is shooting 54.8 percent from the field and an impressive 77.4 percent from the line.
Some people thought Perry Jones, Quincy Acy and Quincy Miller could handle Davis, but he showed that he is, in fact, the most elite player in college basketball this season. He will likely be the most elite player drafted into the NBA this summer.