North Carolina Basketball: The Season That Never Was
March 26, 2012

As the clock trickled down to zero on Sunday evening, 13 points was the difference between Kansas making its 14th Final Four appearance and North Carolina heading back to Chapel Hill for the second straight season amid an Elite Eight loss.
North Carolina entered the year as the heralded preseason No. 1, despite losing their sixth man and best shooter, Leslie McDonald, to an ACL injury earlier in July.
As time would tell, injuries would carry more implications for the Tar Heels this season than anyone could have possibly imagined.
But the season that got away didn't start there.  Eyebrows raised just six games into the season when the talent-laden squad fell to an upstart and hungry UNLV team that was playing only three miles from their campus. Questions circulated as to whether this seemingly invincible Carolina team was really all that untouchable.
Immediately following that loss, the summer-long, heavily debated question of who was better between Carolina and Kentucky only increased in popularity.
Then they matched up on Dec. 3, and Kentucky squeaked by with a 73-72 victory despite UNC leading for the majority of the game. 
Most Carolina faithful chalked the loss up to UK playing in Lexington, claiming that in Chapel Hill the outcome would have been different. 
But as the season progressed, UK became significantly better whereas UNC more or less stayed the same.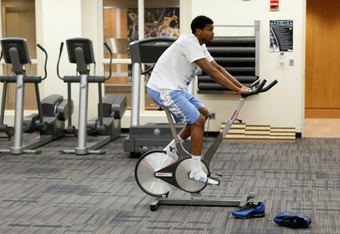 Streeter Lecka/Getty Images
Then in January, Dexter Strickland's break-neck speed got the best of him as he collapsed under his buckled knee in transition and was helped to the bench in noticeable agony. The diagnosis: yet another torn ACL. 
The team had now lost not only its fastest player and best perimeter defender, but also, and more importantly, its primary backup point guard.
At the time, no one could grasp the gravity of that injury.  But a few months down the road, it became impossible to ignore.
Only four games after John Henson suffered a sprained wrist, the nation's top point guard Kendall Marshall fell hard to the floor against Creighton, fracturing his scaphoid bone in his non-shooting wrist and ruling him out for what would be the remainder of the NCAA tournament.
The injury to Henson likely cost UNC an ACC tournament title. But the injuries to Henson and Marshall, coupled with the all-but-forgotten injuries to McDonald and Strickland, caused many to worry that they could cost UNC a national title.
And on Sunday, one could assume that they did. But all those injuries considered, it really does make Sunday's loss somewhat easier to swallow. And it makes going in to next season that much better to look forward to.
From where UNC sits, the Tar Heels no doubt lose the irreplaceable experience and poise that is Tyler Zeller, ACC Player of the Year and a once-in-a-decade kind of player and teammate whose steadfast example will be sorely missed in the locker room and on the court.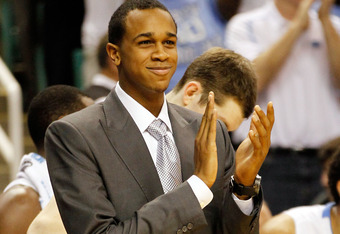 Streeter Lecka/Getty Images
UNC is also likely to lose its two other front line starters in Henson and Harrison Barnes. 
But Barnes has been on record saying how badly he wants to bring a championship to Chapel Hill—it was the biggest factor in him returning to school last year. 
Could the same hold true for this year?
It's unlikely, but I wouldn't put it past him, especially with the poor showing he had all tournament—it's hardly the way he'd want to go out.
Then there's Henson, a player who could very easily win the most improved player award if there was one. He's NBA-ready now, but what's one more year, right?
His return, too, is unlikely. But if Barnes and Henson do return to school, or just one of the two, UNC would likely be the preseason No. 1 team again.  Hopefully this time, though, injuries won't stand in the way.
But even if those two do leave, UNC will still boast what would be one of the deepest back courts in NCAA history.
If Kendall Marshall were to return, UNC's back court would be comprised of Kendall Marshall, Dexter Strickland, Leslie McDonald, Reggie Bullock, PJ Hairston and Marcus Paige.
That's a lot of firepower—and the necessary vision to ignite it.
Andy Lyons/Getty Images
Not to mention if James Michael McAdoo returns too, which all indicators are pointing to a strong likelihood.
UNC's front court, although young and needing some work, will still be in good hands with incoming freshmen Brice Johnson, Joel James and JP Tokoto.
Hopefully Desmond Hubert improves his all-around game this summer because his number will be called next year, and he needs to be ready.
This UNC basketball season never truly took off because the team was never truly at full health. 
Would UNC have been the team everyone expected them to be if they were healthy all season? I think so. 
And, if healthy, would UNC have won the national title? Well, I'm no bracketologist, but suffice to say "more than likely."
However, none of this was the case and that's the beautiful tragedy that is sports—nothing is guaranteed.
I'm satisfied with an Elite Eight exit, especially with the loss of so many critical components that would be needed for a championship run.
Coach Roy Williams never made excuses, he just demanded more of his team. And they rose to the occasion in what I believe was to the best of their abilities. That's something Carolina fans can hang their hats on going into the offseason.
This long and somewhat crippling season is in the books. We will never know just how far this team could have gone at full strength, but how far it actually came despite the injuries may speak more to its character and resiliency than a national championship ever could.