2012 NFL Draft Projections: Predicting the Biggest Stud at Every Position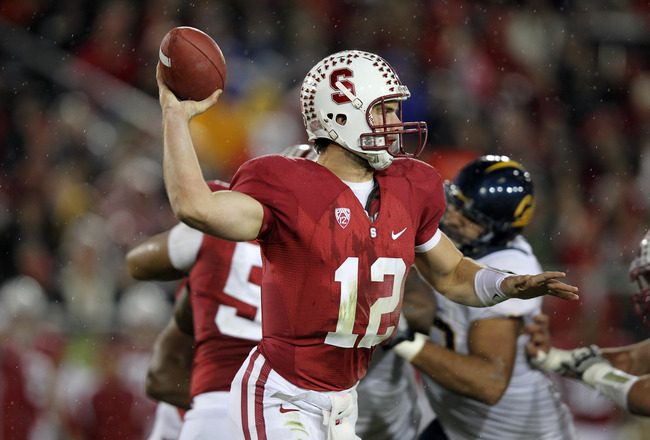 Ezra Shaw/Getty Images
Now that most of the big-time, free-agent puzzle pieces have fallen into place, it's time to look ahead towards the next major phase of the NFL offseason—the draft.
And rather than try and guess where the top stars will fall in Round 1 (i.e. a mock draft), here's a slightly different approach to the mystery that is the NFL draft.
I've picked the player who I think will be the top prospect at each position.
Obviously, there are two ways to look at this—instant impact or long-term greatness. Take last year's superstar quarterbacks. Sure, Cam Newton had a monster rookie season, while Blaine Gabbert did next to nothing.
But if Gabbert ends up having a 10-year career with a few Pro Bowls and a Super Bowl title, he may turn out to be the better pro.
So for the sake of this article—because it does matter which team drafts these big names—full, long-term careers are the measuring stick.
Offensive Tackle: Matt Kalil, USC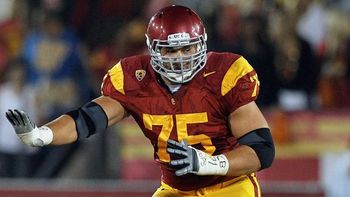 Size: 6'7", 305 lbs
Combine Numbers: 4.99 40-yard dash, 30 reps bench, 7.33 cone drill
Saying without equivocation that Kalil will be the next Anthony Munoz is a joke; people who do are mostly saying that because both went to USC.
But he certainly has the potential to be as dominant and consistent as Munoz, easily the greatest left tackle of his era.
Kalil has great footwork, tremendous balance and paired his excellent strength with uncanny speed at the combine.
That type of athleticism gives him a huge advantage over all his tackle peers...and most NFL defensive ends and blitzing outside linebackers.
Guard: Cordy Glenn, Georgia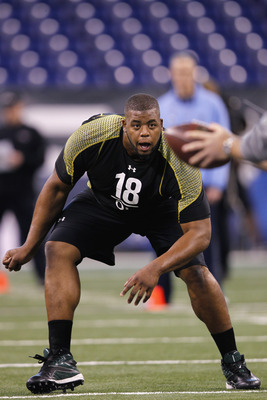 Joe Robbins/Getty Images
Size: 6'5", 355 lbs
Combine Numbers: 5.15 40-yard dash, 31 reps bench, 8.13 cone drill
Stanford's David DeCastro is widely considered the top guard in this draft and may end up going before Glenn. But there has to be some concern about an offensive lineman who plays on the best offensive line in football. Was he really a stud or just a cog in the system?
That—coupled with Glenn's fantastic combine effort—makes me look more towards Glenn as the guard who will have the most productive NFL career. Well, those aren't the only reasons.
For one, playing in the SEC (for three full seasons, no less), Glenn saw much more defensive speed and skill on a regular basis than DeCastro did.
And don't underestimate the value of his season "abroad" at tackle. To make that move, he had to show outstanding footwork and speed, and that will serve him well at the next level when he returns to the inside.
Center: Peter Konz, Wisconsin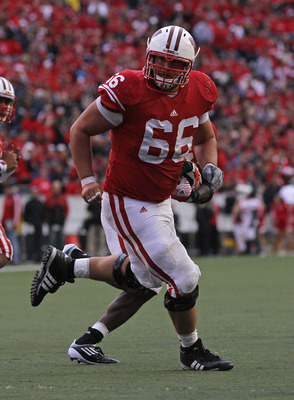 Jonathan Daniel/Getty Images
Size: 6'5", 314 lbs
Combine Numbers: 18 reps
While centers might not get the type of recognition or attention on draft day as their fellow offensive lineman, their value in the NFL continues to grow, with more teams switching to a 3-4, a center who can handle a nose tackle on his own with just a chip from the guard creates more opportunities for big plays in the running game.
And Konz, who has great size (although not tremendous strength), might just be able to do that on a consistent basis.
He comes from an NFL offensive lineman factory and routinely faced top-notch nose/defensive tackles during the three seasons he was a starter in Madison—Devon Still at Penn State, Christian Ballard and Karl Klug at Iowa, Jerel Worthy at Michigan State (twice last year), to name a few.
Tight End: Coby Fleener, Stanford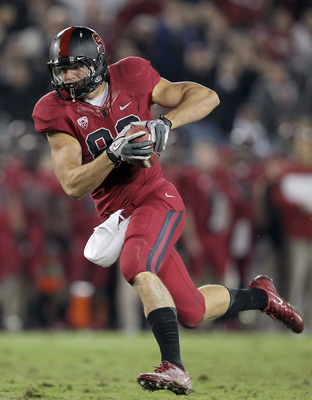 Ezra Shaw/Getty Images
Size: 6'6", 247 lbs
Combine Numbers: 27 reps
Although I've used combine numbers alone for these slides, the pro-day workouts have to be taken into account.
And prior to Stanford's pro day, I think the battle for top tight end billing was a tie between Fleener and Clemson Dwayne Allen.
But when Fleener ran a 4.45 40-yard dash at his pro day last week, it surged him to the very top. That type of speed, coupled with his tremendous height, and the fact that he played in a pro-style offense makes him a very dangerous threat right out of the gate.
Clearly big, athletic tight ends (Jimmy Graham, Rob Gronkowski, Aaron Hernandez, Vernon Davis) are en vogue these days, and Fleener might be the next to join that elite list.
Wide Receiver: Justin Blackmon, Oklahoma State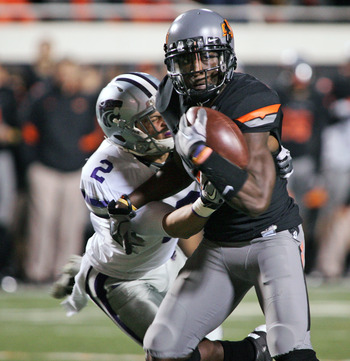 Brett Deering/Getty Images
Size: 6'1", 207 lbs
Combine Numbers: 14 reps
Although he doesn't have the same size or strength or even the same speed of last year's two premier wideouts (A.J. Green and Julio Jones), there's no reason why Blackmon can't be every bit as good.
He's almost impossible to jam at the line of scrimmage, and that will let him use his great route running and intangibles in fighting for the ball as a major advantage.
Wide receivers are almost always the toughest prospects to gauge—it's one of the few positions where a lack of size isn't really a huge negative—but Blackmon is clearly the most complete and accomplished rookie to come out.
That should translate to an outstanding career, just like his former teammate Dez Bryant is heading towards.
Running Back: Trent Richardson, Alabama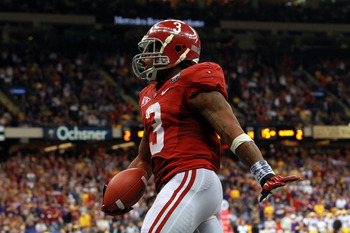 Ronald Martinez/Getty Images
Size: 5'9", 228 lbs
Combine Numbers: N/A
If there had been more standout running backs in this year's draft than the injury that kept Richardson out of the combine probably would have allowed another back to contend for this spot.
But that wasn't the case.
Sure there are some promising candidates out there (Chris Polk, LaMichael James, David Wilson), but Richardson's blend of speed and low-to-the-ground running style makes him tailor-made for the NFL.
And more than anything, his ability to contribute in the passing game—he is a fine blocker and caught 29 passes last year—will get him on the field early, allowing him to mature faster than a back who needs more time to become a complete player.
Quarterback: Andrew Luck, Stanford
Ezra Shaw/Getty Images
Size: 6'4", 234 lbs
Combine Numbers: 4.67 40-yard dash, 6.80 cone drill
I don't want to hate on RG3: he very well might live up to the hype and be as dominant a duel-threat as Cam Newton seems to be. But the notion that the Colts would take him over Luck is absurd.
Having played in Jim Harbaugh's offense—which obviously translates perfectly to the NFL—for three seasons makes Luck is light years ahead of Griffin right now.
And while he might not have the speed and elusiveness as Griffin, he has such unique accuracy on every throw and that, plus his great decision making, will reduce the number of mistakes he makes, giving him a chance to excel on day one.
Defensive End: Quinton Coples, UNC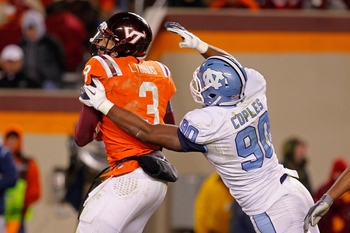 Geoff Burke/Getty Images
Size: 6'6", 284 lbs
Combine Numbers: 4.78 40-yard-dash, 28 reps, 7.57 cone drill
Obviously, the future of every defensive end, defensive tackle and linebacker in this draft will be dependent on whether they fall into a 3-4 scheme or a 4-3 scheme.
But a great athlete is a great athlete in any system and skill always takes precedent over an inch or two of height or 20 pounds or so of weight.
That's why Coples is the top prospect at defensive end.
Not only does he have the height and weight to dominate in a 4-3, and the speed to do so in a 3-4, he possesses incredible strength and burst off the snap.
He'll be an annual double-digit sack artist for years to come.
Defensive Tackle: Dontari Poe, Memphis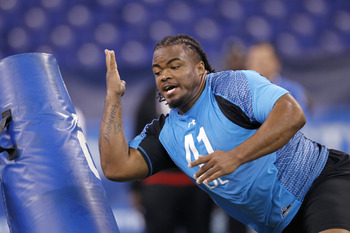 Joe Robbins/Getty Images
Size: 6'4", 346 lbs
Combine Numbers: 4.98 40-yard-dash, 44 reps, 7.90 cone drill
Especially for defensive lineman (Mike Mamula), you have to take combine numbers with a grain of salt.
So even though Poe made scouts' jaws drop when he ran a sub-five-second 40-yard dash at 345 pounds and didn't rack the bench until he put 225 up a whopping 44 times that won't make him the next Vince Wilfork or Ted Washington.
But Poe has shown versatility and a great motor, which complements his raw combine numbers so well.
Additionally, more and more teams are switching to the 3-4 and since a prototypical nose tackle is hard to find (and Poe certainly fits that bill) whichever team drafts him will likely put him on the field right away.
Look for him to have a career as long and productive as someone like the Steelers Casey Hampton.
Outside Linebacker: Melvin Ingram, South Carolina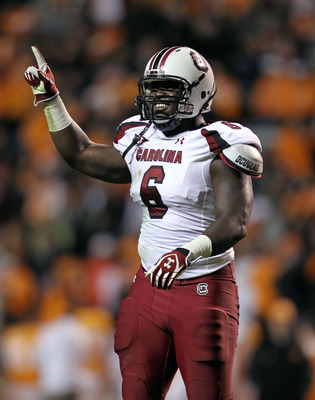 Andy Lyons/Getty Images
Size: 6'1", 264 lbs
Combine Numbers: 4.79 40-yard dash, 28 reps bench, 6.83 cone drill
In terms of the "traditional" outside linebackers in this draft (i.e. not college defensive ends who NFL teams will switch to 3-4 outside linebacker) Ingram really only has one contender for the top outside linebacker spot: Alabama's Courtney Upshaw.
And between those two, I'd expect Ingram--who didn't have the benefit of playing on a defense with future NFLers across the board--to have the fuller career.
Now there might be some concern about whether or not he can play outside backer in a 3-4 because he doesn't have the ridiculous speed of a Robert Quinn or Aldon Smith but he can rush the passer: 20 sacks over the precious two seasons.
And since he is just as sharp against the run he'll appeal to a team interested in filling a 3-4 outside backer spot. Besides, even if he didn't display ideal straight-ahead speed at the combine, he showed remarkable agility, running the second-fastest cone drill of any linebacker or defensive lineman.
Inside Linebacker: Dont'a Hightower, Alabama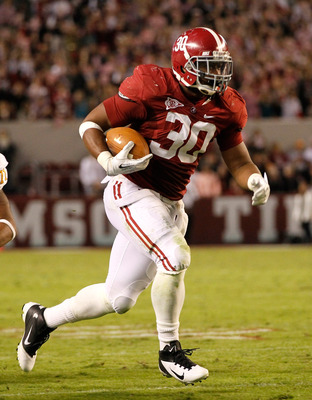 Kevin C. Cox/Getty Images
Size: 6'2, 265 lbs
Combine Numbers: 4.68 40-yard dash
Of all the names on this list, this one is probably the most surprising because it bucks conventional wisdom.
Just about every mock draft you see these days lists Boston College's Luke Kuechly as the first inside linebacker selected. But if he doesn't wind up on a team that specifically runs a 4-3, where he can play mike linebacker, I worry about just how productive he can be. Sure he had a monster day at the combine, but he might have the ideal athletic prowess to excel at the next level.
So because Hightower is a more natural fit in a 3-4 and more teams are transitioning to a 3-4, the Alabama star has an easier path to NFL stardom.
Besides, he's regarded as a remarkably determined and committed football player and that suggests he'll learn early on.
Strong Safety: Mark Barron, Alabama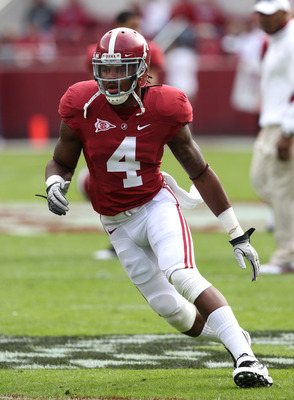 Mike Zarrilli/Getty Images
Size: 6'1, 213 lbs
Combine Numbers: N/A
Even if you find it absurd that three members of the Crimson Tide are on this list, it's hard to argue against Barron being the most promising safety (strong or free) in the draft.
Not only does he have ideal size and strength, but he was the on-the-field brains behind two national championship defenses.
He's a ferocious tackler with ideal ball skills and if need be can play man-coverage against slot receivers and maybe even a tight end. In today's NFL, that type of flexibility in the passing game makes him a dangerous player.
Free Safety: Trenton Robinson, Michigan State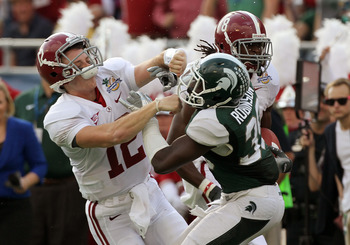 Mike Ehrmann/Getty Images
Size: 5'10", 195 lbs
Combine Numbers: 4.52 40-yard dash, 15 reps bench, 35" vertical
For the second straight April it seems a safe bet that no safety will come off the board on Day One. But there's an argument to be made that great safeties are made, not found. And if that's the case, I like Robinson's chances of becoming this class's premier free safety.
He has plenty of great physical attributes: his 40-yard dash was tied for second best of all the safeties at the combine, and he possesses great jumping ability, something vital for an undersized player in the middle of the field.
But more to the point, he's a tough, fearless player who is just as eager to make plays near the line of scrimmage as he is in the secondary.
With more and more corners and safeties becoming one-dimensional in this era of pass-happy offenses, Robinson's linebacker-like mentality will quickly improve whatever team that drafts him.
Cornerback: Morris Claiborne, LSU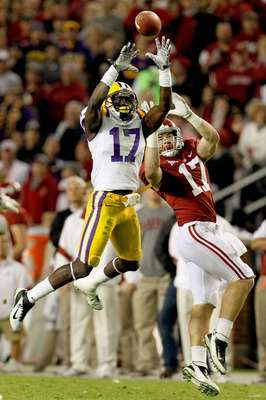 Kevin C. Cox/Getty Images
Size: 5'11", 188 lbs
Combine Numbers: 4.50 40-yard dash, 7.01 cone drill, 34.5" vertical
Last year, Claiborne's former LSU teammate Patrick Peterson was widely considered the best athlete in the NFL draft. And his fantastic rookie season with the Cardinals sure validated that label.
Claiborne, however, seems to be a much different type of player...and one just as valuable.
He doesn't figure to be the same type of special teams game-breaker and isn't nearly as big or physical or fast as Peterson, but he is one of the better pure man-to-man corners to come out in years.
His ball skills are as good as probably half the wide receivers in this draft and considering how important turnovers are in the NFL, even if he gambles (and occasionally loses), he's always capable of making up for it with a pick-six.
Keep Reading