Tiger Woods: Complete Timeline of Tiger's Journey Between PGA Tour Wins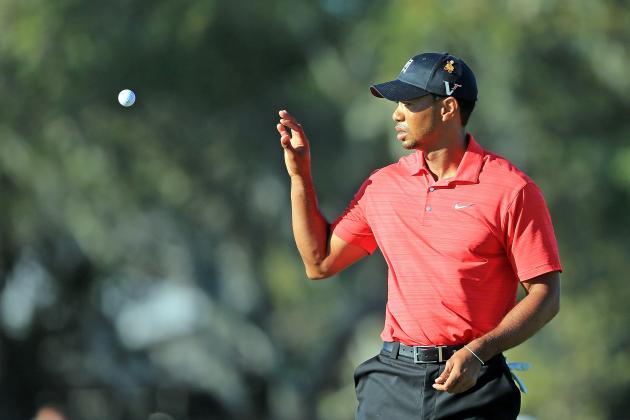 David Cannon/Getty Images

It's been a long time coming for Tiger Woods. After two-and-a-half wayward years, the biggest name in golf finally found his way back to the top of the leader board in a PGA Tour event, winning the Arnold Palmer Invitational at Bay Hill on Sunday at 13 under par.
Woods was able to hold off Graeme McDowell, Ernie Els and Ian Poulter with a two-under 70 on the final day to secure his 72nd career PGA win, his first since the 2009 BMW Invitational.
The road back to respectability has been filled with potholes and obstacles of all sorts for Woods, from marital woes to injuries and everything in between. Many will say (Tiger included) that there's still plenty of work to be done, particularly with the 2012 Masters fast approaching on the calendar.
As the powers-that-be in the world of golf celebrate Tiger's return to the winner's circle, let's have a look back at where he's been, with an eye turned firmly to the future.
Begin Slideshow

»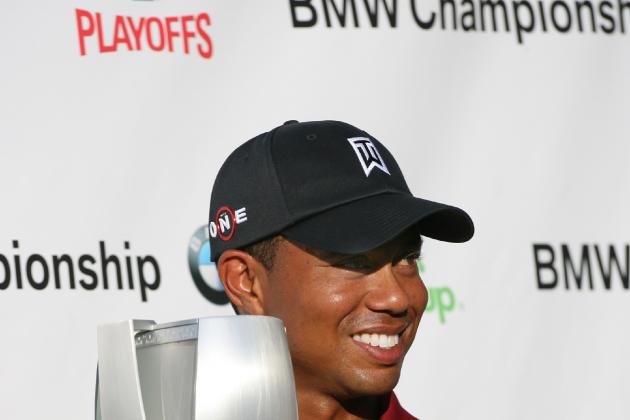 Hunter Martin/Getty Images

Tiger Woods was on an absolute roll the last time anyone saw him walk away from a PGA Tour event victorious. Just 15 months removed tearing his ACL and incurring multiple stress fractures during a miraculous win over Rocco Mediate at the 2008 US Open, Woods put together a dominant performance at Cog Hill, winning the BMW Championship by eight strokes for his sixth tournament title of the season.
In between, Tiger racked up three top-10 finishes in major events, including a second-place performance at the 2009 PGA Championship that saw Woods surrender a 54-hole lead, to YE Yang, for just the second time in his professional career.
Nonetheless, Tiger was still Tiger, a golf savant with a carefully maintained image who was bound to rack up more major championships once his reconstructed knee had healed properly.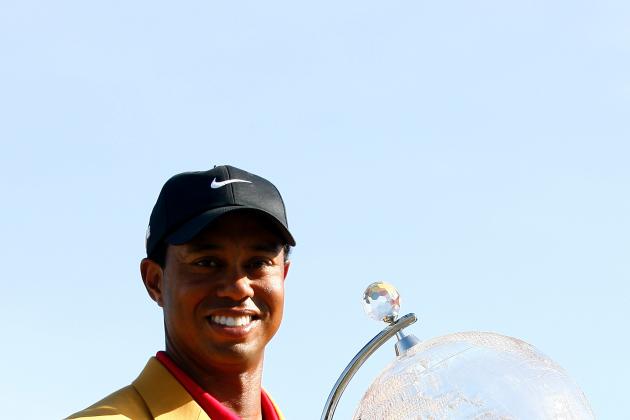 Quinn Rooney/Getty Images

Don't be fooled by the reports, though—Tiger's win at Cog Hill wasn't his last anywhere in the world before Sunday's finish at Bay Hill.
Two months later, Woods took his talents down under and came away with a win at the 2009 Australian Open, with a final score of 14-under to emerge victorious from Kingston Heath by two strokes that weekend.
Little did Tiger (or anyone else) know that it'd be his last brush with victory, official or otherwise, for more than two years.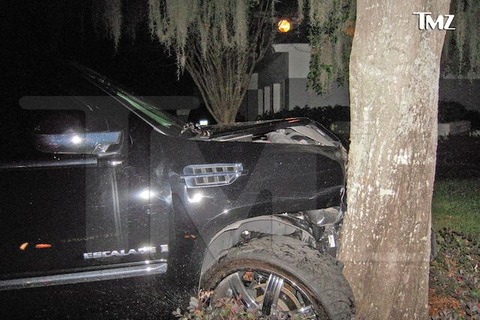 Photo Credit: TMZ
Is there any worse time for personal crisis to explode than Thanksgiving?
As if spending time with in-laws wasn't bad enough, Tiger's holiday was thoroughly ruined by the revelation of his own (rather extensive) marital infidelities to his wife, Elin.
Tiger's troubles became a global news story at approximately 2:30 a.m. EST on Nov. 27 when his Cadillac Escalade drove through a fire hydrant and some hedges before slamming into a tree, at which point Elin "saved" him by bashing through the rear windshield with a golf club.
Or at least that's the story Tiger told after the story broke.
Chances are, Elin had caught onto Woods' philandering two days earlier (at the very least), when The National Enquirer first claimed that he'd been fooling around with New York socialite Rachel Uchitel.
In any case, the accident may not have been the genesis of Tiger's personal crisis, but it did mark the first time the general public was made aware that something funny was afoot with the world's greatest golfer.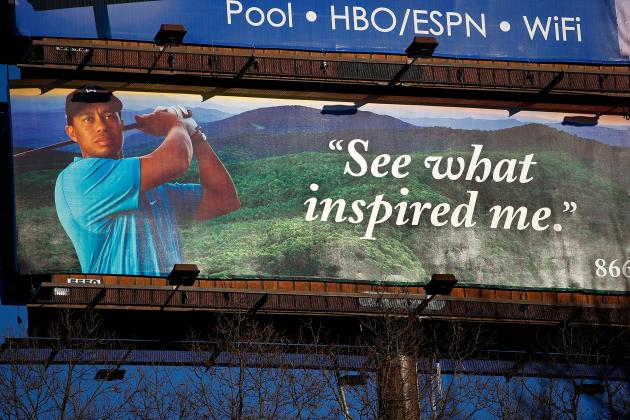 Getty Images/Getty Images

After two weeks of mistresses coming out of the woodwork, Tiger released an official statement—his third following the accident—in which he copped to and apologized for his marital infidelity while announcing that he'd embark on "an indefinite break from professional golf."
Shortly thereafter, Woods was summarily ditched by a number of his most prominent corporate sponsors, including AT&T, TAG Heuer, General Motors, Accenture, Gillette and Gatorade.
Woods later checked himself into a 45-day therapy program to address his personal problems.
After emerging from his month-and-a-half in therapy, Woods took to the airwaves to come clean about his personal transgressions and apologize to all those to whom his actions rendered harm and disappointment—emotionally, financially and otherwise.
Said Tiger of his womanizing ways:
I thought I could get away with whatever I wanted to. I felt that I had worked hard my entire life and deserved to enjoy all the temptations around me. I felt I was entitled. Thanks to money and fame, I didn't have to go far to find them. I was wrong. I was foolish.
Tiger gave no indication at that press conference as to when he would return to golf.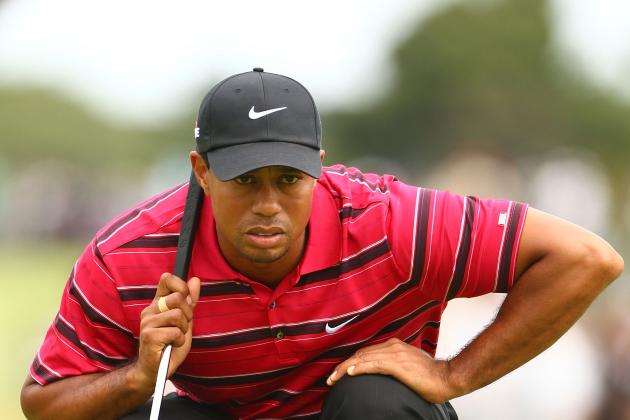 Robert Cianflone/Getty Images

March 16 saw Tiger officially announce that he'd return to competitive golf for The Masters the following month.
So on April 8, with the whole world watching, Woods walked the course at Augusta National, ending the day with a four-under 68.
Phil Mickelson went on to win the tournament at 16-under par, with Woods finishing in fourth place, tied at 11-under with KJ Choi.
It was a remarkable performance amidst turbulence for Tiger, to say the least. Little did anyone know, Woods' personal issues would quickly catch up to him on the golf course amidst poor performances at the Quail Hollow Championship and the Players Championship.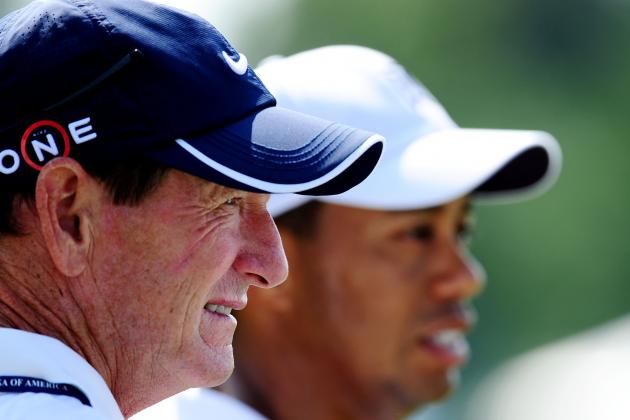 Stuart Franklin/Getty Images

And just when you thought it couldn't get much worse for Tiger on the links, it did.
Hank Haney, who'd been Woods' swing coach since 2004, bade farewell to his troubled client. Haney parted ways with Woods shortly after his sorry showing at and withdrawal from The Players Championship, saying in an official statement:
As we all know, Tiger has been through a lot in the past six months, and I really believe that given the chance, mind free and injury free, we will all see Tiger Woods play once again like we all know he can. I wish Tiger well, not only with his golf, but in finding peace and happiness in all aspects of his life. Tiger knows that if he ever needs me in any way, whether it be with his golf or just as a friend, he can always call.
Haney insisted that he wasn't fired and would "move forward in other areas."
You know, like his career as an author of tell-all books.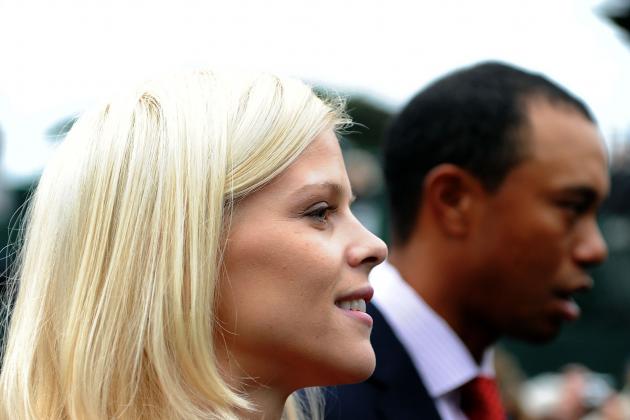 Harry How/Getty Images

"Things" finally hit the fan in Tiger's personal life a few months later when his divorce from his now-ex-wife, Elin, went official.
The split reportedly cost Woods $110 million, along with custody of his children, Sam and Charlie. The two released a joint statement through Elin's lawyers, saying:
We are sad that our marriage is over and we wish each other the very best for the future. While we are no longer married, we are the parents of two wonderful children and their happiness has been, and will always be, of paramount importance to both of us.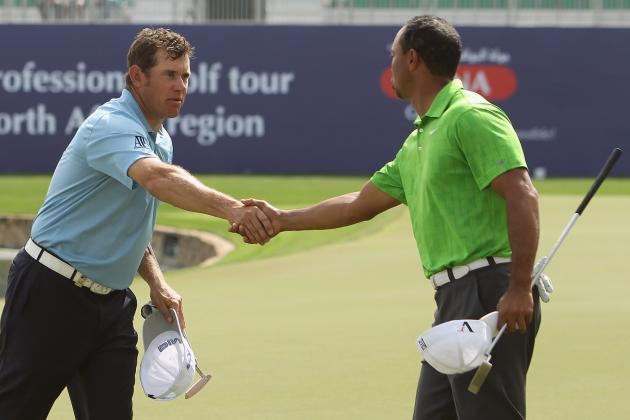 Ian Walton/Getty Images

It was only a matter of time until Tiger's personal problems and poor performance on the golf course caught up to him in the World Golf Rankings.
Somehow, it took more than a full year without winning to drop Woods from the top spot in the hierarchy of men's golf, a perch he'd occupied for a record 281 consecutive weeks.
Woods was replaced atop the official rankings by Lee Westwood, who held onto the honor for all of four-and-a-half months.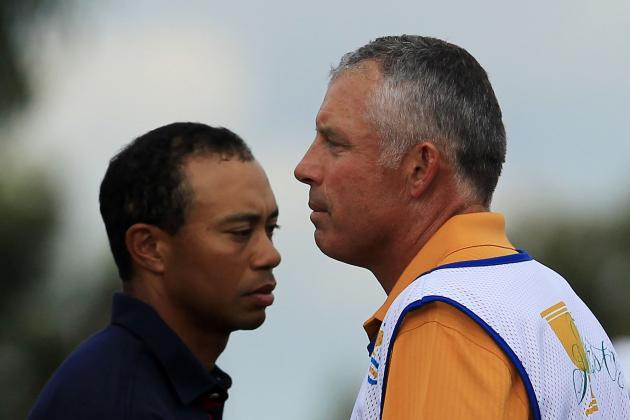 David Cannon/Getty Images

Injuries and inconsistency on the course led Tiger to go back on sabbatical during the summer of 2011, during which Stevie Williams, Woods' longtime caddy, took up with one-time phenom and fellow Oceanian Adam Scott to pass the time (and fill his pockets).
Whether Woods did or didn't take kindly to Stevie's supposed turn of allegiance is up for debate. What's beyond debate, though, is the fact that Tiger fired Williams that July, telling the world through his website:
I want to express my deepest gratitude to Stevie for all his help, but I think it's time for a change. Stevie is an outstanding caddie and a friend and has been instrumental in many of my accomplishments. I wish him great success in the future.
Williams wasn't particularly enthused to part ways with the man who'd made him filthy rich, going so far as to express his satisfaction publicly through comments that might easily be interpreted as racial epithets.
The Woods-Williams separation recaptured headlines when Tiger, along with new caddy Bryon Bell, went head-to-head with Scott and Williams at the Australian Open and the Presidents Cup in November.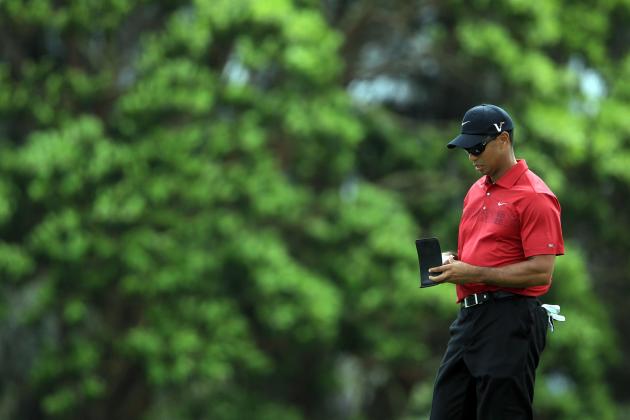 David Cannon/Getty Images

Woods hit rock bottom prior to that Presidents Cup.
And by "rock bottom," I mean 58th in the World Golf Rankings, marking his deepest dip in the list following his fall from No. 1 the year prior.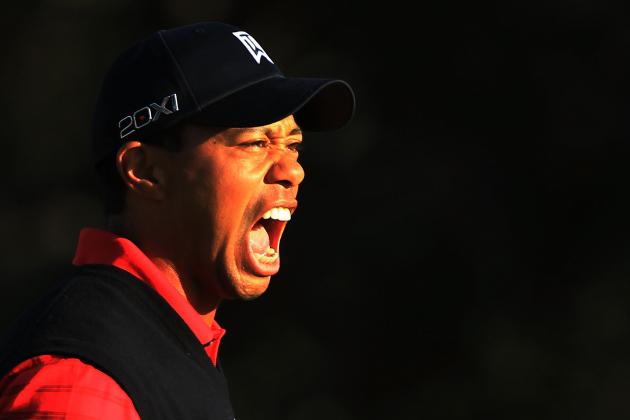 Scott Halleran/Getty Images

At long last, Tiger broke his winless streak in early December at the Chevron World Challenge...
OK, so maybe it didn't really count, seeing as how the Chevron World Challenge isn't an "official" PGA Tour event (amidst an 18-man field).
Nonetheless, the result proved to be a boost as much to Woods' confidence as to his standing in the World Golf Rankings, as he moved back up to No. 21 on the planet shortly thereafter.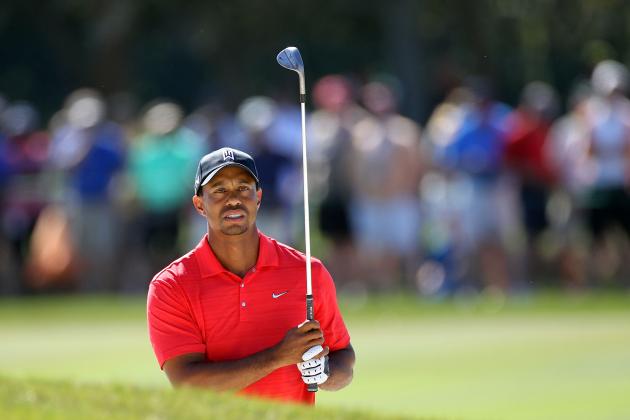 Sam Greenwood/Getty Images

And then there was Sunday, The Day the Slump Officially Came to an End.
Where's Jay Mariotti when you need him?
Fittingly enough, Woods' win came at Bay Hill, where he'd won six times prior to this past weekend.
It's the dawning of a New Age for Tiger, or so it will seem after the talking heads are done dissecting his performance at a course and in an event he knows better than just about any other, one that practically sits in his backyard.
Nonetheless, Tiger's win would seem to signal that he's finally back on the upswing, and just in time; next up, he'll head to Augusta National for the 2012 Masters, which tees off a week from Thursday.