NCAA Scores 2012: Keys to Louisville Pulling Monumental Upset over Kentucky
March 25, 2012

Christian Petersen/Getty Images
The Louisville Cardinals get a rematch with the Kentucky Wildcats in the Final Four, but it won't be easy.
Kentucky is good.
Like, really, really good. 
The Wildcats took care of Baylor today with absolute ease, and it's safe to say they even better than when they beat Louisville by seven back on New Year's Eve.
Nonetheless, it's the Final Four so anyone in New Orleans can beat anyone else. Here's a look at Louisville will have to do to pull the upset over Kentucky. 
Get Anthony Davis in foul trouble
When Davis went down with an apparent knee injury today, Baylor made several small runs. Kentucky was still the better team, but the Bears actually looked like they were on the same level.
Without Davis, Kentucky is a different team, especially on defense, which is where they usually thrive. 
Not only will Gorgui Dieng have to be aggressive against Davis, Peyton Siva will have to find a way to get in the lane and draw some contact.
That's easier said than done, however, because Davis is one of the best in the country and absorbing contact and avoiding the foul. He's only hit four fouls in four games this season and only fouled out once.
Hit some outside shots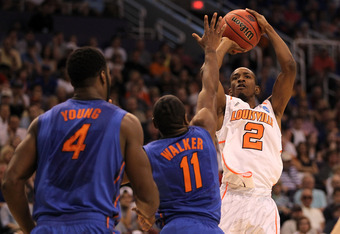 Jamie Squire/Getty Images
Louisville is a great defensive team and will be able to slow down Kentucky's offense as long as the Wildcats don't get in transition, but Kentucky's defense is just as good.
If Louisville wants to win, they'll have to score. And that won't be easy.
In order to beat Kentucky, you have to hit outside shots. It's what Vanderbilt did and it's what Indiana did. 
In the Cardinals' loss to Kentucky earlier in the season, Russ Smith was the only one interested in playing, as he knocked down three three-pointers and dropped 30 points. Kyle Kuric and Chris Smith both disappeared, however, and they'll have to knock down some jumpers this time around.
Rebound
During its loss to Kentucky, Louisville pulled down just 20 defensive rebounds while Kentucky had 14 offensive 'boards. Overall, Kentucky had 49 rebounds to Louisville's 28.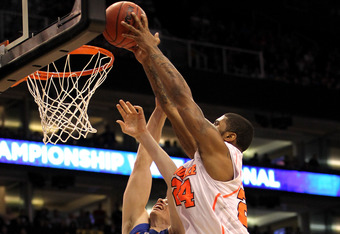 Jamie Squire/Getty Images
That's not good.
But during their current winning streak, the Cardinals have been better at rebounding the ball. They slipped up against New Mexico, and that almost hurt them. However, they fixed the problem against Michigan State and out-rebounded one of the best rebounding teams in the country.
If the Cardinals are going to win, they are going to have to play this one like the MSU game. Ugly.
They are going to have to make Kentucky uncomfortable and keep the 'Cats off the glass.