Tim Tebow and Rex Ryan: The New York Jets Brace for Boring?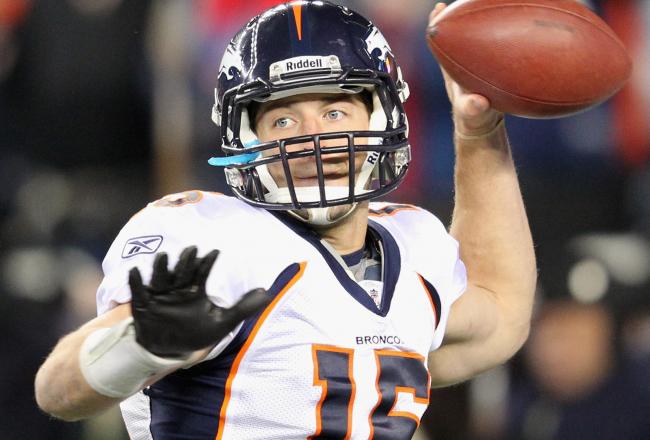 Denver Days are Long Gone
Jim Rogash/Getty Images
Tim Tebow. The National Football League has its new Namath at long last. The problem is, Mr. Tebow is no Joe. He's just a Tim with a dream, and passion for football and winning. The Denver Broncos' loss is the New York Jets' gain, but it'll take time.
Tim Tebow has been merchandised by the media, becoming the favorite son they love to use and abuse for headlines and mockery.
Tebow has been targeted for ridicule largely because of his unapologetic religious faith in God and Jesus. It's tough for me to wrap my head around that in this time of hyper-sensitivity towards all things religious; Tebow's faith and demeanor are easy targets.
In an era where bad behavior is lucrative business, I find Tebow's straight-arrow persona kind of refreshing. There. I said it. I will, however, clarify that last statement with the honest truth: that I can attest to never having "Tebowed." Ever.
In the NFL, loud and brash alpha males and flashy, in-your-face superstardom are the norm, and rightly so. Brash and flashy sells tickets and gets you on television. It gets players endorsement deals and other moneymaking opportunities.
The culture of winning you see in teams like New England and Green Bay is being replaced by the audacity of the individual. The 20-second highlight reel from sports television glorifies individual achievement and 'spice' and catchphrases.
Touchdown celebrations make better highlights than good defense. Dunks are better than layups. Teams are now getting identified by their star player's antics or tweets rather than outstanding play.
Enter the Tebow anomaly to the equation. Very un-brash. No bling, no flash. No gaudy tattoos. His touchdown celebration is about as far from the "Icky Shuffle" as one can get, yet is immensely more popular and a worldwide phenomenon.
The unassuming and polite (code words for boring) Tim Tebow has taken the spotlight away from the huge personalities who try desperately to be huge personalities, by simply being religious and kind of boring.
Who has the better Touchdown 'celebration'?
And it's driving everyone nuts.
Loving to hate Tebow is understandable. His name has become an adjective ("Tebowing"). Any time your name becomes an adjective, you know you have made the big time. He is followed everywhere by legions of handlers and reporters, creating his own media frenzy with his own "cult of (boring) personality."
When Tim enters the room, everyone else is ignored. When Tim speaks, other players are asked for reactions about what Tim speaks about, even if Tim isn't talking football. Tim mentions Jesus and Jesus trends on Twitter.
The Timming of New York has begun, and New York doesn't like being Timmed.
New York DOES like winning. New York likes being loud and in your face. Rex Ryan is exactly the kind of guy New York likes. A loudmouthed, prognosticating football guru with a foot fetish and a beer gut? The shoe fits perfectly.
Tim is decidedly NOT a New York guy. A goodie goodie with Hollywood looks and monastery morals who accepts harsh criticism with a smile. Yuck.
In an unlikely (and cringe-worthy) marriage, Ryan and Tebow is actually a match made in heaven. That's right. Heaven. They are going to make each other better. Insane? Maybe. But those two men are of the same cloth. Dedication to the sport? Unrivaled. Unapologetic about their ideals and beliefs? You betcha.
Tebow and Ryan share the same competitive fire and pure passion for football. Tim will do whatever job Rex asks with enthusiasm. If Rex wants water, Tim will be the best damn water boy in the entire league, book it.
Rex Ryan could certainly benefit from a little Timming up, and Tim could use a little Rex-itude. OK, maybe a lot of Rex-itude.
This article is
What is the duplicate article?
Why is this article offensive?
Where is this article plagiarized from?
Why is this article poorly edited?

New York Jets: Like this team?