2012 NFL Draft: How Far Could Courtney Upshaw Fall?
March 26, 2012

Sixty minutes wasn't enough to settle last year's regular season edition of Alabama vs. LSU. In a game where there were just 15 points scored, the Tigers emerged victorious.
The rest of the 2011 season was a collision course towards the BCS National Championship for the SEC rivals. Both teams boasted a dominant defense, but the Crimson Tide got the last laugh when they shut out the Tigers 21-0 and won the National Championship.
Holding the LSU Tigers to just 92 yards on offense and preventing them to score a single point, the Alabama defense was the story of the game. After LSU was only able to cross the 50-yard line one time, Alabama LB Courtney Upshaw represented the Crimson Tide defense as MVP of the game. His on-field role in the National Championship game is almost as famous as his acceptance speech alongside John Saunders after the game.
For the record—if you don't like that exchange, you don't have a soul. It's priceless.
Coming off his MVP performance, Upshaw entered the offseason with a full head of steam and the NFL draft in his sights. An unquestioned first-round talent, Upshaw had been mentioned by some as a potential top-10 pick.
After choosing not to run at the NFL scouting combine, Upshaw may have hurt his draft stock as he was rather unimpressive in position drills.
Former NFL GM and current NFL Network analyst Charley Casserly listed Upshaw as a player who disappointed at the combine by saying, "I just didn't see the explosion that you want to see from a pass rusher off the edge."
Some scouts were disappointed that Upshaw chose not to work out at Alabama's pro day. However, he will reportedly work out with two other first-round Alabama prospects in Mark Barron and Trent Richardson on Thursday, March 29th.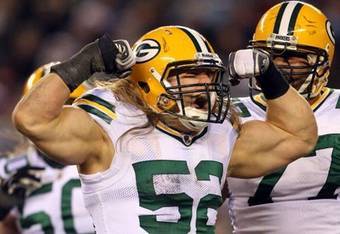 Upshaw could really help himself and his wallet by performing well in individual drills at his workout. It's unknown whether or not he'll run a 40-yard dash; however, an impressive performance in linebacker drills would help him even more than his performance in the 40.
Upshaw played outside linebacker in Alabama's 3-4 scheme, but some 4-3 teams may give him a look as a defensive end. If he shows improved lateral movement and hip fluidity, his draft stock could recover from the recent dip it's taken.
In my first mock draft projection before the combine, I had Upshaw going in the top 10 to the Miami Dolphins. Surprisingly to myself, I had Upshaw falling all the way to the New England Patriots with the 27th pick in my latest projection on Saturday. I'd be shocked if he was drafted that late on draft day, but he could be in for a fall come April 26th.
If Upshaw can improve his stock between now and the draft, he could go as high as 12th overall to the Seattle Seahawks if they feel like he can be a difference-making defensive end in their 4-3 scheme. The Arizona Cardinals could also give him a look at No. 13, but they have an atrocious offensive line and will likely address that unit with their first selection.
The most likely landing spot for a 3-4 outside linebacker in the middle of round one appears to be the New York Jets with the 16th pick. Between the combine and the USC pro day, Nick Perry has flashed incredible physical ability and improved his draft stock tremendously.
He has mentioned that he'd prefer to play defensive end in a 4-3 scheme, but he certainly has enough athleticism to stand up as an outside linebacker in a 3-4 scheme. I currently have Perry going to the Jets with the 16th pick.
If Upshaw gets past the Jets with the 16th pick, he'll surely be under consideration for the San Diego Chargers at 18. The Chargers signed Jarrett Johnson as an unrestricted free agent from the Ravens to be the bookend to Shaun Phillips in their 3-4 scheme; however, just because they have two formidable starters, that doesn't mean the team is satisfied with their personnel at the position.
Upshaw could slide past San Diego's 18th pick, and it's up to debate where he could end up if that's the case.
Several 4-3 teams will be in the market for a pass-rushing defensive end in the mid-to-late first round, but his most likely destination is with a 3-4 team where he'll be able to play outside linebacker like he did at Alabama. After the Chargers, the next 3-4 team doesn't pick until the Pittsburgh Steelers at 24, whom already have LaMarr Woodley and James Harrison at the position.
The Houston Texans could consider Upshaw with the 26th pick after losing Mario Williams as an unrestricted free agent to the Buffalo Bills. The lowest Upshaw could be drafted is either the Patriots with the 27th pick or the Packers at 28.
In my personal opinion, Upshaw may be the target of a draft day trade for someone in desperate need of a pass rusher. New England and Green Bay fall under that category.
If Upshaw gets past the Jets and Chargers in the middle of the first round, either the Patriots or Packers may look to move up five or six spots to select him.
Packers GM Ted Thompson historically hasn't been one to part multiple draft picks and trade up for one player, but he's done before. The Packers, ironically enough, traded up with the Patriots to take OLB Clay Matthews with the 26th pick after selecting B.J. Raji ninth overall.
After the Packers struggled to get to the quarterback in 2011, it's possible that Thompson views Upshaw as the perfect pass-rushing complement to Clay Matthews. If he truly covets Upshaw, the Packers could relatively easily move up several spots to take him.
One thing is pretty certain, Green Bay won't be interested in trading up for anyone if the price is too high; Thompson treasures his late-round draft picks.
Upshaw's draft stock could improve drastically before April 26th. A lot can change in the month leading up to draft day, but one thing that certainly won't change is the film. Upshaw was a difference-maker for the Crimson Tide, and constantly demanded attention from opposing offenses.
If Upshaw lands with the right team, and he's focused and driven to be the best player he can be, then one team will be very happy with their first-round pick.
Perhaps someday we'll see Courtney Upshaw hoisting the Vince Lombardi Trophy, before handing it off to his teammates and saying, "touch that thang, folk."