Geoff Burke/Getty Images
March 26, 2012
We are now just one month away from kickoff at Radio City Music Hall. Pro days are wrapping up, teams are finalizing their boards, and free agency has taken shape. Here is how the first two rounds will play out when the draft is finally upon us in late April. 
1. Indianapolis Colts: Andrew Luck, QB, Stanford
Despite rumblings that the Colts have a real decision to make between RGIII and Luck, Luck will ultimately be the pick. He is the safest prospect you can find at the quarterback position and should be among the league's best sooner than later. 
RGIII may have more arm talent, but Luck is head and shoulders above everyone else in terms of the cognitive side of the game and should have no problem adjusting to the NFL. 
2. Washington Redskins (from St. Louis): Robert Griffin III, QB, Baylor
After the Redskins sent three first-round picks to St. Louis, RGIII, should have started looking for a new house in the greater D.C. area. The Skins made a huge gamble in the trade, but RGIII is a good enough prospect to justify what the Redskins gave up. 
3. Minnesota Vikings: Matt Kalil, OT, USC
This draft actually plays out very well for the Vikings. Because of the heavy competition to land on of the top two quarterbacks, the Vikings are all but assured to land the best tackle in the draft, Matt Kalil. Kalil has what it takes to be a starter on the left side for the next decade, and with the Vikings' massive needs on their line, they should sprint to the podium to get Kalil.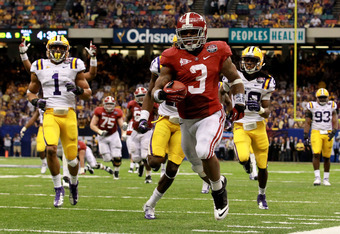 Ronald Martinez/Getty Images
4. Cleveland Browns: Trent Richardson, RB, Alabama
The Browns were going to go in one of two directions at running back: Either re-sign Peyton Hillis or draft Richardson. Now that Hillis is in Kansas City, Richardson seems destined for Cleveland, where he will be one of the best backs in football. 
5. Tampa Bay Buccaneers: Morris Claiborne, CB, LSU
The Bucs gave up a lot of big plays last season, and their inconsistency in the secondary was a big reason for it. Claiborne is the most polished corner to come out in years and has all of the physical tools to get even better with coaching in the NFL. 
6. St. Louis Rams: Justin Blackmon, WR, Oklahoma State
The Rams need weapons for Sam Bradford in the worst way, and with the draft's best receiver on the board there is no way they pass on him here. Blackmon is not the same prospect A.J. Green or Julio Jones were, but he is polished and should make a quick transition to the next level. 
7. Jacksonville Jaguars: Quinton Coples, DE, North Carolina
The Jaguars could pick a receiver here, but there is none worth the draft pick. However, Coples has incredible upside and could provide the kind of elite pass rush they need. Jeremy Mincey is a nice all-around player, but he is not Jared Allen. Coples could put the Jags defense over the top.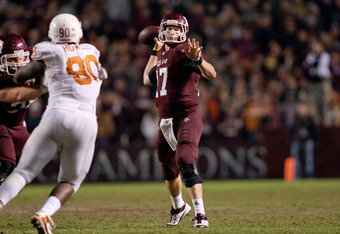 Darren Carroll/Getty Images
8. Miami Dolphins: Ryan Tannehill, QB, Texas A&M
From a pure football standpoint, I could not disagree more with this pick. Tannehill is a second-round talent and to take him in the top 10 is huge reach. 
However, this regime has struck out pursuing Peyton Manning, Jeff Fisher and Matt Flynn this year. If Jeff Ireland wants to save his job, he needs to roll the dice on a quarterback. Tannehill has a lot of ability, but he may need some time to adjust to the NFL.
9. Carolina Panthers: Dontari Poe, DT, Memphis
The Panthers need a defensive tackle in the worst way, but which guy they take remains to be seen. Poe is the definition of a "workout warrior", as he blew up the combine with his ridiculous 40 time. His actual production was not as consistent as you would like, but he could be a heck of a player with some NFL coaching.
10. Buffalo Bills: Luke Kuechly, LB, Boston College
All of a sudden, the Bills defense has gone from average to having the potential to be truly elite. Even after adding Mark Anderson, I would not fault them for adding another pass-rusher. However, Kuechly is a terrific football player that would solidify the linebacking corps with his versatility. 
11. Kansas City Chiefs: David DeCastro, OG, Stanford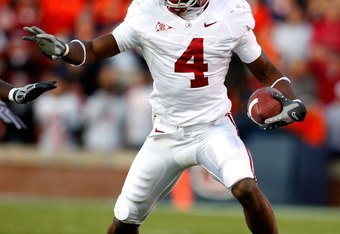 Kevin C. Cox/Getty Images
A guard with the 11th pick may be a bit high, but DeCastro could be worth it. He has almost no weaknesses in his game and is a dominant force in the run game.
The Chiefs don't have a lot of holes, but adding a force on the interior of their line would give huge boost to this offense. 
12. Seattle Seahawks: Courtney Upshaw, DE, Alabama
Seattle could use another pass-rusher opposite Chris Clemons to make this defensive line among the best in football. Upshaw played outside linebacker at Alabama, but he is probably best used as a 4-3 defensive end.
13. Arizona Cardinals: Riley Rieff, OT, Iowa
The Cardinal need an upgrade at every spot on their offensive line, and after missing out on any big-time tackles in free agency, Reiff is the perfect man to step in and star right away on either the right or left side. 
14. Dallas Cowboys: Dre Kirkpatrick, CB, Alabama
I would not be surprised to see Dallas try to make a move up for DeCastro, but since he is now gone, the Cowboys would like to turn their secondary into a strength of their team with this pick. Kirkpatrick is nearly as talented as Claiborne but specializes in zone coverage. 
15. Philadelphia Eagles: Mark Barron, S, Alabama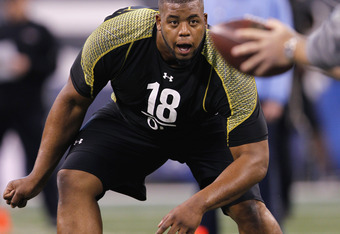 Joe Robbins/Getty Images
The Eagles gave up a ton of big plays last year, which is an indictment on the shoddy play of their safeties. Barron is clearly the best safety in this class, with many qualities that resemble former Eagle great Brian Dawkins. 
16. New York Jets: Melvin Ingram, DE/OLB, South Carolina
The Jets have been hesitant to get themselves an elite pass-rusher since they whiffed on Vernon Gholston in 2008. This could be the year they buck the trend and get the pass-rusher they need to be an elite defense. 
17. Cincinnati Bengals: Stephon Gilmore, CB, South Carolina
As Cincinnati's defense went south after Leon Hall went down, we saw how reliant they are on good man coverage to be effective. A pairing of Gilmore and Hall could give the Bengals the best set of corners they have had since Johnathan Joseph and Hall were teammates.
18. San Diego Chargers: Cordy Glenn, OG, Georgia
With Kris Dielman retiring, the Chargers find themselves with a massive hole on the interior of the offensive line. Glenn has the flexibility to play tackle or guard but is best suited to be a masher on the inside. 
19. Chicago Bears: Jonathan Martin, OT, Stanford
Martin's stock has been in a steady decline, but he is still regarded as one of the best tackle prospects in the draft. J'Marcus Webb was a liability and an upgrade is needed is Cutler is going to survive the 2012 season.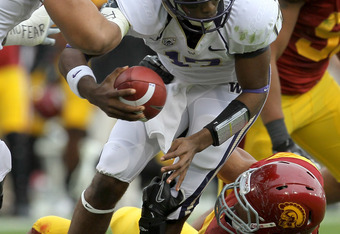 Stephen Dunn/Getty Images
20. Tennessee Titans: Michael Brockers, DT, LSU
The Titans have a hole to fill on the inside of the defensive line left by Jason Jones. Brockers is a great run player, but has only flashed potential as a pass-rusher. 
21. Cincinnati Bengals: Michael Floyd, WR, Notre Dame
Now that Andre Caldwell is gone and Jerome Simpson is dealing with drug charges, the Bengals find themselves with a bit of a need at wide receiver. Floyd is terrific value at this spot and would be the ideal complement to A.J. Green.
22. Cleveland Browns: Stephen Hill, WR, Georgia Tech
The Browns just miss out on Floyd, but Hill has ideal size-speed ratio to give him terrific upside. He could be a more consistent route runner, but his immense upside has his stock on the rise and could be the vertical threat the Browns have been lacking. 
23. Detroit Lions: Mike Adams, OT, Ohio State
Adams had a superb Senior Bowl, but showed up at the combine a bit out of shape. Either way, Jeff Backus is not getting any younger, and Adams has the potential to be a franchise left tackle. 
24. Pittsburgh Steelers: Dont'a Hightower, ILB, Alabama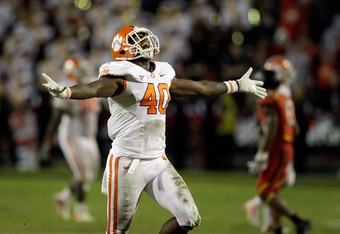 Rob Carr/Getty Images
Now that James Farrior is officially out of the fold, the Steelers need to find a long-term partner for Lawrence Timmons on the inside. Hightower also comes with some pass-rushing skills, giving Dick LaBeau another toy to play with on third downs. 
25. Denver Broncos: Fletcher Cox, DT, Mississippi State
Although they were able to land Manning, they were not able to keep Brodrick Bunkley, leaving a massive hole on the interior of their defensive lie. Cox is an ideal, penetrating three technique that adds a dimension of pass-rush ability that Bunkley did not. 
26. Houston Texans: Kendall Wright, WR Baylor
Wright was very disappointing at the combine, but redeemed himself with a solid pro day. He runs very fast on tape and could be just what the Texans need at the receiver position to attract some attention away from Andre Johnson. 
27. New England Patriots: Nick Perry, DE, USC
The Patriots lost both of their best pass-rushers from last year in Andre Carter and Mark Anderson to free agency. Perry has a ton of upside but was inconsistent on tape. Still, with some good coaching, he could be the answer to the Pats' pass-rushing woes.  
28. Green Bay Packers: Janoris Jenkins, CB, Northern Alabama
The Packers may be looking to move Charles Woodson to free safety after he started giving up a ton of big plays last year. Jenkins is as talented as they come, but whoever drafts him is going to need to do their homework on his off-field issues. 
29. Baltimore Ravens: Peter Konz, C, Wisconsin
The Ravens were able to keep Matt Birk, but they will need to find a body to replace Ben Grubbs. Konz is listed as a center, but he can move to guard and play there as long as Birk is around. When Birk retires, the Ravens can then decide where to put Konz. 
30. San Francisco 49ers: Whitney Mercilus, DE/OLB, Illonis 
The 49ers can pretty much take the best payer available here, unless there is a stud right guard sitting there. Since there isn't, why not add a pass-rusher with a ton of natural ability that does not have to play right away?
31. New England Patriots: Andre Branch, DE, Clemson
The Patriots need all the pass-rush help they can get. Branch was projected to go as late as the second round, but he has enough ability to produce like a first-rounder on the next level. Plus, the Patriots have a big enough hole at defensive end to have to reach a bit. 
32. New York Giants: Doug Martin, RB, Boise State
Martin not going to light up the highlight reel with spectacular runs, but he finds his holes and gets good yardage on just about every play. The Giants just need a guy to share the load with Ahmad Bradshaw after jettisoning Brandon Jacobs, and Martin fits the bill. 
Round 2
| | | | |
| --- | --- | --- | --- |
| 33 | St. Louis Rams | Devon Still, DT, Penn State | The Rams had huge issues stopping the run last season and need to get some fresh blood in the trenches. |
| 34 | Indianapolis Colts | Coby Fleener, TE, Stanford | The Colts get Luck's favorite target at Stanford to fill their need at tight end. |
| 35 | Minnesota Vikings | Rueben Randle, WR, LSU | The Vikings need to start surrounding Christian Ponder with as many weapons as possible.  |
| 36 | Tampa Bay Buccaneers | David Wilson, RB, Virginia Tech |  Wilson is the perfect man to complement LaGarrette Blount. |
| 37 |  Cleveland Browns |  Brandon Weeden, QB, Oklahoma State |  He may be 29, but he is a better option than Colt McCoy. |
| 38 | Jacksonville Jaguars  |  Mohamed Sanu, WR, Rutgers | Jacksonville still has a lot of work to do to get its receiving corps up to par.  |
| 39 |  St. Louis Rams |  Alshon Jeffery, WR, South Carolina | Jeffery has a lot of question marks, but he has a ton of talent worth rolling the dice on.  |
| 40 |  Carolina Panthers |  Jerel Worthy, DT, Michigan State  | Carolina strikes gold in this draft by solving both of its needs at defensive tackle.  |
| 41 |  Buffalo Bills |  Alfonzo Dennard, CB, Nebraska | Corner is not a big need for the Bills, but this is a good value pick. |
| 42 |  Miami Dolphins |  Harrison Smith, SS, Notre Dame | A replacement for Yeremiah Bell.  |
| 43 |  Seattle Seahawks |  Lamar Miller, RB, Miami | A fresh back to take some of the load off Marshawn Lynch. |
| 44 |  Kansas City Chiefs |  Brandon Boykin, CB, Georgia | More depth to a position that lost Brandon Carr to free agency.  |
| 45 |  Dallas Cowboys | Kevin Zeitler, G, Wisconsin | Cowboys beef up their line with yet another quality Wisconsin product.  |
| 46 |  Philadelphia Eagles |  Zach Brown, OLB, North Carolina |  An athletic freak, Brown will find a role on passing situations in the Eagles defense. |
| 47 |  New York Jets |  James Brown, OL, Troy | A versatile lineman that could compete for the starting right tackle job.  |
| 48 |  New England Patriots |  Jamell Fleming, CB, Oklahoma |  The Patriots need as much secondary help as they can get. |
| 49 |  San Diego Chargers |  Vinny Curry, DE/OLB, Marshall | A young pass-rusher with upside that can ease his way into the starting lineup.  |
| 50 |  Chicago Bears |  Zebrie Sanders, OT, Florida State | More line help for a team that could use several upgrades.   |
| 51 |  Philadelphia Eagles |  Brandon Thompson, DT, Clemson |  Added beef to a line that was exposed against the run.  |
| 52 |  Tennessee Titans |  Chandler Jones, DE, Syracuse |  It never hurts to add another young pass-rusher to your team.  |
| 53 |  Cincinnati Bengals |  Kelechi Osemele, OG, Iowa State | The Bengals will need a replacement for Bobbie Williams.  |
| 54 |  Detroit Lions |  Josh Robinson, CB, Central Florida | Explosive corner who can help out on special teams.   |
| 55 |  Atlanta Falcons |  Chris Polk, RB, Washington | Michael Turner is not getting any younger.   |
| 56 |  Pittsburgh Steelers |  Alameda Ta'amu, DT, Washington | Casey Hampton's replacement as the anchor of the 3-4 Pittsburgh defense.  |
| 57 |  Denver Broncos | Jayron Hosley,CB, Virginia Tech | The Broncos need to start planning for Champ Bailey's decline.  |
| 58 |  Houston Texans |  Jared Crick, DE, Nebraska | Texans add new blood on J.J. Watt's opposite side.   |
| 59 |  New Orleans Saints | PICK NULLIFIED  |  (BOUNTY PUNISHMENT) |
| 60 | Green Bay Packers |  Shea McClellin, OLB, Boise State | The Packers need some kind of presence opposite Clay Matthews.  |
| 61 |  Baltimore Ravens |  Brian Quick, WR, Appalachian State | Another big, downfield target for Joe Flacco that can be a huge asset in the red zone.  |
| 62 |  San Francisco 49ers |  Ben Jones, C, Georgia | Perhaps Jones can make a move to right guard to solidify the right side of the line.   |
| 63 | New England Patriots |  Josh Chapman, DT, Alabama | An underrated member of a terrific defense, Chapman can stop the run as well as anybody.  |
| 64 |  New York Giants | Orson Charles, TE, Georgia | A recent DUI charge will kill his draft stock, but he is a well-rounded player that can block and run routes.   |
Like the new article format? Send us feedback!