2012 NFL Free Agents: 4 Questionable Signings That Will Set Teams Back
March 25, 2012

The 2012 NFL free agency period, has already produced some of the most historic signings in years, with Peyton Manning's move to the Denver Broncos, and Mario Williams' $100 million dollar contract with the Buffalo Bills, yet it has also produced a number of undeniably questionable signings throughout the league.
On occasion, I stop off at the local fish market in my neighborhood, usually on a Friday night, to try and pick out some fish, not necessarily based on what I might find to be enjoyable, but what I hope will not conjure up a baffling look of scorn from my wife, with said look ultimately adding to the annals of my perceived idiocy in her eyes as a picker of fish at the market.
Either way, the selection process and any accompanying dissatisfaction and scorn, when they take place, are fleeting, and relatively private, only to be replaced by the next insignificant attempt on my part to secure a satisfactory six-dollar filet.
However, the selections made by NFL front office selections in the current free agency market are far more long lasting and financially hindering, as well as met with far more public scrutiny. And while knowledge of this fact may alleviate some of the innate pressure and stress I endure in my future Friday night selections, it does nothing for those general managers and owners who commit to contract players who either are undeserving or simply unproven enough to justify the deals they are given.
Here is a look at four free agency signings that categorically qualify as questionable, in no particular order.
Minnesota Vikings sign TE John Carlson to a five-year $25 million deal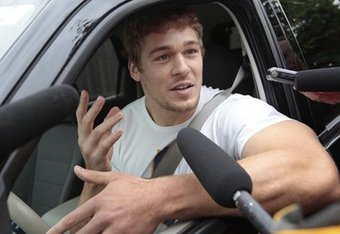 To pay a player based on potential or promise is one thing, but to pay a player who is four years into what has thus far been an underwhelming career, and who did not play a single game in 2011, is cuckoo for Cocoa Puffs territory.
With his best season in terms of output having taken place in his rookie year in 2008, when he caught 55 passes for 627 yards, Carlson has steadily tapered off each year since, with his last full season of play in 2010, when he caught the ball 31 times for 318 yards.
The presumed pairing of Minnesota native and Notre Dame alum Carlson, with fellow Fighting Irish alum Kyle Rudolph in the Vikings proposed two tight-end sets as targets for quarterback Christian Ponder, is not an enticing enough prospect for a team that has too many additional holes. Especially to divvy out the $11 million guaranteed money of this contract.
Jacksonville Jaguars sign WR Laurent Robinson to a five-year $32.5 million deal
Unlike Carlson, Robinson did play in 2011 and posted the best statistical season of his career with 54 catches for 858 yards and 11 touchdowns. These are hardly the numbers of the kind of No. 1 receiver that the Jags have sought since the days long past of their last true No. 1 wide-out in Jimmy Smith.
It would seem the combination born of the desperation to find a No. 1 receiver and the dissipated market, which at the beginning of free agency saw the likes of names such as Vincent Jackson, Marques Colston, Reggie Wayne and Pierre Garcon being available, caused the front office to pull the trigger on this deal.
Yet there simply is no justification, not even desperation, to pay a wide receiver who has averaged 28.6 receptions, 371.6 yards, 3 touchdowns and 10.4 games played in his career, that kind of money over five years, which includes $14 million guaranteed. Even with my mediocre math skills, I can support such summations to contrast the logic of the Jacksonville front-office.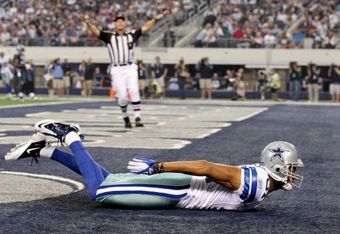 San Diego Chargers sign WR Robert Meachem to a four-year $25.9 million deal
The Chargers were in a similar quandary to the Jags, although not as historically long lasting, as they just lost their top shelf wide-out Vincent Jackson to the Tampa Bay Buccaneers during the current free agency period. Nevertheless, they recognized the need to swiftly apply some free agency caulk to the inevitable hole left behind by Jackson, in the form of signing former Saints receiver Meachem.
Despite the deal, which will cost the Chargers around $6.5 million per annum, with $14 million guaranteed, the drop in potency that Meachem brings as a top target for San Diego quarterback Philip Rivers is significant when compared to the statsheet for Jackson.
Last year alone Jackson caught twenty more balls, 60 to Meachem's 40, and had almost 500 more receiving yards, 1,106 to 620, in the same amount of games. And while it can be argued that Meachem was playing alongside of Marcus Colston, who got more looks, he was playing with one of the most prolific passers in league history, in Drew Brees, and the mere fact that he was the No. 2 option is further evidence why he should not have received money more worthy of a number one guy.
Cleveland Browns sign DE Frostee Rucker to a five-year $21 million deal
Amazingly enough, the questionable nature of the move to secure Rucker from the division rival Cincinnati Bengals has nothing to do with his parents apparently giving up on the naming process all those years ago, and everything to do with paying a career sub-par player more than he is worth.
The Browns are a team with significant holes, most of which happen to be on the offensive side of the ball, which can certainly be addressed to a degree in the upcoming draft, with their No. 4 and No. 22 picks in the first round.
Yet, it is just as feasible that they could acquire a defensive end in the later rounds of the draft who could at least match in promise what Rucker has already brought to the field thus far in his career.
Although he had his best year in 2011, setting career highs in tackles with 44 and sacks with four, his five-year career has produced less than convincing totals in those categories. He is averaging 21 tackles and 1.4 sacks in 53 games played so far in his career, and no matter how much the Browns front office talks up this signing, alluding to Rucker's character and "veteran presence," this is not an inspired deal for a team that could assuredly have conserved this money for more legitimate usage.