Juventus vs. Interisti: Juventus Sweep 2012 Derby D'Italia with 2-0 Victory
March 25, 2012

Claudio Villa/Getty Images
The Derby d'Italia is always a huge match for Juventini and Interisti alike. In my match review of the first meeting, I outlined some reasons why the rivalry is so intense. Usually, these tensions are heightened by the match's importance in both sides' hunts for the title. This year, while Juventus are still hanging in to the Scudetto race, Inter are nowhere near the top.
This Inter side, led by ex-Juve manager Claudio Raineri, has seriously struggled this season. They fell apart in February, losing matches to provincial sides. They recently stopped the bleeding, with wins against Olympique Marseille and Chievo Verona.
Even with their recent mini-recovery, they are almost entirely out of the Champions League race, and will be probably not even qualify for the Europa League.
Still, a derby is a derby, so Inter were looking to win and the tensions would be high. Juventus, coming off their dominant win over Fiorentina and their aggregate victory over A.C. Milan in the TIM Cup semifinal, looked to both beat their rivals and gain three more points in the league.
The cup finalists started the match off strongly. They had a couple of threatening offensive movements, and for a few moments they were unmatched by Inter. Soon, Inter sent their response. Mirko Vucinic, deep in his own half, had a pass intercepted. This led to a fierce Diego Milito shot, which was brilliantly saved by Gianluigi Buffon.
Juve's beginning success was due in large part to two things. The first was the nerves of the Inter squad, they would later settle, but at first they were jarred by the loud fans at Juventus Stadium. The second part in Juve's success was a move of tactical genius by Conte.
He instructed Simone Pepe, playing on the right flank as per usual, to cut inside when possible. When Pepe would cut in, Inter defender Yuto Nagatomo would follow Pepe to mark him. This left tons of space open alongside the right side for Martin Caceres to exploit. This was the first of two smart tactical moves by Conte.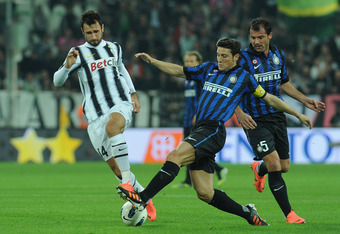 Valerio Pennicino/Getty Images
After Juve's first period of strong play ended, Inter took control of the match. Raineri pushed his players higher up the field, and this allowed them to keep possession in Juve's half. This led to a few dangerous chances for Inter.
Buffon made a number of high quality saves in the first half, denying Diego Milito a number of times and once denying Diego Forlan. Indeed, his goalkeeping kept Juventus alive during parts of the first half when they were struggling.
The first half ended goalless, and Inter were playing pretty well considering the circumstances. The home crowd stayed loud throughout, and Juventus would occasionally threaten.
Juve's defense and midfield had held up during the first half, but the attack was lacking. Simone Pepe and Alessandro Matri were having a hard time being effective. Matri had a few chances on goal, one of which he sent far over the crossbar. On the whole, Matri had little impact.
Eight minutes into the second half, Conte made some changes. Matri and Pepe, the two players who had been ineffective, were taken out. Leonardo Bonucci went in for Pepe, and the legend Alessandro Del Piero came on for Matri.
Along with the substitutions, Conte institued a tactical switch. The side went from a 4-3-3 to a 3-5-2. Bonucci, Andrea Barzagli (back from injury) and Giorgio Chiellini all lined up in defense. Paolo De Ceglie and Martin Caceres played as wingbacks, and the midfield trio stayed the same. Finally, up top Vucinic and Del Piero played more as two central strikers.
This was a huge change, and it was the second great tactical change that Conte made. The five players in the middle allowed Juve to take control of the midfield, and Inter could not keep possession in Juve's half.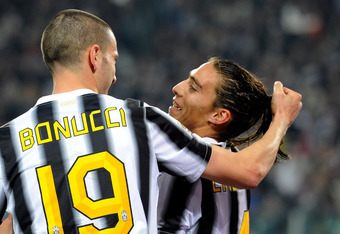 Claudio Villa/Getty Images
Moments after the change, Claudio Marchisio struck a powerful shot to the top of the goal. Julio Cesar tipped the ball over the crossbar, and Juve were awarded the corner.
On the corner, Martin Caceres was totally unmarked. He had a clear header off Pirlo's corner kick and the ball went past Cesar for a goal. At last, Juventus had the 1-0 lead over their hated rivals.
Juventus continued to work for a second goal, and they had some chances during the next 10 minutes. Del Piero displayed his great dribbling ability to get around Walter Samuel, although the resulting cross was blocked. Then, Mirko Vucinic found himself in a one-on-one situation with Julio Cesar.
Unfortunately, Vucnic's effort was a weak one and Cesar blocked it. Vucinic had a rough day, in contrast to his recent sublime play. Perhaps Mirko was tired from scoring the game winning goal on Tuesday against A.C. Milan.
Immediately following Vucinic's miss, Juventus came right back at Inter. Arturo Vidal fielded a through ball to Del Piero, and Del Piero slid the ball past Julio Cesar for Juve's second goal. It was Del Piero's second goal this week, as well as his second goal against a Milan side this week.
Del Piero has certainly made the most of the recent chances he's received from Antonio Conte.
After that, Fabio Quagliarella came on for Vucinic. Once again, Quas was only given about 15 minutes to make a case for more playing time. His most impressive performances have come when he has started matches and been given plenty of time to play. Recently, Conte has only been given him 10 to 15 minutes at the end of a match.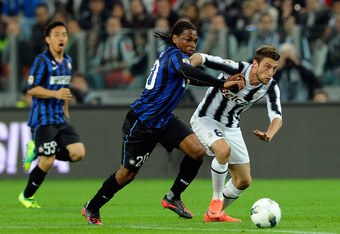 Claudio Villa/Getty Images
He did get some scoring chances today, but he didn't make anything of them. He almost did score at one point, after Chiellini glided through several defenders and fed the ball to Quags. Fabio then sent the ball goalwards, from only a few feet away, but his goal was stolen at the last second by a sliding Maicon clearance.
Later on, Quags had a breakaway of sorts. He failed to give himself a good angle, and before he could get a nice shot off he got hassled by Nagatomo, and as a result his shot was poor and rushed.
The game continued, with the second goal mostly shutting down the Inter side. Chiellini almost had a goal off a Andrea Pirlo free kick, but his superb header was met by an even more superb save from Cesar.
Finally, the game ended and Juventus had a 2-0 victory. The Turin crowd went wild at full time, though they had been highly animated all match long.
Two players who deserve special recognition today are Arturo Vidal and Paolo De Ceglie. De Ceglie, who recently signed a contract extension that will keep him with Juventus through 2017, had a wonderful defensive performance.
He made three tackles and had three interceptions, and at many times he out-muscled Inter great Javier Zanetti. His passing wasn't that bad, either.
Vidal was probably Juve's best player today. He was a machine, tackling, dribbling and passing all around the field. His most visible contributions were his assist to Del Piero, and his constant tackling. Vidal and De Ceglie are two great, young talents for Juventus, and they will have big parts in Juve's future.
Now, Juventus must face another difficult challenge. Next Sunday, the dangerous Napoli come to Turin to face Juve. Last time around, Juventus made a magnificent comeback to finish 3-3, but that was in the hostile San Paolo environment. This time, Juventus have the 12th man on their side.
It will be an exciting match, and Juventus must win if they are to keep up their Scudetto challenge against A.C. Milan.
Praise Conte, and Forza Juve!