New England Patriots: Correcting the 5 Biggest Misconceptions About the Pats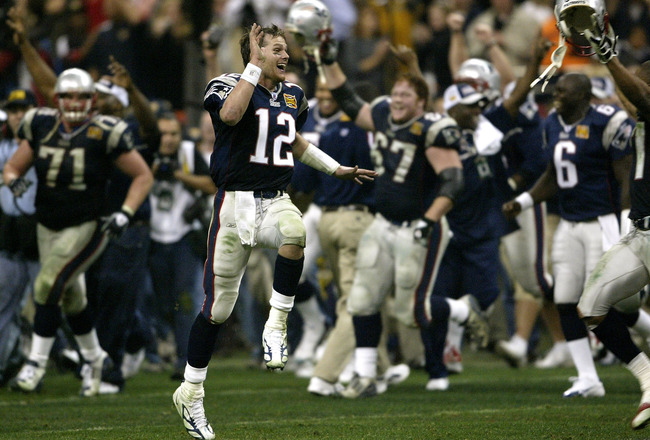 Separating Patriots myth from fact.
Elsa/Getty Images
The New England Patriots have become one of the most storied franchises in NFL history. The organization's seven AFC championships and three Super Bowl victories place them in the top tier of professional football.
But no matter how much of a legacy New England leaves on the sport, information will always be misconstrued about the team. Opinions give way to misconceptions—and consequently—myths become facts.
Bias aside, here is the honest truth about the New England Patriots.
Bill Belichick Is Not a Friendly Person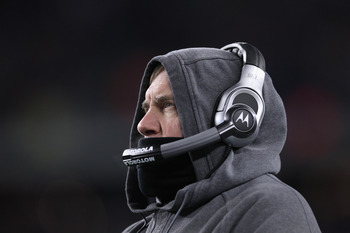 Belichick is a friendly man, just not in press conferences.
Elsa/Getty Images
Patriots head coach Bill Belichick gets a bad wrap for being a reserved, quiet and private man.
Known as "Darth Vader," the man in the "Hoodie" and "Dark Lord," people either hate or love the Wesleyan alum.
His wry personality in press conferences leaves the media asking for more.
However, Bill is not going to feed the 24-hour news machine anytime soon. He's just going to go about his business and "do his job."
In his Belichickian eyes, the less the media knows, the better. All things considered, the coach is not looking to win a popularity contest.
The biggest scratch on Belichick's career was "Spygate"—which didn't project him as a very likable character. When a Patriots video assistant was caught videotaping the New York Jets' sideline during a game, the coach's reputation took a severe hit. A hit that has left Patriots fans defending their coach ever since.
One thing that cannot be denied is his effort and dedication to football, something his players truly admire him for.
"You see his work ethic," said Patriots linebacker Jerod Mayo, according to NESN's Jeff Howe last year. "And if you try to match it, you might not make it a couple days. He's always working."
Belichick may not really connect with the media, but he understands the importance of connecting with his players.
"Being able to connect with people, that's what makes a coach special," said defensive lineman Gerard Warren. "The way that he connects with us is special."
Outside of football, Belichick is actually quite a socialite. His friends include rocker Jon Bon Jovi, former baseball manager Tony La Russa, Alabama football coach Nick Saban, ex-Boston Red Sox manager Terry Francona and retired basketball coach Bobby Knight.
With his minimal spare time, Belichick enjoys golfing, fishing on his boat and spending time with his three children.
In the end, his brain may be twice the size of the average human being, but Bill just wants to be considered a normal guy.
The 2011 Patriots Defense Was Awful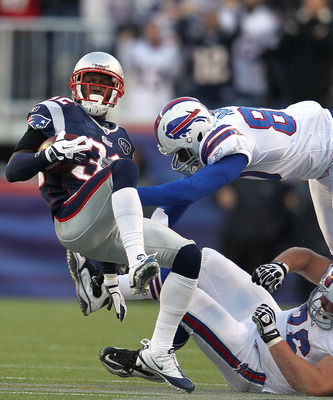 New England can force turnovers.
Jim Rogash/Getty Images
In recent seasons, the Patriots defense hasn't exactly been a brick wall. Yet that doesn't mean they've been complete slouches, either.
During the 2011 season, the defensive front was held together by Vince Wilfork, Andre Carter and Jerod Mayo.
Meanwhile, the secondary didn't fare as well.
Players like Julian Edelman, Matt Slater, James Ihedigbo and Sergio Brown aren't really what the front office had in mind. The group let up big plays, but it also managed to make a few of its own.
These raw statistics tell the real story:
| | | |
| --- | --- | --- |
| Category | Statistic | NFL Rank |
| Total Defense YPG | 411.4 YPG | 31st |
| Passing YPG | 293.9 YPG | 31st |
| Rushing YPG | 117.1 YPG | 17th |
| Fumble Recoveries | 11 | T-7th |
| Interceptions | 23 | T-2nd |
| Total Turnovers | 34 | T-3rd |
| Sacks | 40.0 | 14th |
| Points Allowed | 21.4 PPG | 15th |
The Patriots were 31st in yards allowed with 411.1 per game. Surprisingly, the Pats ranked much better in points allowed (15th).
Being No. 31 and No. 15 in two of the most vital defensive rankings is not impressive. But this unit's ability to stop drives—despite allowing over 400 yards a game—was. The Pats' D found a way to stop drives before they ended in touchdowns.
When a defense allows 21 points per game, it still has an opportunity to earn wins. The Patriots did just that, going 13-3 in the regular season thanks to their explosive passing attack.
New England was second in the league with 23 interceptions. The defense was certainly not overloaded with talent, but it seized games at the important moments, Super Bowl XLVI aside.
It would be unfair to say the 2011 Patriots couldn't make big plays on the defensive side of the ball.
After all, the 15-1 Green Bay Packers defense finished dead last in total yardage, but few labelled the Pack as the NFL's worst defense.
New England Cannot Run the Football
The backfield committee has been effective for the Patriots.
Jim Rogash/Getty Images
Last season, the Patriots did not have a 1,000-yard rusher. Nonetheless, the ground game complemented the passing game nicely.
The Patriots' running back by committee rushed for 1,764 yards and 18 touchdowns on 438 regular-season attempts in 2011.
What's more important than total yards is the yards per carry. The Pats' YPC was 4.0 last year; it was 4.3 in 2010 when BenJarvus Green-Ellis rushed for 1,008 yards. Although reduced, anything over four yards a touch is considered satisfactory.
The following facts put the numbers in perspective:
In terms of rush yardage output, New England ranked 20th in the league.
The 18 rushing scores was good for third in the league.
The yardage total was New England's worst since the 2003 season. Except that season saw the Patriots hoist their second Lombardi Trophy.
The Pats' 438 rushing attempts ranked 17th in the league.
New England was tied for 30th in the NFL with only three rushing fumbles, none of which were lost.
With Tom Brady at the helm, New England passes the football with ease. Last year, Brady slung the ball for over 5,000 yards. Therefore, the Patriots' rushing attack cannot be criticized too much. Running the ball is simply not the focal point of the offense; it doesn't have to be.
The Patriots Avoid Big Egos Due to Their Team-First Mentality
Moss wasn't the only me-first player to set foot in the Patriots' locker room.
Jim Rogash/Getty Images
When the Patriots took the field against the Saint Louis Rams in Super Bowl XXXVI, they did so as a team. Ever since, the team has lived by the premise that the whole is greater than the sum of its parts.
Yet, that does not mean coach Belichick doesn't like players with me-first attitudes.
Like any great coach, he is hopeful he can get the best out of them. Almost any headcase can play for the Pats, as long as they buy into the system and keep their mouth shut.
Here are just a sampling of the types of characters the Patriots have had on board in recent memory.
Randy Moss: Three-plus seasons in New England (2007-2010), 259 catches, 3,904 receiving yards and 50 touchdowns.
Corey Dillon: Three seasons with the Patriots (2004-2006), 3,180 rushing yards, 39 total touchdowns.
Albert Haynesworth: Six games in 2011, two tackles.
Chad Ochocinco: (2011-present), 15 catches, 276 receiving yards, one touchdown.
Sometimes the Patriots' gambles have worked to a tee, other times they haven't. The point is, Belichick and company aren't afraid to take chances on cast-offs if the price is right. With that said, if a player becomes too great of a distraction, the Patriots aren't afraid to hand them their walking papers, either.
The Patriots Need a Big-Time Pass-Rusher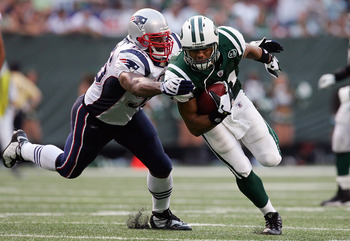 Adalius Thomas was supposed to be a quarterback menace in New England.
Jim McIsaac/Getty Images
The Patriots have won three Super Bowls since 2001, but they haven't needed an elite sackmaster to win any of those games.
On the 2001 Super Bowl team, defensive end Bobby Hamilton led the Patriots with seven sacks.
When the Patriots won their second Super Bowl in 2003, outside linebacker Mike Vrabel lead the team with 9.5 sacks.
In 2004, the Patriots became a dynasty after winning their third Super Bowl in four years. Willie McGinest was atop the team with his 9.5 sacks.
Last season, New England had two players with 10 sacks: Andre Carter and Mark Anderson. Their fantastic performances did not result in a Super Bowl victory.
As a result, the belief that the Patriots' defense is sorely missing the pass-rushers of their Super Bowl teams is a farce.
That is not to say coach Belichick and director of player personnel Nick Caserio wouldn't love to have the second-coming of Lawrence Taylor or Derrick Thomas on their team.
The most obvious difference between the 2011 Patriots and the 2001, 2003, and 2004 Patriots is talent at the defensive back position. Last year's team was not blessed with players such as Rodney Harrison, Lawyer Milloy, Ty Law, or Asante Samuel.
Allowing crucial conversions on third down didn't help the Patriots' chances in 2011. Keeping offenses off the field is how teams win championships. The pass rush did all it could last year, but it still was not enough.
Keep Reading

New England Patriots: Like this team?