Final 4 2012 Schedule: Kentucky Will End Louisville's Remarkable Run
March 25, 2012

Kevin C. Cox/Getty Images
With Kentucky dominating Baylor and earning a rightful spot in the Final Four, their next win will come against an underdog squad from Louisville.
For Baylor, it was impossible to even stay close against Anthony Davis and the Kentucky Wildcats. Kentucky, who took a 42-22 lead by the end of the first half, got another remarkable scoring effort from forward Michael Kidd-Gilchrist. Baylor is a strong team, and it's hard to imagine a team deeper than one that contains Quincy Acy and Perry Jones III being able to stop Kentucky.
With their victory against Baylor, Kentucky became 36-2 on the season. This year, they were undefeated (16-0) in SEC play.
What impresses me most about Kentucky is their scoring depth. Any one of their five starters can go off in a given game, and the consistency of Kidd-Gilchrist and Davis offers an opportunity for Terrence Jones and Doron Lamb to explode when necessary.
On the boards, Kentucky is nearly unstoppable. With Davis being a constant threat to become a machine off the glass, Jones is able to create space and crash the boards. Even when he's not scoring, Jones is able to secure the ball and distribute the rock for an efficient game.
Jones is also to create turnovers, ensuring that the opponent is aware of what they are doing with the ball before Jones takes it over. In Sunday's victory, Jones offered multiple steals and blocks.
Perhaps Kentucky's biggest struggle was containing Baylor's Quincy Acy. Acy averaged only 11.7 points per game this season, but also added a serviceable 7.4 rebounds per game and was a valuable player all season long.
While he was mostly silent against South Dakota State (4 PTS, 4 RBS), he exploded against Xavier (20 PTS, 15 RBS) and has been tremendously hot as of late.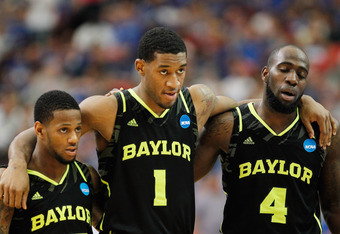 Streeter Lecka/Getty Images
The 6'7" and 235 pound forward gave Kentucky the most trouble. The most comparable player on Louisville to Quincy Acy would be Chane Behanan. Behanan is 6'6" and 250 pounds, and was a key to victory against both Michigan State (15 PTS, 9 RBS) and Florida (17 PTS, 7 RBS). On the season, however, Behanan was less impressive.
He averaged only 9.0 points per game and 7.4 rebounds per game.
Louisville's most valuable player was their point guard Peyton Siva. Siva had nine points and eight assists against Florida, and was a team leader down the stretch in order to help Louisville get to where they are today. Siva also offered nine assists against Michigan St., but was a less impressive scoring option with only four points in the game.
In Louisville's previous effort against Kentucky, Behanan scored only four points with five rebounds. He was also in foul trouble, with five total in the game. Siva struggled against Kentucky as well, offering only eight points on four assists.
Russ Smith got hot for Louisville off of the bench, and scored an incredible 30 points on 20 field-goal attempts. None of their starters broke double-digit point totals, and the team was outrebounded 49-28 in a 69-62 loss.
Kidd-Gilchrist was the MVP of the game for Kentucky, who offered a stellar 24 points and 19 rebounds in the showing. Davis was also incredibly valuable, as he recorded 18 points, 10 rebounds and six blocks.
Against Florida, Russ Smith scored 19 points off the bench in 22 minutes of play. This season, he is averaging 11.4 points per game, and the sophomore was also impressive in his victory against New Mexico (17 PTS in 23 minutes of play).
So long as Kentucky can contain him, I don't see this game being much of a struggle for Kentucky. Under the leadership of freshman Anthony Davis and Michael Kidd-Gilchrist, head coach John Calipari's third consecutive top recruiting class may finally make a run at the national title.
As Wildcats fans watch from across the nation, they couldn't be happier to see the way that this team has developed.
Click here to Follow @BryanKalbrosky.