NCAA Tournament 2012: Latest Reaction, Scores and Highlights for Midwest Region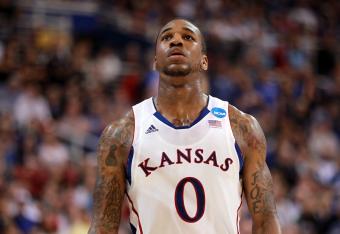 Andy Lyons/Getty Images
The Midwest region has come down to a final game between North Carolina (1) and Kansas (2). The final spot in the Final Four is up for grabs in this Elite Eight game, with one team headed to New Orleans and the other headed home.
No. 2 Kansas best No. 1 North Carolina 80-67 in a game whose score did not reflect how close it was, and the Jayhawks are headed to New Orleans for the Final Four.
Bookmark this page and stay tuned as I keep you up-to-date with live news, scores, insight, reaction, analysis, highlights and more, from before the tip until well after the game is finished.
Also, please comment below and give me your insight and reaction.
With that I take my leave, but I give you Josh Martin's article that details everything from this game. Thanks to all of you who followed along, and be sure to come to Bleacher Report for the best March Madness coverage on the web.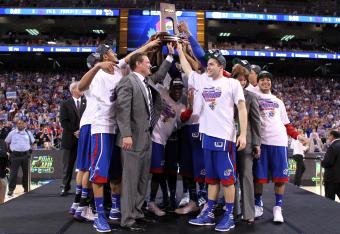 Both teams had to knock off depleted No. 1 seeds in Syracuse (without Fab Melo) and North Carolina (without Kendall Marshall).
The Jayhawks look like they are reaching their potential, which is an encouraging sign. Tyshawn Taylor's 22 points were huge for Kansas today, which makes it seem like the team is about to reach its potential.
The Jayhawks are in the Final Four despite not playing their best basketball, and if Robinson and Taylor play well they will be cutting down the nets in New Orleans as well.
I see Bill Self preparing his guys for the biggest games of their lives over these next five days. He will have his team ready to go, and the Jayhawks will come out and beat Ohio State in the Final Four.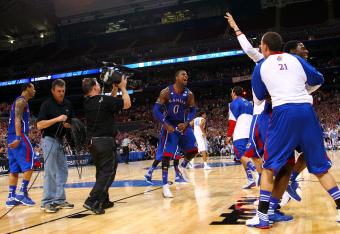 Kansas has two elite big men in Thomas Robinson and Jeff Withey. Tyshawn Taylor is an excellent point guard who finally broke his cold-streak today, while Elijah John and Travis Releford are consistent sources of offense.
Ohio State has two elite big men of their own with Jared Sullinger and DeShaun Thomas (who has been averaging over 20 points per game in the tournament). Aaron Craft is a stingy point guard on defense, while Williams Buford is a great scorer, and Lenzelle Smith Jr. can make clutch shots.
These are two very similar teams, as neither gets very much bench production, and they have similar styles of play.
The question in this game will be whether or not Kansas is playing up to their potential.
Now it's time to look ahead to Kansas' matchup with Ohio State in the Final Four.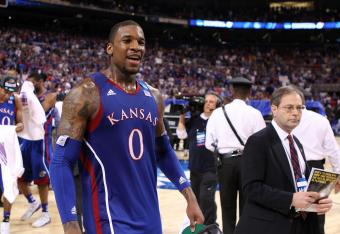 Kansas played well today, winning by 13 points, but the scary thing is that we haven't seen them at their best yet.
The Jayhawks shot only 4-of-14 from three (28.6 percent), and Thomas Robinson had a poor second half, scoring only four points.
Kansas played good defense in the first half, but they were getting burned in the first. The team also hasn't had both stars play well for a full game all tournament, but they looked better today.
The Jayhawks were loose and looked like they were having fun today, which is a step in the right direction. Coach Bill Self will be trying to get his two stars to both play well in the Final Four, and if they do this team is unstoppable.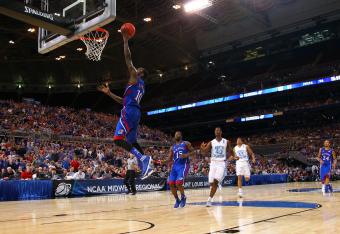 Kansas' nine steals helped them out in today's game, getting a few huge baskets in transition, and putting the nail in the coffin off of some steals and buckets in transition.
Kansas shot under 50 percent from the game, but the Jayhawks did a good job of containing North Carolina after the Tar Heels shot 11-of-13 from the field at the beginning of the game.
Holding UNC to just 20 points in the second half, Kansas played tight defense that led to their victory.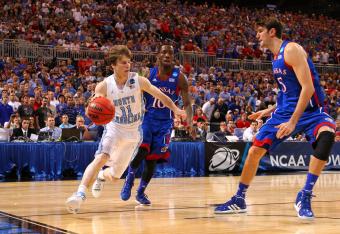 James Michael-McAdoo scored 15 points, and was the team's leading scorer, but North Carolina could not beat the Jayhawks, who were energized by the awakening of their two stars.
With only four points coming from bench players, Kansas' starters did the heavy-lifting, which they have done all season. All five starters scored in double-digits, led by Tyshawn Taylor and Thomas Robinson, who combined for 40 points.
That Jayhawks dealt with foul trouble on Thomas Robinson and Jeff Withey, overcoming that adversity to take advantage of both of them in the game's last four minutes, finishing on a 12-0 run.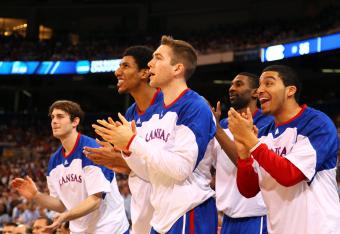 Kansas did a great job of stopping North Carolina's frontcourt. While their four big men scored 50 points, not a single one grabbed more than seven rebounds, and Kansas outrebounded the Tar Heels 39-30.
Stilman White still does not have a single turnover in his two starts, but he only recorded one assist in the second half on a play that was almost a turnover, but James Michael-McAdoo bailed him out on.
UNC turned the ball over only 10 times in this game, which is much better than last game, but it wasn't enough, as they lost by 13 points.
Stick around for my post-game reaction, analysis, highlights and more.
Kansas beats North Carolina. Final score North Carolina 67, Kansas 80.

Kansas will move on to play Ohio State in the Final Four. The fans are doing the Rock-Chalk-Jayhawk chant, and this game is over. The score will not reflect how close this game was, though, as Kansas closes on a 12-0 run.
North Carolina 67, Kansas 80

Travis Releford just made this a four-possession game, and punches Kansas' ticket to the Final Four.
North Carolina 67, Kansas 77
I stand corrected. Kansas' hybrid-defense shuts down North Carolina and will give the Jayhawks a trip to the final Four.
North Carolina 67, Kansas 76
Another rejection and basket in transition gives Kansas their biggest lead of the game on this 8-0 run.
North Carolina 67, Kansas 76. North Carolina Timeout with 1:13 left in the second half.

Jeff Withey with the block and Tyshawn Taylor with a three-point-play to extend this lead to three possessions.
North Carolina 67, Kansas 74

Kansas has been outplaying North Carolina after timeouts. If they can go on a little run here to extend their lead they could clinch a trip to the Final Four.
North Carolina 67, Kansas 71. Kansas Timeout with 2:34 left in the second half.

Elijah Johnson hits a huge three. The Jayhawks had gone cold in this half before that.
North Carolina 67, Kansas 71

Robinson and Taylor are shooting only 4-of-13 from the floor this half, and they are the reason the Jayhawks can't pull away. Without Jeff Withey the team would be losing.
North Carolina 66, Kansas 68
Thomas Robinson is struggling this half, scoring only four points and shooting very poorly.
Jeff Withey has four fouls. He is Kansas' seven-footer and they can't afford to lose such an important big man in a game against North Carolina.
North Carolina 64, Kansas 68. TV Timeout with 3:58 left in the second half.

North Carolina only has 19 points this half. Kansas is playing exceptional defense, but they aren't capitalizing on offense. The Jayhawks need someone other than Taylor, Robinson or Withey to step up.
North Carolina 66, Kansas 68. North Carolina timeout with 4:19 left in the second half.

Justin Watts is playing really well tonight. He isn't letting the team down when White goes out like he did last game, and that's why these two teams are so close.
North Carolina 66, Kansas 68
Not sure why Kansas is going back to their hybrid-zone. That's what hurt them against Purdue.
North Carolina 66, Kansas 68
Robinson just picked up his third foul. There's only six minutes left, but he will have to avoid a fourth.
North Carolina 64, Kansas 68
This article is
What is the duplicate article?
Why is this article offensive?
Where is this article plagiarized from?
Why is this article poorly edited?