Everton FC: 10 Stand-out Performances of the David Moyes Era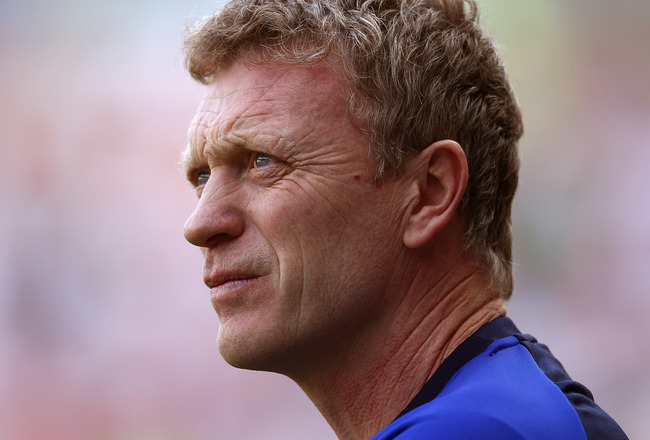 Richard Heathcote/Getty Images
David Moyes celebrated a decade at Everton Football Club this month, so what better time to look back and pick 10 games that highlight the Moyes era?
It was difficult to pick one game a season for the past 10 seasons, and these may not be the best and biggest wins of Moyes' time at Everton, but they were the 10 games I immediately thought of.
Some losses made the list, but they also exemplified the Moyes era, losses that showed the spirit that Moyes has brought to the Toffees in his time in charge.
With big games still to come this season, starting with the FA Cup replay at Sunderland this week, the Moyes era is far from over, and there will still be highs and lows to come.
But so far, these 10 games seem to sum up Moyes' time with the Blues, one from each season he has held the reigns taken from a variety of competitions.
Undoubtedly, you will have your own Moyes memories, so share them below. What games stand out in your mind as Moyes best or worst?
2011/12: Everton 1-0 Manchester City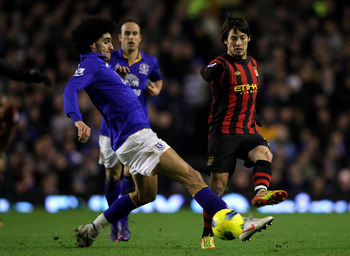 Alex Livesey/Getty Images
Although the season has yet to end, and hopefully there are still some high points to come in the next few months, the home win against Manchester City stands out as a highlight.
League leaders Manchester City came to Goodison Park on a crisp January night, and the ground was rocking.
Everton harried and pressured City for the full 90 minutes, and Darron Gibson's first goal for the Blues on the hour mark was enough to nick the three points.
Night games always have a certain romance, and everything about this game was perfect.
Let's hope we get a couple more of these before the end of the season.
2010/11: Everton 5-3 Blackpool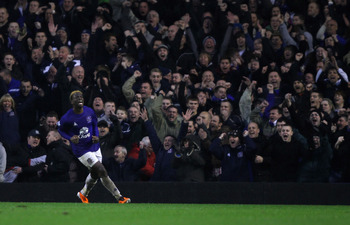 Clive Brunskill/Getty Images
We are not often treated to goal-fests under David Moyes, but one rainy Saturday in February, 2011, Louis Saha torched Blackpool as a five-star Everton romped to victory.
Saha bagged four and Jermaine Beckford got the other in a game that at halftime was only 1-1.
Everton fell behind 3-2 with an hour gone, but Saha would not be denied.
The Blues hadn't won in four games before this win, and even against a team that was relegated, five goals is still a feat.
Everybody loves to see goals, and with Moyes being particularly derided for his lack of attacking football, this game deserves its place on the list.
2009/10: Everton 3-1 Manchester United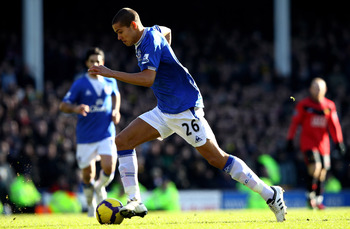 Clive Brunskill/Getty Images
Mainly remembered for Jack Rodwell's sublime solo effort, Everton's 3-1 win over then champions Manchester United was another great win in David Moyes' Everton tenure.
Manchester United striker Dimitar Berbatov fired his side into the lead with an early goal, but Diniyar Bilyaletdinov equalised with a thunderbolt from well outside the area.
Everton pushed on and outplayed United in the second half, with Dan Gosling scoring the second and then Rodwell, off the bench, scoring the now-famous goal.
He collected the ball near the centre circle and advanced as the United defense backed off. His powerful run was finished with a lovely placed shot past Edwin van der Sar.
Everton had come from behind to beat Chelsea the week before, but the United win just felt special, as we had only beaten United once in the last 30 league meetings.
2008/09: Everton 1-0 Liverpool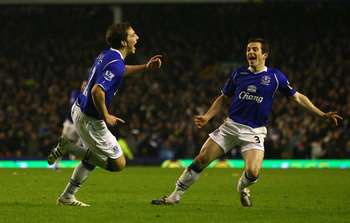 Alex Livesey/Getty Images
What a night.
When Everton and Liverpool met in the 2008/09 FA Cup fourth round at Anfield, the game finished 1-1 and the tie headed back across Stanley Park to Goodison for a Wednesday night game that few Blues fans will forget.
The game stayed 0-0 in normal time and looked like it would be heading to penalties when a goal emerged from the unlikely source of Dan Gosling.
The only thing stranger than Gosling netting the winner was his being assisted by Andy van der Meyde!
118 minutes into the game and with an Everton lead, Goodison nearly exploded as the Blues held on for a famous victory.
The defeat of Manchester United at Wembley was also spectacular, but beating Liverpool in those circumstances was priceless.
2007/08: Everton 2-0 Fiorentina
Clive Brunskill/Getty Images
An odd choice considering we lost on penalties, but this was still a game for the ages.
Having lost 2-0 in the away leg, the tie seemed to have already drifted out of Everton's hands before the second leg had even started but the Blues fought back and got themselves into the game.
Andy Johnson bundled home the first early in the game. It took until midway through the second half for Everton to score the all-important second.
Mikel Arteta scored one of the best goals I've ever seen in the flesh, and Everton looked in charge.
It took a string of world-class saves from Fiorentina goalkeeper Sebastien Frey to keep Fiorentina in the game as extra time wore on.
It came down to penalties, and both Yakubu and Phil Jagielka missed for Everton, but this was still an amazing night of European football packed with the extreme highs and lows that make football the beloved sport it is.
2006/07: Everton 3-0 Liverpool
Jamie McDonald/Getty Images
A Derby win is always special, and when it's as convincing as a 3-0 win, it is always worth talking about.
Just ask any Liverpool fan about the recent events on Merseyside and I'm sure they'll agree.
Everton's biggest win against Liverpool since 1964 came thanks to a brace from Andy Johnson and a single Tim Cahill goal.
Cahill got the first after 25 minutes, and Johnson added his first 10 minutes later.
Liverpool's defense looked awful all afternoon, and Everton's good finishing made them pay.
When Liverpool goalkeeper Pepe Reina spilled the ball to Johnson to slot home in the dying seconds of the game, Everton fans everywhere could revel in a convincing win over their nearest rivals.
If only this had happened again this season—but we could still have a chance at Wembley...
2005/06: Everton 2-1 Villarreal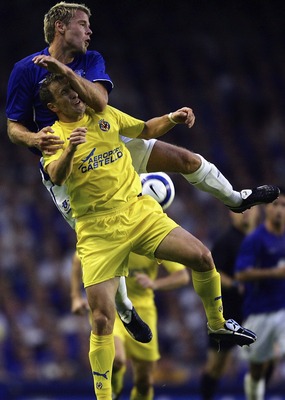 Jamie McDonald/Getty Images
Another European loss makes the list, but the simple fact that Everton made it to the Champions League qualifiers was incredible in itself.
Both home and away fixtures ended 2-1, and Everton fans still feel—and rightly so—that they were robbed by referee Pierluigi Collina and his team of officials, as they ruled out a Duncan Ferguson goal for no apparent reason.
Champions League football at Goodison Park was something I never thought I'd see, and Everton's brief foray into Europe's top competition is a testament to David Moyes' 10 years in charge.
The trip didn't go according to plan, but those two games in 2005 will stick in the mind of Everton fans of my generation for a long time to come.
2004/05: Everton 1-0 Liverpool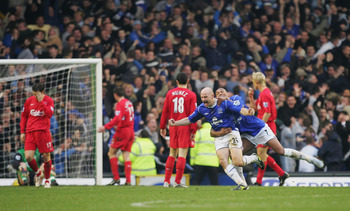 Laurence Griffiths/Getty Images
Another great Merseyside Derby win.
This one came thanks to Everton legend Lee Carsley.
Carsley had a great game and capped the performance off with a goal as Everton got their first Derby win in five years—also the first of the new millennium.
It was a tense game with both sides squandering great chances before Carsley struck the winner.
Cahill headed one wide and Steven Gerrard was a constant threat, but Everton came away victorious. This game showed the class of an Everton side that broke the monopoly of the Big Four in the Premier League.
Another win, again 1-0, against Manchester United thanks to a Duncan Ferguson header was another season highlight, but I'm sure Toffees ever will agree that this game and Carsley's goal was one of the finest points of David Moyes' time spent with Everton.
2003/04: Everton 3-4 Manchester United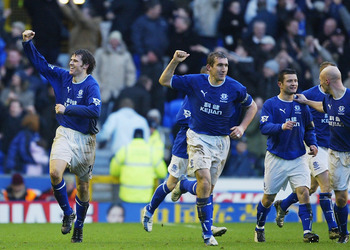 Clive Mason/Getty Images
An awful season with very few highlights, the 2003/04 campaign saw Everton finish 17th and only six points away from relegation.
Trailing 3-0 at halftime against Manchester United, Everton fans everywhere wondered just how bad the second half could get, but a resurgent Everton tied the game before Ruud van Nistlerooy snatched a winner in the 89th minute.
Two goals from then Manchester United striker Louis Saha and one from van Nistlerooy saw Manchester United cruising at the break.
David Unsworth scored just after halftime, and John O'Shea's own-goal gave Everton fans hope with an hour gone.
Kevin Kilbane's powerful header brought Everton level, and Goodison Park erupted.
However, it was not to be, as Cristiano Ronaldo sent in a wicked cross that van Nistlerooy finished with style, and Everton hearts were broken.
This game showed the fight and determination of a side that barely survived in the Premier League and Kilbane's goal was a Goodison Park beacon in an otherwise dismal season.
2002/03: Everton 2-1 Arsenal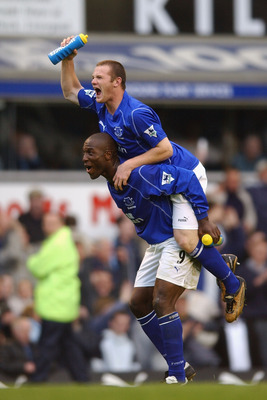 Shaun Botterill/Getty Images
Remember the name Wayne Rooney.
What other game could it have been except for the one in which Wayne Rooney announced himself to the world of football?
Arsenal, unbeaten in 30 games, took the lead in only eight minutes thanks to Fredrik Ljungberg, but an equaliser from Tomasz Radzinski set the scene for 16-year-old Wayne Rooney and his fantastic winner.
Rooney picked the ball from the sky with an amazing first touch, got the ball out of his feet and hit an absolute pearler into the top corner.
And the rest is history.
Keep Reading

Everton: Like this team?