UNC vs Kansas Score: Video Highlights, Twitter Reaction and Grades
March 25, 2012

Andy Lyons/Getty Images
We now know this much: Kansas' magical season will end in New Orleans. The second-seed Jayhawks continued their improbable run back to the top of college basketball without the benefit of, well, any depth or overwhelming talent with an 80-67 win over top-seed North Carolina to win the Midwest Region on Sunday and advance to the Final Four, sealing the deal with a 12-0 run over the final 3:58. 
It'll mark the Jayhawks' 14th trip to the Final Four in school history and the second time KU has made it to the last weekend of the NCAA tournament under Bill Self, who guided the Jayhawks to the national title in 2008.
Tweets of the Night
As Bomani Jones of ESPN's "Around The Horn" noted, there was much more to Sunday's spectacular contest than just "What Would Kendall Marshall Do?"
in all the marshall talk, i totally forgot we've got zeller-robinson.

— Bomani Jones (@bomani_jones) March 25, 2012
The quality of play caught the eye of at least one football head:
I'm trying to get into this UNC-KAN game, but it's weird seeing both teams playing good basketball in the first half.

— Peyton's Head (@PeytonsHead) March 25, 2012
And another of sorts, if Grant Wahl of Sports Illustrated can reasonably be called that:
High-quality stuff from Thierry Henry & UNC-KU. Head on a swivel right now.

— Grant Wahl (@GrantWahl) March 25, 2012
Must-See Highlight
Tyshawn Taylor was all over the floor for KU in St. Lou, as best seen in this turnover converted into a thunderous flush on the fast break by the New Jersey native:
Grades for Kansas' Key Players
Thomas Robinson: A-
Few post players could've handled the task of tangling with Tyler Zeller and John Henson as well as Thomas Robinson did on Sunday. The 6'10" junior finished the day with 18 points and nine rebounds despite being draped by big, lanky All-Americans all game long.
Tyshawn Taylor: A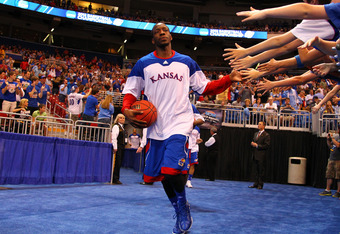 Dilip Vishwanat/Getty Images
Tyshawn Taylor appeared to have little trouble putting a poor performance against NC State behind him. The erratic senior had one of his most complete showings of the season, contributing game-high 22 points, six rebounds, five assists and five steals to the Jayhawks' effort.
Taylor's turnover total (three) left something to be desired for Bill Self's squad, though he did well to overwhelm UNC freshman Stilman White with his blend of speed and athleticism. 
Jeff Withey: B+
Jeff Withey finished well off the 10-block pace he set against NC State, though that's not to say he wasn't eminently productive up front for the Jayhawks anyway. The seven-foot junior put together 15points on a perfect 5-for-5 from the field, along with eight rebounds and three blocks.
A spate of foul trouble on Withey's part, though, left KU in a bit of a crunch down the stretch.
Grades for North Carolina's Key Players
Tyler Zeller: B-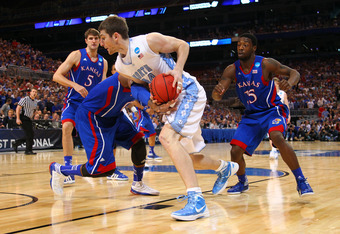 Dilip Vishwanat/Getty Images
Like so many of his Tar Heel teammates, Zeller struggled to score against KU's smothering defense in the second half. The ACC Player of the Year finished with a solid if unspectacular line of 12 points, six rebounds and four blocks.
The bigger concern for Zeller, though, was his lack of assertiveness, as he managed to get up just 11 shots from the field on the day.
John Henson: C
It's tough to fault John Henson too much for his sub-par performance (10 points, four rebounds, one block) given his ankle troubles.
That being said, Henson, the ACC Defensive Player of the Year, deserves at least some measure of blame for UNC, the top rebounding team in the country, getting outboarded by KU, 39-30.
Harrison Barnes: C+
Harrison Barnes wasn't bad per se, with 13 points, four rebounds and four assists.
But he was hardly the stud he's long been expected to be. Barnes seemed to shrink under pressure over the final few minutes, leaving the Heels high and dry by the time the final buzzer sounded.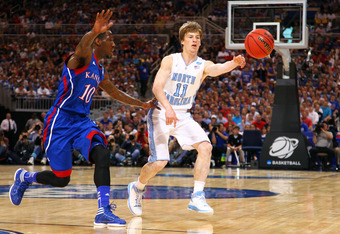 Dilip Vishwanat/Getty Images
Deciding Factor: Guard Play
Kendall Marshall's absence proved to be too much for North Carolina to overcome on both ends of the court. Defensively, the Tar Heels had no answer for Elijah Johnson, Travis Releford and particularly Tyshawn Taylor, all of whom made big plays down the stretch.
And on offense, Stilman White, try as he might, couldn't quite keep the Carolina offense functioning properly in the waning moments, as the Heels went scoreless for nearly four minutes at the end of the game.  
Game MVP
Tyshawn Taylor earns this particular merit badge by a mile. The Jayhawks needed him to step up against the shorthanded Tar Heels, and he delivered with one of the best performances of his collegiate career.
What's Next?
Kansas will move on to face Ohio State in one of two national semifinals next Saturday, while North Carolina will head back to Chapel Hill, wondering only what could've been had Marshall's wrist been healthy.