49ers 2012 NFL Mock Draft: Rounds 1-4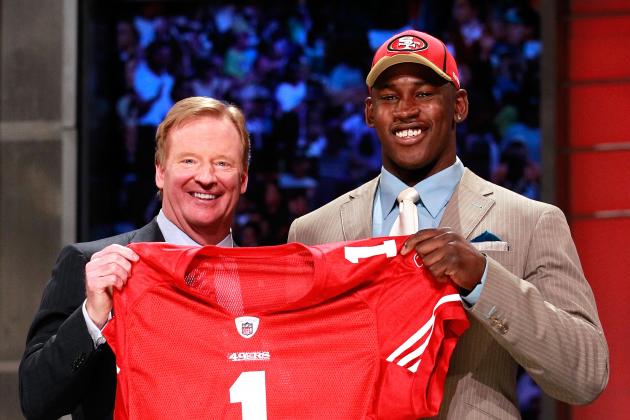 Chris Trotman/Getty Images
Will the 49ers 2012 Draft Class be as Successful as the 49ers 2011 Draft Class
In my last article I ranked the team's offseason needs by position. The 49ers have addressed some of those positions through free agency but work still needs to be done, like for one bringing in a replacement for Adam Snyder at the right guard position. The 49ers can address the rest of their positional needs, such as the guard position, through the 2012 NFL Draft.
I will project the 49ers' picks rounds one through four, according to their positional needs and who will likely be available. So as much as I would like to have the 49ers taking David DeCastro at 30th, don't be upset if I don't, as DeCastro could be picked as high as the 12th pick.
We also have to consider the 49ers draft philosophy which is based on drafting the best player available, and not on need. Shall we mock?
Begin Slideshow

»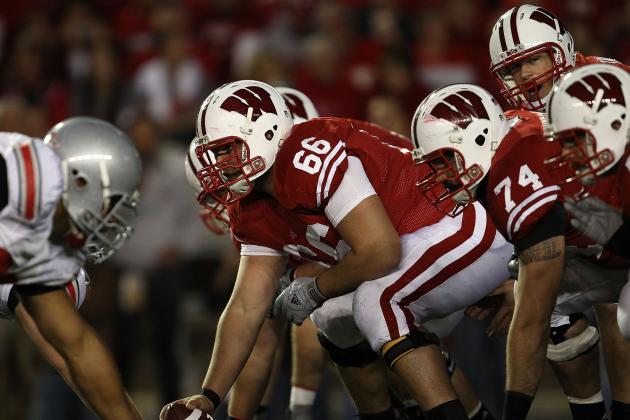 Jonathan Daniel/Getty Images

I hinted in the introduction that I would have the 49ers selecting an interior offensive lineman in the first round. When you heard that, you most likely thought I would have the 49ers selecting a guard, not a center.
I know that the 49ers already have a quality veteran holding down the center position in Jonathan Goodwin, but Konz can start at right guard till Goodwin moves on, temporarily filling that hole. Moving to guard won't require too much of an adjustment for Konz as it is very similar to the center position, only with fewer responsibilities. For a rookie, simpler is always better.
Now lets talk about Konz a skill set.
Konz is a perfect fit for the 49ers power blocking scheme. He is a road grader, and does a good job of hitting his secondary blocks. He paved the way for the top rushing offense in college football, so can you imagine how many yards Gore would rack up behind this guy? He also gets off the line surprisingly quickly for 6'5", 315 pounds, and has no problems providing a clean pocket for the quarterback.
Konz has been compared to Nick Mangold of the New York Jets. This is quite the comparison as Mangold is regarded as the best center in the NFL and warranted the first round selection that is so rarely used on centers. Instead of the offense running through quarterback Mark Sanchez, the offense runs though Mangold. For example, Mangold is in charge of recognizing defensive packages, and if he sees something he doesn't like, he calls an audible and adjusts the offensive line. Konz was in charge of calling line plays at Wisconsin, suggesting that he has that type of awareness. Konz is not as athletic as Mangold though and could have trouble with a quality NFL pass rush.
What I most like about this pick though is that in the long run it could potentially fill two needs. Goodwin is a stop gap player and will only be around for another year or so. After starting at guard, Konz should be ready to take over the center position when Goodwin leaves. Who will then take over for Konz at the right guard position. Why not Daniel Kilgore?
For those who don't know about Daniel Kilgore, the 49ers moved up in the fifth round of the 2011 draft to pick him. I liked what I saw from Kilgore during preseason and so did the 49ers. This has been indicated by the 49ers decision to let Snyder walk and not bring in any other guards. The 49ers should be cautious though in not rushing Kilgore to the starting role, as you have to remember that he played in division two college football. There is already a big enough gap between the talent in division one college football and the talent at the pro level, much less between division two and the NFL. Also Kilgore did what he did in the preseason, against other second stringers, and did not register a start in the regular season.
The 49ers would be wise to bring in some insurance in case Kilgore isn't ready to start. This insurance could be Peter Konz, and would give Kilgore the time he needs to eventually take over at the right guard position.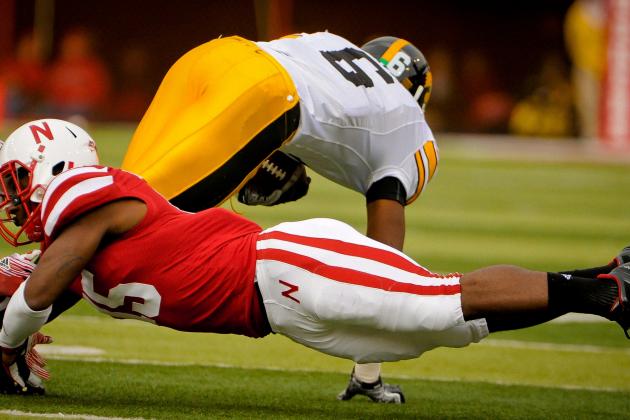 Eric Francis/Getty Images

The 49ers defense is sound but it does have a weak point—the secondary. The 49ers ranked only 16th in pass defense, which is disappointing considering the help they get from the pass rush. The 49ers pass defense isn't as much a priority as it was in the beginning of the offseason, when they brought back Carlos Rogers and brought in Perish Cox.
Despite these moves, however, the 49ers still don't have a cornerback that can start across from Carlos Rogers. Tarell Brown is better suited in a nickel role and Cox has been out of football for a year.
Alfonzo Dennard is a prospect that could start immediately across from Rogers. I know it's rare that a second round pick can step into a starting role and produce immediately, but Alfonzo Dennard's situation is different than that of most second round picks. Dennard was a projected first round pick coming into the 2011 season, but missed the first three games because of injury.
When he returned to the lineup though he did not miss a beat and held top receivers in check, such as Iowa's Marvin McNutt who he held to four catches and 29 yards. However he did not finish the season on a high note as he he gave up a touchdown to Alshon Jeffrey in the Capitol Bowl Game, and then was ejected after getting in a fist fight with Jeffrey.
What has hurt Dennard's stock most though is his performance in the Senior Bowl and the Combine. In the Senior Bowl he did not display good hip flexibility and when a receiver got past him he did not show enough recovery speed to catch up. He did run a decent 40 but looked slow in the combine drills. Because of such limitations in hip flexibility and recovery speed he does not look like a good fit in a man to man scheme.
Now that we've talked about Dennard's weaknesses let talk about his strengths. He plays extremely physically and has perhaps the best jam in college football. He also is a smart player that understands zone concepts.
Because of these strengths he would be a good fit in a defense that allows its cornerbacks to be physical with the receiver initially and then drop back in a zone where they can rely on their instincts. Vic Fangio's defense has its cornerbacks play this way—just ask Carlos Rogers, who can thank the zone scheme for the rebirth of his career.
Dennard is also better against the run than most cornerbacks, with impressive upper body strength and tackling form. Such skills would be well utilized in a defense that didn't allow a rushing touchdown through 14 games.
If I had to compare Dennard to an NFL player, it would be a mix of Leigh Bodden and Antoine Winfield. Like Bodden, Dennard is extremely physical at the line of scrimmage. And like Winfield he is a force against the run and rarely misses a tackle.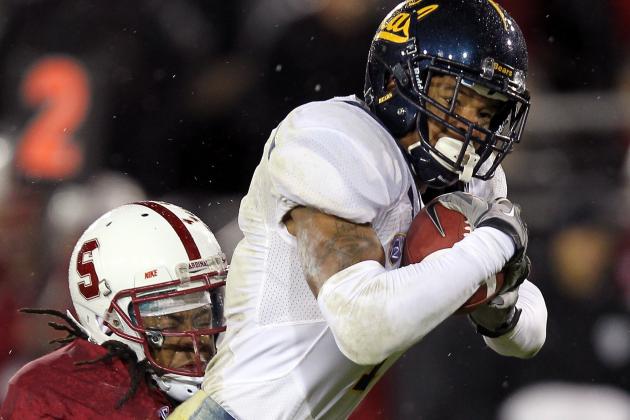 Ezra Shaw/Getty Images

As I mentioned previously, the 49ers have already addressed their need for a wide receiver by signing Randy Moss and Mario Manningham. Randy Moss is 35 years old though and Manningham is only signed to a two year contract. It wouldn't hurt to develop a wide receiver that can be ready to take over, as this could Moss's last year and we don't know if Manningham will stick around after his contract is up.
A local kid from Cal by name of Marvin Jones could be available in the 3rd round. Marvin Jones is a relatively unknown prospect because he was overshadowed by Keenan Allen at Cal, but despite not being the primary receiver, Jones still racked up over 800 yards receiving. At the Senior Bowl he showed that he could of done more given the targets, as he looked like one of the more pro ready receivers, running smooth routes and beating quality defensive backs like Alfonzo Dennard. He also has decent speed, running a 4.46 at the combine.
At six foot one and 198 pounds he would not be a red zone target and though he is fast, a 4.46 time is not fast enough to be considered a deep zone threat. If he ever gets the chance to start it would probably be in the slot position.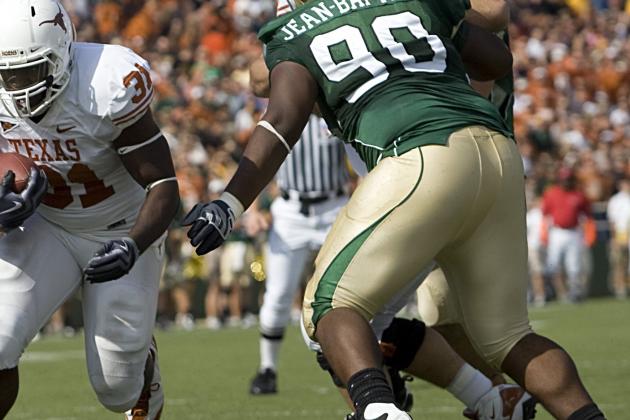 Tom Pennington/Getty Images

The 49ers defensive line is one of the best in the NFL. However, Issac Sopoaga and Justin Smith are getting up there in age and it wouldn't hurt to groom a young gun to eventually take over.
The nosetackle position is the most susceptible to needing a replacement as Sopoaga is a free agent after the 2012 season. One such nosetackle prospect that could be available in the fourth round is Nick Jean-Baptiste from Baylor.
Before you say you don't want any of the Baylor defenders after watching them give up 56 points in the Alamo Bowl, Jean-Baptiste was the bright spot on a bad unit. In his senior season Baptiste registered four sacks and 8.5 tackles for loss, very impressive for a nose tackle. He has one of the more powerful bull rushes in college football, and used it to put every offensive lineman on his back at the East-West Shrine Bowl. In the Bowl he also showed natural pad level and leverage.
In a lot of ways Jean-Baptiste is a similar player to Aubrayo Franklin, who used his powerful bull rush to occupy blockers so that the 49ers linebackers could be the productive ballhawks they were.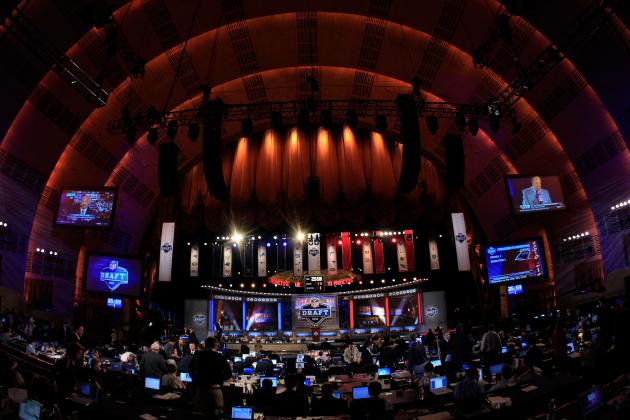 Chris Trotman/Getty Images

The NFL Draft is 30 days away and the 49ers needs could change their board depending on what else they do in free agency. Until then, stay tuned for my next mock draft to see if I've made any changes.