2012 NFL Draft: Can the Carolina Panthers Find Steve Smith's Successor?
March 25, 2012

Scott Halleran/Getty Images
When the 2012 campaign begins, wide receiver Steve Smith will be starting his 12th season in the NFL. The Carolina Panthers legend will be 33-years-old and unfortunately in the latter stages of his extremely solid career.
But should we really be planning his retirement party now? If anything, Smith has consistently shown us that he knows how to prove his doubters wrong.
Just consider last season. After posting a less than overwhelming 2010 campaign where he turned in just 46 catches, 554 yards and two touchdowns, Smith had an incredible 2011. With rookie phenomenon Cam Newton tossing him the pigskin, No. 89 caught 79 catches for 1,394 yards and seven touchdowns.
So perhaps there is a lot more in the tank for the man they call "Smitty."
Nonetheless, age does end up getting the best of all of us. It's an unfortunate truth that even Smith will eventually succumb to one day.
And with the 2012 NFL Draft boasting a relatively deep wide receiving class, can the Panthers find Smith's eventual successor?
Will Marty Hurney and company be able to nab a talented youngster to pair up with Newton?
If so, they will have a pretty decent shot. Here are a number of different scenarios where the Panthers may be in a spot to draft Smitty's successor:
Round One: Justin Blackmon (Oklahoma State)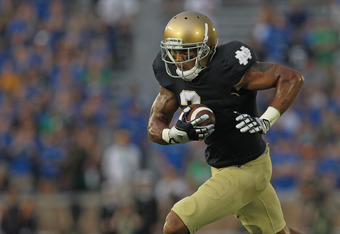 Jonathan Daniel/Getty Images
Allow me to start this out by saying this scenario is extremely unlikely. Even if Blackmon gets past the St. Louis Rams at the sixth overall selection, good luck trying to pry him out of the hands of Gene Smith and the Jacksonville Jaguars at No. 7. 
But for argument's sake, let's say Blackmon actually has a shot at falling to Carolina at the ninth spot in the first round. Should the front office take him?
There's no disputing Blackmon's success at the collegiate level. Over his sophomore and junior seasons as the No. 1 wide receiver at Oklahoma State, Blackmon recorded at least 111 catches, 1,522 receiving yards and 18 touchdowns each season.
Those last two seasons as a Cowboy earned Blackmon two Biletnikoff trophies, awarded to college football's best wide receiver.
Despite his spectacular track record, however, Blackmon does have a couple of flaws in his game—his size and his speed. He does not possess great size at 6'1" nor exhibit the breakaway speed that would make him an elite receiver at the next level.
But again, I can't really see Blackmon ending up as the pick in April with St. Louis, Jacksonville and even Miami in front of Carolina.
Round One: Michael Floyd (Notre Dame)
Much like his fellow first-round wideout Blackmon, it is pretty unlikely that Floyd will find himself in Charlotte come the 2012 season.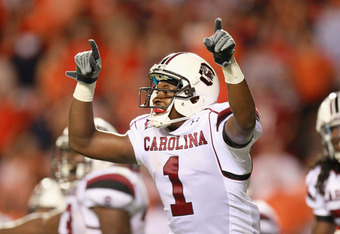 Kevin C. Cox/Getty Images
Floyd's chances, however, depend on whether the Panthers are willing to use the pick on him. He'll probably be available for Carolina at No. 9 unless Jacksonville or Miami reaches for Floyd and grabs him.
As far as numbers go, Floyd is almost as impressive as Blackmon.
The 6'3" receiver has done nothing but dazzle during his collegiate years. In his four seasons at South Bend, Floyd never failed to reach at least 700 yards receiving and seven touchdowns each season. In 2011, he hauled in 100 passes, nine of those coming in the end zone.
What will make teams hesitate is Floyd's off-field run-ins with the law. He has been connected to three separate instances of alcohol-related offenses during his time with the Fighting Irish.  
Regardless, it appears that the Panthers are looking for a defensive player at No. 9. With their most glaring needs on the defensive side of the ball, I would be very surprised if the front office pulls the trigger on Floyd.
Round One (trade back): Stephen Hill (Georgia Tech)
I apologize for being so pessimistic towards Carolina's chances at a top wideout in this draft. But the likelihood of the Panthers being able to snag the class' newest sensation, Hill, is almost imaginary.
Unless the Panthers trade down in the first round and position themselves in front of Houston, Cleveland or even Chicago at the 19th spot, don't expect to see Hill catching passes from Newton this season.
But since I included him here, I'll give you some background.
If you look at Hill's numbers at Georgia Tech this past season, you would be puzzled that he is regarded as a first-rounder. He caught just 28 passes for 820 yards and five scores. While those are decent numbers, they typically would not warrant a first-round selection. Besides his 29.3 average yards per catch, his statistics are indicative of a third or fourth-round selection.
What landed Hill on the upper part of teams' draft boards was his combine performance. The Yellow Jacket ran a staggering 4.3 in his 40-yard dash. Add that to his 6'5", 206-pound frame, and you have perhaps the most potent pass catching weapon in the draft.
The Panthers' chances of reeling him in would hinge on a trade involving their ninth overall pick for two later selections in the first round. They could use the first of the two picks on Hill and the latter on a defensive talent such as Janoris Jenkins or Dre Kirkpatrick.
This same scenario would also apply to Baylor's Kendall Wright.
Round Two: Alshon Jeffery (South Carolina)
Here's a pick that's a bit more likely.
Jeffery, at 6'4" and 229 pounds, has an incredibly promising skill set, making him a very desirable player in the upcoming draft. In three seasons at South Carolina, Jeffery hauled in 23 touchdowns and eclipsed the 700-yard receiving mark each year.
Given his production and physical tools, the Gamecock's name should be worth mentioning for first-round consideration. His questionable attitude and speed issues, however, have pushed him down into the second round. Many teams are concerned with his lack of breakaway speed and his less than stellar interviews at the combine.
Much like Bleacher Report's very own Matt Miller, I too believe Jeffery is the top receiving prospect in this draft. He has big time size, big time hands and big time playmaking ability.
If the major knock on his game is his speed despite the 15 or so pounds he lost prior to his combine appearance, I wouldn't mind stealing him in the second round if I were a general manager in need of a wideout.
Round Two: Tommy Streeter (Miami)
Streeter is the hipster pick of this wideout class, if you will. I'm not saying the Miami Hurricane is a hipster. But I am saying that he is an extremely popular sleeper pick for many fans looking for a receiver. 
He has that "I knew about Tommy Streeter before you did" vibe buzzing around him, hence the hipster label.
He certainly warrants some consideration for any franchise looking to gear up on offensive weapons.
For one, Streeter is straight up huge. At 6'5", 215 pounds, Streeter is the definition of the perfect physical specimen for an NFL wideout. He is the tallest prospect amongst the wide receivers who are garnering first, second and third round looks.
Streeter also put up some solid numbers this past season at the "U." He pulled in 46 catches for 811 yards and eight touchdowns, numbers that are very similar to the aforementioned Hill.
His combine performance was quite impressive as well. Streeter measured in as the tallest wideout and ran a nice 4.40 in his 40.
Much like Jeffery, this pick could depend on what defensive talent may or may not be available for Hurney, Ron Rivera and company to pick up here.
Here are some later round picks that may also warrant some consideration from the Carolina front office:
Round Two: Juron Criner (Arizona)
With a nice mix of talent and physical attributes, Arizona's Criner could come into play in the second round. The 6'4" wideout caught 75 passes for 956 yards and 11 touchdowns in 2011.
Round Two: Rueben Randle (LSU)
The Panthers spent a third-rounder on another LSU wide receiver prospect in Brandon LaFell in 2010. Perhaps they consider Randle if he drops.
Round Two: Mohamed Sanu (Rutgers)
Just like Randle, Sanu would have to fall a little. But given the team's bigger need for a defensive presence, the pick may not make sense.
Rounds Fours and Five: Chris Givens (Wake Forest), Joe Adams (Arkansas), Ryan Broyles (Oklahoma), Dwight Jones (North Carolina)
Rounds Five, Six and Seven: Brian Quick (Appalachian State), B.J. Cunningham (Michigan State), Jeff Fuller (Texas A&M), DeVier Posey (Ohio State)