Robert Griffin III Girlfriend: Recounting RG3's Proposal to Rebecca Liddicoat
March 25, 2012

Robert Griffin III is set.
Barring some sort of catastrophe, RGIII is going to get drafted No. 2 overall by the Washington Redskins. He has also already found the girl of his dreams.
He is engaged to Rebecca Liddicoat of Boulder, Colorado and found quite the creative way to pop the marriage question. He recounted the story to the Star-Telegram:
Well, there's lies involved in proposals, so I told her after the game that I had to go to the (indoor football practice) facility," Griffin said. "I told her me and the team leaders had to do something in there.

"So I told her I could do mine (Saturday night), and they were going to do theirs (Sunday), which makes it a bold-face lie. But she believed it, so I told her to come in there."

"I went in the bathroom and my dad gave me the ring, and I walked in the indoor (facility), and I had candles everywhere," Griffin said. "I had one of my teammates playing the guitar, so I talked to her and serenaded her. I walked into the middle where her family was standing with candles and I popped the question.

"She said yes and she cried," Griffin said. "So I did a pretty good job."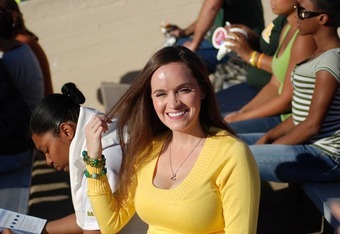 The timetable for tying the knot is still unknown, but there is no doubt who is paying for it.
Ask scouts, coaches and other players about the Heisman winner and they all echo the same general sentiment. He is a genuinely nice guy that has his head on straight. He is respectful, a natural leader and passionate about the game of football. That's why the Redskins mortgaged their future on him.
RGIII has an extremely bright future ahead of him and will be doing so with his fiancée by his side. 
With millions of women bound to be throwing themselves at RGIII, Liddicoat is the proverbial stiff arm to any potential suitors. It's an underrated aspect when evaluating your QB, but having a strong personal relationship with a significant other allows Griffin III to stay focus on football.
Just another reason to love one of the top QB prospects to come around in years.