NCAA Tournament 2012: Anthony Davis and Top Candidates to Win Tournament MOP
March 26, 2012

Kevin C. Cox/Getty Images
Anthony Davis, the most influential player on the best team min the country, is a good candidate to win the NCAA tournament's Most Outstanding Player Award.
But who else serves as a top candidate?
Here's a look at the top candidates.
Anthony Davis, Kentucky
Kentucky has about three or four players who could easily win the award if they played on other teams, but no one is going to surpass Davis should the Wildcats win the tournament. 
He may be unpolished on the offensive end, but he still manages to consistently knock down the mid-range jump shot and score around 15 points per contest.
And on the defensive end, his presence is unmatched by anyone in the country. Davis has racked up 33 rebounds and 12 blocks in just three games, and the amount of shots he alters is probably somewhere in the triple digits.
OK, maybe not that many, but you get the idea.
Tyler Zeller, North Carolina/Thomas Robinson, Kansas
I'm writing this before UNC takes on Kansas in the Elite Eight, but whoever advances has a great chance at winning MOP.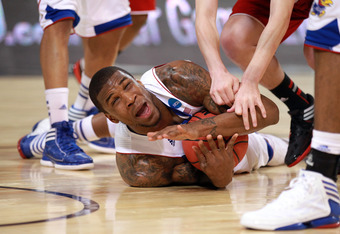 Andy Lyons/Getty Images
Zeller is clearly the heart and soul of this team, especially after Kendall Marshall went down, and he showed that with a ridiculous 20-point, 22-rebound, four-block performance against Ohio.
Robinson, on the other hand, has put up three straight double-doubles in the tournament.
Zeller-Robinson is going to be a tremendous matchup, and whoever lands in the Final Four will be one of the best big men remaining.
Gorgui Dieng, Louisville
Dieng isn't scoring the ball at a high rate, but if Louisville is going to get past Kentucky in the Final Four and go on to win a championship, it will be on the big man's shoulders.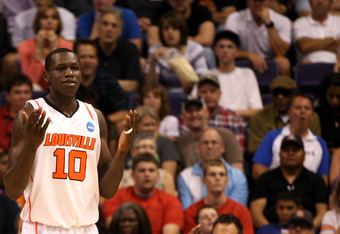 Christian Petersen/Getty Images
Dieng will have to match up with Davis, and he has the length to at least compete with the freshman. In four games this tournament, Dieng is averaging eight rebounds and 3.25 blocks per contest.
Louisville has one of the best defenses in the country, and Dieng is the key to that defense.