UNC vs. Kansas: Live Score, Reaction and Analysis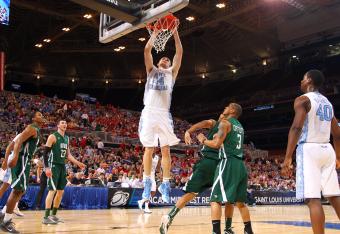 Dilip Vishwanat/Getty Images
UNC vs. Kansas—much more need not be said.
This matchup certainly lived up to expectations. It was a tightly fought game throughout, but Kansas showed why they have been a top team in the nation all year long.
The Final Four is set: No. 1 Kentucky vs. No. 4 Louisville and No. 2 Kansas vs No. 2 Ohio State.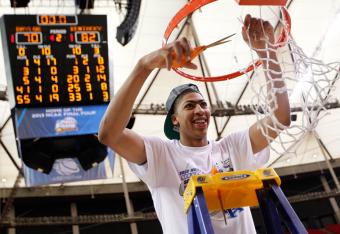 The Final Four is set: No. 1 Kentucky vs No. 4 Louisville and No. 2 Kansas vs No. 2 Ohio State
I have Kentucky and Ohio State meeting in the Natl Championship.
Any predictions?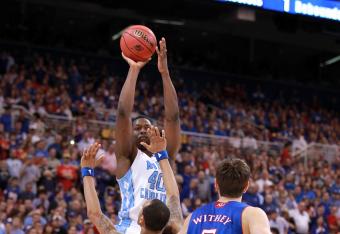 Harrison Barnes struggled from the field once again (5/14) and was 0/5 from three-point range. Zeller was limited to 12 and 6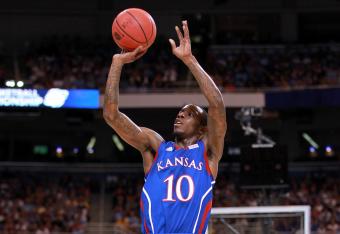 Tyshawn Taylor had an incredible game: 22 points, 6 rebounds, 5 assists and 5 steals. Thomas Robinson adds 18 and 9
Thomas Robinson looks like a kid who just scored his first basket in a game.
Kansas takes this one 80-67
The Jayhawks are 36.7 seconds away to securing their 14th trip to the Final Four
Barnes is too strong on his three point attempt, and you can put this one in the books.
Johnson misses the front end of the one and one, but the rebound again goes to Kansas. UNC is forced to foul once again.
White is forced to foul, but way too much time was taken off of the clock. Johnson at the line for the one and one
The Tar Heels must score on this possession right here. Let's see what Williams has drawn up
Withey again with the block on Stillman White, which leads to a two handed slam by Johnson. Roy Williams is trying to urge his players on, they are down 76-67 with only 1:13 remaining.
Taylor drills the free-throw and makes it a three possession game. 74-67 Kansas
Great block by Withey at one end, which leads to an and-one lay-up by Tyshawn Taylor at the other end
What a sequence of plays right there.
Johnson hits from downtown. Big time shot right there, Jayhawks are up 71-67, 2:40 left
Barnes splits a pair, UNC down one point with 3:40 to go
That looked like a charge to me. Looking at the replay, Withey seemed to have position.
Harrison Barnes with the head fake, drives into the lane and draws a huge foul on Jeff Withey. That is his fourth. Just over four minutes to play here in St. Louis.
Don't go anywhere, this is going to be a classic ending to an extremely physical and competitive game.
Terrible offensive possession from UNC, and Taylor comes down the floor and forces up an even worse three-pointer. Bill Self is livid on the sidelines, time out on the floor.
Barnes cannot connect, but Zeller can. 68-66 Jayhawks
Team Fouls: Kansas 6 UNC 3
Blocking foul called on Thomas Robinson. Good call, the crowd does not like it though. Robinson was not set.
Just under 7 minutes to play, Kansas leads 68-64
Withey cleans up Taylor's missed layup. UNC is getting beat on the defensive glass.
Great look from Stillman White, and McAdoo finishes at the rim plus a foul. He drills the free throw to complete the three-point play
This article is
What is the duplicate article?
Why is this article offensive?
Where is this article plagiarized from?
Why is this article poorly edited?