Final Four 2012: Peyton Siva and Most Important Louisville Players
March 26, 2012

Jamie Squire/Getty Images
It's been a long time since the Big East tournament champion has lost an NCAA tournament game. UConn won the whole thing last year and now the Louisville Cardinals are making a similar run.
If the Cardinals want to repeat Connecticut's Final Four success from last season, many players are going to have to step up. Here's a look at the most important.
Peyton Siva
The dynamic point guard really stepped up his game during the Big East tourney and is a major reason why the Cardinals have improved after their mid-season funk. 
Siva is quicker than anyone in the country with the ball in his hands and can get past almost any defender. He doesn't necessarily use that quickness to score the ball, but he uses it to open up the offense.
In fact, the junior has failed to score in double digits in Louisville's past three games, but he's distributing the ball (7.3 assists per game) and running the offense. 
As long as Siva continues to be aggressive and make good decisions, Louisville's offense will thrive.
Gorgui Dieng
If Louisville is going to win the national championship, it's going to do it on the defense end. Gorgui Dieng is the leader on that side of the ball.
As long as Dieng stays out of foul trouble, he can absolutely control the middle of the paint, as evidenced by his 3.2 blocks per game and seven blocks against Michigan State.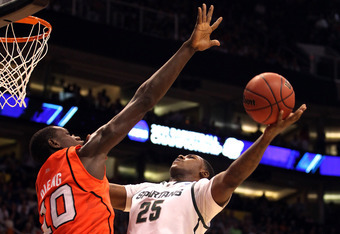 Christian Petersen/Getty Images
As a perimeter player, it's a lot easier to step into your man and not worry about him driving past you when you have Dieng waiting in the paint.
When Dieng is in there, Louisville is a different beast. 
Kyle Kuric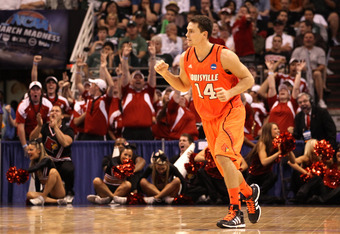 Christian Petersen/Getty Images
Kuric is Louisville's most explosive player, and if the Cardinals want to thrive on offense, he will have to start playing better than he has been.
In his last three games, Kuric is averaging just 8.3 points per game and shooting just 38 percent from the field and 28 percent from deep.
Those are all far below his season averages. Kuric needs to become a little more aggressive in Louisville's next contest.