NCAA Tournament 2012: Power Ranking Potential Championship Matchups
March 25, 2012

Chris Trotman/Getty Images
Even if your bracket is busted and even if you don't care who wins the NCAA tournament, you can still root for certain matchups.
You might not have anything invested in any of the remaining teams, but some games will certainly cause more excitement and intrigue than others. 
Here's a look at the best possible remaining championship matchups.
4. Louisville vs Ohio State
These teams going up against each other won't bring a whole lot of intrigue, but the individual matchups would be so fun to watch.
Jared Sullinger is one of the best big men in the country on the offensive end and Gorgui Dieng is one of the best on the defensive side. These two players have very different styles, but seeing them matchup against one another would be fun.
What I would love to see, however, is Peyton Siva versus Aaron Craft. 
Siva is ridiculously quick with the ball in his hands and can drive past virtually any defender while Craft is the best on-ball defender in the country. Yes, please. 
3. Baylor vs North Carolina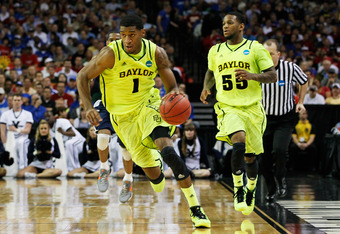 Kevin C. Cox/Getty Images
This would be like watching the New Orleans Hornets take on the Charlotte Bobcats.
Tyler Zeller, John Henson, Harrison Barnes, Kendall Marshall (if he can give it a go by then), Perry Jones, Quincy Acy, Quincy Miller.
The NBA talent would be endless in this one and the size and athleticism of each team would make this a battle of epic proportions. 
Literally.
2. Kentucky vs Kansas
Two of the most storied programs in the history of college basketball going at for their first title since 2008 when Kansas won it all.
That's kind of a long time with these two programs.
What's more, Anthony Davis and Thomas Robinson, who are the clear No. 1 and No. 2 choices for the Player of the Year Award, could battle it out on the biggest stage of all.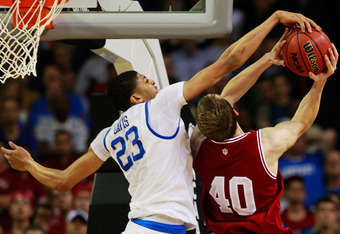 Kevin C. Cox/Getty Images
Winner takes the NCAA championship and Player of the Year? It won't happen that way, but it probably should. 
1. Kentucky vs North Carolina
It's already happened earlier in the year, but it was a game that exceeded even the highest expectations.
The Wildcats came out on top, in the end, but it was a back-and-forth battle that anyone and everyone would love to see again.
John Henson and Anthony Davis are essentially the same player, although Davis has more of an impact. Tyler Zeller and Terrence Jones would do some serious battling down low. Kentucky has the shooters. North Carolina has the athleticism and ability to quicken the pace to counter.
For what it's worth, Kendall Marshall would definitely have to play for this one to live up to the hype.
Final Four Schedule: 
Saturday March 31 - 6:00 PM ET - CBS/MML
South Region - Kentucky/Baylor vs West Region Champion - Louisville
Saturday March 31 - Approximately 8:49 ET - CBS/MM
Midwest Region - UNC/Kansas vs East Region Champion - Ohio State
National Championship - April 2 - 9:00 ET - CBS
Midwest/East Region Winner vs. South/West Region Winner