WrestleMania 28: Reasons Why John Cena's Intensity Has Fallen Short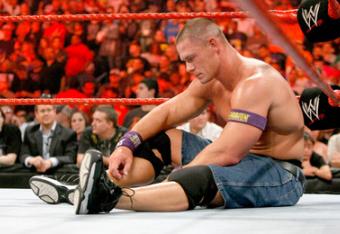 There have been a lot of opportunities for John Cena to "win" the crowd over, but three stick out. These instances could have put Cena's character in a good position and had the crowd in a division of Team Bring It versus Cenation. Instead, John has returned to his "old faithful" ways heading into WrestleMania and because of that, the crowd will surely be dominantly rooting for the Rock.
First, the return of the Masked Kane and his story line with John Cena made the crowd think that there was a change in character heading Cena's way. Unfortunately, Kane was used as a small obstacle to fill the time before John's match at WrestleMania with the Rock.
Kane, among other legends, confronted Cena. They all told him that he needed to make an adjustment and confront the fans to gain their respect. Cena would not budge and even though Kane was portrayed as to be the ultimate hindrance, he was easily beaten in the Elimination Chamber.
It's true that Cena's win was supposed to signify that he was more driven than ever, but after the "embrace the hate" story line and all of the rumors floating around about a possible heel turn, that end only did one thing, reinforced Cena as the "never give up" superstar who will never turn heel.
The next instance came with the back and forth through Cena and the Rock. Every week they both would make blows at their opponent. Cena seemed to be gaining ground. He had a very powerful promo at the expense of WWE Diva Eve, he made the Rock stumble on his script after commenting on his arm notes, and he put a good rap verse together.
The crowd loved it. The raw aggression was a nice game changer, but it was short lived, the next week Cena was back to his routine. He beat Mark Henry after being dominated the entire match, which was completely unreal.
Who are you routing for at Mania?
Lastly, Cena's latest comments on not turning heel definitely took the spunk out of whatever drive he was going on. He claims that he's a good guy and he's not going to alter his beliefs. That's great and all, but no one is the good guy all the time. Some of the biggest superstars have been heels at one point. For example, Stone Cold, Triple H, Shawn Michaels, The Undertaker and even his WrestleMania opponent The Rock. Being the good guy is situational; people determine where they stand on a situation as they are faced with it. It's impossible to be good all the time.
This put the icing on the cake, for all the months that Cena has been trying to portray a more intense character, he's actually staying the same. Hustle, Loyalty and Respect is awesome, but it's obvious that the crowd is asking for something different from the spear head of the company and no matter how much intensity he tries to portray it just won't fit without a modification to his persona.
So who will you be routing for at WrestleMania? The Rock or John Cena?
This article is
What is the duplicate article?
Why is this article offensive?
Where is this article plagiarized from?
Why is this article poorly edited?