UNC vs. Kansas: Harrison Barnes and Struggling Players Who Need to Step Up
March 25, 2012
Andy Lyons/Getty Images
Sunday's Elite Eight matchup between North Carolina and Kansas will have a profound impact on who wins the national title next week.
Both squads have several players struggling right now who cannot afford to play poorly this afternoon if they want their team to win.
Let's look at three players from the Tar Heels and Jayhawks matchup that must play well for their respective teams to advance to the Final Four in New Orleans.
Harrison Barnes, F, North Carolina
Barnes was 3-of-16 from the floor in the Tar Heels' overtime victory against Ohio in the Sweet 16 and only scored 12 points. 
In three tournament games, he is shooting 15-of-47 and has not been the dynamic offensive player that North Carolina is used to him being.
He must shoot better against a Kansas team that is strong defensively, especially in the paint. The Tar Heels were able to get away with Barnes playing terribly against the inferior Bobcats, but against an elite squad like the Jayhawks, UNC won't be so lucky.
Tyshawn Taylor, G, Kansas
The Jayhawks senior has scored just 26 points in three tournament games after finishing the regular season with a 17.3 points per game average, which ranked second on the team.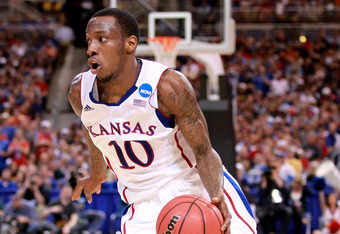 Andy Lyons/Getty Images
Taylor scored only six points against North Carolina State in the Sweet 16, and he must score at least 15 on Sunday if Kansas is going to defeat the Tar Heels.
In the last two rounds, Taylor is shooting just 6-of-25, and and for the tournament, he is 0-of-12 from the three-point line. 
Taylor must shine offensively for Kansas or they will lose to North Carolina and fail to reach the Final Four.
P.J. Hairston, G, North Carolina
P.J. Hairston is one of the most used players off of head coach Roy Williams' bench, but his outside has been awful throughout the tournament.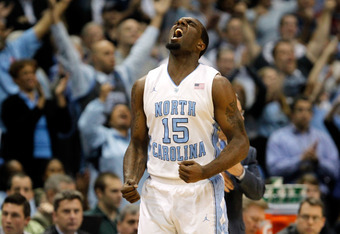 Streeter Lecka/Getty Images
The freshman guard is 5-of-16 from the floor through three games and is 2-of-11 from the three-point line. He must be able to knock down shots and stretch the floor for the UNC offense against Kansas.
If a few of the Tar Heels starters start to struggle in the first half, Hairston has to be ready to come into the game and knock down shots.
Hairston is an X-factor in Sunday's game and could be the difference for North Carolina if he revives his poor shooting.