NIT 2012: Washington Huskies' Winning Mindset Will Lead to Victory
March 25, 2012

Stephen Dunn/Getty Images
The Washington Huskies are primed to finish their run through the 2012 NIT with a championship win, and they are in the right mindset to do so.
They have been dominant, so far, through this tournament, and I don't see anybody that can stop them from capturing the title.
They've essentially rolled through their bracket—beating Texas-Arlington 82-72, Northwestern 76-55 and dangerous Oregon 90-86—on their way to the NIT's Final Four.
Now, all they have to do is pick up two more wins. One must come this Tuesday against the Minnesota Golden Gophers, and then the championship game against either UMass or Stanford.
They've got what it takes to win, and they have the right mindset to make it happen.
Remember, this is a team that won the Pac-12 in the regular season only to be bounced out in the conference tournament and left out of the 2012 NCAA tournament. This is a team that can play with the big-boys, but was relegated to the NIT.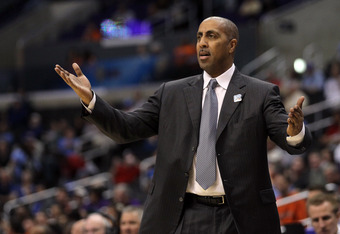 Stephen Dunn/Getty Images
How was this team able to move on from that disappointment and focus for the NIT? Dave Boling of The Bellingham Herald quotes head coach Lorenzo Romar on how he got his guys in the right mindset:
So, how did Romar coax them off the mat? He's a little vague, and not interested in taking any bows.

"Oh, I don't know … I think it's a good group of guys who are pretty resilient," Romar said after practice Saturday morning. "They were able to just turn the page and get that behind them. I think we had been working hard and we just tried to stay positive and explain how much fun this would be if you continue to win."
This team is focused on making the best of the NIT, and as far as I'm concerned that means winning it all. They have the talent to do so, and they are focused on the task at hand.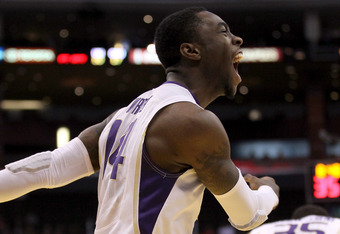 Stephen Dunn/Getty Images
The Huskies could have made a splash in the NCAA tournament if they were given the chance to do so, but none of that matters now. "Shoulda, coulda, woulda" does not seem to be what this team is about. Forget the past, there are brighter things to come in the future for this team.
Only two more games to go, and two more wins will bring them to their goal.
Sure, it wasn't what they were hoping for a couple weeks ago, but a champion in anything is still indeed a champion.