NBA Power Rankings: How Miami Heat Loss to Oklahoma City Thunder Reshapes Top 5
March 26, 2012

A new week brings on a fresh batch of NBA power rankings, and an emphatic Oklahoma City Thunder victory over the Miami Heat on Sunday night could have been a potential Finals preview.
The top-tier teams remain at the top, but there has been a whole lot of movement in the middle, and we're likely to see a similar pattern with the postseason within sight and teams battling for position.
30. Charlotte Bobcats: 7-39
The Bobcats have to be hoping this miserable season nets the club an unbelievable draft pick.
Charlotte needs cost-controlled talent to build the roster because no free agent is going to be lured to come play for the Bobcats as the team is currently constructed.

29. Washington Wizards: 11-37
Nene's arrival will do good things for John Wall, but Washington still has a lot of kinks to work out before righting the ship.
Jordan Crawford can be a dynamic scorer, but the Xavier product needs to learn the definition of shot selection in the worst way.
28. New Orleans Hornets: 12-36
The logic behind not moving Chris Kaman before the trade deadline escapes me, as there is no way this team is going to sign him to an extension.
The Hornets have to be hoping the Timberwolves continue to lose, as that will increase the value of the draft pick New Orleans received from the Clippers in the Chris Paul trade.
27. New Jersey Nets: 16-34
The acquisition of Gerald Wallace could prove to be incredibly costly if the Nets don't land a top-three lottery selection when the ping pong balls are drawn.
It will be very interesting to see how Billy King reshapes the roster in the offseason with Deron Williams' departure a very real possibility.
26. Detroit Pistons: 16-32
Rodney Stuckey's toe injury has really had an impact on the Pistons as his presence on the floor is vital for Detroit to sustain success.
Rookie Brandon Knight appears to be slowing down, and Greg Monroe simply can't do it all on his own.
25. Toronto Raptors: 16-33
Toronto has a lot to look forward to with Jonas Valanciunas joining Andrea Bargnani in the frontcourt next season, but that doesn't help right now.
The second unit also needs a boost for the Raptors to boast a rotation capable of consistency producing, but nobody expected the Raptors to compete this year anyway.
24. Golden State Warriors: 20-27
It's tank city time for the Warriors, and it's been that way since the club traded Monta Ellis for an injured Andrew Bogut.
Time will tell if this team can compete in a crowded Western Conference, but without financial flexibility moving forward, this will be the group the Warriors are stuck with for better or worse.
23. Cleveland Cavaliers: 17-29
Anderson Varejao's wrist injury has really put a damper on the Cavs competing for a postseason berth as Kyrie Irving just doesn't have the support around him.
Tristan Thompson is proving he wasn't the reach of a pick at fourth overall that many made him out to be, but Cleveland needs more help to get over the hump.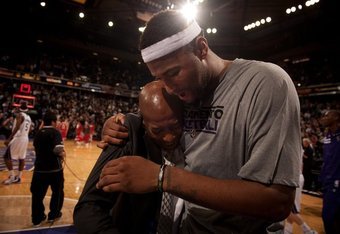 22. Sacramento Kings: 17-31
Keith Smart is the right man for the job, but the lack of communication on the defensive side of the ball continues to hinder the Kings.
There is a lot of intriguing talent on the perimeter and the blossoming of DeMarcus Cousins has been incredible to watch, but the defensive efforts have to improve.
21. Portland Trail Blazers: 23-26
The Blazers are very clearly playing harder for Caleb Kanales than what we saw under Nate McMillan despite having noticeably less talent on the roster.
Portland will use the offseason to reshape the roster both through the draft and free agency, but a once-promising season is now firmly in the rear-view mirror.
20. Milwaukee Bucks: 22-26
Scott Skiles has the Bucks playing at a quicker pace with his new personnel, but the team will struggle against size beneath the basket.
Monta Ellis and Brandon Jennings have limited one another in terms of production to this point, but the two guards are still learning how to play together.
19. Minnesota Timberwolves: 24-26
Kevin Love is a one-man wrecking crew, but Ricky Rubio not being on the court is a devastating blow to a promising team.
If Nikola Pekovic's bone spurs (ankle) continue to be a problem for the big man, Rick Adelman's job is going to get increasingly more difficult as the season moves forward.
18. Houston Rockets: 26-23
Kyle Lowry and Kevin Martin both being out indefinitely has presented a serious challenge to Kevin McHale and how he utilizes his rotation.
The addition of Marcus Camby gives the Rockets some serious size, but Houston missing its starting backcourt may beetoo tough of a burden to overcome.
17. Denver Nuggets: 26-23
The injury to Danilo Gallinari (thumb) comes at a crucial juncture in the campaign, and the Nuggets haven't played up to par of late.
George Karl is adjusting on the fly with JaVale McGee now in blue and yellow, and there are a lot of changing parts during a part of the season where teams are looking to maximize chemistry.
16. Utah Jazz: 26-23
Al Jefferson is having an incredible season that nobody is talking about, but the Jazz sit just a few games over .500 and face a tough task to make the playoffs.
Inconsistent play from the backcourt has hindered Utah all season long, and it's unlikely to change at any point this year.
15. Phoenix Suns: 25-24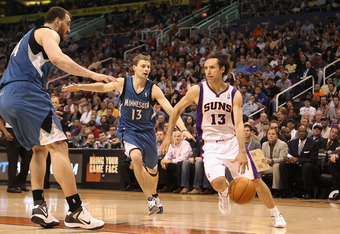 Christian Petersen/Getty Images
It's impressive how well the Suns have played following a putrid start to the season and without a ton of talent on the roster, but Phoenix is going well under Steve Nash's leadership.
Nash and Grant Hill are both proving to be ageless wonders, and the play from Marcin Gortat (16.0 points, 9.9 rebounds, 1.5 blocks) should be talked about a lot more frequently.
14. New York Knicks: 24-25
The Knicks are playing well under Mike Woodson, but the team needs a more complete effort at the defensive end every night.
Tyson Chandler continues to fly under the radar despite his incredible season in New York, but Carmelo Anthony will have to right the ship for his club to turn into a legitimate threat.
13. Dallas Mavericks: 28-22
Dallas has done a good job of scraping the bargain bin for one-year signings, but this Mavericks team is likely going to look a lot different next year.
Despite the overall success, the Mavs have been burned by uneven efforts between games and that is a trait that has haunted this group throughout the season.
12. Boston Celtics: 26-22
There might not be a team that has been bitten as hard by the injury bug as the Celtics, but there is a lot of fight within this group.
Boston knows this is its final season with the Big Three in tact, and the C's will be a tough postseason out even if it's with an eight seed.
11. Memphis Grizzlies: 26-21
Zach Randolph's return hasn't sparked the Grizzlies as some had imagined, but Memphis is capable of beating the more talented teams in the league.
It wouldn't be surprising to see the Grizz present a tough postseason challenge to any team that has the challenge of going up against them.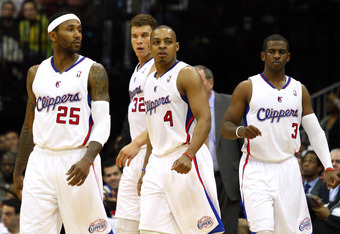 Chris Chambers/Getty Images
10. Los Angeles Clippers: 27-21
There is turmoil in the Los Angeles locker room right now as Vinny Del Negro appears to be skating on incredibly thin ice.
Blake Griffin hasn't shown the improvement in his game in areas of weakness that many would've liked to see, and Del Negro's rotation scheme is questionable at best.
9. Atlanta Hawks: 30-20
Almost everyone wrote the Hawks off when the team lost Al Horford (pectoral) for the regular season, but Atlanta is still here and very much in the picture.
With Joe Johnson and Josh Smith playing incredibly well and Jeff Teague once again balling with confidence, the Hawks are still inside the top 10.
8. Indiana Pacers: 28-19
After a bout with inconsistency earlier in the campaign, the Pacers have seemingly re-discovered a team identity after the trade deadline.
The addition of Leandro Barbosa off the bench really helps, and Frank Vogel's "hot hand" approach at point guard between Darren Collison and George Hill will help Indiana's chances at success.
7. Philadelphia 76ers: 27-22
Philadelphia's largest problem is that the club can't seem to find a stable identity at the offensive end of the floor.
As smothering as the team defense can be at times, if the Sixers can't score, there is no way they'll beat the top-tier teams in the Eastern Conference like Miami and Chicago.
6. Orlando Magic: 31-18
The impressive regular-season record is certainly nice, but what will it mean when the postseason rolls around?
Dwight Howard is a matchup nightmare and Ryan Anderson has shot it well from deep this season, but the Magic aren't a deep team and don't present a real threat when going up against a more talented bunch.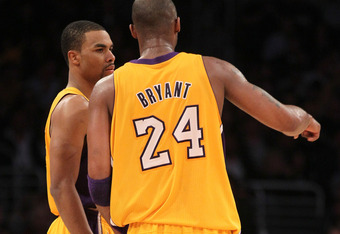 Stephen Dunn/Getty Images
5. Los Angeles Lakers: 30-19
Remember when Bill Simmons predicted the Lakers would finish the season as a lottery team? He may want a chance to take that statement back.
Ramon Sessions' addition gives Los Angeles an element it simply didn't have previously, but an underwhelming reserve unit is still a major cause of concern.
4. San Antonio Spurs: 33-14
The Spurs have been able to rest their key players all season and still hold the fourth spot in the power rankings by a commanding margin.
Tim Duncan has plenty of game left, Gregg Popovich's rotation is far deeper than anyone predicted and the production from guys like Danny Green and Kawhi Leonard has been fun to watch.
3. Miami Heat: 35-12
Who can cool off the hot Miami Heat? That is the question everyone will be asking when the playoffs roll around.
LeBron James and Dwyane Wade can outrun anyone, but Mario Chalmers is struggling and Chris Bosh isn't being as aggressive as he was earlier this season—two trends that have to be reversed as soon as possible.
2. Oklahoma City Thunder: 37-12
Kevin Durant and Russell Westbrook get most of the attention here, but it's the play from James Harden and Serge Ibaka that will ultimately determine the ceiling of this club.
Oklahoma City has now proved capable of beating any other team in this league, and there may not be a home crowd with more passion in the entire league.
1. Chicago Bulls: 40-10
Chicago has allowed Derrick Rose (groin) to rest and reach 100 percent before rushing him back to the floor while remaining successful throughout the season.
Tom Thibodeau is the early front-runner for Coach of the Year, and it's going to be extremely hard to best Chicago's skill and depth when in a seven-game series.