Elite Eight 2012: Predicting Sunday's NCAA Tournament Winners
March 25, 2012

Streeter Lecka/Getty Images
Two more teams need to be added to the 2012 NCAA Final Four on Sunday. Ohio State and Louisville won Elite Eight games on Saturday, and here are my picks to join them. 
Kentucky
The path to an NCAA championship has been paved for John Calipari and Kentucky. Syracuse, which lost Saturday night, was without Fab Melo and North Carolina is nursing an injured Kendall Marshall—the only two teams that had talent on the same level as the Wildcats.
With North Carolina without Marshall, Kentucky should be able to win the tournament.
Calipari has his best team ever.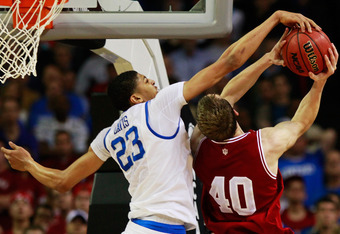 Kevin C. Cox/Getty Images
Anthony Davis is averaging nearly five blocks per game, Michael Kidd-Gilchrist is a mammoth defensively and in his all-around game, Terrence Jones can be great at times, Doron Lamb can light it up from the perimeter, Darius Miller can chip in here and there while playing great defense and providing experience and Marquis Teague can drive the ball exceptionally well.
This is Kentucky's tournament to lose, without question.
Standing in its way to the Final Four is Baylor, a talented team full of potential NBA stars. Perry Jones III has been up-and-down throughout his brief collegiate career, but Sunday we will see what he can do against NBA talent.
I don't think he plays well on Sunday.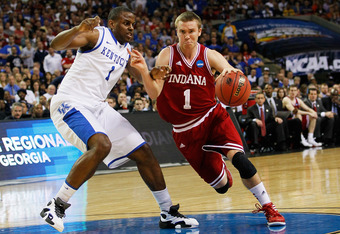 Kevin C. Cox/Getty Images
Kidd-Gilchrist and Miller will be able to lock down Brady Heslip, Pierre Jackson and company on the perimeter with their outstanding length and quickness. 
Also, they will be forcing the drive from Jackson and Heslip, and we all know who's waiting in the middle—Davis, the 2012 NBA draft's likely No. 1 pick.
Baylor is talented but Kentucky is a more talented team, especially on the offensive end. Kentucky is 20th in scoring with 77 points per game and 10th in field-goal percentage with 48.7 percent. 
Kentucky has the edge. 
Prediction: Kentucky 75, Baylor 68
North Carolina
I wouldn't be shocked if Kansas defeated North Carolina to march on to the Final Four, but I'm sticking with my pre-bracket pick of North Carolina.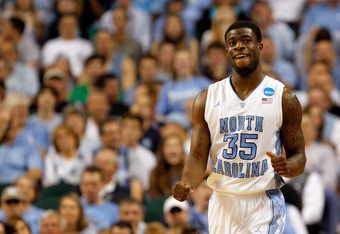 Streeter Lecka/Getty Images
This is the perfect showcase for Harrison Barnes. He's the guy that will need to play exceptionally big inside and outside if the Tar Heels move on in the tournament. 
Barnes can't afford to put up another 3-for-16 performance like he did against Ohio; that won't cut it against Kansas.
I think we see Barnes' talent come alive against the Jayhawks.
Tyler Zeller and John Henson are monsters underneath. They are going to have their hands full on Sunday, but this is a tandem I wouldn't want to go up against.
They average 31 points and 20 rebounds as a duo. What makes these two so special is their ability to block/alter shots with outstanding length and their ability to run the floor. A perfect fit for Roy Williams.
Reggie Bullock has shot the ball well in his last two games, making eight three-pointers and averaging 15 points. He is going to be a difference maker when Kansas' defense focuses on stopping Zeller and Henson underneath.
Bullock will need to get ready to step into some threes. Maybe he could shoot North Carolina to the Final Four.
Prediction: North Carolina 80, Kansas 77
NCAA Tournament Schedule
Elite Eight Games on Sunday
No. 3 Baylor vs. No. 1 Kentucky — 2:20 p.m. EST on CBS
No. 2 Kansas vs. No. 1 North Carolina — 5:05 p.m. EST on CBS