Georges St-Pierre vs. Anderson Silva 'Superfight' Shouldn't Happen
March 25, 2012

Talks about a Georges St-Pierre vs. Anderson Silva "superfight" have resurfaced, giving MMA fans another opportunity to discuss the possibility. As wonderful as it sounds, I'm not convinced it'll be what we expect, and I think there are more appropriate and equally exciting options.
In a recent press conference hosted by the UFC in Calgary, St-Pierre addressed this possibility in response to a fan's question.
Right now I'm focusing on one thing at a time, focusing on my knee. Once my knee will be one hundred percent I will focus on getting back to my title. When I get back to my title, depending on what's going on, I might have to take another fight. If stars are aligned and everything, maybe we'll see one day in the near future what's going to happen. Depending if I'm going to go up, or is he's going to come down, this is too far away to think about it right now. But it's something that could happen, of course.
I think we can all agree that this fight itself promises to be monumental. These two fighters superlatively demonstrate that finesse that diehard MMA fans understand is an implicit part of the sport. Both have dominated their weight classes and we've learned a lot from them, even from their losses. Most importantly for the UFC, St-Pierre and Silva carry celebrity, especially in their respective homelands, that will guarantee viewers and generate hype beyond the MMA community.
For Silva, the fight is favorable. White admitted at the same press conference that it was unreasonable to ask Silva to drop weight and meet St-Pierre at 170 lbs., so that burden is lifted. Even fighting at a catchweight will likely play in Silva's favor given his style and strategy. Moreover, it would take pressure off of him to fight Jon Jones, a possibility Silva is uninterested in.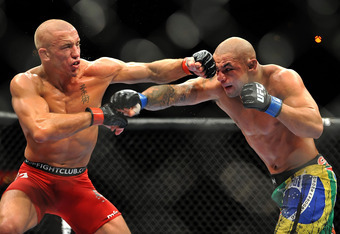 Jon Kopaloff/Getty Images
But for St-Pierre, gaining weight for a catchweight or middleweight fight might be even more demanding than before as he recovers from knee surgery, especially given his unabated physical maintenance regardless of his fight schedule. One of the things that has made him so phenomenal is the comfort he demonstrates in his athleticism. I imagine this is one of the first things he'll measure upon his return, but it will best be measured against his past performance as a welterweight.
Even if there is some promise for St-Pierre to meet Silva should St-Pierre successfully defeat title-holder Carlos Condit, the previously barren welterweight division now has a number of ready and promising contenders, including the winner of the upcoming fight between Jake Ellenberger and Martin Kampmann. There's also Nick Diaz, and while his future in the UFC is questionable as his suspension for marijuana use is served and controverted, there's no doubt a fight between Diaz and St-Pierre will be in the works if all is settled.  And while the welterweight division is likely to stay competitive in St-Pierre's absence, his fight with Silva is impossible without defeating Condit. As the defending champion of that welterweight division, St-Pierre will have a good schedule for some time.
St-Pierre's presence will no doubt strengthen the welterweight division; part of the appeal of any weight class is the presence of a worthy champion and equally respectable competitors. Though not pitting St-Pierre against Silva won't help the struggling middleweight division, moving St-Pierre out of the welterweight division isn't likely to provide a long-term fix for either of them.
A better solution lies in Silva vs. Jones. Despite Silva's persistent refusal to even consider a fight with Jones, Silva's success as a light heavyweight and Jones's dominance of the division make this a natural fit for both fighters and an equally lucrative bout for UFC. That this could be accomplished more easily and quickly than St-Pierre and Silva make this all the more attractive.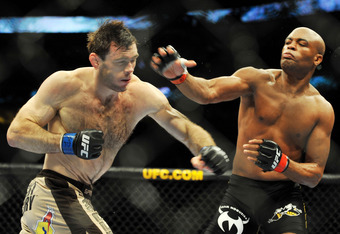 Jon Kopaloff/Getty Images
Beside all of this, the result won't calm the surrounding debate about who is the better fighter. I, like all MMA enthusiasts, realize the best measure for such things lies in placing two fighters in a cage and seeing what happens. But both fighters in this case are masters as they stand, and the result of the fight will likely destroy the career of the defeated. 
Naturally, that kind of fall is a necessary part of sport, and both of these men are subject to that possibility. But therein lies the costs of creating a superfight. If Sonnen defeats Silva at UFC 147, it'll still take much more to diminish Silva's presence. Similarly, St-Pierre's loss to Matt Serra in 2007 was a shock that took less than a year to dismiss as anomalous. To manufacture this risk, however, may undermine the allure surrounding Silva and St-Pierre in their current positions.
If we set aside the prospect of St-Pierre vs. Silva, the welterweight division will have time to showcase all of its talent. In the meantime, Silva may have to reconsider a bout with Jones to avoid a middleweight stalemate.
Still, if the fight does happen, I'll happily set aside my reason and watch the event with due excitement and awe.  Furthermore, if the fighters want it, then give it to 'em. From where we stand now, though, my concern is that we won't walk away from that event gaining what we hoped.